Obi-Wan Finale - The Loop
Play Sound
The Vs. Queen Bee Arc is the third story arc in My Hero Academia: Vigilantes.
Kuin Hachisuka continues to spread chaos throughout Naruhata with her Bees filled with Trigger. While Koichi and Kazuho gain a new purpose in the form of a new ally, Knuckleduster escalates his search for his daughter, leading to a direct confrontation with the Queen Bee herself.
Summary
The Intrepid Researcher: Makoto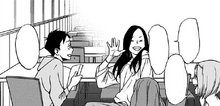 After the run in with Stendhal, Koichi Haimawari resumes his life at college. However, he is struggling with the college work. While eating in the college canteen, truggling with one of his course books, a female college student asks to sit next to him and inquires about his book, so Koichi shows her his Hero Sociology book.
The female notes that it is a difficult book and recommends him to copy notes from an upperclassman from his study group, but Kocihi tells her that he is not in any. The female student doesn't seem surprised that he's a loner and says that she will help him. One of the other female college students identifies her as Makoto. Koichi greatly appreciates her help.
Makoto knows that he is Koichi Haimawari, known at the college as "The Creeper of the Naruhata Ruins", much to Koichi's disappointment. Makoto tells him that she was looking for someone who lives in that area, and proposes a deal: she will help him with his studies and in return he will help her on an errand. Koichi accepts.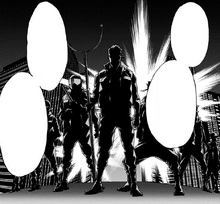 Later, at Koichi's home, Kazuho Haneyama is inside reading a book and overhears Koichi and Makoto. Pop goes to hide while Koichi unlocks his door and asks Makoto to wait outside while he tidies up the place, throwing all the junk right where Kazuho is hiding. He finishes cleaning up his home and invites her in. After seeing his class registration form, she offers to give him lecture notes and past exam questions but he must handle attendance himself. Moving on to his main problem, Hero Sociology, Makoto reviews the third chapter of his book, "Discord between Vigilantism and the Official Hero Licensing System".
Makoto explains that Vigilantism is a transitional period; as society begins to stabilize, vigilantism begins to waver and/or be absorbed by the official Hero System. In order to control the mayhem after humans obtained Quirks, vigilantes appeared in order to keep the peace.
After legislation came about, these vigilantes became heroes. However, the truth of the matter is that the world's first hero system, enacted in Rhode Island, only recognized seven out of the 189 vigilantes as heroes while the rest of the vigilantes were recognized as Quirk-wielding villains. Makoto concludes that vigilantism, which is identified as "personal justice", was the origin of heroes, which is built upon the idea of "societal justice," but at the same time vigilantism is a vehicle for opposition towards mass surveillance.
Makoto asks Koichi a surprise question: what was the decisive factor that separated heroes from villains when the Rhode Island law was first enacted. Koichi does not know, so Makoto reveals that the answer is a secret and while the question will not appear in his exam, it is the topic of her research thesis. She asks him for his help on her research thesis and will give him the answer in due time, which he accepts.
To Koichi surprise, she asks him to do a field survey investigating the rumored "Vigilantes of Naruhata". Makoto thinks that by studying modern-day vigilantes, she might get a insight into the process that created the current hero system. Koichi is nervous since he is one of the members of the Naruhata Vigilantes.
Makoto asks him if there is something wrong. He questions her task since while he has "heard" some good deeds from them, he is wary of sticking their noses into other people who fights villains regularly. She replies that is why she asked him for his help: to be her bodyguard. She leaves while he agrees to meet her at ten at the station on Saturday. Koichi closes his door as Pop☆Step appears and is not in the best of moods due to him being with another girl.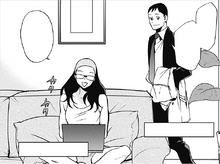 At his apartment, Naomasa Tsukauchi returns from work and greets his younger sister, Makoto. He asks her about her thesis, to which she replies that she is getting all her sources in place. She asks him about any villains or hero information he has learned of, but he replies that he cannot leak any confidential information. He warns her not to approach any villains out of curiosity. She interprets his warning as "do not get caught", to which he replies firmly that she must not get into any danger.
At Koichi's home later that evening, Pop☆Step is annoyed with Makoto's interference, appearing out of nowhere as if she owned the place. However, Koichi does not take Pop's rants to heart as he is doing his college work.[1]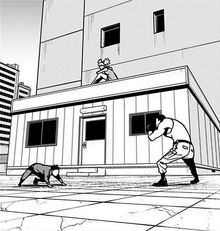 On Saturday morning, Koichi is training with Knuckleduster, and thanks to his better mastering of his Slide and Glide, he shows him the new Ultimate Move he has created, the High-Speed Double Sweep. Knuckleduster commends him for the better tactical use of his Quirk. However, Pop☆Step finds Koichi's super move annoying, causing Knuckleduster to reply that annoyance is also a useful tactic, but Kazuho simply turns away.
Knuckleduster wonders about Kazuho's attitude, to which Koichi replies that she has been in a bad mood, and tells him about Makoto and her Vigilante research. Knuckleduster tells Koichi that Makoto's investigation into them will cause their identities to be revealed and the Police Force along with Villains will come attacking in droves; Koichi is well aware of this while a bad tempered Pop calls him a moron and turns away again.
Knuckleduster offers to keep Makoto silent with brute force, to which Koichi promises to deceive her as long as he does not interfere. Knuckleduster decides to let Koichi handle the situation but warns him not to let his business and pleasure intertwine. Koichi is not sure which parts is which in all that situation.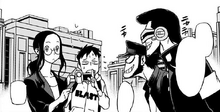 Koichi meets up with Makoto and spaces out due to Makoto's dazzling professional attire. Meanwhile, Pop☆Step is secretly spying on Koichi and Makoto. Makoto tells Koichi that she has been using social media to pinpoint the places where Vigilantes tend to appear. As they walk to their destination, Makoto states that she wants to hear the locals' perception of them. Makoto reiterates her question about the decisive factor that separated Heroes from the Villains and reveals that the factor is popularity. Makoto reveals that the purpose of her investigation is to find out how well the "Naruhata Vigilantes" are accepted by the citizens.
They start their investigation and encounter Ichimoku Samazu and Jube Namimaru. They teases to reveal to Makoto who the Cruller really is, with Koichi signaling them not to reveal his identity. They give positive reception about Pop☆Step but are negative towards Knuckleduster. Koichi and Makoto ask the locals about their opinions towards the Vigilantes and after compiling all the perceptions, the populace's perception of the Vigilantes are: The Cruller being helpful but creepy (at which Ichimoku and Jube laugh), Pop☆Step is mostly known for her buttocks and being cute while Knuckleduster is not widely known but the few who do know him view him as scary.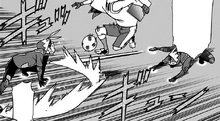 Suddenly, Makoto's laptop is stolen from her by Emperor Yotsuura. Ichimoku and Jube chase after Yotsura while Koichi goes to get changed into his Crawler costume. Pop☆Step appears and chooses not to interfere because she is fine if Makoto loses all her research. Koichi however, is sure that his secret identity will not be revealed and wants to get the Laptop back. He also wants to show off a little. Pop asks him when he's gotten so vain.
Koichi uses his Quirk to catch up to Yotsuura and tries to trip him with his High-Speed Double Sweep, but the thief dodges him by jumping. After failing, Koichi tries to create some distance between them, but Yotsuura kicks his soccer ball into Koichi's, sent him reeling back. Suddenly, Yotsuura is shot in the back by Ichimoku's laser which causes him to fall down. Jube and Ichimoku beat up Yotsuura and tie him up as Koichi manages to get back Makoto's laptop.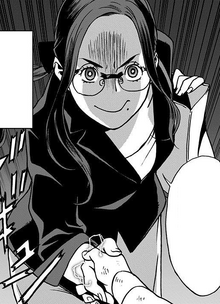 Jube and Ichimoku leave as Makoto thanks them for their help. Makoto also thanks Koichi for his help and gives him a hand shake while also asking him one final question, which he accepts. As they shake hands, Makoto asks Koichi if he is the Cruller; shaking hands allows Makoto to activate her Quirk, Polygraph, which can only be activated through physical contact with the target and it allows her to judge the authenticity of her target's words. However, Koichi replies that she is incorrect about him being the "Cruller" and Makoto's Quirk judges that Koichi is telling the truth, so she apologizes.
Makoto returns to her home to work on her thesis with the information she has obtained, although she does not seem satisfied. Her brother Naomasa asks her what's wrong, and Makoto replies she is mixed about having gotten the data she needed but is disappointed that she could not get any great evidence and wonders if her intuition is getting stale.
At his home, Koichi and Pop are looking through copies of Makoto's data, are sniping at each other with selections from the interviews. Pop laughs at the harsh criticism towards The Cruller, and Koichi makes her shut down by reading aloud that people consider Pop☆Step to be just butt and has no singing voice. Koichi is frustrated that the public calls him "The Cruller" when he acknowledges himself as "The Crawler". As Koichi and Kazuho bicker, Knuckleduster is nonchalantly reading the newspaper.[2]
The Hero from America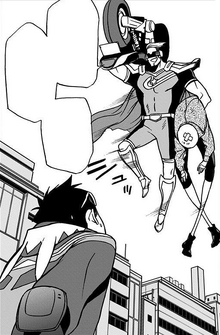 One day, The Crawler is chasing after a thief on a motorcycle while Pop☆Step advises him to leave this situation to the Police Force. However, he refuses because the robber can escape down some back alley, and plans to keep up with the motorcyclist until the Police Force arrives.
Being distracted talking to Pop, Koichi realize to late that the villain uses Longleg Quirk to kick him in the face, which sends him spiraling out of control. Koichi is about to hit a truck but is suddenly rescued by a by flying hero, who not only rescues him but apprehends the motorcycle villain at the same time. The new Hero praises Koichi's courage but suggests leaving the dangerous jobs to the pros.
Koichi thanks the Hero saving him and awkwardly asks how he is. The Hero is offended that Koichi does not know of him, and reveals himself to be Captain Celebrity, the top-ranked American Hero. Captain Celebrity signs an autograph on Koichi's exclusive All Might hoodie, much to Koichi's chagrin. However, Captain Celebrity believes his autograph is worth a lot more than some hoodie, with which Koichi disagrees since only the owner can decide the true worth of an object.
Captain Celebrity relents to Koichi's view but is skeptical about All Might, thinking that he is all brawn and no brains. Captain Celebrity takes to the skies while bidding Koichi farewell, telling him to play hero doesn't suit him.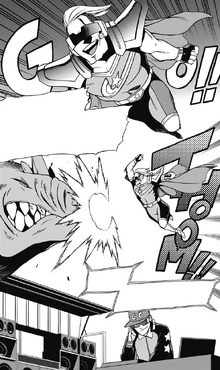 Back at Koichi's apartment, Knuckleduster and Pop watch an announcement that Captain Celebrity will begin working as a Hero in Tokyo. After seeing footage of Captain Celebrity lifting a cruise liner, Knuckleduster comments that Captain "Catastrophe" Celebrity has had multiple lawsuits filed against him and been subject to multiple scandals. Due to all of this, Captain Celebrity could not continue his work in his home country and came to Japan to try his luck there.
Koichi is not surprised as he rubbed him the wrong way. Pop is surprised that Koichi is bad mouthing someone. Kazuho asks Koichi what he is doing and Koichi responds that he is rubbing Captain Celebrity's autograph off his hoodie.
The next day, the city is under attack by a Kaiju-like Villain. Among the crowd of frightened people, is the person responsible for the situation, Kuin Hachisuka. She determines that Gigantification Quirks are powerful but since they are so easily identifiable, Heroes come within a few minutes, and concludes that Gigantification Quirks are not useful for intricate crimes, deciding to extract a sample later on.
Koichi and Pop are helping the civilians evacuate; one little girl asks for help in rescuing someone called Masahiko. Captain Celebrity shows up and Koichi informs him that someone could not get away. However, Captain Celebrity decides to wait until the media arrives on the scene and since the Police have not made any requests he is not obligated to act. An aggravated Koichi goes off to rescue Masahiko himself.
Right at that moment, Captain Celebrity is contacted and is informed that the media is on its way and dispatch requests from the Police Force have been arranged. Captain Celebrity flies to the monster Villain and starts beating it up; after a few more blows the monster falls down while Captain Celebrity rescues a female civilian.
However, Captain Celebrity's recklessness in handling the monstrous Villain causes the monster to flail about, which sends debris flying everywhere. Koichi manages to avoid the falling debris and reaches the house. To Koichi's surprise, Masahiko is just a dog. Whether dog or not, Koichi considers all lives to be valuable, and tries to get the dog's chain off it.
Captain Celebrity finishes off the monstrous Villain, who falls between two buildings, causing serious damage to both. Koichi manages to release the dog and uses his Quirk to escape along with the dog but the collapsing debris is catching up to him. Captain Celebrity rescues Koichi to the media's applause and yet again signs his autograph on Koichi's hoodie.
As the media over exaggerates Captain Celebrity's heroics, Koichi is disappointed that he ended up being saved, but Kazuho is glad that no one was seriously injured. The little girl comes to collect her dog from Koichi and she thanks him. Captain Celebrity admits that Koichi deserves all the credit for rescuing the dog, only because it is out of his area of expertise. Koichi thanks Captain Celebrity for the compliment.
However, Captain Celebrity advises Koichi to find a different getup than his "drab" hoodie as he does not want improper clothing to be in the same camera shot as him, much to Koichi's chagrin. Captain Celebrity flies off as an annoyed Koichi is still unable to appreciate the American Hero.[3]
Due to the monster attack, one of the buildings had started to collapse, so the Police Force began evacuating the people inside. Koichi helps out with the evacuation and finds a sumo wrestler and a woman in one of the rooms, both with their left legs injured. Koichi doesn't think he can carry both at once, but Captain Celebrity appears and offers to help him. To Koichi's annoyance, Captain Celebrity only takes care of the woman, while he has to carry the heavy sumo wrestler.
Suddenly, rubble from the building begins to crumble and fall on Koichi, but Captain Celebrity stops it and saves him. Captain Celebrity poses at the cameras while an annoyed Koichi carries the man to safety. Seeing that the demolition and removal of the building requires more entertainment, Captain Celebrity brings in his personal cheerleader squad. As Captain Celebrity and his cheerleader squad show off, Pop sees that Koichi is annoyed at Captain Celebrity hogging all of the spotlight and Koichi admits that he is jealous of Captain Celebrity.
Suddenly, Koichi spots Makoto who is one of the cheerleaders which not only surprises him but disappoints him as well. Pop Step finds Makoto to be vulgar for jumping around in her cheerleading mini skirt, but Koichi begs to differ while referring to Kazuho's own revealing apparel which she refutes.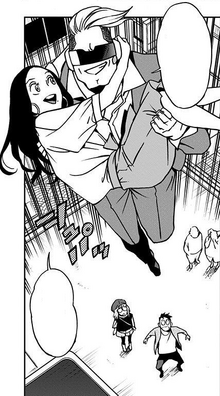 Makoto spots Koichi and Pop Step and ask them for and interview, which causes the duo to retreat. However, Makoto's attention is diverted by the rescue squad needing her assistance. Before she heads over, Captain Celebrity talks to Makoto, thanking her for all her help. Interested in her, Captain Celebrity invites Makoto to lunch on top of a skyscraper, which she is excited for.
From an alley, Koichi watches the exchange and becomes jealous. Knuckleduster suddenly appears and notes that Captain Celebrity's "playboy" side has risen again and explains that most of his lawsuits have to do with women; the biggest being the financial reparation he paid to his wife after they were granted legal separation and despite losing everything, Captain Celebrity is reverting back to his old habits, having not reflected on any of his grievances.
Later on in casual clothes, Koichi and Pop trail Makoto. Captain Celebrity spots Koichi and asks him about his stalking. Koichi explains that he was simply in the area as Makoto introduces Koichi to Captain Celebrity. Captain Celebrity tells Koichi that he and Makoto are going on their date, which Makoto says is just a business meeting. Captain Celebrity flies off with Makoto in his arms. Suddenly, a loud noise is heard from a bank.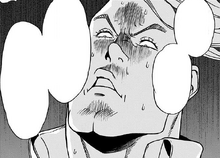 In the skyscraper, Makoto looks down and sees that a bank robbery is occurring and tells Captain Celebrity about it. However, Captain Celebrity is more interested in her and their date. As Captain Celebrity gushes over their romantic lunch, Makoto begins speaking to a person called Pamela over her phone, which shocks Captain Celebrity.
To the horror of Captain Celebrity, Makoto reveals that she became friends with his wife Pamela on the internet last week. Makoto tells Captain Celebrity that Pamela doesn't want him going back to his old ways and threatens him with another lawsuit, which scares Captain Celebrity into temporarily leaving their lunch so that he can stop the bank robbery.
In the bank, a dolphin-like villain demands an escape car, threatening two female hostages. Captain Celebrity appears and ties up the villain in a flash. The two hostages run to hug Captain Celebrity in gratitude, but but he kindly says he doesn't have time and after spotting Koichi, he grabs him and takes him to the skyscraper to take pictures with him and Makoto, doing so in order to show his wife Pamela that he hasn't reverted to his old ways.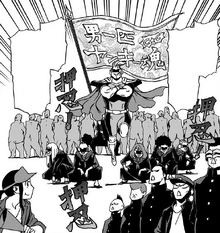 As Captain Celebrity talks his way out of trouble to his wife over the phone about his date being nothing more than fanservice, Koichi sees the pictures and notes that Captain Celebrity doesn't strike him as someone who would be buddy-buddy with other men, which intrigues Makoto. Makoto realizes that Captain Celebrity should start appealing to the male demographic as his fanbase consists entirely of females.
Taking Makoto's advice into account, Captain Celebrity's cheerleading squad dress up as schoolboy delinquents as well he also has an Ōendan made up of guys to appeal to the male demographic. This extreme change is broadcast everywhere, and in response internet communities and media overseers begin jokingly asserting that this change came from Captain Celebrity being stricken with food poisoning from all the Japanese sushi.
At his home, Koichi, Pop and Knuckleduster watch this on television as Kazuho comments on the sudden change while Koichi isn't interested.[4]
Mom Descends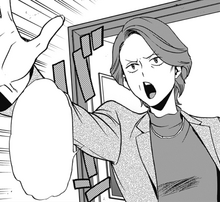 Pop arrives at the penthouse, finding Koichi sleeping and the place dirty and untidy: the dishes were not washed, no laundry was done, and there is still garbage. Pop opens the window to ventilate the house while asking Koichi to clean it up, but he says he will do it later, since after patrolling the streets he has had a night shift at his job, and now he wants to get some sleep.
Then he gets a call from his dad and what he says takes away all the desire to continue sleeping: His mother, Shoko Haimawari is coming to Tokyo for a class reunion and she decided stay at his place, and worst of all is that she's already on train. Startled, Koichi starts tidying up and cleaning his room as quickly as possible, saying to Kazuho that his mother is very strict with him.
He even stated she was the first person to tell him to not go to Tokyo and if anything were to go wrong he would have to move back to the countryside. He remembers his updates to her, including one that states he has a girlfriend. In fear for being scolded for lying, he wonders what he should do if his mother asks him to meet with her. Pop considers that this situation has nothing to do with her and decides to go home.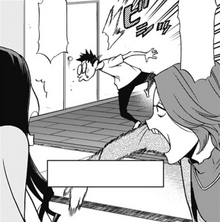 Hours later, Koichi's mother comes in to his dorm and notices how well her son is making a living. When asking about his girlfriend, Makoto comes in for Koichi's favor. Shoko is delighted with Makoto, however she realizes the deception for how "put together" she is and uses her Fly Swatter Quirk to give him heavy scolding, believing she can't trust him with school, so she considers drag him back home until Makoto convinces her she's helping him keep up with classes. Shoko begins to get along with Makoto, even liking the idea of having her as a daughter-in-law.
Despite the fact that at first Pop did not want to be involved with Koichi's problem, she decides to return wearing a dress to help him. She nervously enters the penthouse, but when she sees Makoto is there,she starts to leave but Koichi stop her and offered her to stay for play up his popularity with his mother. Although Pop does not like that mess, she agrees and uses her actual name, Kazuho Haneyama, to introduce herself to Shoko and Makoto. Koichi is glad to know Pop's real name.
Then Knuckleduster announces his arrival. Koichi and Kazuho start to freak out because they fear the reaction he may cause in Shoko and Makoto when they see the violent vigilante, but to their surprise, on that occasion Knuckleduters is seen as more genuine than his previous self. He politely introduces himself to the guests as "Takeshi Kuroiwa" when giving Shoko his business card.
Makoto also asks him for one, and reads that he's a member of a socal NPO, so she asks what he does. "Mr. Kuroiwa" states that Koichi helps him with support in neighborhoods where government and community organizations are least effective by cleaning the roads and patrolling for crime at night while also having meetings in Koichi's apartment. Both Koichi and Kazuho realize that, metaphorically, he is telling the truth, but he's omitting a lot of details about how he's doing these things.
Makoto notices Mr. Kuroiwa's strongbuilt body and thought he took a different job like a Hero, causing the mother mentions heroes get used until their lives fall apart, mentioning how her own son would dress up as All Might while putting himself in danger with helping people out. She even mentions when he went to a high school entrance exam, coming slinking back home after falling into a river. Shoko states her son is nothing but trouble.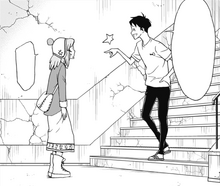 Kazuho tries to stand up for Koichi, although embarrassed at having raised her voice, she shuts up. Makoto asks her if she had anything to say, but she says it's nothing important. Then Shoko presses her too energetically to speak her mind, which causes an already nervous Kazuho to leave the place as quickly as possible.
Shoko regrets putting too much pressure on Kazuho, to which Koichi replies she exceeded, which makes him earn a smack from his mother with her Quirk, while ordering him to chase Kazuho down. Koichi asks what he should do once he reaches her, so Makoto advises him that, since she put a lot of effort in her appearance, he should compliment her. Kazuho keeps running down the stairs, and almost falls, although luckily Koichi avoids in time. Following Makoto's advice, Koichi tries to compliment Kazuho on how she is dressed, by saying she is looking very casual. This comment does not seem to please Kazuho, who slaps him before leaving to her home.
Koichi returns to his penthouse and asks his mother how long she will be there. Her mother decides to stay longer to go sightseeing in Tokyo with Makoto.[5]
The Monster Cat Incident
Koichi spends the morning sightseeing several of Tokyo's landmarks along with his mother Shoko and his senpai Makoto. He remains calm as advice from his dad. He later spots souvenirs of All Might including an exclusive hoodie, which his mother believes is a waste of money though he buys one regardless. While they are preparing to their home by bus, Shoko talks to Makoto and her son about how much she enjoyed touring Tokyo.
While that is happening, a random cat hops onto a bus and gets injected with Trigger by one of Kuin's bees, who's watching everything. With his Monster Cat Quirk powered by the drug, the cat starts to merge with the vehicle, causing the bus to morph into a cat bus and goes out of control, endangering the lives of passengers and pedestrians.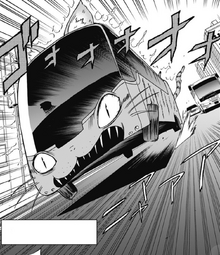 While on patrol, Knuckleduster notices the ruckus it's causing. At first he ignores it because it is an animal that causes it, and therefore he cannot obtain information. However, seeing that Koichi, his mother and Makoto are inside, he decides to take maneuvers to stop it. He calls Kazuho Haneyama for assistance when mentioning Koichi's in the bus as she brought him a feather duster and duct tape to make a cat toy.
Everyone in the bus is panicking until Ingenium comes to the rescue as he enters the bus. He and Koichi exchange glances, and they act like they don't know who the other is. The driver informs Ingenium he cannot stop or control the vehicle, and since it would be difficult to stop something so big, the Pro Hero is concerned about the possibility that the bus may have crash in an urban area.
Suddenly, Koichi notices his master is in front of the vehicle, holding a makeshift cat toy, and tossed it behind him for the bus to swerve it in a different direction. It is on an express lane, where there are no other vehicles or anything the Cat Bus can crash into. However, the cat bus is heading to a destroyed overpass, giving a five minute time-limit to the heroes.
Team Pit O2 comes on its way with a truck, including their new recruit, Enigma, who uses her Quirk to grab the passengers from the uncontrolled bus and put them in the other vehicle. Koichi's group are the last three people to be rescued.
Determined not to make things easy for heroes, Kuin gives the cat an extra dose of Trigger, causing the cat attack the Team Idaten truck with its giant tails, and moves away with Makoto still on board. The truck driver manages to regain control of the vehicle and prevent it from crashing. and Koichi informs Ingenium that he remains to rescue Makoto, so the Pro Hero immediately leaves in pursuit of the bus.[6]
Someone from Team Idaten report they have three minutes to save Makoto, however, Ingenium stated he is running out of steam, but Pit O2, the truck, is out of commission as they ask for a request of someone with a mobile Quirk. Koichi decided to help under his alias as The Crawler, wearing the hoodie he bought at the souvenir shop. His mother tried to stop him from taking risky action, but Koichi states there's no time to stand around as he leaves. Shoko starts to faint as Knuckleduster and Kazuho come in to take care of her and the passengers.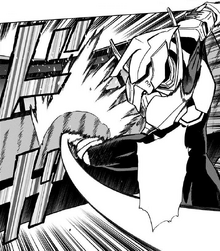 Koichi manages to catches up Tensei and gives him some juice to refill his Engine Quirk. They have a few minutes until the cat bus reaches the edge of the overpass. Ingenium and The Crawler catch up to the bus as they try to dodge its tail. Ingenium has Koichi try to distract the cat from the front while he gets Makoto from behind. But the cat, attracted by the The Crawler hoodie's antennas, accelerates suddenly, to Koichi's shock.
This forces Tensei to use a Recipro Burst to gain a last boost in speed and kick the Cat bus to prevent it from run over Koichi; but in doing so, he is forced into a cooldown to prevent his engines from overheating. The Crawler states he'll save Makoto on his own and that he'll try to avoid the tails, despite Ingenium warnings of how dangerous it is as the guy from Team Pit O2 states the edge is 200 meters away.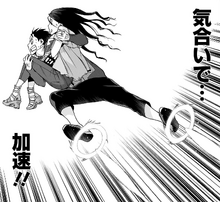 Koichi enters the bus to save Makoto, who is surprised to discover that he is really The Crawler, as the cat bus begins to free fall from the broken overpass. Ingenium uses his super move, Rocket Charge, as he tells Koichi to jump off the bus with Makoto as he tries to catch them.
The Crawler tries to glide up the bus and tries to catch Ingenium, but its not enough. He makes up with his force of will, allowing him to jump in midair. Ingenious has a hold of Makoto as both Quirk users were able to land on the expressway, with Koichi tumbling. Meanwhile, the bus comes crashing down as Kuin leaves the scene with the cat.
While this was happening, Shoko talks to Knuckleduster. remembering that when Koichi was still a baby, he already used his Quirk to float even before he could stand. Due to his young age at the time and the mother being worried, she gave him a smacking everything time he did it to make him stop, although she knew the time would come when even she won't be enough to keep him down. Knuckleduster mentions there comes a time when every child has to fly in some point of their lives and all they could do is teach them how to fall right.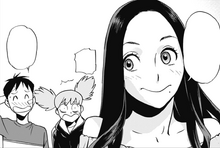 Later that night, in Koichi's penthouse, Shoko states she has enough trust with the people she met and is heading home. Her son tells her to take her time, but she slaps him for saying something he doesn't mean, and entrusts the two vigilantes to smack him if he steps out of line. She also tells Makoto to join the family, in which she states she'll give thoughtful consideration.
Sometime later, Kazuho starts to measure how high Koichi can float, in which he's able to do 30cm. Kazuho informs him with practice, he could possibly do 50, in which he could float over curbs. Koichi states he used the power before as a double-jump; and despite Kazuho thinking it was all in his imagination, Koichi states he did it in which it seems he cannot replicate again. [7]
Looking For Clues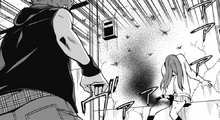 Soga Kugisaki goes to a middle school and shows a picture of a girl, asking the students if they know her. He mentions that her hair is shorter in the back and it covers one eye. Even though other girls find it creepy of him to ask it in a middle school, they do notice that resembles Kuin Hachisuka as they wonder if she is in some kind of trouble.
Soga is forced to leave when the staff approach him and asks him to go away, to his frustration. however, one of the females students decides to follow him. After walking for a while, the student catches Soga's attention and draws him into an alley to alleyway about Kuin. She asks him if he had business with Kuin. Soga informs her he is only a messenger.
The girl begins to behave a bit seductively, slightly raising her skirt, which makes Soga feel uncomfortable, so he asks her to cut it out. Then, a swarm of bees comes pouring out from under her skirt to attack him. Soga reacts quickly breaks open a bee repellent with his spikes, and throws it into the swarm in order to escape the alley.
Soga stumbles shortly after leaving the alley, and when he looks back he sees that the swarm is approaching him, but Moyuru Tochi uses his flame Quirk to set them to ashes. He is seen with Rapt Tokage on a motorcycle, as lizard tells Soga to hop on. The other guys wonder about Soga's actions as they are jealous of him hogging the fun.
Meanwhile, in a hospital, Knuckleduster is talking to his wife, who is in a catatonic state. He talks about his life through the past few years, wishing he could have gotten a better life sooner. A nurse tells them the doctor would like to speak with them, calling them by the surname "Oguro". The doctor talked about her condition to him, to which he comments to his wife later on how unreliable doctors' advice usually are since he was considered a lost cause multiple times and that he will take care of Tamao.
He meets Soga in the hospital entrance, to which he is mad that there is no one actual registered as "Kurogiwa" in the hospital. Knuckleduster states he uses that name to get in touch with people, making Soga wonder who his real name is. Despite the errands Soga had run into, Knuckleduster views him as a guy who does not pry into other people's business.
Soga reports to Knuckleduster the information he could about bee user the bee user before being attacked. He could track her middle school based on her uniform and that she uses "Hachisuka" as a pseudonym. Knuckleduster counts the info as intel, including the fact it is a private school. Soga notices he is getting into some nasty stuff and wonders about his two other friends. Knuckleduster states there is no need to drag them into this since he used him as a bait to draw attention. Soga is not amused.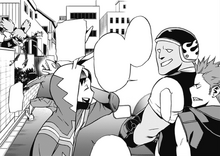 Soga leaves the hospital accompanied by his friends Moyuru and Rapt, who advise him, that despite his personality, he should to stay away from things, especially those related with Knuckleduster to avoid problems. Shortly after they meet Koichi and Kazuho. Koichi catches up with and greets them, although which Pop Step warns him to stay away. While Rapt tries to get a close view of Kazuho just to annoy her, Moyuru notices how brave Koichi is to talk with the people who beat him up before. Koichi states a lot of thing happened since then, but Soga walks away.
Later at night, Kuin enters her home and tells her mom that a stalker was looking for her, while giving her father his credit card which maxed out. She watches TV and has dinner with them, to which the light from the television shows that they are only dead corpses by now. Kuin feels life is getting boring now and that they should move.
Meanwhile, Knuckleduster is training at a warehouse, and when he finishes, he grabs the picture of the girl that Soga was looking for, making note that she will not get away from him.[8]
The Marukane Event Announcement
Kazuho receives an email request from her blog that asks her to join a live event. Koichi congratulates her on having this opportunity but Kazuho fears that since people view her as a singing street performer and if she screws up they would desert her, yet this is a chance that does not appear often.
She asks him what she should do. Koichi thinks about giving her a suitable answer, but since he thinks Kazuho will end up punching him regardless of what he tells her, he asks Knuckleduster of his opinion, being yelled at by Kazuho for evading her question. Knuckleduster tells Kazuho to do her best and do it right while Koichi helps her out as he leaves for his own thing. Koichi notices how direct Knuckleduster is being. Kazuho asks him to focus on her issue and he thinks he has the solution..
Sometime later, Koichi brings Makoto Tsukauchi to help with the situation at hand, calling Kazuho for her vigilante name. Kazuho gets mad at Koichi for revealing her secret identity to her, to which he replied Makoto has sharp intuition, and she figured everything out after the bus incident. She even knows that Kuroiwa is Knuckleduster.
Makoto promises to Kazuho that she would not mention her masked escapade to anyone and that if she plays an active role in helping, she would consider it as a job and not mass with interpersonal relations in the workplace; hence she insists to be relied on. Since Kazuho does not feel Koichi is reliable enough, she half-heartedly agrees to the conditions.
Makoto looks at her email and notices the live event it's gonna be at the Marukane department store. One of the buildings got damage by the kaiju villain that was defeated by Captain Celebrity, so she stating it is an event for a grand re-opening.
She also notes the store is only aiming at people stopping by for a meal as the roof has a 300-person capacity in which no tickets are being sold and it coincides with the opening of a food court. She even says the store is looking for local talent that would fit in their schedules it will not cost a lot of money, stating it would be like neighborhood karaoke tournament, only causing Kazuho to feel insulted. Makoto suggests to really blow the sponsors' minds.
In Naruhata, Captain Celebrity is fighting a villain while his male cheering squad tries to give admiration to him. After defeating him, Celebrity gets a call from Makoto to which he mentions of the incident in Naruhata, to which he replies insurance is covering for it and that he is helping out with construction and prioritizing incidents in the city. Makoto says she has an idea to widen his appeal with residents in the area, to which he approves of her making arrangements.
After getting his approval, Makoto calls the department store with her title as the chief manager of Captain Celebrity Agency, and speaks with the event planner that the agency supports their goals and the only thing in request is to credit the hero for his cooperation. She also suggests to spruce the venue for the local talent showcase to avoid it appearing cheap and tacky: suggesting she would provide equipment and personnel.
After the call, she mentioned how she will use Captain Celebrity's name to appeal more people and that ad revenue will pay for extra cost of equipment, planning to make the event on one to remember.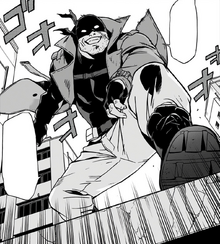 Later, in a park, Koichi and Kazuho meets Jube and Ichimoku. The two students congratulate Pop on the concert, however Kazuho, although flattered, is tremendously nervous. Koichi tries to cheer her up, but the only thing he gets is to be hit in the stomach by a nervous Pop.
Meanwhile, in another place in the city, Kuin Hachisuka also finds out about the impending musical event, and for some reason, the event pisses her off, so she wants to ruin it. One of her classmates asks if she knows anything about their friend - the girl Kuin previously used to lure Soga into a trap - but Kuin says she has no clue of her whereabouts. Without her knowing it, she is being spied on by Knuckleduster, who seems happy to have found her.[9]
Days later, Makoto tells Kazuho and Koichi how one of the higher-ups from the Marukane Department Store wants to gather an ensemble for the show. The higher-up wants the ensemble to be made up of local young talent to perform the store's theme song, and thanks to Makoto, he also wants Pop☆Step to participate. Kazuho appreciates her help, but is still very nervous.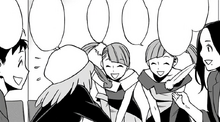 Later, at Marukane Department Store, Makoto introduce Kazuho and Koichi to other performers who will be part of the ensemble. The first of them is the Feathers duo, formed by the twin sisters Miu and Yu. After the introduction, Kazuho overhears Miu whispering to her sister that she doesn't have a good opinion of her.
Then, the East Naruhata High Dance Squad arrives, and the leader remarks that with their movement, they express themselves and don't need costumes to do so. The Mad Hatters also join, and its leader doesn't like the idea of playing a lame song. The leader of the ENH Dance Squad and the leader of the Mad Hatters immediately catch feelings for each other, and suddenly the musician has no problem playing the song, and the dancer wants to look pretty for the event.
With the issues of the band and the dancers solved, only the singers remain. Makoto suggests that having Pop in the center would create the best visual balance, but Miu and Yu protest, as they would stand out less than Kazuho, whose voice is not too good either. Makoto can't deny that they are quite right, so decides to put the issue of the singer's positions on stage on hold.
Makoto instructs Kazuho to practice the song on her own, while Feathers will work on basic steps and stage maneuvers with the ENH Dance Squad. She explains that after one week they will meet up to continue working on positioning. Makoto reveals to the ensemble that the 11 of them will be headlining the event before she leaves to discuss the lineup with some executives from the department store.
During the following days, while the Feathers work in intense training sessions with the ENH Dance Squads, Kazuho practices singing the song at Koichi's home. In the meantime, Captain Celebrity spreads flyers about the show around town after defeating a giant gorilla villain.
One week before the event, Miu sprained her ankle during her workout, so Makoto and the others try to figure out where to position her so she doesn't have to move too much. Makoto proposes putting Kazuho in the middle with the Feathers on either side of her, or cutting out Miu completely and having Kazuho and Yu perform as a duo. Miu gets sad that after all of her hard work, she won't be able to perform.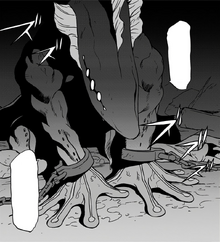 Kazuho suggests putting Miu in the middle, having Yu move back and forth to either side of her, and jumping around herself behind them both. Makoto considers that possibility, though they warn that both Yu and Kazuho would have to work twice as hard on stage for it to work. Both accept, and speak with the leader of the ENH Dance Squad to talk about positioning.
In a dark building in the city, Kuin Hachisuka is reading one of the flyers about the show, that indicates that there will be surprise appearances from guest heroes. She remarks that, if there are going to be surprise heroes, then she should also unleash a surprise villain on the show.
In the warehouse is a totally unrecognizable Teruo Unagisawa, now transformed into a gigantic eel creature. He mutters "Pop", and Kuin sarcastically tells him that they'll be there to cheer on Pop.[10]
The Show Begins
The day of the event finally arrives, and the Manukame show begins with enka master Harusaburo Nanboku performing at the stage atop the newly reopened Marukane Department Store. Present Mic announces that the afternoon portion of the show has ended. He also tells the audience that in a half hour, the evening portion would begin with the ensemble's (now called the FeatherHATS) performance.
In the greenroom, Pop Step begins to feel nervous about going out on stage. Koichi Haimawari tries to relax her, but Yuu shuts him up because the only thing he will do is make her even more nervous.
Midnight enter the greenroom, where there are other heroes. Makoto apologizes for not being able to provide separated greenrooms to everyone, but Midnight doesn't mind. Present Mic also walks into the room and greets Midnight too loudly. She remarks how the higher-ups from Marukane wanted to get popular heroes like All Might, Endeavor, or Ingenium, but none of them could make it. Midnight asks Present Mic where Eraser Head is. Present Mic tells her that Aizawa told him he would go to the show if he could. Midnight assumes he won't come.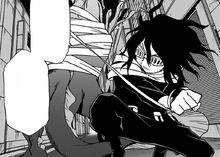 Not far from there, Shota walks along the streets towards the Marukane Department Store. Although he had committed to attend, he does not really want to participate, hoping that a villain will appear and give him an excuse not to go to the show. Luckily for him, his wish is fulfilled when he hears nearby screams that a villain has appeared, and Shota heads towards the frightful yells. On another street, citizens run for their lives from a large, lumbering Eel Villain, Teruo Unagisawa.
Shota realizes that there is something strange about him: Teruo has trouble moving due his size as he awkwardly stumbles towards the Department Store. At first, Shota thinks he has a transformation Quirk, or probably consumed Trigger. Shota attempts to erase Teruo's Quirk after binding him, but finds that his ability doesn't work on the giant eel since the monstrous body is Teruo's only form.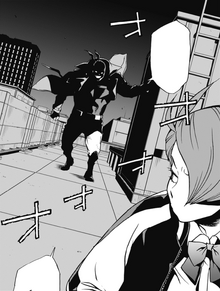 Teruo slips out of Eraser Head's bindings with his slimy skin and continues towards the store. Eraser Head attempts to hold him back. Teruo cries out for Pop, then begins to unleash a large blast of electricity with his Quirk: Electric Eel. The surge of electricity blinds momentarily to Aizawa, electrocutes to several innocent people and causes a blackout in the surrounding area, including the show on top of the department store.
Kuin Hachisuka sits atop a nearby roof, watching as Teruo falls unconscious and collapses onto the floor. Kuin thinks about pumping Trigger into the panicking audience at the show. However, her mysterious employer contacts her through her earpiece, and advises against it, because that kind of actions doesn't square with their cost and they can not risk losing their test subject, but Hachisuka plays down.
After cutting off the communication, Kuin comments that she doesn't like sermons. Suddenly, Kuin Hachisuka hears a voice behind her saying that nobody likes get lectured, especially young girls. When Kuin turns around, she realizes that her interlocutor is none other than Knuckleduster.[11]
Knuckleduster vs. Kuin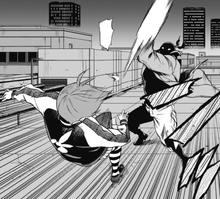 Knuckleduster approaches Kuin as he puts on his taser knuckle. He then calls her Tamao, and tells her to come home to her mother.[12] The villain seems not to know what he is talking about, but Knuckleduster tells her that he doesn't want to talk to the "Bee User", but that he wants to speak to his daughter.
Upon hearing his reply, Kuin laughs hysterically. Knuckleduster rushes towards her with his Taser Knuckle as Kuin tells that the reason why he is using that weapon to is avoid hurting his daughter's body with his characteristic brass knuckles. He swings and Kuin dodges by moving to the side. To her surprise, Knuckleduster attacks her again, and she barely manages to avoid a second swing from Knuckleduster's second fist. Knuckleduster reveals that actually he hopes not to strike her with the taser knuckle. One hit to a limb would knock her unconscious, and a hit to the chest would kill her.
Kuin unleashes a cloud of worker bees. Knuckleduster rushes towards Kuin, just as a bee explodes besides him. Kuin laughs as blood spurts from her left eye. She explains how these bees are a special breed called Bomb Bees. The cloud of bomb bees fly towards Knuckleduster and explode. However, he is unharmed as he deduced that only the first bomb bee was the only real one, while the rest were only bluffs, so he continues to attack Kuin
Kuin is backed into a corner, and she jumps off the roof and escapes into the streets. Knuckleduster uses his grappling hook to pursue her.[13] During the pursuit, Knuckleduster gets a phone call from the hospital, but he is unable to make out what they are telling him because of the bad signal his phone is receiving. He attempts to drop down from the air and catch Kuin as he lands, but she dodges and he falls to the hard asphalt of the street. Knuckleduster gets back up and tells the person on the phone that he can hear them now. The person tells him something about his wife's condition, and Knuckleduster tells them that the whole family will be there soon as he runs towards Kuin.
In another street, Shota Aizawa sits down next to Teruo Unagisawa. Shota hears cheering coming from the show and realizes that they didn't cancel the event. Teruo squirms and mutters, "Pop..." Shota remembers who Pop is, and asks Teruo is he's a fan. He tells the villain that he can go see her next show. Suddenly, he notices a bee with a syringe plunged into Teruo sucking something from his body, He tries to smack it with his bonds, but the bee flies away.
Knuckleduster backs Kuin into an alleyway. Knucleduster comments that he knows perfectly the layout of the streets, so he subtly directed her to that dead end where she has no escape. But Kuin denies giving up, and multiple bees inject trigger in her. Her physical power increases, and her nails become sharper, almost like claw. However, the Trigger also affects the Bee user's control over the host, making the bee's mission no longer the priority, and the feelings of the host start to emerge.
Kuin's mind begins to be flooded with memories of Tamao Oguro, in which the numerous discussions she had with his father are shown. She yells at Knuckleduster to stop pissing her off, calling him dad. Knucleduster seems satisfied, that little by little, they are having a father-daughter conversation again, as he pulls out his taser knuckle and puts it on his right hand.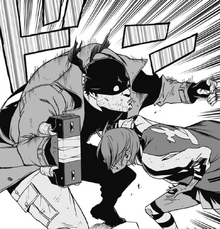 Kuin dashes towards the masked vigilante, as he notices another bee pumping an substance in its syringe into Tamao's neck. Kuin plunges the claws of her right hand's index and middle fingers into the old man's heart, and gives him a strong electric shock.[14] As Knuckleduster falls backward to the floor, he thinks of the steps that will come before he dies from the shock to his heart. He realizes that the bee must have pumped Kuin Hachisuka with a sample, giving her an electric Quirk. Knuckle smiles as he thinks of how clever his daughter is.
Kuin rubs her damaged arm which was hurt by the shock, and tells her father that she'll see him in hell. Thinking that she finally killed Knuckleduster, Kuin continues with her plan to crash the Narufest party. Kuin sees that the show's power was restored and that they continued with the event, and decides that she's going to go and cruin it.
Out of the darkness, to Kuin's surprise, Knuckleduster emerges. After getting shocked, he used his taser knuckle to defibrillate himself. Losing patience for the situation, Kuin says that she will sacrifice the body she is currently using in order to kill him, then move on to the next one. She rushes towards her opponent with a swarm of genuine Bomb Bees, and enough voltage to fry her hand to kill her if she uses it.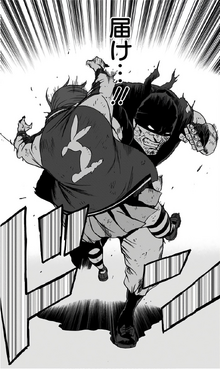 Knuckleduster thinks back to the day she left, and how she ignored him and how she looked at him coldly then proceeded to walk out the door. Knuckleduster jumps up and swings at Kuin with his taser knuckle, however, he misses. The girl tries to impale him with her electric claws, but she misses and gets punched. Knuckleduster ends the fight by hitting her in the chest with his taser knuckle.[15]
Kuin Hachisuka falls to the floor, cursing Knuckleduster, who tells her how soon the blood flow to her brain would stop, and that her body is already dead. He tells her that the only way she could survive would be to shock her heart with her claws, but he doesn't let her by stepping on her arm. Kuin's eyes roll up as she dies, and the massive swarm of bees evacuate her body through her left eye. Knuckle pulls out a device that he sticks inside the hollow hole of her left eye and he pulls out the queen bee. He tosses the bloody pulp the queen bee is attached to aside.
Knuckleduster had prepared everything for that moment. He had contacted a broker to provide him with painkillers, a taser knuckle that he could use as a defibrillator, and various chemicals to create a pheromone cocktail that attract bees. The masked vigilante tosses a canister attached to an explosive device which releases a pheromone cocktail, calling back the worker bees, and the consequential explosion destroys the queen bee and the swarm.
With all the bees killed, Knuckleduster plugs some wires of the taser knuckle into Tamao's chest, and defibrillates her. He then proceeds to perform CPR on his daughter.[16]
The Narufest
While the fight between Kid and Kuin is taking place, the Narufest runs in parallel. With the blackout, the audience at the roof of the department store is in a state of confusion. Shota phones Midnight that he had run into a villain, and is waiting with the unconscious eel until the police arrive. Rescue workers are helping the citizens who were injured by Teruo Unagisawa down on the street.
A few minutes later, Makoto Tsukauchi is explained by Midnight and Present Mic how a villain was what caused the blackout. The audience begins to get rowdy. Suddenly, Captain Celebrity arrives. Makoto tells him to go and retrieve some spare generators to restore the power.
Makoto tells Midnight and Mic that they need an MC to keep the crowd busy, and asks Mic if he would fill the role. He apologizes for he and Midnight are officially on standby until the conflict is resolved. Makoto worries that if she were to go up on stage, there would be nobody to manage how things were going backstage. The president of the East Naruhata High Dance Squad and the Feathers worry that the show is called off, and Pop☆Step notices that Koichi Haimawari has gone off somewhere. Koichi emerges from the crowd as The Crawler. Koichi went home to bring Pop's microphone.
Koichi gives Pop☆Step her microphone, as he believes that Pop is the most appropriate to keep the public calm, due to her experience as a street performer and she is always in charge of guiding people to safety when villains attack. Makoto agrees with the idea and asks Pop to talk to the public for about 30 minutes while they solve the problem of the generators. The rest of the performers encourage Pop. She agrees with the plan for her to go on stage and keep the audience calm.[17]
Pop☆Step explains to the crowd why the power went out, and that the staff are working hard to restore it. She then introduces herself to the audience. Pop instructs those with glow-sticks and assorted light-up goods to line up at the edge of the crowd, and for the rest of the audience to move a bit towards the stage to make a path.
She tells the gathering of people that they have time to go to the bathroom before the main event, and that in the mean time she will perform a few songs. Miu and Yu note that she did some slick work on the stage. They also mention that she was as lame as ever, but kind of cute.[18]
Several minutes later, the power is restored. Pop☆Step thanks the crowd for their patience and apologizes for keeping them waiting for so long, and tells them that the show will begin. The Feather Hats perform their remix of the Marukane Department Store Jingle, and they are greeted with great applause and cheering from the crowd.[19]
On the street below the department store, the police handcuff Teruo Unagisawa. Teruo looks to the show with distress. Eraser Head tells the cops that he'll watch Teruo for a few more minutes until he calms down. "They're just getting to the good part", he says referring to the re-opening event.
On the roof of the store, the crowd goes wild after the Feather Hats finish their performance.[20]
The Threat is Not Over...
After arresting Teruo, Naomasa Tsukauchi introduces himself to Shota as the person in charge of investigating the Instant Villains cases, and that he would like to ask him some questions about Teruo. Shota tells Tsukauchi that he doesn't think Teruo is an instant villain, and did not see any injector on him. However, he tells him, he did see a bee on the villain. Tsukauchi mentions that many civilians mentioned getting stung by insects during the mass outbreak of instant villains.
A mysterious man dresses as a police worker walks down the street with his left hand in his pocket as he sings to himself about data and bees. As he does so, he tosses a small plastic capsule in the air, and catches it. He notices the last of Kuin's bees shakily flying through the air past him. In a flash, he jumps up and catches the bee in his capsule. [21]
Knuckleduster's Farewell
At Koichi's Penthouse, Kazuho rewatches a recording of the show that Koichi made. She shows him the three fan letters that she received, then proceeds to excitedly rewatch the recording. Kazuho asks where Knuckleduster is, for she wants to brag to him about the letters. She tells Koichi that she needs people to brag to since she can't mention her identity of Pop☆Step to her friends and family.
Later, on the streets of Naruhata, the Three Sturm und Drang Brothers move swiftly through a crowd, using their Hyper Tornado Strip to steal the women's but also the men's undergarments as they go. The angry group of people chase the thieves as the brothers approach another woman. Just as they are about to attempt stealing her panties, the woman jumps up. She takes off her disguise to reveal that she is Pop☆Step.
Koichi zooms in as the Crawler, and attempts to slide into the thieve's legs and trip them. However, just as he nears them, the brothers jump over him. Crawler turns around and tries again, but he fails a second time. Knuckleduster appears and quickly defeats the Sturm ung Drang Brothers. As Crawler and Knuckleduster distance themselves from the fallen criminals, the brothers get surrounded by the angry mob and are beaten.
Pop☆Step stands on a nearby roof. An unnamed person approaches her in a trenchcoat. He comments that he has one desire. He wishes to soar into the bright sky. He takes off his trenchcoat, revealing his naked body, and flies into the air using large swan wings on his back. Pop☆Step gets so startled that she falls off the roof and lands on Crawler.
Crawler remarks that the pervert has a Quirk that requires him to be nude to work. Once the pervert gets too high in the air, he drops into the crowd, who are psychologically affected by seeing his naked body. He gets back up before hit the ground and tries to fly up again. Knuckleduster appears behind him and catches the offender. Knuckleduster then ties the pervert to a lamppost.
Close by, a man uses his quirk to grope women without really touching them. However, Knuckleduster quickly knocks him out. Koichi checks that the "villain" does not have Trigger in his possession and tells his master that so far the only ones causing problems are just weirdos. Koichi thinks that maybe the drug is no longer in circulation, but Knuckleduster recommends that he not let his guard down because the types they're after don't give up so easily.
Kazuho hints at Koichi about showing Knuckleduster the images and videos about the Narufest, and Koichi ask him if he wants to go with them back to his penthouse. Knuckleduster replies that he's too busy and asks them to cleaning up there. Koichi replies that there is no problem. Then Knuckleduster gesture a farewell and walks off into an alleyway.[22]
Next day, at the penthouse, Koichi and Kazuho find Knuckleduster's mask and brass knuckles. Kazuho wonders why Knuckleduster would leave them there since they just parted in town. Koichi thinks that Knuckleduster went by afterwards and dropped them off there. He believes maybe his master might have left them there to be cleaned.
Koichi washes the brass knuckles when Makoto Tsukauchi arrives. Makoto asks him where Knuckleduster is, for she wants to interview him. Koichi tells her that Ogruo isn't there, and she goes inside to give Kazuho some more letters.
At a hospital, Soga Kugisaki sits next to a hospital bed. Soga sees Tamao Oguro's arm slide off the bed, and he tucks it back in the covers. Tamao wakes up to see Soga, then proceeds to comment that he is scary looking. She says that her head hurts, and asks where her father is. Knuckleduster appears with a grocery bag. As Soga leaves, Knuckle thanks him for the help, then offers Tamao some yogurt.
Tamao tells him that her head hurts, and Knuckleduster puts the bag of food down. He tells his daughter that she should get some sleep. Tamao asks where her mother is. Knuckleduster remembers that after bringing your daughter to the hospital, his wife was rolled down a hallway in a hospital bed, passing away shortly after their arrival. Knuckleduster simply replies to his daughter that at that moment she can not see her, but that she does not need to worry, because he is there
Back at the penthouse, Kazuho arrives with a large bulletin board. She tells Koichi that it's for fan mail. However, he decides that he can also hang up Knuckleduster's belongings, as well as the trash and recycling schedule. Shortly after, Makoto arrives to give Pop more letters and images of the Narufest. Over time, they will paste photos and images of their adventures, missions and slices of life. Over narration, Koichi mentions how Knuckleduster left a strong presence in his home despite the fact that he was no longer there.[23]
Story Impact
Captain Celebrity comes to Japan.
Koichi meets Makoto Tsukauchi.

Makoto becomes Captain Celebrity's manager.
Makoto discovers the true identities of the Naruhata Vigilantes.

Makoto helps Kazuho with his idol career and becomes the manager of the FeatherHats.

The first Next-Level Villain appears.
Tamao Oguro is freed from Kuin's control.
A mysterious man takes the remaining bee after Kuin's defeat.
Characters Introduced
Iwao's Wife
Harusaburo Nanboku
Quirks Introduced
Battles & Events
References
Site Navigation