Wiki Targeted (Entertainment)
Play Sound
Extra pages from Volume 15
The Deku Mask
Fiiiiiinally we get to see this. With the hood too.
Deku: Yo.
Ryuko Tatsuma (Ryukyu)'s Profile
Age: 26
Birthday: September 22
Height: 166 cm
Favorite Things: Anything sparkly
The Ryukyu
A cool beauty. Has an impressive amount of support for someone so young, basically because her Quirk is just too freaking cool. Everyone loves her.
Taishiro Toyomitsu (Fat Gum)'s Profile
Age: 29
Birthday: August 8
Height: 250 cm(?)
Favorite Things: Takoyaki
The Toyomitsu
Drawing him is so fun. Definitely a good guy. I wanna climb on him and ride around.
Juzo Moashi (Centipeder)'s Profile
Age: 35
Birthday: June 4
Height: 205 cm
Favorite Things: Fragrances
The Supplement
Like Bubble Girl, this is another character I chose from the submissions to the fan art contest. He's super-cool. A stylish gentleman!
Ken Takagi (Rock Lock)'s Profile
Age: 32
Birthday: June 9
Height: 173 cm
Favorite Things: Bicycles
The Supplement
A married man. He's got a dirty mouth, but he's a good guy deep down. Also has a cool face.
Kesagiri Man's Profile
Birthday: April 4
Height: 175 cm
Favorite Things: Fried chicken
Behind the Scenes
Part of his design was repurposed from some older work of mine. His head, specifically. I frequently reuse old assets, such as sketchbook doodles from my college years.
My Hero Academia: Vigilantes
We've got another commemorative illustration from Betten Sensei, whose spin-off series, Vigilantes, is getting its volume 2 release at the same time as this book!!
Vigilantes is really fun, so I highly recommend checking it out!!
Thanks for taking time out of your busy schedule to draw this, Betten Sensei!!
Neijre: Someone thinks I'm cute? Score!
Congrats! MHA 15
Nejire is sooo cute!
Sorry for butting in again!!
The main series and Smash and Vigilantes are all getting simultaneous volume releases!!*
It's an MHA festival!!
- Betten Court
*In Japan
My Hero Academia Staff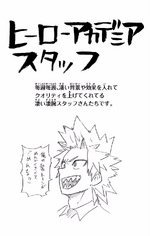 The awesomely talented members of my staff elevate the quality of this series every week with their killer backgrounds and special effects drawings.
Eijiro: Sorry that inking my hair is such a pain in the butt!!
Horikoshi's Assistants
Q: If you could have any Quirk that's been shown in the story, which would you choose?
Yuzawa-san
A: The principal's High Spec.
Fushimi-kun
A: Ida's Engine.
Nakayama-kun
A: Yaoyorozu's Creation.
Fujiya-kun
A: Kurogiri's Warp Gate.
Ikeda-kun
A: Tokoyami's Dark Shadow.
Monji-san
A: Tsuyu's Frog.
Yokoyama-san
A: Hatsume's Zoom.
Thanks for everything!!