Wiki Targeted (Entertainment)
Play Sound
Extra pages from Volume 14
Pony Tsunotori's Profile
Age: 16
Birthday: April 21
Height: 155 cm
Favorite Things: Apples, anime
The Supplement
Pony Tsunotori. She's Japanese American, and she hails from the hero capital of the world, the United States.
Her face has really changed since her debut...!!!
Ryo Inui (Hound Dog)'s Profile
Age: 32
Birthday: November 15
Height: 196 cm
Favorite Things: Drinks with dinner, soccer
The Sensei
U.A. students are generally terrified of him. He embraces that role. Smart guy. Gets along with Vlad King.
His Quirk is just "Dog." No relation to Chief Tsuragamae, though.
Mirio Togata's Profile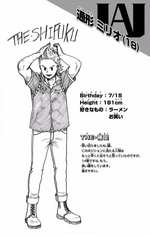 Age: 18
Birthday: July 15
Height: 181 cm
Favorite Things: Ramen, comedy
The Supplement
I really went all in with that face, huh? I wanted to debut a character to fill this sort of role earlier, but here we are, at volume 14. His face is a good one. Easy to draw.
Tamaki Amajiki's Profile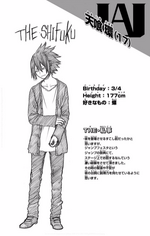 Age: 17
Birthday: March 4
Height: 177 cm
Favorite Things: Butterflies
The Personal Side
It was a little bit before he showed up in the story, I think, that I had the amazing experience of speaking onstage at Jump Festa. The nerves and anxiety I felt then really helped me write convincing dialogue for him, I think.
Nejire Hado's Profile
Age: 17
Birthday: October 6
Height: 164 cm
Favorite Things: Lilies, Jasmine tea
The Supplement
Brimming with curiosity, she wears her feeling on her sleeve. A very free spirit. Long hair is tough for me...
Sir Nighteye's Profile
Age: 38
Birthday: January 2
Height: 200 cm
Favorite Things: All Might, heroes
Behind the Scenes
He's intensely Japanese counterpart to All Mights's intensely American image.
Kaoruko Awata's Profile
Age: 21
Birthday: April 23
Height: 167 cm
Favorite Things: Baths
The Process
A while back, I held a fan art contest where the readers were asked to submit original designs for heroes. The plan was to introduce the winning design in the story.
This was that character.
Given all the work involved in bringing her into being, she won't be forgettable, one-off character. I'm planning to use her a lot.
Staff Introduction
Q: Who's your favorite character??
Noguchi-kun
A: Tsuyu
Fujiya-kun
A: All Might
Yuzawa-san
A: Stain
Monji-san
A: Mineta
Ikeda-kun
A: Twice
Yokoyama-san
A: Todoroki
Fushimi-kun
A: Tokoyami