Jurassic World: Dominion Dominates Fandom Wikis - The Loop
Play Sound
The Vigilantes Beginnings Arc is the first story arc in My Hero Academia: Vigilantes.
A college freshman named Koichi Haimawari, also known locally in Naruhata as "Nice Guy", runs afoul of some thugs harassing a young teenage idol named Pop☆Step. After being saved by the Vigilante Knuckleduster, he recruits Koichi to follow in his footsteps, as the three begin their journey fighting crime as the Naruhata Vigilantes.
Summary
Prologue
Heroes are people with Quirks who are authorized to protect society. However, there are certain heroes who protect society independently. These are the vigilantes, who illegally use their Quirks to fight villains and protect defenseless people.
The story begins in the city of Naruhata, a few years before Izuku Midoriya meets All Might in person for the first time.
Your Friendly Neighborhood Nice Guy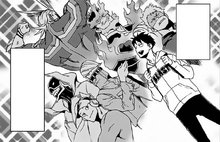 Koichi Haimawari, a 19 year old college student and a huge fan of All Might, goes to his job at a convenience store in Naruhata. Along the way, an incident occurs in which a huge villain is terrorizing the city while eating a motorcycle. Suddenly, All Might appears and defeats the monster with ease. The public is amazed at All Might's strength. Seeing that everyone is unharmed, All Might takes his leave.
Koichi is in awe of All Might's feat, until he realizes that he is going to be late for his job. Therefore, he decides to use his Quirk, Slide and Glide, to scroll faster. Some of the passersby comment on the suitability of his Quirk although others do not have such favorable comments. However, a police officer stops Koichi and berates him for using his Quirk. Koichi regrets that he was caught by a very stickler policeman who gave him a very long lecture on the prohibition of the public usage of Quirks. After the police officer leaves, Koichi runs towards his next destination and is annoyed that he must follow the rule of unable to use Quirks in public.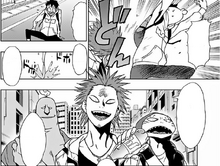 When he's about to turn a corner, Koichi crashes into a group of thugs, knocks into Soga Kugisaki, which spills the juice he just bought. Soga, along with his friends Moyuru Tochi and Rapt Tokage, demands Koichi to apologize by getting down and groveling, to which Koichi obeys, causing the thugs to laugh and make fun of him. Soga wants to humiliate him even more and prepares to step on Koichi, but the boy uses his "super move" Kowtow Evasion to slides backwards, surprising Soga. Koichi slides away and escapes, being chased by Soga and his friends until they lose his track.
Koichi sees another group praising a freelance idol, Pop☆Step. Koichi notes that Pop☆Step is taking a big risk in being a freelance idol since she does not have a permit. Despite her songs not being great, the aspect that stands out is her ability to fly which is what attracts some people to become her fans. A police vehicle is passing by, so Koichi warns Pop☆Step, who decides to end her live performance and flies away while Koichi prepares to slide to his place of work.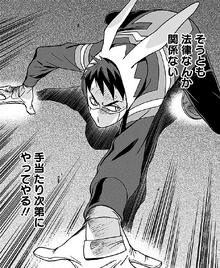 Koichi finally arrives at his job but the manager is not pleased with him being late and deducts his pay. Customers arrive; however, they are the same group of thugs that Koichi encountered earlier. Soga becomes angry at seeing Koichi again and takes him outside. There, Soga beats Koichi up; Koichi is not able to fight back because Soga uses his Quirk Spike. Koichi ends up getting beaten and humiliated by Soga, Moyuru, and Rapt.
When it all ends and he returns home, Koichi is annoyed that the police don't do anything against guys like Soga and his buddies. Koichi changes into his "suit" which is an All Might-styled jacket with a hood and wears a mouth mask. Koichi decides to deliver justice on his own accord without being bogged down by the law. Koichi starts doing good deeds for the public such as returning dropped items, giving directions, helping people get onto trains, being a cameraman, and recycling. The citizens thank Koichi and refer to him as Nice Guy. Koichi feels overjoyed in helping people as it relieves him of stress and makes him feel warm inside.
With his good deeds done for the day, Koichi begins walking home. Suddenly, a person gives Koichi juice to drink. The person giving him the juice is Pop☆Step. She thanks him for warning her about the police and followed him in order to properly thank him, but mocks him for being weak, to which he defends himself as being poor at dealing with violence. She finds it ironic that he is wearing an All Might hoodie, and she make fun of him for being weak. Annoyed, Koichi explains that he weara the All Might hoodie because it symbolizes his ideal in being useful in his own way.
After they scrutinize each other for their objectives, Pop☆Step begins to leave but bumps into Soga and his friends. The thugs recognize her as the online idol, begin mocking her and even thinking to strip her. Koichi tries to stop them, but Soga's furious glare convinces him to stop insisting. Scared, at first Koichi thinks about leaving Pop to her fate, but seeing her scared face decides to help her without thinking.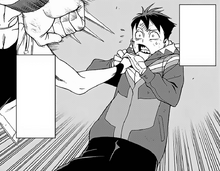 Koichi theoretically wonders how he can handle the situation; use his Slide and Glide to trip two of the thugs and take out the leader by tackling him so that Pop☆Step can fly away. Koichi decides to put his plan into motion and slides into Moyuru Tochi, trying to trip the thug but fails. Moyuru throws Koichi to the ground and Soga turns his attention to him, recognizing him as the "annoying guy" from before. Soga attacks Koichi and scratches his face with spikes from his foot. Soga decides to finish off Koichi for annoying him and continue humiliating Pop☆Step.
As Soga prepares to strike Koichi with his spikes, someone crashes down onto the trash which stops Soga. The person gets up from the trash heap, revealing to be a muscular old man. Soga asks him what is his deal but the old man just punches him in the face, which knocks him down to the ground, surprising Koichi. Moyuru and Rapt are shocked at what transpired and ask for the old man's motivations.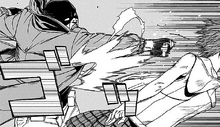 The old man tells the thugs that he is called Knuckleduster and specializes in dealing with hoodlums like them. Then he asks them if they have drugs in their possession demands them to show him their tongues. Rapt tries to tell him that he doesn't know what he's talking about but Knuckleduster knocks him out for not obeying on the spot and sticks his tongue out, checking that it does not have any discoloration. After finishing him, he easily defeats Moyuru and verifies that his tongue is not discolored either.
After checking their tongues, Knuckleduster turns his attention to Koichi and praises him for his bravery, telling him that he can become a real Hero if he works with him. Koichi shows no interest, but Knuckleduster can see through his lies and knows he is someone who cannot abandon people in need like All Might. Koichi admits that his Quirk is not useful and could never pass the Pro Hero Exam. Knuckleduster does not care about whether Koichi has a powerful Quirk or license because they have absolutely nothing to do with justice. Knuckleduster believes that true Heroes take action when something rises up before them. Koichi realizes that Knuckleduster is unlicensed.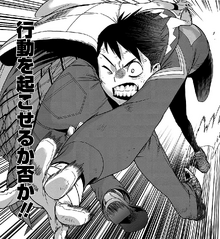 Suddenly, a beaten Soga gets up, takes Pop☆Step and threatens her. Knuckleduster tells him that he will still attack him even if he holds Pop as a hostage. Soga tells him that she is not a hostage and that he plans claw her face off with his spikes just to make amends. Unable to let him get away with, Koichi charges at the thug and knocks him down, allowing Pop☆Step to escape and Knuckleduster to punch Soga into the wall, which knocks him out. Knuckleduster sees that Soga is not in possession of the drug he is looking for and makes a copy of his ID.
Impressed by Koichi's heroic spirit, Knuckleduster informs Koichi that there are more ways to be a Hero than what the world says; Knuckleduster is a Hero because punishing evildoers is refreshing, decides to adopt Koichi as his disciple. However, Koichi finds Knuckleduster to be dangerous and urns down his offer. After defeating the thugs, Koichi, Pop and Knuckleduster and leaves the place.
Later on, Soga and his friends walk in an alley and are badly injured courtesy of Knuckleduster. Soga is annoyed and angry, promising to kill Koichi and Knuckleduster next time, although Moyuru suggests not to get involved with them. Out of nowhere, a salesman appears before the thugs and offers them "splendid" medicines.[1]
The Threat of the Trigger Drug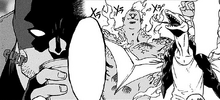 Next morning, despite Koichi's refusal of his offer, Knuckleduster decides to invite himself to his penthouse, much to Koichi's dismay. Knuckleduster does not mind if Koichi calls him "master", but Koichi has no intention of becoming his disciple. Getting down to business, he explains that he is dedicated to hunt down dealers and users of Trigger, a drug that significantly boost the user's Quirk while simultaneously weakening their sense of reasoning; Trigger is therefore a drug that can turn normal citizens into villains.
While Knuckleduster explains this, simultaneously, elsewhere in Naruhata, Rapt Tokage and Moyuru Tochi inject the "splendid medicine" that Mario Kugutsu, the mysterious salesman they met, offered them, which turns out to be nothing other than Trigger. The drug boosts their quirks to the point that their bodies transform, with Rapt's Lizard Quirk sprouting wings and taking on a more pterodactyl-like shape, and with Moyuru growing bigger and empowering his Flame quirk. Having seen the enhancements, Mario insists that Soga Kugisaki inject Trigger.
Back at the penthouse, Knuckleduster refuses to let Instant Villains roam about and will not allow that to happen. However, Koichi believes that it is better to let the Police Force or the Pro Heroes handle this situation. Knuckleduster explains that the Police Force and the Heroes are one step behind because it is impossible to distinguish people who have used Trigger, which is why it is up to them to stop these "Trigger Junkies".
Knuckleduster states that their mission is to confront any suspicious person and make them stick out their tongues because Trigger is characterized by leaving on its consumers' tongues a black discoloration, which is what he was checking for on Soga and his friends. Knuckleduster explains that they will beat them, make them talk about the dealer who gave them Trigger, and cut off the circulation of the drug. Koichi thinks that Knuckleduster is not being serious.
However, to Koichi's misfortune, Knuckleduster is dead serious, and his method of investigation consists of punch first and ask questions later. Knuckleduster tries to beat up some thugs, but Koichi manages to stop him and asks the thugs to stick their tongues out; they do so and their tongues are normal. After the thugs leave, Pop☆Step arrives and wonders what's going on.
Sitting on a park bench, Pop☆Step thanks Knuckleduster for saving her life the other day, although she does not forgive him for the fact he was willing to sacrifice her. Knuckleduster doesn't care. Pop asks Koichi what he are Knuckleduster are up to. Koichi explains that Knuckleduster is searching for people who have taken Trigger and their dealers in order to stop the circulation of Trigger, although Knuckleduster 's methods are not subtle at all, and he basically makes sure that he does not hit people at the first turn.
Pop thinks that they should use their heads instead of violence, and suggests that they should search on the internet for "sudden villain appearances" which will allow them to pinpoint the location of the Trigger Junkies making it easier and more productive to find potential Trigger Junkies.
In that moment Knuckleduster spots a salesman, Mario Kugutsu, who looks suspicious to him, and tries to interrogate him by force. Koichi tries to stop Knuckleduster, and accidentally drops the Mario's suitcase which has Hero figures. Knuckleduster finds the salesman to be suspicious, but Pop☆Step and Koichi try to stop the old man to no avail. Mario says he works in a toy company but Knuckleduster doesn't believe him and wants to interrogate him.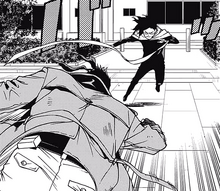 Before Knuckleduster make Mario spill the beans by force, his arm is wrapped by a cloth. Turning around, Knuckleduster realizes that the person who just stopped him is the hero Eraser Head, although neither Koichi nor Pop know who he is. Despite being off duty, Eraser Head believes that Knuckleduster is part of the recent "spontaneous villain" incidents. Both Koichi and Pop get nervous at the idea of ​​being considered villains by a Pro Hero, and are shocked when Knuckleduster decides to attack him, starting a fight between the two.
Knuckleduster does not take any serious damage from any of Shota's attacks and prepares to punch back. Believing that Knuckleduster possess some kind of stamina enhancing Quirk, Shota activates his Erasure. As they continue fighting, Koichi apologizes to the salesman and asks him to declare his and Pop☆Step's innocence to Shota. However, Mario leaves in a hurry. Pop☆Step realizes that she has seen the salesman before; and after seeing some pictures on the internet related to recent villain incidents, Pop☆Step finds out that he has been present in all of them. She tells Koichi to run after the salesman because he is suspicious.
In their pursuit, Koichi and Pop meet Soga,and the now transformed into Instant Villains Moyuru and Rapt. Soga prepares to take his revenge on Koichi and injects himself with Trigger, boosting and becoming too an Instant Villain. Soga and Moyuru chase Koichi while Pop continues pursuing Mario, being pursued by Rapt in turn.
While all of this is happening, Knuckleduster continues battling Eraser Head, who is impressed that the old man does not appear to have lost any strength and continues to fight back, even though he used his Erasure on him. The Pro Hero realizes the truth about Knuckleduster, and that is that he is Quirkless. Knowing this, Eraser Head stops the fight because he isn't using a Quirk for illegal activities, then he falls outside hero jurisdiction.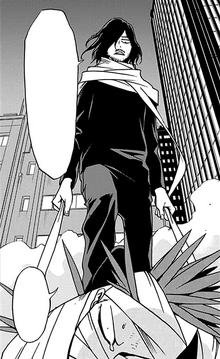 Knuckleduster takes Shota's apology and they go their separate ways. Despite realizing that Knuckleduster is not a villain, Shota still believes that he is a suspicious character. Just in case, he's going to file a report on Knuckleduster to the Police Force to take care of him. As Shota is busy filing a report, they hears screams.
Koichi is using Slide and Glide to escape from the Trigger-enhanced thugs, causing panic in the streets. Mocking his cowardice, Soga attacks him transforming into a spiked ball. Koichi manages to dodge Soga's attack but is confronted by Moyuru. Knuckleduster appears and smashes a brick onto Moyuru's head, knocking him out. Soga attempts to attack Koichi again, but Shota uses his Quirk and his Capturing Weapon to stop the thug in his tracks. Seeing that Erasing Hero is handling the thugs, Knuckleduster and Koichi decide to go and help Pop☆Step.
Pop☆Step is chasing after Mario, but Rapt is right on her tail and kicks her, causing her to fall on the salesman, who drops his suitcase again. Mario picks up the All Might doll, pops off its head, and uses it to inject himself with Trigger, turning into a Instant Villain, growing into a colossal giant with four arms. He grabs Pop☆Step and Rapt with his hands and swinging them about, behaving like a child playing with his toys.
Knuckleduster leg drops the colossal Mario in the face, but he retaliates and smacks Knuckleduster into the ground. However, Mario's hold of Pop☆Step weakens as a result of Knuckleduster's actions and she begins falling. Koichi goes to check on Knuckleduster but sees Pop☆Step is falling to the ground and is not able to stop due to no footholds.
Koichi slides up the side of a building and jumps off towards Pop☆Step. The reason Koichi decided to help her is that even though it is far too late to become a Hero, he still wants to soar through the skies like her. Instead of being caught by Koichi, Pop☆Step uses him as a platform for her Leap Quirk.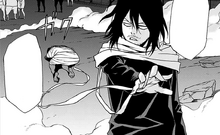 As Pop☆Step flies onto a building for safety, Koichi begins falling to the ground. The colossal salesman takes notice of Koichi and prepares to palm him. With quick thinking, Koichi decides to slam into Mario's palm and activates his Quirk, shifting the trajectory of his fall and landing onto a pile of garbage, safe and sound. However, the colossal salesman launches a punch at Koichi. Suddenly, Mario starts shrinking and returns back to normal. Shota activated his Erasure which forced the Mario's Quirk to become disabled. Shota wraps his cloth around the villanious salesman. After this incident, the Police Force arrive and arrest the salesman and the three thugs.
Shota thanks Knuckleduster for his assistance but warns him about the dangers of his vigilante activities. Knuckleduster does not mind helping since he is a "virtuous citizen" and thus it is natural to cooperate with Heroes. Knuckleduster believes that Heroes need people like him so that the incident with the colossal salesman and the three thugs will not happen again since he is free to deliver justice without restrictions. Shota finds it ridiculous that Knuckleduster believes his unlawful justice are crimes of conscience and finds him to be a troublesome old man. Knuckleduster is happy to be called a troublesome old man since he gets that all the time.
In a back alley, Pop☆Step is relieved that Koichi is alright, but he thinks that he is not cut out to be a Hero. She tells him to stop belittling himself and turns her back on him. She was going to thank him, but since he is annoying her she does not, while she blushes. Knuckleduster appears and is pleased that Koichi has learned how to land properly like him.
Koichi still does not want to be Knuckleduster's disciple since he never wanted to in the first place and only called him "master" when he fell to the ground as a spur of the moment. Knuckleduster knows that Koichi's spontaneous words and actions are actually his true feelings; that he still aspires to be a Hero. Knuckleduster encourages Koichi to chase after his aspiration to be a Hero.
Thus, Koichi's life as a Vigilante began from a lonely back alley and he would eventually go on to reach for greater heights. [2]
The Beginnings of the Naruhata Vigilantes
Back at the penthouse, shortly after Koichi finally accepted Knuckleduster as his master, Knuckleduster asks him about the speed of his Slide and Glide Quirk. Koichi states that the speed is that of a bicycle and if he goes any faster than that, he will lose control since his Quirk does not have any brakes, displaying a scar on his arm. Knuckleduster gives Koichi protective gloves that motorcyclists use and suggests Koichi to practice the art of falling safely. Knuckleduster also tells Koichi that he needed a new name, as "Nice Guy" will cause evildoers to make light of him. Following his advice, Koichi decides to adopt the name The Crawler. After this, the three decide to go out to protect the streets of Naruhata.
While on patrol, Pop☆Step sees two middle schoolers (Ichimoku Samazu and Jube Namimaru) fighting, and reports her teammates to intervene and stop the fight. Koichi is the first to arrive thanks to his Quirk. Having arrived, Koichi demands that the middle schoolers cease their fight, but he goes so fast that he ends up losing control and crashing into a pile of garbage. As Ichimoku and Jube check to see if he is alright, Koichi gets up without a scratch, thanks to the protective gear that Knuckleduster gave him.
The middle schoolers ask for Koichi's identification. Koichi tells them that he is The Crawler. However, Ichimoku and Jube know him as Nice Guy who always picks up trash, which causes Koichi to start repeating that he is now known as The Crawler and not The Cruller.
Seeing that this is going nowhere, Koichi tells the middle schoolers to break up their fight, but Jube just pushes Koichi, who laughs because his padding protects him. Annoyed by his attitude, Ichimoku shoots his Quirk, and between him and Jube they start kicking him.
As the middle schoolers continue to beat up Koichi, Knuckleduster comes in and prepares himself to punch them, but Koichi tries to stop him as there is no need for him to beat them up. Knuckleduster prefers to beat up on sight as it makes the evildoers cooperate instantly and above all it is refreshing. Koichi tells Knuckleduster that it is not okay to beat up someone because it is refreshing, which confuses Knuckleduster.
Annoyed that it is taking too long for them to stop the fight, Pop☆Step arrives and uses her appeal to stop the middle schoolers' fight which works since both Ichimoku and Jube are huge fans of her. Grateful for their praise, Pop offers to sign autographs. As Pop☆Step is about to give the middle schoolers her autograph, they start to hear screams of panic in the streets.
Turns out a new villain has appeared. Akira Iwako starts attacking innocent civilians with his Trigger-enhanced abilities. Enraged by his enormous strength and endurance, Akira begins to hit buildings to prove his point. The force of impact causes a baby to fall out of its carriage, Koichi manages to save the baby in the nick of time. Knuckleduster punches Akira but fails to inflict any damage, and Akira retaliates with a punch of his own, which sends Knuckleduster flying back.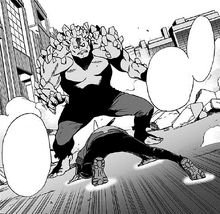 As Akira admires his great defense and shows his blackened tongue in the process, Knuckleduster gets up and is happy to see that Akira is a user of Trigger. Pop☆Step informs Ichimoku and Jube about the drug Trigger and that Koichi and Knuckleduster are two volunteers who are trying to stop Trigger from circulating through the black market. Akira kicks Koichi, who recovers quickly thanks to the protectors.
Knuckleduster criticizes the Instant Villain for not growing accustomed to his Quirk and as a result he is full of openings; one example being that his Quirk, having hardened his body too much, has caused his movements to become sluggish and that losing focus removes the hard defense. As Knuckleduster grapples Akira, Koichi slides into Akira's knee, causing the villain to fall. Due to losing focus and thus his hard defense, Knuckleduster begins beating up Akira with a flurry of punches. Seeing that violent beating scares Ichimoku and Jube.
Once his face is reduced into a pulp, Akira loses consciousness and returns to normal. Knuckleduster tries to figure out his identity, but Akira has his face so damage that does not ring a bell to him, and Koichi tells him that it's because he went overboard on him. As Koichi restrains the villain and Knuckleduster searches for identification, Pop☆Step returns the baby Koichi saved to its mother.
Knuckleduster does not find any identification, so Koichi decides to take a pictures of the villain's face and tongue. Ichimoku is confused by the latter, so Pop explains to him and Jube that people who use Trigger have blackened tongues. She adds that the middle schoolers should not take drugs, with which they agree. When they hear police sirens, Koichi and Knuckleduster scram and Pop☆Step leaps away and tells the middle schoolers that she will see them next time. Before they leave, Jube asks who they are. Koichi replies that they are mysterious new Heroes, Knuckleduster and The Crawler.
Police arrive at the crime scene and Detective Naomasa Tsukauchi identifies Akira. According to information, the villain's Quirk is a mixture of hardening, super stregh and a bit of gigantification. The detective Naomasa notes that Akira's tongue is black, a side affect of Trigger. His assistant Sansa Tamakawa realizes that Akira is an Instant villain.
Naomasa wants to know who gave the villain such severe injuries and wants to know the Heroes who responded to this villain's crime. Sansa states that there are no reports of Heroes being dispatched to the area, so Naomasa concludes that the people responsible are unapproved, illegal Heroes; Vigilantes. Sansa is glad that the Vigilantes took down the villain since it works in their favor, to which Naomasa tells Sansa to watch his words as they have something called the law and carrying out personal acts of vigilantism is a crime.
Later, at Koichi's home, Pop☆Step checks the internet and informs Koichi that Ichimoku and Jube are spreading the news of their feat on the web, which excites Koichi as they are starting to get some fame. Pop☆Step says that everyone is calling Knuckleduster and him "Freaky Fist Grandpa" and "Cruller", much to Koichi's annoyance.[3]
Koichi's New Lifestyle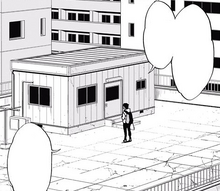 Koichi Haimawari walks in the street and thinks about his livelihood, not wanting to let his admiration of Heroes cloud his daily responsibilities such as normal life and his job. Koichi sneaks off into an alley and uses his Slide and Glide Quirk to slide up onto the roof of a building, arriving at the old beat-up penthouse he lives.
Koichi enters his apartment and is startled to find an old man sitting and eating while watching his television. Koichi is scared to see a complete stranger in his house, and thinking that it is a thief, he takes out his phone to call the police, but the old man puts on his mask, revealing himself to be Knuckleduster, much to Koichi's relief. Koichi then asks him how he could get into his house since the front door was locked, and Knuckleduster simply replies that he was able to get in through the window. Koichi is surprised to see one of the windows is broken.
As Koichi attempts to fix his window there is a knock on his door. He answers the door and sees a schoolgirl with messy hair. Kocihi asks who she is, but the school girl just enters the apartment without saying anything and fixes herself up, revealing herself to be Pop☆Step. Koichi tells Pop☆Step that is surprised by her civilian appearance, although before he finishes the sentence he is interrupted by Pop annoyed because he was about to define her as plain.
Moving along, Koichi asks if they were supposed to go patrolling this evening. Knuckleduster left work early and is waiting for nightfall while Pop☆Step has a live performance to hold. Both then proceed to bicker about the rules for the shared space, completely ignoring Koichi's protests that it's his house. Koichi prepares to go to work, leaving the spare key for Knuckleduster and telling Pop☆Step where all the toiletries and the bath are. Pop☆Step thinks Koichi has an ulterior motive, but Koichi rejects that idea and gets depressed for some reason. Pop☆Step wonders why Koichi is sad.
Koichi tells her that back in April, he rented out the beat up old penthouse on top of an old building for a cheap price. At the time, Koichi thought it was a good penthouse to live in as it would easily kick start his campus life. One night after going out with friends, Koichi invites them to his penthouse. The next day, Koichi's colleagues thank him for inviting them, but they hurry off.
Rumors about Koichi's Penthouse on an old building fly around which cause Koichi to be seen as a creep, making many of his colleagues to avoid him. As a result, Koichi's campus life debut was a failure. The college life he was looking forward was not the ideal experience he was hoping for.
Pop☆Step tells Koichi that he should head to work. As Koichi heads to work, Pop☆Step gives her live performance to her fans. One of her fans, Teruo Unagisawa, tries getting closer to her, wanted to sake her hand, but he is shoved back by other fan, knocking him down. Jube Namimaru appears and tells Teruo not to jump the gun to Pop☆Step while Ichimoku Samazu informs Teruo of the proper etiquette of being a true fan. Ichimaru's passion causes him to release his Ultimate Move Meganetic Blaster into the sky, drawing Pop's attention to him, which makes him very happy while Jube chastises him on being a man.
Desperate to touch his Idol, Teruo tells them to keep quiet and injects Trigger into his neck, causing him to transform into a Eel-like Instant Villain, causing panic between the rest of the fans and Pop, who decides to flee. Teruo starts to chase the terrified Pop☆Step through the streets of Naruhata, asking her for a handshake.
Pop and Teruo pass in front of the convenience store where Koichi works, just when he had finished his work day and he started to return home. Seeing Pop in trouble, Koichi puts on his costume and heads out while encountering Jube and Ichimaru who have been chasing after Teruo. Knuckleduster also arrives, which scares the scares the students, and after seeing how Teruo moves while he chases Pop, he suggests to Koichi to separate and get Teruo in a pincer.
As Pop continues to dodge Teruo, Koichi appears and grabs the Instant Villain while Knuckleduster attacks him from above. However, Teruo's skin is covered with slippery mucus, making any of their attacks ineffective. Knuckleduster's punch have no effect as his attack slides off while Koichi's hold slips off as well, causing them to bump into each other. Thinking about how to deal with mucus, Knuckleduster spots an udon shop, or more directly, at the flour sacks.
Meanwhile, Teruo continues chasing Pop☆Step, but loses sight of her between the alleys. Knuckleduster and Koichi meet Pop☆Step and convince her into letting the over-enthusiastic fan shake her hand, expecting that he will back off afterwards. With great displeasure, she agrees to shake his hand, however, Teruo is not satisfied and demands a hug and then a kiss as well, coiling Pop☆Step in his slime body.
Suddenly, Koichi and Knuckleduster drop large amounts of the flour they got from the udon shop, coating their bodies with the flour. The flour drains all the moisture from Teruo's slime, nullifying the slimy defense of his eel-like body. Without his protective mucus, Knuckleduster beats up Teruo until he returns to normal.
After stopping and tether Teruo, Knuckleduster is disappointed to never find good clues related to Trigger again, and assumes that this is because the Instant Villains end up naked as they rip off their clothes due the transformation. The Naruhata Vigilantes decide to leave the place when they hear the sound of police sirens, and Pop☆Step, completely covered in slime and flour, decides to have a bath after all.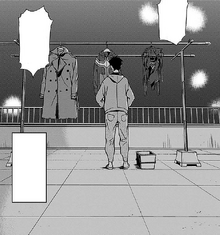 Once after bathing in the penthouse, Pop☆Step ask Koichi to buy a decent shampoo, because the cheap stuff ruins her hair. Knuckleduster tells her to use a bar of soap, annoying Kazuho, and asks Koichi to buy beer. Seeing that Knuckleduster is only wearing his underpants, Kazuho demands a bit of decency from him when he is in the communal space, and also orders him that, if he is going to smoke, he must does it outside, because the smoke stick up her hair. Knuckleduster decides to ignore her complains, which starts another bickering over each other's living etiquette and immaturity. Koichi decides to leave to go hang the laundry out of dry.
Outside, Koichi mulls over the fact that he did not get the college life he was expecting. However, as he hangs their costumes over a line, Koichi thinks that his life is not so bad with Knuckleduster and Pop☆Step around.[4]
The Insidious Menace of Kuin Hachisuka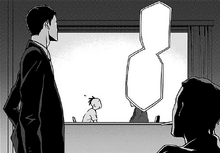 The day after his defeat at the hands of Naruhata Vigilantes and his subsequent arrest by the police, Teruo is questioned at the police station to find out where he got the Trigger he used, but like almost all of the suspects who underwent villainification, he tells them that he received it from someone he does not know, who and told him to use it when things were not going his way which will make him super strong but in return he must not tell anyone about Trigger.
Detective Naomasa, who is in charge of the investigation regarding the Trigger's trafficking and the Instant Villain, watch the interrogation along his workmate Eizo Tanuma. Naomasa Tsukauchi summarizes that Mario Kugutsu, Soga Kugisaki, Moyuru Tochi, Akira Iwako, and now Teruo have been users of the drug which has caused the "Villain Out-Break Incidents" occurring in succession over the past few weeks. Each of them have been confirmed to use the drug moments before their attacks.
Eizo believes that since Trigger has been distributed in specific places in Naruhata they could track down the dealers, however he is confused as to why the dealers would hand Trigger out for free, considering that it is a very valuable product. Naomasa ponders about the objective the dealers want to achieve. Eizo notes that "objective" is the keyword and surmises that the dealers may want may want to make massive profit or an upheaval of public order, although he may be just overthinking this.
Aware that they can not get much more information from Teruo, the police decides to release him without any charges as he only caused minor damage and Trigger is not a controlled substance. Naomasa decides to follow him, keeping an eye on him for a short while, just in case he obtain a clue. Jube Namimaru and Ichimoku Samazu see Teruo and send a message to Pop☆Step, who is at Koichi Haimawari's house.
Koichi thinks it is polite that they sent her a message while Pop☆Step tells him not to laugh. She tells him that they ran into the over-enthusiastic fan from the other day and they are now all friends. Jube and Ichimoku might be able to get more information about the person who gave the drug to Teruo. Koichi says that they should not let Knuckleduster know as he might beat the information out of Teruo. They decide to talk it out with Teruo themselves.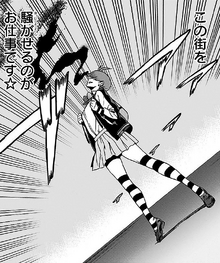 On their way, they encounter a fan with an eye-patch who recognizes Pop☆Step and takes a picture with her. Koichi and Pop☆Step meet up with Ichimoku who tells them that Jube is with Teruo. Unfortunately, Knuckleduster is in the same area and and asks what're they up to. The Koichi and the other two try to play dumb because they don't want him to join Teruo's interrogation.
Meanwhile, the fan that took a picture with Pop☆Step is ecstatic over the picture. Unbeknownst to her, a huge bee slips under her eye patch. While her friends point this out to her, she leaves immediately for work. Kuin Hachisuka reveals herself to be a high school junior and a part-time villain.
Kuin takes her eye-patch off and uses her Queen Bee Quirk to release a plethora of bees filled to the brim with Trigger around town. Her army of worker bees proceed to injecting drugs into innocent civilians, turning dozens of people into Instant Villains. As a result, the civilians' Quirks go out of control and start causing chaos. Due to panic and confusion caused by this sudden outbreak, both Jube and Naomasa lose sight of Teruo.
On the other side of town, Koichi and the others hear the disturbance and Pop check online that it is due to a sudden villain outbreak. Knuckleduster, however, sees one of Kuin's bees flying nearby and immediately runs after it. As civilians run away from the Instant Villains, Naomasa calls for backup. Suddenly, Heroes appear on the scene such as Ingenium, Endeavor, Midnight, Eraser Head, and several others. Even All Might himself appears to subdue the Instant Villains. In a short space of time, all the people who were transformed into Instant Villains have been suppressed by the Heroes. Once the situation has been controlled, Koichi wonders where his master went.
Knuckleduster manages to catch the bee while Jube tries to find Teruo. Knuckleduster confronts Jube in anger and informs him that someone is out there that caused the chaos earlier on. Knuckleduster crushes the worker bee, causing Kuin's eye to bleed. She is annoyed that one of her worker bees has been hurt. She tells Teruo that she is fine and they should get going, telling him that they are friends and offering to show him a picture of Pop☆Step.
Koichi, Pop☆Step, Jube, and Ichimoku sit at a cafe while Knuckleduster mulls over being unable to find the person responsible for the chaos today. Koichi's group continues enjoying the transient peace they are experiencing, blissfully unaware of the quiet malice lurking in the shadows.[5]
A Discouraged Knuckleduster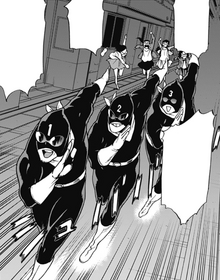 After the villain outbreak the other day, the Naruhata Vigilantes continue protecting the streets of the city. One night, they meet the "Three Sturm und Drang Brothers", a trio of villains who the steal the women underwear by using their Glide and Slide Quirks, which causes a mob of females to chase after them. Suddenly, Koichi appears to stop theem, only to get stomped on by the angry female mob thinking that he is one of them.
After getting away from them, Koichi confronts the villain trio, who think that Koichi is one of their fans due to their Quirks being similar, which Koichi denies. The trio state that their reasoning for their crimes is to let society out of their cage so that they can let human emotions run wild. Soon, Koichi and the trio of villains start talking about female underwear, only to be interrupted by Pop☆Step who berates Koichi for mingling with perverts.
Knuckleduster suddenly appears and beats up the Three Sturm und Drang Brothers, defeating them. However, they do not have black tongues, meaning they are not connected with the Trigger incidents. Kocihi notices that his master is quieter than usual, because after verifying that there is nothing that will serve them in their mission, he just decides to leave.
Next morning, at Koichi's penthouse, Koichi is practicing boxing with Knuckleduster, punching the gloves his teacher is holding. He ask him if his aloof behavior has something to do with the Bee User from before. Knuckleduster does not respond and simply continues with the training, giving Koichi a strong blow.
Koichi says he's not suited for fist fighting, and boxing is kinda pointless to him. Knuckleduster simply tells him to just leave the punching to him, and gives Koichi the training gauntlets so he can also train. Even with the gloves, Koichi can barely take Knuckleduster's heavy punches and ends up getting knocked down. knocking him down to the ground. Pop☆Step criticizes Knuckleduster for over doing it, but Koichi sees that Knuckleduster always restrains his strength to avoid killing his enemies. Pop tells him that although Knuckleduster does that, he's still overdoing it.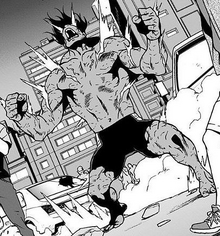 Elsewhere walking on the sidewalk, Kuin Hachisuka is speaking with her employer, the person who has been giving her the Trigger drug. Kuin's employer notes that she went overboard the other day with the Trigger drug and reminds her that Trigger is still a valuable drug that mustn't be used indiscriminately. Kuin does not seem to care because her employer was able to get good data from the incident. The employer states that in order for an exceptional Quirk to manifest, a strong will is absolutely necessary. The employer desires capable individuals with explosive potencial whitin; in other words, people who are capable of pulling the "Trigger" so to speak, and commands Kuin to search for these kinds of people.
Kuin considers that assignment a pain, but she does it anyway, Kuin finds a junkie in an alley and gives him a batch of Trigger. The junkie injects the Trigger into himself as she encourages him to use his newfound power to shove it into society's face. Angry, the new Instant Villain uses his Trigger-enhanced might to smash her into the ground. However, she dodges with ease and continues encouraging him to fight and leaps away.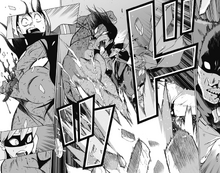 The Instant Villain attacks innocent civilians. Koichi and Pop☆Step are on the scene. The villain attacks Koichi, but the boy is quickly able to dodge his attacks with his. Koichi tells Pop☆Step to keep the townspeople away from the villain, which Pop☆Step does. The villain is about to attack an innocent civilian, but Koichi manages to save him in time. Suddenly, Knuckleduster arrives and kicks the villain in the face.
Knuckleduster suspects that the villain gathers all of his strength and concentrates it within his fist the moment he attacks. Using this knowledge, Knuckleduster decides to fight fire with fire. Knuckleduster and the villain engage in a brutal fistfight, with Knuckleduster barely dodging the villain's blows. The villain prepares to attack with his amplified fist, but Knuckleduster lands a powerful punch to the villain's face before he can unleash the enhanced punch.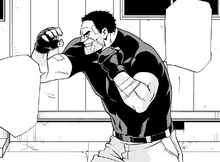 With the villain defeated, Knuckleduster states that he used the villain's charge up time, which left him defenseless, to his advantage to perform a counter attack. Knuckleduster, despite being injured and bleeding, concludes that actual villains must have huge bodies like the Instant Villain he faced. Back at Koichi's penthouse, Knuckleduster is back to his jolly old self knowing that he can go all out against huge villains until they're nearly dead since no one will complain. Knuckleduster finishes his training with Koichi while Koichi is happy that Knuckleduster is in a better mood.
Meanwhile, Kuin is talking to her employer about the Instant Villain, saying that the guy was pretty decent and notes that the trio of Vigilantes got in the way again. Kuin takes note of the old man and wonders if they should do something about them, although she does not care either way. However, Kuin's employer tells her that the Vigilantes are beneficial to them because thanks to them, they can gather practical data without having to worry about the Heroes or the Police Force and wants to preserve the current situation. Kuin states that the trio of Vigilantes are trying to get leads on them. Kuin's employer tells her that it is high time for her to display her skills as a coordinator, although Kuin wonders if that is really her job before cutting off communications with her employer.
A man appears before Kuin and asks if she is "Honey"; Kuin is impressed with the man's build while the man comments on Kuin's cuteness. Kuin and the man hold hands and walk off together.[6]
The Responsibilities of the Pro Heroes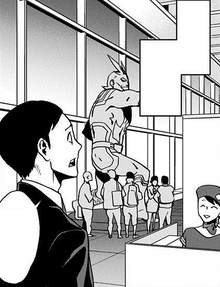 Because the Instant Villain outbreak in Naruhata Ward was due to innocent citizens transformed against their will by a third party, detective Eizo Tanuma organizes a meeting in the Police Station with some of the heroes who helped to stop the outbreak to discuss the situation and the best action to take. However, due All Might's tendency to run off in a hurry to carry out his activities as a hero it was impossible to schedule a meeting that would work for him.[7]
For this reason, he sends Naomasa to All Might's Hero Office in Minato Ward, Roppongi, to meet with the number 1 hero, explain the situation to him, and come back to report the answer that All Might can give him on how they should handle the matter. Just in case he was not able to meet with All Might, Eizo recommends Naomasa that he then meet up with Toshinori Yagi, from All Might's Secondary Clerical Office.
Naomasa Tsukauchi visits the Might Tower, and at the top floor, the receptionist tells him that All Might will be returning shortly from Hokkaido, although she assures him that he probably won't be able to talk to All Might. Naomasa is confused by her answer, when on one of the large screens on the floor broadcast All Might defeating the villain Cow Cowboy. A farmer thanks All Might by giving him his farm's milk to taste as well as dairy themed products. All Might thanks the farmer for his hospitality but says he needs to be elsewhere and leaves.
The Might Tower's roof opens up and All Might lands down. Many reporters ask All Might questions about global affairs. However, All Might apologizes and decides to leave office affairs to his capable staff, as he retreats behind the Might Gate, which is only accessible by All Might himself. Naomasa decides to come back another time, but remember that Eizo advised him to contact Mr. Yagi. Naomasa goes to the receptionist and asks for him, but coincidentally, Toshinori Yagi is by the receptionists as well and hears Naomasa's request.
Toshinori and Naomasa head to the building's cafeteria to talk, with Mr. Yagi explaining that his job as All Might's Secondary Clerical Office is to handle the number 1 hero's personal life. Naomasa is surprised that All Might has a private life and is impressed that Mr. Yagi has such an important job, although Toshinori assures him that he barely has any job to do and basically dedicates to bringing him messages. Naomasa explains the Instant Villains rampages that have been happening recently, many of them were actually ordinary citizens who where forced to rampage, to which Toshinori suggests that Heroes need to be more cautious going forward.
Naomasa also wants to talk to him about another matter related to the police when suddenly they hear a cry for help. Toshinori excuses himself; he transforms into All Might and stops a purse snatcher, then returns to Naomasa in his weak form, apologizing to him. Before resuming their discussion, Toshinori hears about a hit-and-run, excuses himself once again, and goes to stop them, returning to Naomasa. Toshinori's super hearing alerts him to several issues; a steel beam is going to fall, a giant robot is going berserk, steel cables of a bridge are collapsing, and a cat is stuck in a tree. Toshinori excuses himself one more time and goes to save the cat, stops the steel beam, and throws the giant robot wreckage under the bridge which prevents it from collapsing.
Toshinori returns with the All Might uniform still visible, exhausted and stressed while apologizing to Naomasa, who asks about the cat which shocks Toshinori. All Might returns the cat to its owner and returns to Naomasa. Seeing that the cat is out of the bag, Toshinori asks Naomasa to keep his identity a secret, to which Naomasa replies that he will. Back to what he was saying, Naomasa tells Toshinori that the Police Force are troubled by his spontaneous acts of heroism; all Heroes are required by law to file detailed reports of their Hero activities.
Toshinori admits that he has so many reports to file that he cannot do it on his own; he once had an extremely capable sidekick who did all the file work for him, but not anymore. Toshinori is well aware that he must follow standard procedures when Heroes wield their powers, but thinks being unable to save people due to reports being not filed is borderline insanity, simply wanting to save people in front of him without being burdened by unnecessary procedures.
While Naomasa understands where Toshinori is coming from, he tells Toshinori that he is not excluded because he is a Hero who must follow the rules and if people find out that the Number One Hero neglects his Hero duties it will set a bad example for them which could cause anarchy. Toshinori agrees with Naomasa.
Naomasa decides to help All Might with his Hero reports and for him to tell him about his unplanned Hero activities. Toshinori is delighted with Naomasa's offer and accepts it. Toshinori exchanges his personal contact number with Naomasa.[8] After receiving the answer from All Might regarding on how to deal with the people turned into villains, Naomasa returns to the police station to report.
In said place, a meeting is taking place between Detective Tanema and several heroes. The attending heroes are Endeavor, Best Jeanist, Eraser Head, Midnight, Ingenium, Death Arms, Snipe, Manual, Thirteen, Gunhead and Airjet. Endeavor asks why All Might is absent and is not pleased when Tanema explain it was impossible to schedule a meeting with him because he is always busy with his hero duties. Endeavor is annoyed with the answer. Tanema clarifies that they have sent a representative to his agency.
Returning to the topic at hand, Tanema talks about how the villain outbreak has been a series of normal citizens who've been forcibly injected with the drug Trigger. Endeavor understands that what he means is that they are more victims than villains. Deciding how to handle this, Endeavor quickly provides a solution where both he and the rest of the heroes who helped stop the outbreak pay their hospital bills, and for the media to just make sure that they tread lightly when reporting this.
But Eizo not only wants that but also that the heroes do not rush when it comes to facing an Instant Villain, in case it is another innocent person. Endeavor considers his request ridiculous and argues that any public use of a Quirk is illegal and that they should treat them as villains and let the police investigate the backgrounds of future captures. He says that this is the only way to protect the innocent while not risking themselves through hesitating every time they see a new enemy. Endeavor's proposal to subdue suspects of villainy and later confirm their identities, makes Eraser Head to think that there are certain gray-areas for hero to work, and recalls that when he met Knuckleduster he had a similar mindset.
Endeavor get more enraged with Eizo's continued hesitation and tells him to go ask for All Might's opinion. Naomasa Tsukauchi arrives with a statement from All Might declaring that he will assess the situation at the scene more carefully because as heroes they should try to keep the innocent citizens out of harm's way. This is in direct opposition to Endeavor's answer, leaving the Flame Hero quite literally burning with rage once the meeting ends.
Afterward, Midnight meets up with Eraser Head who asks about Present Mic because he was supposed to be at the meeting. Erase Head states that he's out with a cold and could not make it. While walking down the hallway, Midnight scolds Eraser Head on his attire. In response, he teases her saying she should become a teacher or something if she likes counseling others so much. Much to his chagrin, she tells him that's exactly what she plans on doing. Continuing on she reveals that principal Nezu personally requested her and that she would be a new teacher for U.A. High School next year. She detailed in constant innuendos her beliefs on teaching. Aizawa disagreed with her methods.
When she began a rebuttal, the police station is attacked by Suicide Bomber, a villain with a Suicide Bomb Quirk. He projects a great hatred towards the Police Force, and intends to blow himself up to destroy the building and kill a large number of police officers. Some of the officers comment that he has very bad luck because that day several of the best heroes of Japan are in the building, and some of them, like Best Jeanist and Ingenium, are preparing to stop him. Another officer says that his only luck is that All Might isn't around. Despite this, the criminal continues with his intentions to make himself explode, and the presence of so many heroes does not deter him.
Endeavor, fuming over hearing All Might's name again, decides to incinerate the villain. Endeavor quickly engulfs himself in flames in preparations to burn him into ashes but Midnight realizes that doing so would still cause him to explode. Eraser Head quickly moves the suicide bomber out of Endeavor's attack right into Midnight's arms. She quickly uses her Somnambulist Quirk to subdue the bomber. The Midnight Boys come bursting in asking if Midnight is unharmed while they hand her mask and flogger-style whip. Midnight reassures her sidekicks and tells them to hand the villain over to police custody. She tells the bomber that if he acted up again, she would personally bring him to her agency and dole out punishment.
Now that the bomber has taken into custody, she continues where she left off with Eraser Head about being a teacher at U.A. because a wide variety of opinions and teaching styles is required to educate the youth. Eraser Head confesses that idea seems absurd, since he becoming a teacher would be the epitome of the irrational, and leaves the place.
The next day, after taking down another villain, he receives a message from Midnight stating that she has submitted a letter of recommendation to the principal, and informs him that he has also been accepted at the U.A.[7] Meanwhile, at the police station, Naomasa receives several cases of All Might's unplanned Heroics and wonders if it was Eizo's plan to push All Might's ordeal onto him from the start.[8]
Koichi Meets Turbo Hero: Ingenium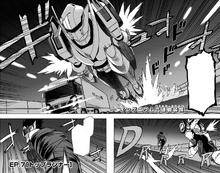 Team Idaten's PITO1 vehicle is chasing a running villain who is driving recklessly on the highway. The villain is heading towards the Naruhata Area because in his past three appearances he caused inflammatory incidents by riding around the loop lane.
Having confirmed that there are no civilian vehicles ahead, PITO1 allows Turbo Hero "Ingenium" to chase down the running villain. Tensei orders the running villain to pull over, but the running villain eludes Tensei. The running villain claims that Tensei must stake his life on running if he wants to catch him, cackling while sticking out his black-tipped tongue. The villain kicks Tensei, causing the hero to lose control. The villain escapes while Tensei manages to save himself using airbags he installed in his costume.
The next day, Koichi Haimawari is jogging in his neighborhood and is able to practice using his Quirk due to the expressway opening ten years ago which has decreased the population in the area. Koichi sees someone jogging and passes the person while commenting that braking is an issue. Tensei catches up to Koichi, which shocks him, and manages to stop Koichi from crashing.
Tensei introduces himself and asks Koichi if he has heard of Turbo Hero "Ingenium." Koichi is surprised that he is speaking to a real Pro Hero in person. Koichi apologizes for using his Quirk, but Tensei is fine with it and inquires about Koichi's Quirk after noticing that Koichi has trouble stopping. Koichi replies that his Quirk uses a repellent force which allows him to propel forward, backwards, and side to side and to rotate.
Tensei states that Koichi's Quirk is convenient for being able to turn and comments that his little brother cannot turn corners yet. Koichi states that he uses the rubber on his shoes to brake. Tensei sees that Koichi's problem is the way he is using his Quirk and suggests to Koichi that he should offset his momentum by thinking of suddenly accelerating in the opposite direction. Koichi practices Tensei's suggestion and succeeds in braking.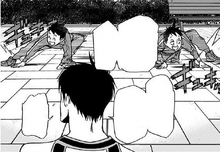 Koichi is happy that his biggest problem has been solved while Tensei sees the usefulness of Koichi's Quirk. Koichi does not see his Quirk as useful, which Tensei rebukes since speed is paramount when it comes to saving people's lives. Seeing his potential, Tensei offers Koichi the chance to join his Hero agency which specializes in speed and teamwork. Koichi replies that he does not have a Hero License, but Tensei suggests that he can work on the scene as a support staff member while earning his qualification little by little. Tensei gives Koichi his business card as a representative of Team Idaten and time to think his choice over.
Koichi returns to his apartment to cook the food for the Naruhata Vigilantes. Knuckleduster returns and sees Koichi's happiness, and Pop☆Step explains that Koichi was scouted by a Pro Hero. However, Pop☆Step comments that Pro Heroes give hundreds of flyers to anyone they meet while Knuckleduster is annoyed that Koichi prefers Tensei over him, to which Koichi replies that he just wanted to be recognized by an upright member of society.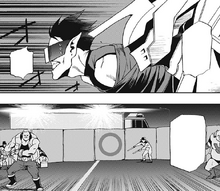 5km away from Naruhata that evening, Tensei is chasing after the running villain again. This time, however, Tensei is able to match the villain's speed, who notes that Tensei seems to be making sharper movements. Tensei made the decision earlier to sacrifice all the safety measures of his suit (much to his team's disapproval), in order to shed as much weight as possible and match the villain in his mobility. The villain believes he has successfully convinced Tensei to foolishly risk his life to keep up with him, but Tensei makes clear that he did not merely endanger himself to keep pace; instead, he is trusting that his team will keep him safe.
The villain sees a safety blockade formed by the other Heroes of Team Idaten. Tensei crashes into the safety blockade, but the villain avoids the trap entirely when he reveals that he can fly by manifesting his bat wings. Idaten's Team Two rushes to confront the Bat Villain's target location. One of the flying Heroes of Team Idaten tries netting the Bat Villain, but he evades his effort. The Bat Villain lands on the ground and sees Team Two, but gets past them. Tensei is rushing to the villain's location.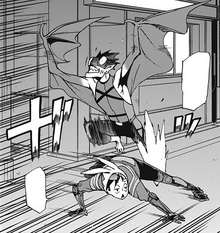 The Bat Villain then escapes from the highway and takes to an old part of the Higashi-Naruhata district, all while avoiding Team Idaten's coordinated attempts to corner and subdue him. Tensei remarks the difficulty of the operation is due to the town's unfamiliar layout and the villain's ability to use the shadows to his advantage.
As the Bat Villain starts boasting about his speed, Koichi slides out of an alley, tripping the villain, and Knuckleduster punches him in the face, knocking him unconscious. Tensei catches up and wonders who defeated and tied up the Bat Villain. On the rooftop, Tensei and Heroes of Team Idaten see The Crawler, Knuckleduster, and Pop☆Step. Seeing that their job is done, the Vigilantes retreat. A Hero of Team Idaten asks Tensei if they should chase after them. However, Tensei decides to call it a night.
The next day, Koichi is jogging and so is Tensei. Tensei catches up and thanks Koichi for his help, referring to him as The Crawler. However, Koichi dismisses the fact that he is The Crawler. Seeing his mistake, Tensei asks Koichi to tell The Crawler they had a nice run.
Tensei also asks Koichi for his business card back, which surprises Koichi. Tensei sees that Koichi has found the right place he belongs and he respects that. Furthermore, Tensei feels that it was wrong of him to bring up the subject of his Hero job to a jogging buddy.
Disappointed, Koichi gives back Tensei's business card. Tensei apologizes if he hurt Koichi's feelings and makes it up to him by racing him. Koichi and Tensei race to the next corner.[9]
A Regular Day for the Naruhata Vigilantes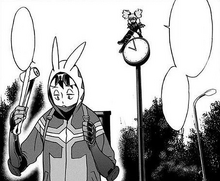 Having greater control over his Slide and Glide Quirk, Koichi Haimawari proceeds to accomplish his daily good deeds with greater efficiency such as throwing away a passerby's litter in the trash can, getting a boy's ball in the road, giving a mother's lunch to her daughter, and giving a school girl a ride to school. However, Koichi notices that everyone is calling him the "Hauler" rather than the Crawler.
Pop☆Step states that his problem is due to everyone thinking that he is a handyman and he should stop picking up empty cans in exchange for doing real Hero work. Koichi refuses to stop picking up trash just because it's uncool and does not feel it is right to stop doing so since that isn't the kind of man he is.
Knuckleduster arrives and tells Koichi that they will be cleaning up a different kind of trash, the Trigger junkies, with their black tongues being a confirmation. Although, Koichi thinks that Knuckleduster's beat up measures are far too drastic. Instead, Koichi and Pop☆Step have a different idea for snuffing out the Trigger junkies; a surprise of Pop☆Step with her fans taking photos with her while sticking out their tongues, which will allow them to easily identify any Trigger junkie. To Koichi concern, having nothing to do puts Knuckleduster in a bad mood.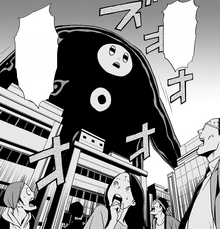 Suddenly, a gigantic black blob appears, much to Knuckleduster's excitement who assumes that it is a villain and analyzes that its black body makes it resilient to physical attacks but its face being white is its weak spot. Koichi draws the black blob's attention while Knuckleduster swoops in and punches the black blob's white face. However, the black blob's body has elasticity which causes Knuckleduster's punch to have no affect. The giant black blob begins shrinking to which Knuckleduster responds by chasing after it.
Knuckleduster and Koichi reach the alley where the giant black blob disappeared. From the group of five civilians, Knuckleduster's intuition makes him believe that the little girl is the most suspicious. As Knuckleduster grabs the girl, Koichi and Pop☆Step stop him from almost beating her up, saying he can't punch girls even if they are cillains, so Knuckleduster decides to choke her, much to Koichi's dismay.
Pop☆Step pulls Knuckleduster away from the girl, and while trying to help her, he realizes that she has a Hero License. The Hero girl tells the Vigilantes that she came from Tokyo to visit one of the Hero Offices but got lost, so she used her Quirk to give herself a better look.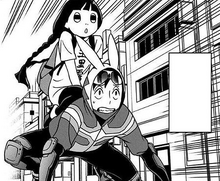 Koichi and Pop☆Step apologize for the misunderstanding, and the Hero girl forgives them and explains that she has an interview at 1:00 with Team Idaten. As an apology, Koichi offers to carry Enigma to Ingenium's Hero Office. As he rides, he decides to believe in Knuckleduster's words; that just as Heroes have their crucial jobs, there are some things that only Vigilantes like themselves can do.
Back at his apartment, Koichi tells Pop☆Step and Knuckleduster that he managed to get the Hero girl to the Hero Office in time. Pop☆Step is glad that the Hero girl forgave them for the misunderstanding because the incident would have made them villains. However, Knuckleduster is nonchalant, saying that a misleading face like hers is just asking to be punched, much to Pop☆Step's chagrin.[10]
The All Might Hoodie Connection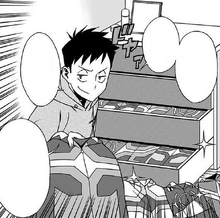 Kazuho Haneyama arrives at Koichi Haimawari's apartment while Koichi himself is busy fixing his hoodie due to it being ripped. After grabbing a pudding, Kazuho wonders why Koichi does not replace it with something new. Koichi refuses to since it is official All Might merch. Koichi tells Kazuho that he was planning eating the pudding, which makes her blush and causes her to blame him for not labelling the pudding, although Koichi does not mind.
As Koichi remarks on buying more pudding for her, Kazuho is annoyed that Koichi spends more time on his lame All Might hoodie. Koichi snaps at her because he refuses to allow anyone to insult his All Might hoodie since it means a lot to him. Koichi shows every limited edition All Might hoodie he has except for the silver age edition, which he is missing because he gave it to someone.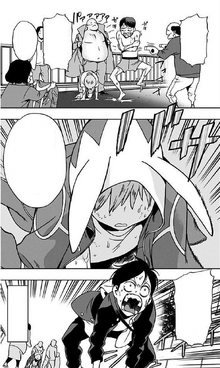 Koichi explains that until middle school, he was serious about becoming a hero and signed up for a Hero course at a high school in Tokyo. On the way to the entrance exam at the high school, Koichi spotted a child drowning and tried to ignore it, but his Hero instincts kicked in. He jumped in to save the child and pulled him out of the water. Seeing that the child was cold and wet, Koichi gave the child his silver age edition All Might hoodie and rushed to the Hero course at the high school. However, Koichi did not make it in time and did not take the examination.
From time to time, Koichi still thinks about a future where he became a Hero if the incident did not occur. Koichi hopes that one day, the child he saved grows up to be a Hero who was inspired by being saved by his heroics, and hopes that his ideals reach the boy through the limited edition silver age All Might hoodie he gave him. Unimpressed at Koichi for messing up his Hero career so that he could rescue some nameless child, Kazuho goes home in a bad mood.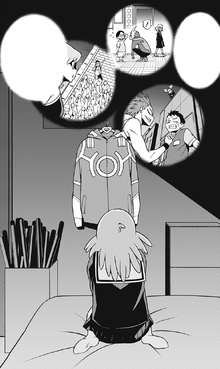 At home, Kazuho takes out the limited edition silver age All Might hoodie, revealing that she was the "boy" Koichi saved on the day of his examination, causing her to blush. Kazuho thinks back; on that day, she was trying to use her Leap Quirk to jump across a river as a shortcut, but it had been raining the previous night, causing the ground to become wet and slippery and the river to overflow.
These factors caused her to fall into the river and start drowning, but was saved when Koichi came to her rescue. After that event, Kazuho could not get Koichi out of her mind and had been looking for him ever since, and although she has finally met him, she does not know how to properly thank him. She becomes annoyed at him for thinking that she cannot apologize.
After getting pudding to eat and returning to Koichi's apartment, Kazuho is grateful to him for saving her and is regretful that she made him miss his exam. Kazuho knows better than anyone else, that Koichi could have become a great Hero because he has always been a real Hero to her. Kazuho returns to Koichi's apartment and wants to talk to Koichi about something.
However, Knuckleduster's presence ruins her opportunity to tell Koichi that the boy he saved was actually her. Knuckleduster eats the pudding while Koichi asks Kazuho what she wanted to talk about and if it has something to do with the bag that she brought with her. Annoyed at the inconvenience, she once again goes back home.
In her home, Kazuho puts on the limited edition silver age All Might hoodie, still thinking it is stupid that courage overflows from the hoodie according to Koichi's belief. Although she thinks it is dumb, deep down she believes there to be some truth in his belief.[11]
Story Impact
Characters Introduced
Quirks Introduced
Battles & Events
References
Site Navigation