Jurassic World: Dominion Dominates Fandom Wikis - The Loop
Play Sound
The Underground Masquerade Arc is the eighth story arc in My Hero Academia: Vigilantes.
In the aftermath of Bee☆Pop's performance, Eizo Tanuma investigates a past case with O'Clock. Within the Underground Masquerade Incident, home of various Underground Fighters and its usage of Trigger, lies a hint toward the true mastermind behind the Villain Factory...
Summary
Prologue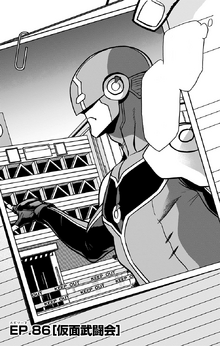 Detective Eizo Tanuma arrives in his office to find Officer Sansa Tamakawa working at his desk. He learns that Naomasa Tsukauchi has returned to the Hospital where Kazuho Haneyama is being treated to deal with the current situation alongside Soga Kugisaki and his crew. Sansa informs him of some information he was able to uncover regarding the Hospital, which Eizo had requested, learning that two years before the secure ward was constructed, it received a generous donation from a man named "Takeshi Kuroiwa", who Eizo recognizes as being the alias of Iwao Oguro. As he prepares to sit at his desk, Sansa asks him about the envelope he's holding, which Eizo says is about an old case he participated in years ago, and that there is something he wants to check. He pulls out several files with pictures of O'Clock, as he thinks about his old advice that "Sometimes, caution alone is not enough."
Seven Years Ago...
In a parking structure in Osaka, an illegal underground fighting ring known as the Underground Masquerade is taking place. The spectators, all of which are hiding their faces with masks, watch brutal fights in which anything goes to win, from weapons to use of Quirks. Because of this, it is normal for fighters to need medical attention, with there also being knowledge of a history of some fighters going missing.
Surrounding the building is Eizo, O'Clock, and a small Police Force. Eizo asks O'Clock if he wants them to storm the place, but he declines, saying his real target is not the event itself, but the drug trafficking that occurs there. He has knowledge that the fighters are using Quirk-boosting drugs, and he is planning to infiltrate the arena to secure evidence. Eizo realizes the police are there to help secure an escape route for him right afterwards. Right before he speeds off, Eizo asks O'Clock "What's with the Five O'Clock Shadow?" as he smiles saying he has to look the part.
In the Underground Masquerade, a new match begins as the Ring Announcer introduces the next fighter, "The Ripper", O'Clock in disguise, as a fighter just armed with a knife who has won five fights without a single loss. The Announcer then proceeds to introduce his next opponent, an exceptional fighter with 20 wins and no losses, The Rapper.
The Ripper vs. The Rapper
Before the match begins, The Rapper whines about how they both have a similar alias, while The Ripper tells him not to complain. The Rapper proceeds to add that he's annoyed The Ripper is using a knife, and that fights should be hand-to-hand. The Ripper taunts him asking if he's afraid of him and the knife, but he denies it and encourages him to come at him, as he sticks with his code.
As the bell rings, The Rapper pounces his opponent, using his Strongarm Quirk to attack with a barrage of punches. The Ripper is thrown against the ring barriers, losing the knife and his mask, with the announcer wondering if the fight is already over, but The Ripper stands up and says that he'll keep going. He looks at The Rapper and smiles, saying that since he's a nice guy, he's going to play by his rules and fight weaponless. The declaration greatly delights The Rapper, who praises him as he continues to fight.[1]
In actuality, O'Clock used his Overclock Quirk to analyze The Rapper's words and actions, realizing that his opponent had the true intention of attacking him despite being armed with a knife. Since it was no longer of use to him, he took advantage of the onslaught of attacks to drop it in a way that looked natural, as well as removing his mask to breathe better, since he needs easy access to oxygen in order to best use his Quirk.
The Rapper continues to attack him, while The Ripper uses his Quirk to avoid and analyze him, understanding that his Quirk lets him unleash a quirk flurry of punches. The Ripper decides to act like he's knocked down by the blows to put distance between them so he can take another breath. As he gets back up, he realizes his prep as "The Ripper: The Knife Fighter" is of no use in this fight, so decides to change his plan and fight like a street brawler.
Meanwhile, on the streets of Osaka, a young Fat Gum helps a trio of girls from a Hero School in Hiroshima. They are on a school trip but have gotten lost, so he gives them the correct directions before leaving. The girls thank him for his help, and prepare to continue their trip, but one of them catches a whiff of her favourite thing, a scent that indicates a battle is taking place nearby. Before her friends can stop her, she quickly leaps off into the direction where said battle is taking place.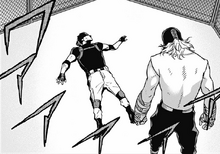 Back in the Undergound Masquerade, The Ripper defends himself as best he can from The Rapper's never ending rush. Despite the fact that he notices he wastes excessive movement in his attacks, he's unable to find an opening, understanding that Rapper and his Quirk were ideal for underground ring fights. Knowing that he doesn't need to stay in the ring any longer, Ripper lets himself get "hit" by Rapper, losing the fight on purpose.
The "defeated" Ripper is taken to another room where the fighters who ended up seriously injured are taken to supposedly be healed, alongside others such as Drunk Lee and Master Beast. A member of the medical staff praises him for his fight despite his loss, and to honor him for his efforts, he plans to inject him with a substance that will help him win the next fight.
Outside the parking structure, Rumi Usagiyama, the student who previously separated from her classmates, finally arrives at the place, eager to participate in the fun as well.[2]
Enter: Tiger Bunny
The masked medical doctor tells The Ripper they want to inject him with a special drug combining a Quirk booster with other stimulants in order to make him a better fighter, also making a point of asking if the recipient is conscious first. The Ripper feigns cooperation, almost immediately getting up and using Overclock to snatch the drug needle away and knock out all the accompanying guards.
After taking some pictures of hidden documents and the Sick Bay as evidence of the illegal drugs, The Ripper plans to sneak out but runs into The Rapper waiting for him. He gives him half of the prize money, plus a bonus, because he realized The Ripper didn't have his heart in the fight and went down too easy, so it doesn't count. He gets excited and asks for a rematch with a real fight to the death, but Ripper swiftly declines. Rapper states he could tell Ripper loves taking part in a good beatdown like that too, but he declines, saying to prefer one-and-done sneak attacks to overly drawn-out fistfights.
Rapper pushes back stating they had fun in the ring, but Ripper claims it all to be a performance, and it'll be the first and last time he does something so stupid. Rapper tells him his philosophy, that life's no fun without a little stupid, and that it's the soul that decides hate and love, recognizing that even if Ripper doesn't admit it, he deep down loves that stuff. Just then, Ripper starts to hear loud noise seemingly riling up the crowd down in the arena.
Rumi suddenly appears, quickly putting on a wrestler mask and declaring herself to the crowd as "The Masked Mystery Beauty: Tiger Bunny". The announcer and crowd are confused, until one of the people recognize her as "Usako", a bunny-eared schoolgirl from Hiroshima who went around crashing fight clubs and disappeared after being taken into custody and expelled. Rumi tries to hide her true identity, but nobody buys it, so instead pumps herself up for battle.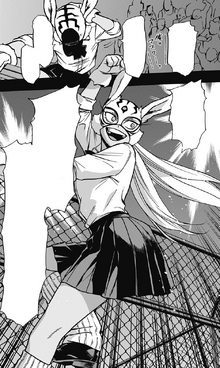 The two current fighters, Umeda Siberian and Metro Namba Crusher, scold her for getting in the way of their fight and trying to steal the spotlight. They prepare to jump her, but she easily knocks them out with one swift kick, saying that everyone should join in the fight together next. The rest of the audience erupts in enthusiasm as they all attempt to rush into the cage, as the announcer narrates over the chaos, stating there is nothing to gain and nothing to lose.
Meanwhile, two mysterious figures watch over the events at the arena through the security cameras, with one thinking about reconsidering their plan to abandon the arena, while the other thinks about harvesting more valuable Quirks.[3]
The announcer continues his intense commentary over Tiger Bunny's beatdown of the entire arena: the fighters, audience, and staff. Despite being well out numbered, she manages to take down everyone with her rapid kicks with absolute ease.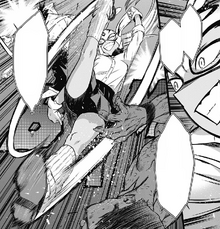 The Ripper and The Rapper arrive to see the chaos; Ripper asks Rapper if he'll also be joining in, but he declines saying it's not a proper death match. Ripper decides to use the ruckus to try and slip out the building, while Rapper remains close by still pestering about their rematch.
Just then, an alarm goes off, followed by gas, which starts to pour into the arena. Ripper realizes that the Masquerade Staff has put on gas masks, as he notices the gas causing the rest of the audiences' Quirks to rampage out of control. Ripper, Rapper, and Tiger Bunny manage to avoid it with the former two hiding behind the corner, and the latter above the cage.
The Ripper suddenly notices a black mist starting to form in front of each of the gas' victims, as a hand appears sucking the Quirks out of each individual. The mist tries to go for Tiger Bunny next, but Ripper uses his Quirk to quickly jump in and snag her. The mist starts chasing him, realizing it's tracking them by sight somehow, so makes use of the crowd to slink away back to their blindspot.
The Ripper turns to The Rapper and Tiger Bunny, revealing his identity as "High Speed Hero: O'Clock", and utilizes his right to request aid from civilians in a crisis. He recognizes Tiger Bunny's uniform, saying he'll clear things up with her school, as she responds that they don't need to know about this, asking how she can help.

The Rapper and Tiger Bunny start to have an argument about whether "Kick Power" or "Punch Power" is most important in a fighter, while O'Clock declares their mission is to escape the underground structure and meet back up with the police waiting out front. The Rapper and Tiger Bunny are annoyed O'Clock isn't listening to them, but stand their ground to assist when he accuses them of being too scared.
Meanwhile, the two mysterious figures recognize O'Clock and his Quirk, Overclock, as being extremely useful, and one they shouldn't let slip away, saying they should send out their top resource to reclaim it, as another mysterious hooded figure emerges from the gas.[4]
The Hooded Man
On the outside of the parking structure, Eizo starts to notice the gas making its way out the door, wondering what's going on. Inside, the gas continues to incite chaos as everyone's Quirks are going out of control. O'Clock notices the gas mask being used by the staff, realizing the event must be part of some scheme. He steals three masks and gives the other two to Tiger Bunny and Rapper, as well as a prop gun that can still shoot some rounds.
O'Clock tells the two his plan: since the only way out is through the driveway, he's going to bulldoze his way across everyone towards the exit. Due to the mysterious mist, he asks Tiger Bunny and Rapper to act as bait to get their attention before he acts. They both ask if they can punch and kick everyone, with O'Clock saying to "go easy on them" since they are mostly just innocent civilians, which they accept, Rapper reluctantly.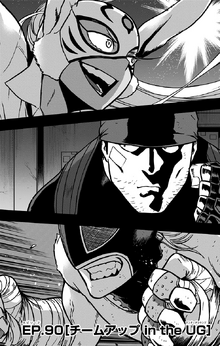 Tiger Bunny and Rapper join in the beatdown as O'Clock waits back, recognizing Overclock as being much more limiting to use with the mask on, and notices the mist starting to appear again. Figuring out that the user isn't currently in the room, he shoots the security cameras, disabling their point of view.
In the control room, the mysterious man, All For One, looks on shocked, thinking about the possibility that their objective may fail, and looks to his assistant, Kurogiri, for advice. He responds reminding him of their asset sent into the field.
The Hooded Man approaches the two fighters, preparing to throw fists, which Rapper happily responds to as he throws a barrage of punches toward the man. However, he effortlessly dodges all of his strikes, stretching his arm and knocking Rapper down. Tiger Bunny jumps into the fray, ready to attack him with a big kick, but instead he stretches his leg out, knocking Tiger Bunny right into Rapper.
As he stretches his arm once more ready to grab them, O'Clock arrives, using a knife to slice the arm up until it explodes. He tells the two to stand by, as he prepares to continue fighting, realizing it can heal, while The Hooded Man recognizes him as O'Clock.[5]
The Hooded Man duels O'Clock, using his multiple Quirks to extend his arm and try to attack, while the latter uses his to quickly dodge. The Hooded Man's fists and attacks cause even more chaos to erupt in the arena, as the stage is completely destroyed and the attendees flee. Tiger Bunny and Rapper return to provide back-up for O'Clock, as he tells them to execute "Plan B".
In his secret base, All For One is annoyed at being unable to see a clear view of the battle, due to most of the security cameras being destroyed, as well as the panicking spectators getting in the way. He contemplates clearing the arena himself, but Kurogiri disagrees as he believes any further escalation might summon All Might to the place, further irritating All For One. He decides to let the situation settle on its own.
O'Clock observes The Hooded Man's abilities, noticing how his body utilizes cellular propagation at lightning speed which allow him to not only stretch and transform his limbs, but also heal and alter its structure. He also notices his martial arts vibe appears to be drilled into his muscle memory, and that said fighting style isn't compatible with his Quirk, forcing his wind-up attacks to have a lag. O'Clock uses this delay to his advantage, using his Quirk to predict his attacks or create an opening to slice up his muscles, not creating anything lethal, but doing enough damage to keep him held in place.
Tiger Bunny speeds her way through the Underground Facility, making her way to the exit, as the Hooded Man notices this and tries to grab ahold of her. However, O'Clock and The Rapper manage to provide enough hits on the man to distract him long enough for her to escape.
Earlier, O'Clock told them his idea for "Plan B", incase an expected threat showed up. Tiger Bunny asked if she has to get the cops, but he says they wouldn't be able to handle any opponent he has throuble with, and that summoning the perfect hero to deal with the threat would take too much time. So instead, they should play their ultimate card. Tiger Bunny busts her way out of the building, as the police squad look on in confusion. She calls for Eizo, giving him the message from O'Clock, to call All Might.[6]
The Symbol of Peace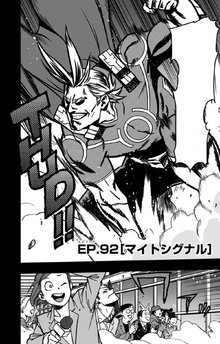 All Might returns back to his agency at Might Tower, where he's greeted by a hoard of news reporters congratulating him on his new record of resolving consecutive incidents within the past three days. All Might bids them adieu, thanking the people for referring to him as the "Symbol of Peace", and thanking all the other heroes and civilians out in the world doing their best to protect society, before disappearing behind his Might Gate.
A more relaxed All Might, dressed in his pyjamas, goes to see his assistant, Sir Nighteye, looking for any last minute jobs, but Nighteye tells him his priority should be getting some rest after going 72 hours working non-stop. Just them, his "Might Sense" goes off, as Nighteye notices an emergency dispatch from Osaka. The All Might Emergency Paging System, or Might Signal, is activated, turning all of the local mascots and advertisements into All Mights, as their way of sending the message and informing he's on the way. All Might quickly suits up and blasts off, despite Nighteye wanting to check if local heroes could respond first, knowing Osaka's calling for him personally.
With Tiger Bunny successfully escaping, O'Clock tells The Rapper All Might should be on his way and they should find somewhere to hide, but The Rapper declines, reiterating that if the Hooded Man is here for a fight, he is happy to indulge, forcing O'Clock to have to stick back and try to help and fend off the creature before he arrives.
Kurogiri informs All For One that since All Might is on his way, they should retreat so as not to lose their valuable test subjects, as well as O'Clock, but All For One, annoyed that he can't watch the fight between O'Clock and the Hooded Man, instead requests Kurogiri to assist him in buying some time. Using Warp Gate, All For One places his hand on several of the unconscious individuals, utilizing his Quirk on each of them.
All For One talks to Kurogiri about what constitutes the differences between a "hero" and a "villain", believing that it should be defined by the relationship between a person's will and their Quirk. When the will and Quirk support each other to form a bedrock of resolve, those people are "heroes", but when an extreme and violent will stimulates the Quirk to run amok, or when the Quirk twists a person's will to create a dangerous imbalance, they become known as "villains". He notes that the nature of villainy is due to that sense of essential imbalance, and thus, if he were to force a person's Quirk to rage out of control, he could turn anyone into a villain.
Outside the parking lot, Eizo, Tiger Bunny, and the police officers suddenly notice a mob of the underground fighters that start to rampage out of control, forcing them to fight them off. Several of them make their way onto the streets, terrorizing the civilians, forcing everyone to flee (with Fat Gum also caught in the chaos).
All For One laughs to himself with how much trouble he's caused, and how it'll take even All Might a bit of time to resolve everything, though Kurogiri reminds him that this incident will almost surely provide a heavy clue he is responsible and that they've gone too far. All For One repsonds that the heroes are welcome to the clue, and that it's a risk he's willing to take to allow him to watch O'Clock fight and steal Overclock.[7]
The out-of-control attendees continue to rampage around the local shopping districts and residential areas, as the police and nearby heroes attempt to halt them. Eizo prepares to call for more backup, however, in no time flat, with barely any effort, All Might appears, defeating all the villains, rescuring the civilians, and accomplishing several other tasks all at once. As Eizo informs All Might about the other situation going on inside the building, Kurogiri relents that All Might's actions barely bought them anytime, but All For One gleefully responds that it bought them "three seconds"
Back in the parking structure, O'Clock and The Rapper continue their assault on the Hooded Man, with O'Clock thinking about how he's been able to re-work his body into being a powerhouse of mass destruction, while also noting his jumbo-sized attacks becoming more predictable to deal with. While The Rapper keeps the Hooded Man busy, with a head-on barrage of punches, O'Clock provides back-up with several subtle tricks, including slicing him with his knife or tackling him to knock him off balance.
As O'Clock heads back to take a breather, he suddenly notices the Hooded Man knocking The Rapper down using a piece of the ring cage, noting that he's a lot smarter than he appears, about to swat him with it, with no way to dodge. Just then, Tiger Bunny emerges, knocking the Hooded Man to the ground with her swift kick. Despite both telling her to leave, she states she wasn't gonna be the only one on the sidelines and wants to join the fight, saying she is a hero in training and not gonna turn tail when there's a villain around; O'Clock silently admires her devotion.
The Hooded Man gets back up, yelling at the three that killing them will make him the strongest. Meanwhile, All For One becomes more irritated, as the few seconds Tiger Bunny gave them by returning to help allows All Might to arrive in time. Kurogiri uses his Quirk to quickly retrieve the Hooded Man, as he screams to stop saying he can still fight. All Might arrives, confused, as Tiger Bunny informs him he got away, while O'Clock thinks to himself about what's going on.[8]
The Case's Conclusion
The citizens of Osaka rejoice as the mass outbreak of villains is resolved, with All Might topping a new record in defeating nearly 100 villains in one fell swoop, as well as assisting in many aspects of the clean up, before leaping off and heading back home (while also going to "Might Sleep"). Fat Gum watches this occur, thinking about how big a deal he is, and how putting on some more weight could be of great use to him, ordering more boxes of takoyaki.
In All For One's hideout, The Hooded Man rampages around, yelling that he can still fight, when he is stopped and restrained by All For One. He tells him his strength, agility, and regeneration had greatly weakened after just a few minutes of battle, initially believing his martial arts skills would've got the job done, but that his commitment to brawling messes with his new Shape-Shifting ability. Using his Quirks to shut him down, All For One has Kurogiri transport him over to the Doctor for further modifications.
All For One reflects that he can be patient, since every step leads him closer to All Might, through still states that getting his hands on Overlcock would've furthered the cause, saying that it will be his eventually, and he already knows how he'll put it to use.
As the cleanup outside the parking garage finishes up, Tiger Bunny and The Rapper prepare to head their separate ways. O'Clock tells Tiger Bunny that she might get some compensation if he mentions her in the report, but she says she doesn't need it, as she'll be making it on her own as a full-fledged hero soon. Asking what The Rapper wll be up to next, he says he's not sure given all he's ever known is fighting, with her responding that if he continues on as a villain, she'll be sure to save her less deadly kicks for guys like him.
The Rapper heads out to look for a new playround, as O'Clock warns him to be wary, believing the Undergound Masquerade will restart back up under a new name elsewhere, with Rapper replying that he can't wait, and that if they ever meet again, he's playing for keeps.
The next day, O'Clock communes with Eizo about how his Quirk is best suited for gathering intel rather than straight combat, followed by letting other heroes take the lead once he's found enough intel, and how this recent incident led him to recruit a pair of accomplices into the field. Eizo asks for more information on the interference and accomplises, but O'Clock wants to keep investigating first, knowing how crafty his opponent is if they try to go at them through official channels. Eizo asks if he's being cautious, with O'Clock responding that he needs to be prepared for more than just that, before running off again.
Epilogue
Back in the present day, Eizo finishes reading over the report, about how the Undergound Masquerade ended up being connected to All For One, and how it was supposedly resolved in the secret showdown between him and All Might. He then starts to think about how similar the Instant Villain cases in Naruhata, followed by the rise of the Next-Level Villains, the Sky Egg Bombing, and Bee☆Pop's attack are to it, believing the Villain Factory itself is connected to the Underground Masquerade, with possibly the same mastermind.
Just then, he is visited by a man who works in the archives, asking if he can look over the documents he just signed out, with Eizo mentioning how he's using the information to connect the Underground Masquerade case to the Naruhata Villain Outbreaks. The man suddenly explodes the documents, telling him that making the connection would cause far too much trouble, exploding the rest of the floor of the building just as Eizo asks who he is.
The man, Number 6, leaps out the building as an illusion of O'Clock congratulates him on a job well done, to strike first and erase every trace of the past, so that the powers that be can't make a move. Number 6 gleefully looks on, as he prepares to keep the enemy in the dark, to remain free and untouchable.[9]
Story Impact
We learn more information about several characters' pasts, 7 years prior to Bee☆Pop's Final Performance:

Detective Eizo Tanuma and Iwao Oguro, as Pro Hero O'Clock, used to work together on several cases.
Kendo Rappa used to be a pit fighter for the Underground Masquerade known as "The Rapper".

One of his contestants was against O'Clock, under the alias of "The Ripper", while undercover to expose the Masquerade's usage of illegal Quirk-based drugs.

In middle school, a young Rumi Usagiyama went around crashing various fight clubs as the legendary schoolgirl hooligan "Usako", until she was expelled.

She is currently attending a Hero School in Hiroshima, and crashes the Masquerade looking for a fight, using the codename "Tiger Bunny".

It is revealed the being behind the Masquerade's operation is All For One, alongside his assistant Kurogiri, with the purpose of finding and stealing any useful Quirks.
All Might solidifies his role as the "Symbol of Peace"

He is revealed to still possess a "true form" he transforms into when off call, albeit non-skeletal
Sir Nighteye effortlessly advises him and handles all his paperwork
The All Might Emergency Paging System alerts him to provide his assistance in taking down Hood.
All Might defeats an outbreak of nearly 100 villains in just 3 seconds.

All For One is forced to retreat Hood when All Might arrives in time, sending him for further modification from the Doctor.
Fat Gum is inspired by All Might's actions to start getting bigger.
Tiger Bunny and The Rapper go off on their separate ways.
O'Clock continues to investigate the Underground Masquerade's mastermind.

Back in the present, Eizo concludes his review of the investigation:
Number 6, disguised as an archivist, destroys his documents and blows up the room, leaving Eizo in critical condition and keeping his trail cold.
Characters Introduced
Quirks Introduced
Dragon Breath: Drunk Lee's Quirk which allows him to breathe fire.
Battles & Events
References
Site Navigation