Jurassic World: Dominion Dominates Fandom Wikis - The Loop
Play Sound
The U.A. Traitor Arc is the twenty-first story arc in My Hero Academia, and the third story arc in the Final Act Saga.
The pieces are in place and Class 1-A and the remaining Pro Heroes are preparing for the final fight to take down All For One, Tomura Shigaraki, and the rest of the League of Villains/Paranormal Liberation Front for good. However, things become complicated when the fabled "U.A. Traitor" suddenly emerges...
Summary
A Mighty Force, A Weaving Plot
Following Tomura Shigaraki's disappearance after his battle with No. 1 American Pro Hero, Star and Stripe, All Might reveals to Class 1-A that, based on the data gathered by the American fighter jets, Star and Stripe's Quirk, New Order, acted like a poison when Tomura stole it, eating away at him and ravaging a considerable amount of his Quirks. The class realizes that now is the best possible time to take him out. All Might continues, saying that the remaining Heroes have been continuing the mass evacuation effort whilst hunting down the remaining Villains, reminding them that, due to how predictable All For One is, all out war is inevitable.
All Might reminds the class of the targets that remain: Tomura, All For One, Dabi, Himiko Toga, the six Near High-End Nomu that remain, the remnants of the Paranormal Liberation Front, and the remaining escaped convicts. He goes on to say that they will likely amass more allies. He continues, saying that, while less than half of their heroes remain, it is thanks to Star's sacrifice that they have a chance to use this time to grow even a little stronger.
In response to this, Katsuki shouts at All Might that they have been doing this already. The class reveal to All Might that since the Paranormal Liberation War, they have continued their training with the Wild, Wild Pussycats so that they can fight alongside Izuku until Tomura is defeated. Izuku says that Katsuki and the others agreed to spar with him to help master One For All, but Katsuki claps back in his usual fashion, claiming that he only wants to test his new Cluster moves on him.
The rest of the class respond with enthusiasm as they prepare to head out and train. All Might watches on, thinking about how the "zygotes" from the first day have hatched into fledgling heroes, braving all that comes their way. He thinks on, claiming that All For One has made a foolish error and that Class 1-A is a mighty force to behold.
Meanwhile, screaming in pain, "Tomura" returns to the League of Villains' secret base. All For One tells him to calm down, as their Quirk Factors are damaged and need time to heal, but his order is met with obscenities, with "Tomura" saying that as long as people remember All Might, he'll never know peace. All For One notes that, since their minds have fused, he shares the hatred "Tomura" possesses. All For One tells "Tomura" that, even though they couldn't steal New Order, they have eliminated their biggest obstacle and they need to take it easy for the time being.
He tells the League to remain on standby for a bit longer, but Dabi responds in opposition, saying he can't stand the sight of still seeing his dad flying around. All For One tells him that, while they are very alike, they have one crucial difference. While Dabi may have one goal set in stone in his mind, he has planned out and weaved together many different routes over the decades, all to eventually reach his final goal. He tells the fire villain that because the perfection of Tomura's body has been delayed and that the fortified U.A. has welcomed Izuku back, he has something that Dabi lacks: "friends to spare." Back at U.A., Toru Hagakure stands in the shadows, observing someone.[1]
From the Shadows: the U.A. Traitor Emerges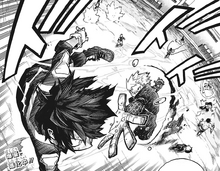 Class 1-A continue to train amongst themselves in one of the courtyards of U.A. Katsuki talks about how he learnt the "build up and release" mechanic from his internship with the Endeavor Agency, but is now focused on saving up a bunch of sweat, so rather than one big Explosion, he can create a whole barrage of explosions simultaneously to power his new Cluster technique. He is also wearing his winter suit to increase his sweat production. Izuku notices Shoto taking a different approach as well, as Shoto says he has now reached the point where his control over the left side of his body has caught up to that of his right, so now he needs to make both sides into one to create a body that even Dabi cannot burn.
Denki discusses with Minoru about how, with Tomura and All For One both currently weakened and with Gigantomachia still sedated, the fight should be easier for them, but Katsuki says there are three reasons why they are wrong. The first reason is that even after being able to locate the research facilities and hideouts, the Heroes were never able to track down All For One himself, saying that he is "the world champ at hide-and-seek."
Momo steps in with the second reason, saying that Tomura was incomplete in the previous battle and that they're only working with half of the Heroes now. Katsuki says the third reason, which is that the villains will be the one to decide when the battle starts, as even if the Search Quirk was destroyed, they still get to make the opening move, which is why they are calling every able body to arms and that sheer numbers will give them a chance.
Izuku states that if they can do nothing else, the least they can do is steer the villains' next moves in the heroes' favor and that he should rejoin the search as well. Tenya reprimands Izuku, reminding him that "we" will be rejoining the search. Izuku looks around and asks Tenya if he can go for a quick stroll, with Tenya replying in the affirmative as relations between the students, Heroes, and evacuees have improved following Ochaco's speech. Denki remarks that, even with his back against the wall, All For One's continues to wear a grin on his face.
While this is happening, in the U.A. Forest, Toru is investigating someone, having noticed that "he" has been looking down ever since the War, while also noticing that, since Izuku's return to U.A., "he" hasn't smiled once. Two voices in the distance tell someone that they just received another order from "him", and to keep listening like they always have. A tearful Yuga Aoyama listens to his parents as they remind him that he has to do what All For One, lest they all be killed.
Reacting in shock, Toru realizes that Yuga has been the fabled "U.A. Traitor" all along. Yuga's parents hysterically try to reassure Yuga, reminding him of how he was able to inform All For One about the location of the training camp without being exposed. They talk about how they only ever wanted to give their son a shot at happiness in life. They also talk about how they wanted to help him fit in as he was born Quirkless. They say that, had they known how bad things would have gotten, they would have never done it, but the moment Yuga got his Quirk from All For One, they were forever trapped under his thumb with no way of escaping. Now in panic, Toru thinks about needing to tell someone, when she spots someone else nearby.
Yuga talks about how he had to play his part in order to avoid being exposed and that he had to put on a brave face so as to not be completely crushed by guilt. When All For One was defeated and caught in Kamino, he talks about how he mistakenly let himself think that he was free from the tyrant's clutches, with his parents begging him for his forgiveness. Yuga cries out saying that he only wanted to protect his parents and that he will not let them be killed, as his parents call out for their son to save them.
The tearful family are startled when they hear a rustle in the woods, seeing Toru with Izuku, who has heard some of the details from her. Yuga's parents attempt to feign ignorace, while Yuga thinks about how when 1-A went to bring Izuku back to U.A., he was the only one who was silent. Izuku tells his classmate that he has noticed how gloomy he's been looking and came looking for him, believing that something was wrong. Hearing his words, Yuga, through tears, admits to Izuku that he was the one who helped the League during the U.S.J. Incident and the Training Camp, declaring himself a "despicable villain."[2]
Back at the villains' hideout, Dabi asks All For One whether or not it will be a problem if his "friends" are caught, but All For One responds saying that it won't be a problem at all. If they do succeed, he'll rejoice, but if they fail, he'll feel brief disappointment before moving on to the next viable route of his plan; his "friends" are disposable tools, in which he wants to celebrate any excitement they can "inflict."
In the U.A. forest, Yuga's parents attempt to flee with their son, while Izuku and Toru give chase. Yuga thinks about his parents were worried about him, even more than he was, because he was born Quirkless. They came from wealthy families and wanted nothing but happiness for their son after learning he was "different" than the other children, so they chose to believe a "dubious" rumor: a man who can give people Quirks.
When he was given his Quirk, he suffered, as it was not compatible with his body. In spite of this, his parents still raised him with love, whilst they grappled with their own angst. This gave Yuga his own dream, which came from his desire to conform so that he can give back to his parents what they had given to him. However, the messages from All For One came soon after. The first told him that he would be attending U.A., as it is said that All Might has been hired to teach there. The second was to tell him when their class is isolated. The third was to tell him the location of their training camp. And the latest is, now that he has returned to U.A., to lure Izuku somewhere alone.
Yuga tells Izuku that, after reading his letter and finding out he was also Quirkless, he fell into utter despair. Izuku's Danger Sense starts going off as Yuga fires at him with Navel Laser, but Toru jumps in the way and deflects it into a nearby tree. Toru confronts Yuga, telling him that everyone could have been killed on numerous occasions and now, all of Japan is completely messed up. Her face, full of tears, briefly appears as she asks him what what going through his head, even as he lived with them. The Aoyama family try to make a counterpoint, but are quickly restrained by Blackwhip, with Izuku telling Yuga that Toru did him a favor and to put an end to this immediately.
In the U.A. A.V. room, the Aoyama Family are interrogated by All Might, Naomasa Tsukauchi, and the U.A. staff, learning that he received his Quirk roughly ten years ago, and doesn't appear to be rigged to explode like Lady Nagant was. Nezu asks the students to leave the room, but 1-A bluntly refuse. Several students begin to express their thoughts, with Mashirao asking Yuga what would have happened had Toru not caught him, Eijiro begging him to say that this is all a lie, and Katsuki saying it's a "small world" due to another one in the class being born Quirkless.
Naomasa asks Yuga's parents what they know about All For One, but the father responds saying that they know nothing, only that they carried out his orders, and that if they failed or lied to him, they would be killed, having been shown the bloody remains of someone who attempted to go to the police in the past. The father continues to exclaim that Yuga is not at fault and that it was their responsibility for all that occured. Yuga starts to break down, talking about how everyone could have died because of him and yet, he found himself smiling alongside everyone as if they were truly friends. After learning that Izuku was also born Quirkless and now he faces the daunting task of taking on All For One, it made him realize how pathetic he was in comparison, and rather express concern for his classmate, he wallowed in his self pity. He goes on to call himself "a villain through and through."
Izuku retorts, saying that if he were a villain, why did he try to save Katsuki and Fumikage during the Training Camp incident. He also asks about the cheese that was left at his door, only realizing now that is was a cry for help and that's the reason now why his classmate is crying now. Izuku goes on to tell Yuga about how he knows of another Hero, Lady Nagant, that was manipulated by All For One, but her soul wasn't crushed, only her spirit. He continues to state that doing wrong doesn't make you a villain for the rest of your life. Katsuki realizes what Izuku's plan is, as Izuku extends his hand to Yuga, telling him that he can still be a hero.[3]
The Story of How We All Became Heroes
After Izuku's pleading with Yuga, Naomasa gets Sansa to cover up Yuga's mouth. He reminds Izuku that regardless of the circumstances, he still conspired with All For One, and they still aren't sure whether he is booby-trapped like Lady Nagant was, so they deem it unwise to let Yuga talk again until he is examined at Central Hospital.
Naomasa continues to interrogate Yuga's parents. They reveal that they didn't report to All For One about the Kamino Incident since they could only communicate with him when he contacted them. Izuku cuts them off, stating that the current situation is that they can't find All For One. Denki realizes the point of Katsuki's prior statement about "steering the villains" in the Heroes' favour when joining the fight, with Momo adding that the only person who may be able to deceive All For One is Yuga, while Yuga finds it hard to believe that the rest of 1-A is turning to a "despicable villain" like himself.
Present Mic asks 1-A why, with them being the biggest victims in all this, they're so willing to trust Yuga. Tenya responds saying that what has happened is in the past, and because they were unable to realize how he's been feeling all this time, they carry some of the responsibility, so they must reach to him as friends so that they can become equals once again.
Katsuki says that he went through hell because of him and deems a few Howitzer Impacts enough for them to be even, while Eijiro shouts that he knows Yuga thought it was futile to oppose All For One, but now things have changed. He continues, asking if they once gave Izuku flack for him keeping being Quirkless a secret at any point while returning him back to U.A., and that because of this, they are willing to give Yuga a chance to "stand strong together" once more.
Naomasa tells 1-A to not jump the gun and to keep a level head, as Yuga's parents have already told him that All For One won't believe any lies, when Izuku is called upon by Shota Aizawa, who is watching on from a tablet held by Present Mic. He asks his student if he has a plan, with Izuku responding that does not. Shota then addresses Naomasa, saying that he takes responsibility as well for also not recognizing what Yuga was going through as he sides with his class, informing Yuga that he still has no intention of expelling him from U.A.
Shota tells Naomasa he has an idea and to cover the Aoyama family's ears. He divulges his plan to Class 1-A, the staff of U.A., and the Police Force. After the discussion, Nezu says that it's possible, while Naomasa has the Aoyama family escorted back to their HQ. He tells everyone to keep the plan top secret and not to speak a word of it to anyone else. Before Yuga leaves, Izuku shouts out to him, as the rest of the class looks on saddened by everything that has happened.
Back at Heights Alliance, Class 1-A catch a break, before getting ready to gear back up again, as everyone, enraged over Yuga's betrayal, prepares to take All For One once and for all. Izuku and Tenya head to the Development Studio to get their Hero costumes repaired, when Izuku is caught in an all-too-familiar explosion. Mei Hatsume emerges from the smoke, landing atop Izuku once more, as she asks him what he needs, while his face holds a stern expression.[4]
Izuku laments over his Danger Sense not activating when the blast happened, while Mei asks Izuku and Tenya what they need from her. Tenya tells Mei that they have come to her for repairs to their Hero costumes. Puzzled, Mei asks why they didn't go to the item agency like they normally would, but Tenya responds saying there's been a disruption to the exchange of goods and services, and that they now rely on the support course. Mei's normal demeanor and increasingly nonchalant reactions cause Izuku to wonder if Mei has any idea as to the state of the outside world.
Power Loader emerges from the smoke, once again calling out Mei about the explosions, and tells Izuku and Tenya to come in. Upon seeing the new setup in the Development Studio, Power Loader tells the hero students that he and his team are in charge of developing the U.A. Barrier, as well as maintaining it once it is operational. Izuku gives his Mid-Gauntlets to Mei, asking if she can fix it for him, but his request is met with an immediate decline, because of how damaged it is, she would need to create a new one and they lack the necessary amount of condenium for the compression mechanism. Tenya then requests repairs to his armor, but is met with the same response Mei gave to Izuku, due to him not having the specification documentations. Two of her classmates approach the hero students saying that they can make what they need for them.
Tenya is surprised to see that Mei turned down his offer, knowing how much she loves to make things, as Izuku looks on, seeing her currently working on the evacuation shelter blocks. Power Loader tells the two that Mei was brought in to help strength the Barrier, and she's been hard at work creating new mechanisms, in the case of a mass evacuation occuring. Power Loader compliments and recognizes her inventive mind, which puts her "in a league of her own", to which she responds saying that a good idea can fall flat in an instant and that she's got to raise her "babies" right when she thinks up a new one.
Izuku compliments Mei over how focused she is on her inventions, saying that it's no surprise that she would pay no mind to the outside world, however, Mei responds, calling him "dense", saying that she is aware of the situation Heroes are facing, and that, while they're not fighters, they're doing what they can to protect and help people, with inventing stuff being how the support class does heroics.
Before he can react, Mei throws a new pair of Air Force Gloves, attached to a new set of impromptu Mid-Gauntlets, right at Izuku's face, saying they aren't exactly like the previous pair but it's the best she can do, surprising Izuku that she made them with her left hand alone. She then throws a new piece of armor at Tenya's face too, exasperating her fellow support student that she did everything so quickly. She finishes their interaction by telling Tenya and Izuku to pass on a message to the rest of the hero students, saying to win this.
Outside, Izuku and Tenya meet up with the rest of Class 1-A, as well as Mt. Lady who reminds them that, even after learning what they just dealt with, their main objective is tracking down and eliminating the remaining force of the Paranormal Liberation Front and the League of Villains, and that they must do all of this post-haste. Mina wonders if Yuga will still take the hand that has been offered to him, with Izuku and Shoto saying that they believe he will return to them. The Class 1-A Search Squad assembles soon after and heads out, with Izuku at the center of the operation.
Meanwhile, in the Kansai Region, Nejire Chan, Suneater, Fat Gum, and Ryukyu have just defeated a villain and have rescued civilians, planning on taking them to Shiketsu High School. Ryukyu states that, with the decrease of the number of people, there will be a decrease in the amount of available intelligence they can gather. Fat Gum says that this means that there will be no more ambushes or raids thrown at each other, as everyone is now preparing to pull out all the stops in a true all-out war. Elsewhere, at Central Hospital, All Might discusses, alongside Hawks, about their "Plan B" and the "other battle" that could be the deciding factor of everything.[5]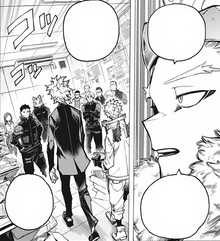 At Central Hospital, the "League of Villains/Paranormal Liberation Front Counter-Force HQ" has assembled with All Might and Hawks leading the meeting, as they address the Police Force and American military who fought alongside Star and Stripe. They mention that, because of the situation involving Yuga, they'll be forced to take action and they're ready to do so with everyone else in the room being deemed trustworthy. Hawks continues, saying that, because Endeavor, Best Jeanist, and other big Heroes are out in the field, they're keeping the circle small as the meeting and information being told is classified.
Among the group is Ragdoll of the Wild, Wild Pussycats, who wishes that her fellow team members could be at the meeting. However, she says she is at the meeting to help anyway she can, as her former Quirk, Search, is being used for evil. All Might places small tokens in the design of All For One and Tomura on a whiteboard, stating that regardless whether they go with Plan A or Plan B, they will need to be split up.
All Might continues, stating that from the data gathered in the fight against Star and Stripe, Tomura has far exceeded All For One in terms of power, recalling his fight against All For One in Kamino as an example of latter's capabilities. All Might mentions the "mind meld" the two villains have that they exploited during the Assault on Tartarus, unsure as to what extent their shared consciousness has developed into, as it goes beyond just the communication using Radio Waves, stating that if they were to attack together, all hope of victory would be lost.
One of the fighter pilots asks why the villains didn't join forces to fight Star and Stripe, which All Might believes that it could have been to the fact that All For One would have been affected by New Order, with her speaking his name. All Might continues, stating that they must be separated by a distance of 10 kilometers minimum if they want to have a shot at victory.
Naomasa adds that they know the Villains will do all they can to make sure that doesn't happen, with All Might bringing up the threat that Dabi's flames pose and that he could stop everyone in their tracks single-handedly. Ragdoll takes this at face value, assuming that only Dabi would need to be taken out of the way, before Sansa says that's not the case. All Might confirms this saying that all of the enemy's major operatives will need to separated and defeated, one by one.
Several men say that it's easier said than done, with All Might responding that they need a strategy to help make that happen, which Naomasa figures is Yuga, as well as adding that while he does sympathize with his situation, he still turned his back on society, and as such, is choosing to proceed with caution. All Might responds saying he chooses to have faith in Yuga, and that he already has faith in Yuga's teacher, Shota Aizawa.
Shota speaks with Yuga in an interrogation room, where the doctor accompanying him states that based on the examinations, there were no abnormalities or irregularities found in his brain waves or bodily functions. Shota figures that Lady Nagant's fate was due to something All For One acquired after his defeat at the hands of All Might, as well as figuring that if he did really plant an explosive in Yuga, then there wouldn't be a need for the public display of threats made to his family in the case of betrayal and that all All For One planted in them was a seed of fear.
Shota tells Yuga that he's lucky to have friends who stuck up for him like that, before asking him if he's afraid of All For One. Yuga responds with a yes, as well as also being in fear of the fact that the more his classmates express their faith in him, the more he'll lose faith in himself, and that if he were to take the hand offered to him, if All For One appeared before him, he worries if he would make the same bad choice once again. His fear is what causes to him to declare he doesn't want to do anything anymore, and to just die alone in the dark. Shota says that even if he were given leniency, his sins will always be with him, and that when the war is finished, he may not have U.A. to call home anymore. Despite this, he declares to Yuga that he will fight, because that is the only thing he can do.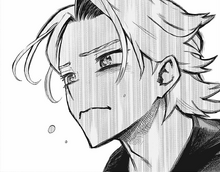 Yuga says he understands the situation at hand, realizing he must now become another pawn for victory, with Shota adding that they may not be any different from All For One, when it comes to how they plan to use him for their own gain. Even still, he's not going to let him be tormented by his sins forever, and as long as he is still a teacher of the Hero course, he will take care of all his students. Shota tells Yuga that he doesn't teach his students to live a life burdened by guilt, and despite how he may feel about himself, he must walk alongside those who lend a hand to him, all the while thinking about Kurogiri.
Shota tells Yuga that they will protect him and as long as he sticks with them, he'll be okay. Yuga responds with a face of determination, before asking what someone like himself could achieve, as Shota clarifies that he will not be walking this path alone, and that it's one that everyone will be walking, together. Meanwhile, back at U.A., a Hero costume-clad Hitoshi Shinso hangs upside down, as a couple of his fellow General Studies classmates beckon him, telling him that it's time to go.[6]
Elsewhere, Himiko visits her old, abandoned family home, which is now covered in graffiti, demonizing her and her family. She remembers the moments when people, including her family, would call out how creepy she was, how she can never be accepted the way she is, and to just restrain herself for once. She enters her old bedroom where she recalls how she used to dream wishing she was a bird, or her friend Kei, all the while biting her arm. She mentions how she would always have a dream where a red sparrow danced on her stomach, before the bird rips it open, dances inside of her, stains her in blood, how cute she thought it was, and how happy it made her.
After commenting on how they threw away all their stuff, Himiko leaves the house only to see Dabi quip, saying that it's surprising that even she has a heart, with her rebutting saying she only wanted to see what happened to her house. Dabi asks her if she has what it takes to put an end to this world, to which she replies that it's a little late to be asking now. He continues saying that the world doesn't care if they're smiling or crying, so they should just smile, before completely burning down Himiko's family home.
Himiko says that Dabi's actions will get them caught, but appreciates the sentiment, but he laughs, saying that society don't have the necessary resources to take them down anyway, and that it's less about kindness and more about making Endeavor suffer that much more. Afterward, Dabi reminds Himiko that, that to her Transform Quirk, she can use the Quirk of anyone she holds dear, as she takes out a vial that Dabi managed to collect back during the War, which contains Twice's blood. He tells her to carry on his Parade and that they will be the ones with the last laugh.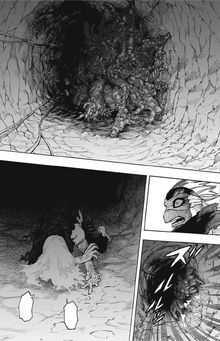 Back at the League's secret hideout, Spinner hears screaming down a dark hallway and goes to check on Tomura, only to be met with a grotesque, mutated body emerging from the shadows, which then transforms back into "Tomura" himself. All For One tells Spinner not to worry about Tomura as his recovery is going smoothly, as he gradually overcomes the Quirk Singularity. Spinner then asks if he is "still Tomura," which All For One claims he is. Skeptic then speaks to Spinner, reminding him of the high percentage of criminals that are mutants, and that most heteromorphs hold a deep hatred to Heroes, because of the racial inequality they feel. He continues that when the League first started, the world was exposed to him, which led to wannabes copying his costume and now, he has become a guiding light for heteromorphs everywhere.
Spinner tries to say that they have it all wrong and that he's not trying to serve some great cause, but Skeptic says that the dice have already been cast, the common rioters now await his lead, and now he will pull the trigger in Re-Destro's place. As Skeptic hands him a communications device, Spinner thinks about how it doesn't matter what he thinks anymore, that they're past the point of no return, and that he's only here for Tomura's sake. "Tomura" tells him to bring it all down, as All For One confidently states that "everybody can be somebody's hero," as the rest of the villains begin to assemble.[7]
The Calm Before the Storm
Late at night, in U.A.'s Evacuee Residential Area, undercover operatives sent in by All For One speak to each other. One of them mentions their new orders to continue to spread discourse amongst the general public, since U.A. is aware Tomura will be ready in less than a week, so that Izuku will once again be driven out.
Back at Heights Alliance, Class 1-A return for a break from their search efforts, all feeling incredibly tired after being unable to find anything. Tenya tells them to get to bed early, with Izuku lamenting that he wishes they could have some more free time to talk, especially with how he wasn't able to thank Ochaco properly yet. Just then, All Might, alongside Naomasa and Nezu, burst into the dorm, to inform them all about their secret finalized plans for the upcoming second War. Elsewhere in the city, Hawks and Ragdoll inform Endeavor and Best Jeanist of the plans, and Shota Aizawa continues to watch over Kurogiri.
The next day, Nezu announces to the civilians that Tomura will make his big move in 4 days, so Class 1-A give their thanks to everyone at the entrance. Kota asks Izuku if this means he's leaving, which he tells everyone he's had more than enough time to clean himself up, and they're all ready to head back out. One of All For One's subordinates laughs at Izuku for making things easy for them by leaving on his own, and now their mission is guaranteed to "succeed". Class 1-A each say goodbye to their family members and the civilians before heading out.
30km away from U.A., Class 1-A reconvenes at the Makeshift Fortress: "Troy", a fortified structure created by Cementoss, Power Loader, and Ectoplasm, which they will reside in until the time comes. The classmates move their bags into their temporary dorms, when Izuku spots Ochaco reflecting outside near the edge of the cliff. He jumps down to see her, as the two say they didn't have much to unpack anyway.
After a moment of silence, Izuku thanks Ochaco for what she did for him earlier, which she simply brushes off, before saying she's just watching the city. She proceeds to tell him she feels weird, as back when she was shouting from the top of the building, Himiko Toga popped into her head. She tells him during their fight during the War, even after she told her what she believed is right, she saw how sad it made her. Even after all the lives that have been lost and the city destroyed, and being way past the point of forgiveness, she's still a person, and thinks about how she doesn't know anything about her at all.
Ochaco continues that she's gazing out of the city so she won't forget the destruction they caused and won't think stupid things like that again. However, Izuku replies that he understands her, having seen a little boy crying inside Tomura, and that even though there's no way to avoid the battle, he can't ignore that side of him. Ochaco says that it makes them both weird.
Inside the dorms, Shoto thanks his friends for being there for him, thinking about Toya and how he doesn't even know his favorite food, which Katsuki quips is probably udon, leaving Shoto to respond he wouldn't mind making him sit down to eat with him sometime. Back outside, Ochaco confidently states they'll put a stop to them for sure.
Sometime later, on the day of the operation, All For One prepares to get started.[8]
Story Impact
All Might reveals to Class 1-A that Star and Stripe's New Order Quirk has destroyed several of Tomura's Quirks after he stole it, giving them and the rest of the Heroes time to prepare to deal with the remaining threats.
It is revealed that since the end of the War, the students of Class 1-A had continued their training with the Wild, Wild Pussycats to get stronger.
"Tomura" is forced back on standby to allow his damaged Quirk Factors to heal.

Tomura and All For One's minds continue to fuse together, sharing their feelings of hatred.
Himiko is revealed to have reunited with the League.
Dabi remains impatient, wanting to go after his father again, before being talked down by All For One.
All For One confirms that he has a mole within U.A.

Class 1-A continue their training.

Katsuki Bakugo has developed a new technique to make use of his Cluster move, saving up a bunch of sweat for a barrage of explosions, all while wearing his winter costume.
Shoto Todoroki has reached the point where control over his left side has caught up to his right, so now he's focusing on using both at the same time.

Gigantomachia is confirmed to still be tied up and unconscious.
The "U.A. Traitor" is revealed to be Yuga Aoyama.

He was born Quirkless, and with his parents both coming from wealthy backgrounds, they made a deal with All For One to give him his Navel Laser Quirk in a desperate move to grant their son a happy, successful life.
He possessed the Quirk for ten years, which was incompatible with his body.
Because of the deal, the Aoyama family were forced to comply with All For One's orders against their will, or else they would face dire consequences.
All For One told Yuga to enroll in U.A. after learning All Might would become a teacher.
He provided information aiding in isolating the class during the U.S.J. Incident, and he was the one who provided the location of the Summer Training Camp.
His parents receive another order from All For One, for Yuga to isolate Izuku Midoriya away from everyone, tearfully apologizing to him to do it.

Toru Hagakure and Izuku overhear the Aoyamas discussion and confront him, as he tearfully confesses to the truth.

Izuku restrains Yuga and his parents before they can escape.
Toru's face is briefly revealed for the first time in the confrontation.

Class 1-A, the U.A. Staff, and the Police Force discover the truth about the Aoyamas, where they are put under interrogation.

The Aoyamas reveal All For One's threats of death were they to say anything to the Police.

Izuku extends his hand to Yuga, stating he knows he never had any villainous intentions, proclaiming he can still be a hero.

Class 1-A states their intentions of wanting to forgive Yuga for his actions so he can help them take down All For One.
Shota Aizawa sides with his class, coming up with a classified plan to make use of Yuga.

The Aoyamas are taken to Central Hospital for further study.
Izuku and Tenya Ida encounter Mei Hatsume again at the Development Studio to fix up their hero costumes.

The Support Course is revealed to be in charge of developing and maintaining the U.A. Barrier.
Mei is in charge of creating new inventions to assist in the case of mass evacuation.
Mei creates a new makeshift Gauntlet out of the remains of Izuku's Mid-Gauntlets and his Air Force Gloves.

The Class 1-A Search Squad assembles to track down the remnants of the League of Villains and the Paranormal Liberation Front.

At the same time, a Counter-Force assembles at Central Hospital, consisting of All Might, Hawks, Ragdoll, Naomasa Tsukauchi, the Police Force, and Star and Stripe's American brothers-in-arms.
Their plan is to separate Tomura and All For One by at least 10 kilometers to prevent them from combining their power.
This also involves isolating all major operatives of both the League and Liberation Front, and taking them out one by one, so that they will be unable to assist either.

Yuga is interrogated by Shota, where it's confirmed he does not possess an explosive trap like Lady Nagant had.

Shota theorizes only people All For One had contact with after his defeat from All Might could potentially have an explosive trap within.
Shota manages to convince Yuga to help them fight back, telling him not to let the guilt ruin the rest of his life.

Hitoshi Shinso's hero costume is revealed.
Himiko visits her old family home, now abandoned and heavily vandalized, while reminiscing about her past.

Himiko leaves and encounters Dabi who questions if she's ready to help the villains bring an end to society before burning down her old home.

"Tomura" continues through his process of recovery.

It seems that the lost fingers on his left hand are starting to grow back.

Spinner reluctantly agrees to take the lead as the face of the Paranormal Liberation Front, to steer the heteromorph villains toward their cause.
Spies for All For One are revealed to be within U.A.'s walls, with the intention of spurring discourse amongst the public to drive Izuku out.
All Might, Naomasa, and Nezu inform Class 1-A of their plans for the second War.

At the same time, Hawks and Ragdoll inform Endeavor and Best Jeanist of said plans.

Nezu announces to the evacuees of Tomura's upcoming completion in 4 days.

Class 1-A move into a make-shift fortress "Troy" to prepare.

Izuku thanks Ochaco for her speech to the public.

The two of them trade their thoughts about wanting to understand Himiko and Tomura.
Shoto also talks about wanting to understand Toya.

The day of the operation is reached.
Characters Introduced
No new characters are introduced this arc.
Quirks Introduced
No new Quirks are introduced this arc.
Battles & Events
References
Site Navigation