Doctor Strange in The Multiverse o Madness - The Loop
Play Sound
Susugu Mitarai (御手洗 濯, Mitarai Susugu?), also known as Laundry Hero: Wash (洗濯ヒーロー ウォッシュ, Sentaku Hīrō Wosshu?), is the No. 8 Pro Hero.[3]
Appearance
Susugu's hero costume resembles a washing machine with arms and legs protruding from his shell, and has two strained eyes popping out of the lid atop his head. His arms are covered by thick grey hoses with yellow rubber gloves with green grips on the ends. His lower half wears a pair of waterproof pants with a belt. He also wears large boots with a subtle wave pattern around the mouth, and circles on the outsoles where he can release bubbles from.
Gallery
Personality
Susugu generally shows himself in a child-friendly manner. Despite this, Susugu takes his job very seriously and is not above being irritated, as shown when he chose to disinfect the wounds of angry civilians even after being criticized for arriving late, going so far to break character and talk normally while doing so.
History
Wash was invited to participate in Captain Celebrity's farewell party at the Tokyo Sky Egg.[4] Once on stage, he performs some tricks with their Quirk on Gang Orca and his sidekicks.[5]
Synopsis
Wash was present at the biannual Hero Billboard Chart JP where it was announced he were ranked as the No. 8 Pro Hero.[3] When asked to give a comment on his placement, he simply responds with "Washa".[6]
Wash takes Koji Koda and Manga Fukidashi as trainees for Hero Work Studies 2.[7] Wash helped improve Koji's communication skills and control over animals.[8]
Next year, by the end of March, thanks to the police investigations, and the information leaked by Hawks, who was acting as a spy, the Hero Public Safety Commission organize the Heroes and the Police Force to take down the Paranormal Liberation Front.[9] Wash is one of the Pro Heroes who is a member of the hero team led by Endeavor in charge of raiding on Jaku General Hospital in order to arrest Dr. Kyudai Garaki and Tomura Shigaraki.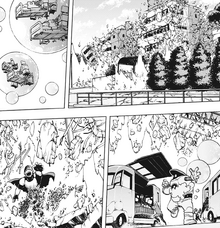 Kyudai runs away to his secret laboratory, unleashing a horde of Nomu as he tries to awaken Tomura from his stasis. While half of the hero team face the Nomu, the other half, which Wash is part of, is in charge of evacuating patients, visitors and hospital staff from the building.[10][11] Unfortunately, the first team fails to prevent Tomura from waking up,[12] who immediately uses his Decay Quirk to destroy everything, killing dozens of heroes in the process.
Seeing the destruction, Wash immediately uses his Quirk to create huge bubbles with which to envelop the evacuees and float them in the air, saving them from the wave of decay.[13] Wash also manages to save himself and continues to help evacuate the civilians. Later, by the end of the Paranormal Liberation War, he and other surviving heroes try to stop "Tomura Shigaraki" as he tries to escape the battlefield alongside a handful of High-End Nomu. Unfortunately, they failed.[14]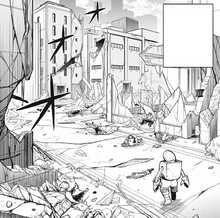 After his escape, "Tomura Shigaraki" attacks several prisons, freeing numerous villains. This, along with the consequences of the recent war, causes many Pro heroes to retire from the profession because they cannot withstand the pressure and social criticism. Many civilians have lost faith in heroes and decided to take matters into their own hands, acquiring support gears to face the growing wave of villains.
Following the days after the Paranormal Liberation War, Shian Prison escapees Cider House are on the loose, trying to rob a store when they are suddenly attacked by a group of civilians wielding support gears. Wash hears the report and heads to Shinjuku, only to arrive late and find that the fight was already over after causing horrific collateral damage to the neighborhood.
Wash is concerned about what happened, and while checking that the civilians were armed with support gear, he was hit in the head by a frying pan thrown at him by one of the nearby civilians caught in the crossfire, who begins to scold him for arriving too late. Though he is annoyed by this treatment, he nevertheless uses his Quirk to create bubbles to disinfect the wounded and transport them to a nearby hospital.[15]
Wash is one the remaining heroes that continue to help in the evacuation effort and hunt for the villains.[16]
Abilities
Quirk
Clean Bubbler (クリーンボブル, Kurīn Boburu?): Susugu's Quirk allows him to create and control soapy water from his body. The stream is strong enough to keep several people in the air.[17] Susugu can also use the Quirk to generate large soap bubbles that he uses to envelop targets and make them float.[13]
Battles & Events
Chapter Appearances
Anime Appearances
Trivia
Susugu's surname contains the kanji for "manipulate" (

御

mi

?

), "hand" (

手

ta

?

), and "wash" (

洗

rai

?

), while his first means "laundry" (

濯

?

).

His surname literally means "purifying water placed at the entrance of a shrine".
The last two kanji comes from the word "lavatory" (お手洗い

otearai

?

).

Susugu has been in a "Squeaky Clean" commercial.[3]
His catchphrase seems to be "Washa".
Susugu's physical design appears to be loosely based on that of Heat Man from Mega Man. The pose Susugu is seen striking in Chapter 300's sketch is also a parody of the character.
References