Doctor Strange in The Multiverse o Madness - The Loop
Play Sound
Steel Bulwark (, Steel Bulwark?) is an E-rank villain,[1] and is one of roughly seventy villains recruited by the League of Villains for the U.S.J. Incident, making him a minor antagonist of the U.S.J. Arc.
Appearance
Steel Bulwark is a muscular man with a rocky greyish-blue body and two extra arms on his back. He wears a black mask with yellow lines which extends to his upper chest. He also wears beige cargo pants and black boots.
Personality
Steel Bulwark is very brash, being the first villain to engage in close combat with Eraser Head with blind confidence that his immunity to Erasure makes him able to go toe-to-toe with the underground hero.
Synopsis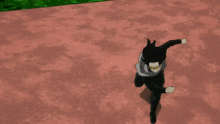 Steel Bulwark is one of the several villains who invade the U.S.J. led by Tomura Shigaraki, and Eraser Head confronts them alone to protect the students. After the hero easily defeats three of his fellow villains with the help of his Erasure Quirk, Steel Bulwark pounces on him, confident that his Quirk cannot be canceled like the others' because it's a mutant type. Eraser Head seamlessly dodges his attack and punches him in the face with enough force to knock him off balance, then entangle his Capturing Weapon over him and launch Steel Bulwark at other villains, knocking him out.[2]
He is later arrested when the Pro Heroes arrive.
Abilities
Quirk
Body Morph: Steel Bulwark's Quirk grants him with two extra arms in addition to providing him with great physical strength.[1]
Battles & Events
Chapter Appearances
Anime Appearances
Trivia
References