Wiki Targeted (Entertainment)
Play Sound
For the Quirk used by En, see Smokescreen.
Smoke is the unnamed Quirk of the Robber Villain.
Description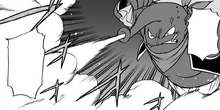 Smoke allows the Robber Villain to expels large amounts of smoke through the holes in his body to generating a thick smoke screen to mask and hide his movement from enemies' line of sight. He can also use the antenna on his head to fire a thick layer of smoke directly at the enemy to distract them. In addition to blocking the enemy's line of sight, the smoke also offers some short of advantage to Robber Villain in close encounters because it causes irritation in the eyes of those who get too close to him.[1]
Usage
The villain uses his Quirk mainly to mask his escapes and leaks after committing a robbery, causing his persecutors to have trouble chasing him because they can barely see him, losing his trail inevitably. He can also use his Quirk directly against an foe to confuse him, taking advantage of his distraction to flee or attack him by surprise.
References
Site Navigation