Obi-Wan Finale - The Loop
Play Sound
The Sludge Villain (ヘドロ敵, Hedoro Viran?) is a D-rank villain.[1]
Appearance
The Sludge Villain's body is made out of a dark green mud-like substance by virtue of his Quirk. He has sharp teeth and big, round eyes.
Personality
The Sludge Villain shows himself to be a selfish, cruel and sadistic criminal. He was bold enough to steal in broad daylight and flee the scene with various bystanders watching until he found out All Might was near. While trying to escape from the Symbol of Peace, the Sludge Villain had no remorse about trying to possess the bodies of Izuku and Katsuki, a process that would have suffocated them to death.[2]
Synopsis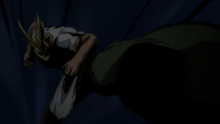 The Sludge Villain is fleeing the scene after robbing a bank, when All Might notices the villain and forces him to use the sewers to escape. While escaping, he decides to come out of the sewers to try and steal Izuku Midoriya's body. However, All Might catches up to him and blows him apart with his Texas Smash, later trapping him inside two soda bottles.[3]
While All Might is en route to hand the villain over to the authorities, he loses the bottle due to a midair struggle with Izuku, and the Sludge Villain escapes from his imprisonment. He finds Katsuki Bakugo and decides to take control of his body for his explosive Quirk.
The villain proceeds to wreak havoc in the city with Katsuki's Quirk and none of the Heroes are able to subdue him effectively. Out of sheer moral determination, Izuku suddenly runs towards the Sludge Villain to help Katsuki despite not having a Quirk. The Sludge Villain decides to attack Izuku, but before he can do so All Might stops the villain and defeats him with the Detroit Smash. Katsuki is freed of his control, and the Sludge Villain is taken into custody by the Police Force.[4]
The Sludge Villain is shown to have been freed from prison and has joined forces with other mutant villains.[5] Sludge Villain would later be apart of the Villain's attack on the Jaku ruins in an effort to free Gigantomachia.[6]
Abilities
Quirk
Unnamed Sludge Body Quirk: The Sludge Villain's Quirk transforms his body into a bulk of a mud-like substance. This fluid form makes him immune to physical attacks. It also gives him the ability to take over another person's body and use their Quirk against their will.
Battles & Events
Chapter Appearances
Quotes
(To Izuku Midoriya) "Don't worry. I'm just hijacking your body. Calm down. It'll only hurt for about 45 seconds... then it'll be all over."[7]
References