Jurassic World: Dominion Dominates Fandom Wikis - The Loop
Play Sound
The Sky Egg Arc is the fifth story arc in My Hero Academia: Vigilantes.
Koichi and Kazuho once again find themselves caught in the middle of the Pro Heroes ongoing investigations into the Villain Factory. Then later, in honor of Captain Celebrity's return to America, a farewell party is planned at the Tokyo Sky Egg. However, the Scarred Man has other plans and decides to use this opportunity to test the Villain Factory's newest creations, while a familiar face prepares to make a return.
Summary
Old Routines and New Goals
After his fortunes and adversities in Osaka, Koichi Haimawari returns to Naruhata to continue working as the Vigilante The Crawler and protecting the streets. During one of his patrols, he spots two big men arguing on the street and about to fight. Koichi appears to stop them, but all he gets is a slap on the face that leaves him a mark.
Later, as he walks to the Marukane for a meeting, he talks to Kazuho about how since he started using his Wall Cling, he feels like he's getting walloped more than ever. Kazuho tells him that it is because of his tendency to meddle in the affairs of others. When he asked about Makoto, she replies that she is in the hospital visiting a familiar.
Koichi and Kazuho meet with several other members of the Featherhats for business matters. The Marukanee has decided to set up a Narufest's Official Shop to sell merchandise of the group, so the agenda for that day is brainstorming what kind of merch they wanna see. Each one suggests several ideas.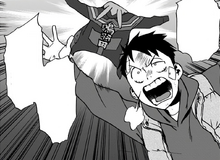 Ichimoku, Jube and Teruo appear to advise and help them. As they are fans of Pop since she started acting on their own in the streets, they have been doing merchandising since then, so they want to use their experience and knowledge for Featherhats official products.
Koichi, who until then was asleep, suggests selling All Might Hoodies. The others telling him that that does not make sense, as there is no connection between the Marukanee and All Might. Koichi tries to explain the reasons but his logic is too absurd for the rest. Makoto arrives to the meeting, and quickly accepts several of the suggestions, including Koichi's idea about hoodies. Then she leaves shortly after with the Captain Celebrity to another meeting.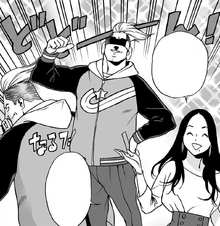 Later, Koichi and Kazuho return home together. Koichi is happy that his idea has been accepted, but Kazuho believes that the All Might Hoodies has nothing to do with them, and thinks about trying to convince Koichi to give up. However, Koichi truly believes that All Might Hoodies will be a succeed, so Kazuho decides to leave him in his fantasy world.
Two weeks later, Makoto arrives with the official merchandising. And Koichi does not resist to open the box that contains the Hoodies, but to his displeasure, these are not All Might Hoodies but Captain Celebrity's. Koichi is depressed because of this, which surprises Makoto, asking why he wants All Might hoodies when their operation's got nothing to do with All Might.[1]
Days later, after resolving a series of incidents in Okinawa, Toshinori Yagi returns to the Might Tower for a meeting with Naomasa in the building's cafeteria, only to find out the detective has his arm in a sling and several fractures.
Naomasa explains him that his injuries are the result of a confrontation he had against a villain recently. Although he tries to not give importance, Toshinori is worried and tells him that that if he had known, he would have come to help him. The detective replies that his public figure, All Might, can't be taking jobs for personal reasons, and can't prioritizing saving certain people because they could be taken hostage or use as a diversion by villains. Toshinori can not deny that he is right.
To chill the mood, Naomasa asks what is in a bag that he carries. Toshinori says that he got some gifts of the job he wants to share. Naomasa also brought a souvenir from his operation in Osaka and exchanged bags. Toshinori's gifs are bath salts with rose essence, and he thinks Naomasa's sister would like it. Although grateful, Naomasa informs him that lately his relationship with his sister is not in its prime.
Back on his flat, Naomasa gives All Might's gifs to Makoto, telling her it's just a souvenir from someone at work. Then, he reminds her a conversation they had previously. She replies that she will not give him information about Pop☆Step, and she will not let him treat her like a criminal.
Naomasa tells him that she was involved indirectly in the mission in which he was injured, also he can't ignore she previously used her Quirk illegally to perform in the streets and play vigilante by night. Makoto replies that Pop just wants to forget the incident and she is currently engaged in legitimate events. Makoto assures her that he will take care of her and if something happens, she will warn him. Although not fully convinced, Naomasa accepts.
When examining the bag that her brother brought, Makoto verifies that the gifts are expensive bath salts, and deduces that it's not exactly something a cop would pick up while away on a job. Then, she looks that the bag looks brand new and has an All Might logo, and asks her brother if he is working with someone from All Might's Agency. Naomasa feels offended that his sister interrogates him so he takes away the salts to use them.
Later, Naomasa and Shota Aizawa goes to the Hotta brothers' shop to meet with Kirihito Kamachi, to talk about his kidnapping by the Villain Factory, but he, the only thing that complains is that today's society discriminates against those who are physically different, like him. The others consider that he just exaggerates too much, although the conversation soon turns to how well detective Naomasa smells.
The next day, Naomasa has another meeting with Toshinori in the Might Tower. He tells him that he didn't give Makoto the bath salts because he had an argument with her. He complains that she has always been a rebel who break the rules and promises when it suits her and tries to talk her way out of it, and she using those tactics against him, a police officer, but Toshinori thinks that it's because she's not dealing with the police, but rather her older brother.
At the police station, Naomasa's companions realize how good he smells, and asks if he has found a lady friend. Annoyed, he just replies them to leave him alone.[2]
New Discoveries
The members of the Mazinger High Karate Club demand group dates with their females classmates. Koichi arrives to dissuade them, but the only thing he gets is to make them angry and they attack him with their Quirk Rocket Thrust. While protecting himself as he can, Koichi rejects one of the attacks with his quirk, which leaves him confused and seems to notice a new skill of his Slide and Glide Quirk, before being knocked out.
Meanwhile, at the Police Station, Naomasa Tsukauchi, along with Eizo Tanuma, analyzes a security cam tape about the failed attempt to arrest the speedster villain in Osaka. As he thought, the suspect used his quirk to defeat all the policemen in barely a second. Eizo suggests that, having an acceleration Quirk, the villain may be one of those people who can see, hear and think at hyper speed, and are so fast that for them the rest of the world seems like frozen in time. This gives Naomasa an idea.
Naomasa has a meeting with Shota in the Recycle Shop: Hoppers, where he talk about a hero called O'Clock. Said hero was speedster-type one from the previous generation. O'Clock's Quirk is very similar to the criminal that Naomasa tried to arrest in Osaka. Shota asks him if he thinks that O'Clock turned villain, but Naomasa doubts it because the age between the two does not coincide. However he is sure that there is some kind of connection between both, like a familial connection or being master and pupil.
Besides being only a hunch, Naomasa is confident in his assumption. The problem is he can't seem to locate O'Clock. The Hotta brothers suggest that he has probably hidden himself, since it is not strange that many heroes go into to hiding after retiring, especially those who have made many enemies.
In a flat, the Osaka criminal, known as Number 6, is training his Quirk hard, to bring it to its limits. From an earpiece, a voice tells him that his training is unnecessary, that he only needs to use firearms, like the other day, but the speedster villain replies that he more partial to punching power. The voice tells him to do what he wants, that at least they get data about his physical state while accelerated. The call ends, and the speedster villain talks to himself that he only uses firearms when he is get backed into a corner because guns are unheroic, as he contemplates a large O'Clock poster, who he calls master.
Back to Koichi, when he returns to his penthouse, he tells Kazuho that he manages to learn a new ability he can pull off with his Quirk: the ability to shoot repulsion force blasts. Naming this new power as Scrappy Thrust Style, Koichi explains the process to execute it and starts throwing blasts until he accidentally breaks a windowpane. This angers Kazuho who reminds him that there are things he can not do, and break windowpanes is one of them.[3]
The Hazardous Octoid
Koichi tries to practice his Scrappy Thrust Style, but Kazuho surprises him. She scolds him by saying that he can not shoot projectiles without a license or qualifications, and even if his shots are not dangerous, if he gets caught by a policeman or a hero, he will get into a good mess. After recognizing that she is right, Koichi goes patrolling, but Kazuho can not go with him because she is busy with school matters.
During his patrol, Koichi encounters Octoid, a Next-Level Villain with an Octopus (Squid) Quirk. At first, Koichi tries to stop him, but because he did not have any support and the villain has an enormous strength, he decides to warn people to run away while he tries to distract him as he can, while waiting for the authorities to arrive. Koichi tries to stay at a safe distance from the villain, but soon he is forced to escape when Octoid begins to throw rocks at him .
Elsewhere, in the Recycle Shop: Hoppers, Jiro and Ichiro Hotta are making a deal to sell an illegal drug against baldness to a customer. Suddenly, Shota arrives the store, canceling the transaction and the customer hurries away. The Hotta brothers are upset by his presence and they ask him why he does not stop coming to his shop. Aizawa responds to them because he has to keep his ear to the ground about Naruhata black market, to find out about any news or rumors about Trigger, and also because stopping in the shop before patrolling puts him just the right mood, plus they make good cup of coffee. This last response annoys the brothers.
Suddenly a stone breaks the glass of the storefront and causes damage inside the store, which puts the three on guard. When they get out, they find The Crawler, who is warning everyone to take cover. Koichi comes face to face with Shota, and both recognize each other from the struggle that Shota had with Knuckleduster several months ago. Koichi tries to play dumb and acts as though he isn't the one who Shota thinks he is, but before Eraser Head can ask him anything, they hear a scream.
Octoid had decided to attack a couple of girls, but is stopped by Shota. The hero uses his Erasure Quirk on him but checks that it does not work, so he deduces that the villain is another of the subjects modified by the Villain Factory. Shota uses his bidding cloth to hold him, and when he thinks that he has already subdued him, at that moment Octoid pulls two tentacles from his torso and attacks Shota with them, leaving him severely wounded.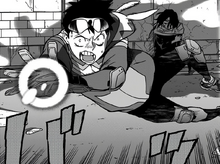 When the villain is about to finish Eraser Head, Koichi stands between them[4] and shoots Octoid a repulsion beam, hitting him in the face, saving Shota. Knowing that he has used his Quirk without a license in front of a hero, Koichi tries to play dumb, but before it continues, Octoid has already recovered, irritated by Koichi's attack.
The Hotta brothers transform themselves by injecting Trigger and decide to attack Octoid too. Koichi tries to excuse himself for his earlier attack by saying he did it in self-defense. The Hotta Brothers say the same and that the Trigger they used is a legal version. Shota decides to leave details for later and accept their help, while putting his left arm in a sling using his bidding cloth.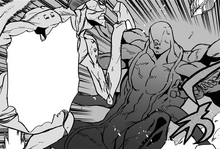 Their attacks do not seem to have much effect on Octoid, so Shota asks Koichi to keep shooting him. Koichi says it's too dangerous standing still and holding his ground against the villain, but Shota tells him that the idea is to draw his attention, he just has to keep the distance and pepper it with light shots. Then, he ask the brothers if they know an area where there are no civilians. One of Hotta Brother says he know an area, and everyone goes to the place while Koichi keeps shooting Octoid to make him chase them.
Meanwhile, in the Hotta Brothers warehouse, Kirihito Kamachi is enjoying his tea time and listening music. Jiro Hotta suddenly arrives and suggests him to leave the place, but Kirihito is upset and admonishes him for invading his privacy without being announced. Then, Koichi arrives and is surprised to find there the Mantis Villain against whom he fought weeks ago. His attitude annoys Kamachi and reproaches him that he can not judge people and treat them as villains because of their appearance. And then Shota and Ichiro arrive.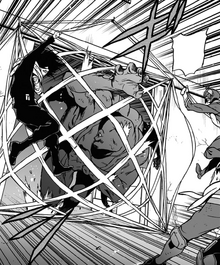 Kirihito thinks that what the four of them are doing doesn't seem like his business, and he continues with his teatime. Then, Octoid arrives and causes great mess in the place. This makes Kirihito mad and attacks the villain. However, Octoid proves to be too strong even for the former Next-Level Villain, so the rest decide to intervene.
Shota and the Hotta Brothers distract Octoid, while Koichi prepares to shoot him a more powerful version of his repulsion beam.[5] Koichi shoots a Crawler's SGB at point-blank range to Octoid. However, the shot does nothing but piss off the villain even more, who sets out to chase Koichi through the warehouse. Shota uses his bidding cloth as a net and captures Octoid, hanging on one of the supports of the warehouse.
The group tries to recover from the fight, and they ask Kirihito to call the police. He sets out to do it, but he gets too close to Octoid, who despite being entangled, attacks him, initiating a new fight between them. The confrontation makes the warehouse collapse, and Octoid is free by accident. The villain decides to take advantage of the confusion to run away. Kirihito says that what happened is not his fault, but the others tell him to shut up and everyone go after Octoid.
Following the trail of blood left by the Next-Level Villain in his escape, Number 6 encounters Octoid in an alley, who charges against him. However, he defeats him easily using his Quirk, and extracts a blood sample from his body. When he was about to leave, Octoid throws him a stone that causes a slight scratch on his face, but that greatly angers the speedster villain, because he thinks it might distract from the "cool, character-defining scar" he gave himself as an homage to someone he admires.
Number 6 gives Octoid a brutal beating, but he can not kill him due to the limit of his Quirk, so he stops for a few seconds to cool down before using his it again. During that waiting time, he tells Octoid how he intends to kill him. When he is ready to finish him, Koichi and the rest arrive at the place, which forces the villain to leave. Everyone is surprised to see Octoid very badly hurt, and Koichi is sure he has seen someone.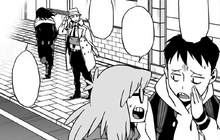 The next morning, Shota is talking with Naomasa about Octoid. the detective asking him if he suspects who might have left Octoid in such bad shape. Based on the modus operandi, Naomasa believes it could be the work of Knuckleduster. Shota tells him that it is not probable, although he does suggest him let The Crawler road free for a time.
At that moment, Koichi appears with Kazuho and greets Eraserhead, assuring her that they kinda became friends the other day. Shota simply looks at him menacingly, causing Koichi to back away. Naomasa asks Shota if he is acquaintance of his, to which Shota responds that he simply confuse him with another one.[6]
A Crazy and Wacky Mixer
A few days later, the members of the Mad Hatters band (Akira, Hiroto and Daiki), invited Koichi to a Mixer with some sophomore girls from Naruhata Women's College, since the leader had refused to participate because he did not want to feel like he was betraying the girl he loves. Koichi accepted the invitation, much to Kazuho's disgust.
Moved by jealousy, Kazuho follows Koichi on his way to the mixer, casually meeting the hero Midnight, who recognizes her as Pop☆Step who she had met at the first Narufest. Midnight is on a mission to root out groups who are distributing Trigger at mixers, with the culprits usually being those who organized them, who are precisely members of Naruhata Women's College. This mission was originally intended by Naomasa Tsukauchi to be a task handled by Shota Aizawa but the latter refused, saying he did not take on assignments that required high-energy and instead recommended Midnight to tackle the task.
Midnight sees the main suspect of the incidents, Rin Yaritezawa, accompanied by her friend Hina, and outlines plan to also participate in the Mixer together with Kazuho. Midnight telephones the Midnight Boys to distract the other two girls who would join the Mixer, getting them to cancel their participation, and so she and Kazuho take their places as "substitutes". Disguised and with fake names of "Kaori" and "Kazuha" respectively, Midnight and Kazuho join Rin and Hina to participate in the mixer with Koichi's group.
They start chatting and having some drinks with Koichi acting awkwardly all the while. "Kaori" leaves to fix her makeup and asks "Kazuha" to come along with her. In the restroom, Midnight tells Kazuho that the band members are free of suspicion as they knew them from Narufest, leaving only Rin and Hina as their suspects. She tasks Kazuho with keeping Hina's attention while she herself would monitor Rin and they return to the mixer to begin with their mission. "Kazuha" strikes up a conversation with Hina and finds out that she is one of Rin's friends and is always with her.
Meanwhile, Rin starts becoming resentful of the entire situation, being forced to organize the mixer with a band she didn't think highly of, accompanied by an awkward Koichi on top of having to be with two girls she had never met in her life, with "Kaori" having taken charge of the festivities.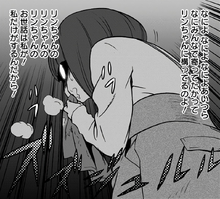 She gets up to leave but collapses and throws up on the floor, Koichi rushes to her aid and she is touched by his concern. Hina snatches away the towel they used to clean the mess and runs to the bathroom to lick on it, becoming insanely jealous at the others fussing over Rin, especially Koichi, and prepares to use some Trigger.[7]
The Mixer continues. Rin begins to show too close to Koichi, and begins to flirt with him. This annoys "Kazuha" and also approaches Koichi. Meanwhile "Kaori" egging them on. The Mad Hatters wonder why Koichi gets all the love, who feels a bit awkward.
Hina returns from the bathroom and at first it is difficult to recognize her because she has made up her makeup and changes into a more cutesy outfit. She sits between Rin and Koichi, and by her words seems to feel interested on him. This generates jealousy in Kazuho, who takes Midnight and asks her when she is going to arrest the suspects. Midnight tells her that she can not arrest them because at the moment they have not done anything wrong.
The waiter arrives with another round of drinks, although nobody knows who ordered another round but they decide just roll with it. At that moment, to get revenge on Koichi for attracting Rin's attention, Hina sneaks a few drops of a substance into the drink she intends to give him.
Meanwhile, at the Hotta Brother's Shop, Naomasa informs Eraser Head of the existence of another type of Trigger, connected to the instant villains who attended the Mixers. This new variant only needs to be ingested to work. The Police Force suspect the drug is mixed into the drinks, and the victims are getting roofied.
Back at the bar, Hina offers a jar of beer with Trigger to Koichi, but he rejects it because he is underage and can not drink alcohol. One of the Mad Hatters decides to take the jar. Then, Hina tries to offer him other drinks, like cola or ginger ale, but "Kazuha" says that Koichi can't handle bubbly drinks. Koichi's partners decide to take the drinks that Hina offered. Desperate, Hina drug more drinks to make sure that Koichi drinks at least one, but the waiter takes them apologizing because they were for other table.
Soon, the Quirks of several customers begin to get out of control. Koichi tries to keep the situation under control, and this makes Rin feel more attracted to him. Without being able to stand it anymore, Hina tries to force Koichi to drink.
Due to the resulting chaos by the out-of-control Quirks and the panic generated, Midnight decides to act. She uses her Somnambulist Quirk that makes everyone sleep (except Kazuho, Rin and Hina), stopping the rampage. Then, Midnight is faced with Hina, who confesses that she hates seeing Rin hanging out with boys. Although Midnight understand her feelings and shows sympathy towards her, she apprehends Hina.
The next morning, Midnight is congratulated by Naomasa for the work done, and Eraser Head could not agree more. Meanwhile, in his Penthouse, Koichi tells Kazuho everything about the incident with the uncontrolled Quirks, the presence of Midnight and the fact that someone drugged the drinks. He also tells her that the girls he was hanging with were all strange characters, and kinda scary. Kazuho asks him nervously if there wasn't at least one respectable girl, to which Koichi replies no, all terrifying.[8]
The Return of an Old Acquaintance
While performing hero work, Midnight receives a call from Kazuho, who tells her that an Instant Villain with a Locomotive head is charging after someone she knows (Koichi Haimawari). She had tried to call Captain Celebrity but at the time he was busy on another job.
Midnight calls Eraser Head, who is in the Hotta brothers' shop at that time. Eraser Head tells her at that time he can not take care of the villain, because he has an important meeting. Midnight simply tells him that it doesn't matter, because the villain is heading his way. When he leaves the store, he sees Koichi being chased by the Locomotive Villain. Koichi shoots several repulsion blasts to the villain, which does nothing but make him angrier, so he let Eraser Head take care of him.
The villain is defeated easily, and the Hotta brothers ask Koichi why he brings criminals near to their shop. He tells them because he had heard that is an offshoot of Eraser Head's office is there. Eraser Head says that is more or less true, but the Hotta brothers deny it. Shortly after, detective Naomasa arrives and Koichi leaves, but not before asking Shota to say nothing about he used his Scrappy Thrust Style, as it would bring him problems, although Shota replies that he does not care about that.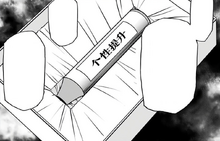 During the meeting, Naomasa tells Eraser Head about the new orally administered Trigger. It is less effective that the old form but lacks the psychotropic element. As this new drug does not turn people into full-blown villains, it makes it easier to distribute on the street, and therefore, it benefits the Villain Factory, because it makes easier for them to showcase potential candidates to kidnap and transform into Next-Level Villains.
The Hotta brothers ask Naomasa if it isn't more logical to think that another group is in charge of distributing this new Trigger. He denies it, arguing that after interrogating Hina, the one distributing the oral Trigger is the same villain from Osaka. The investigation led the Police Force to the place where the deals were happening, but they'd already cleared out. Naomasa reports that, due to the chemical composition, the new trigger came from China, so the Japanese police and heroes would have problems to do anything about it. Eraser Head jokes about deal with it secretly.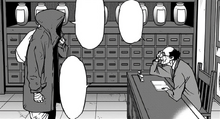 Meanwhile in Hong Kong, a bearded traveler with his face hidden under a hood enters an apothecary, and after changing a few words with the shopkeeper, he tells him a kind of password. The shopkeeper asks him to follow him to the back room and asks what he wants. The mysterious traveler says he doesn't want drugs, just information. The clerk replies that it is not possible, and also he can't trust him because he had used an old password, so he calls three thugs to deal with him.
One of the thugs approaches him threateningly with a knife in his hand, but the traveler defends himself and breaks the thug's arm. The other two quickly draw their weapons and ask him who he is. he replies that he is only a traveler. Then, the seller is surprised to recognize him as the hero Hyper Quadfist, known in Japan as O'Clock.
The traffickers can not believe he could be him because Hyper Quadfist is supposed to be dead, after he got his face split and his quirk was stolen. The traveler tells them they are right, that guy died long time ago, but the dead don't matter, because now he is here. After taking off the hood, the mysterious traveler turns out to be Knuckleduster.[9]
A few days later, in a hospital, Soga and his friends Moyuru and Rapt take care of Tamao Oguro. Rapt play the fool with Tamao's guitar, which makes her laugh, and Moyuru asks her to play. She confesses that she just played the guitar to piss off her father.
Soga grabs the guitar and tunes it. Moyuru did not know that Soga knew about music and Rapt tells him that Soga had a guitar, but he smashes it in a fight. Soga returns the instrument to Tamao, telling her that she has the privilege of being able to play music, something that many other people do not have.
At that moment, Knuckleduster enters the room. Tamao only says that his beard is gross and Soga criticizes him for being away a long time. Knuckleduster cannot deny it, but he asks Soga to stay a while longer, since he has to catch up with an old pal, but promises that as soon as he finishes he will visit her again. His daughter only asks him to shave his beard.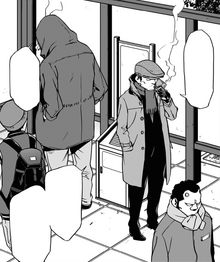 When Knuckleduster leaves, Soga asks Tamao to make some noise with the guitar, just to annoy her old man. Tamao agrees and Rapt and Moyuru make fun of Soga for being a sweetheart.
In a secluded spot, Knuckleduster meets Detective Eizo Tanuma, who turns out to be aware of Knuckleduster's past as the hero O'Clock, and now he calls himself "Mr. Kuroiwa". Knuckleduster secretly gives him a memory card with all the information he could get in Hong Kong about Trigger traffic, with the names of some Japanese importers.
When Knuckleduster is about to leave, Eizo tells him that the police have had an encounter with a villain who has an acceleration Quirk, very similar to O'Clock's. Eizo asks him if he knows who he is, but Knuckleduster says no, but he advises him that, if they come across the villain again, they'll shoot him down immediately.
The detective says they can gunning people like that, because it would give a bad image to the Police Force. Knuckleduster tells him that then he will take down that evildoer. After this, they separate.
In another area of Naruhata, Koichi is running away from a train-headed villain near the Hotta brothers' shop, although on that occasion Shota Aizawa is not there to help him. Kazuho has the idea of calling Midnight to help, the Hotta brothers are happy about the possibility of seeing the R-18 Hero again. Ichiro Hotta yells to Koichi to leading the villain around in circles until help arrives. Sitting on the rooftop of a near building, Knuckleduster observes proudly how Koichi gets on alone.
Knuckleduster leaves the place without contacting Koichi. In his escape, the young vigilante passes close to his master, believing he has seen him, but he does not recognize him completely and soon attributes it to his imagination.[10]
Christmas Eve Hero
After leaving their job and school respectively, Koichi and Kazuho head to the Marukane for a meeting. On the way, they meet Captain Celebrity, who carries Makoto in his arms as he flies, and they offer Koichi and Kazuho the opportunity to ride Captain Celebrity too. They accept, and arrive soon to the place, although the flight made Koichi get a bit of a cold.
When he asked why the girls and Captain Celebrity are not cold, the hero tells him that it is due to his Flight Quirk, which generates an aerodynamic barrier that, in addition to allowing him to flight, protects him from cold, heat and physical damage, and he can extend this barrier to protect what/whomever he is in contact with, although he only does it with the women, leaving the men unprotected. Koichi is not amused. Makoto tells Koichi that this information about the quirk is top secret, and it can be dangerous if the villains know its characteristics and weaknesses.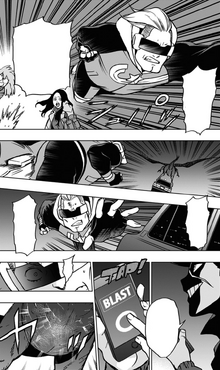 After the meeting, the Marukane Performers enjoy Christmas together. After the celebration Makoto informs Captain Celebrity that he can return to the United States, because his license will be reinstated. When he asks about the lawsuit, she says that most of these lawsuits amounted to entrapment of some kind and were otherwise frivolous. She also informs him that he is going to be a father, which surprises Captain Celebrity because he did not have idea that his ex-wife Pamela was pregnant. This news makes Captain Celebrity very happy.
After the party, the Little Sisters of Saint Lila's Academy get into a taxi, but from the sky appears a flying creature that takes the taxi, with the girls inside. Captain Celebrity goes out in pursuit, but just when he is going to reach them, Number 6, who had organized everything, explodes the creature with a device.
Using his aerodynamic barrier, Captain Celebrity manages to protect the girls, leaving unharmed of the explosion, although when doing it he lowers his own protection, suffering several wounds, although nothing really serious. The witnesses come to Captain Celebrity and begin to take pictures for his feat, he asks them not to do it because he's looking his worst, but Makoto encourages him by saying that he has never looked better.
Meanwhile, Number 6 observes everything on top of a building. With his attack, he manages to deduce the weak point of Captain Celebrity's Quirk, and decides to leave to prepare a new attack to end his life, releasing more flying bombers.[11]
Preparations for the Big Event
With the start of a new year, detective Naomasa Tsukauchi and All Might have a meeting in the Might Tower's cafeteria, in which they say they hope to continue working together another year. Naomasa informs him that recently they have obtained new and important information about the case he is investigating. All Might offers to help him but, although he is grateful, Naomasa tells him that it is not possible.
Later, Naomasa meets with Shota Aizawa in the Hotta Brothers' Shop. The detective tells him about the list of importers of Trigger and related partners, but still fails to find a way to stop the main criminal, who always manages to escape. In that moment, Shota gives him a USB with information and data obtained by the Naruhata Vigilantes, much of it confidential and even unknown by the police. It is about the villains they faced, and which could have some connection with the Villain Factory.
When Naomasa asks him where he got the USB, he just replies that Midnight gave it to him, who in turn was given to her by an unknown source (Shota knows it was Koichi Haimawari and Kazuho Haneyama who gave it to Midnight a week ago, but he keeps that information).
Meanwhile, the TV does not stop talking about the rescue carried out by Captain Celebrity the other day, as well as the announcement of his return to the United States. Makoto Tsukauchi announces that there will be a farewell party for Captain Celebrity in the Tokyo Sky Egg, and that the members of the Narufest will be part of the show. During the following days, they train and rehearse for the show, while Makoto tries to get some of Japan's most famous Pro Heroes to participate in the show as well.[12]
One day, Koichi goes to the Hotta Brothers Shop to deliver to Eraser Head a new USB with records of his latest patrols, but the brothers tell him that he is with the police at that moment. Jiro asks if it would be better for him to give it to Midnight, but he says that he does not want to bother her, also it's Kazuho who has a better relationship with her, although at that time she is training for Captain Celebrity's farewell party.
Meanwhile, in the police station, Naomasa Tsukauchi tells Shota that, thanks to the information of the list of clients obtained in Hong Kong plus the recordings of the vigilantes, he has been able to establish a chain of relationships that point to the Onomura Pharma Corp., a pharmaceutical company that could be, or be related to, the Villain Factory.
At that moment Fat Gum and Monika Kaniyashiki enter the room, and Naomasa says to Aizawa that they are there to help him in the investigation. Officer Kaniyashiki has been on the trail of the drug network for a while, meanwhile the hero Fat Gum is perfect to battle remodeled villains. Shota will team up with them, backing up Monika as battle-ready investigator, whereas Fat Gum will only act in case they have to fight against a villain. Their mission will be make direct contact with people connected to the company.
Throughout the day, Shota and Monika carry out the investigation, with some minor problem. While patrolling the streets as The Crawler, Koichi recognizes Monika and is surprised to see her with Aizawa. Koichi greets them, although they ignore him.
Upon returning to his penthouse, Koichi wants to tell Kazuho about the meeting with Shota, but she is too busy with the show performance, and she does not pay much attention to him. Due to this, he decides to go to the Hotta brothers store to have a conversation with someone, although for the brothers his presence is not pleasant, especially now that Eraser Head was not there to bother them. When they mentioned Shota, Koichi tells them that he saw him walking with Monika, an "Idol" he knows (Koichi ignores that Monika is actually a policewoman)
When Shota arrives to the store, the brothers, moved by jealousy, rub in his face that he is dating an Idol. Shota does not know what they are talking about.[13]
Assault on Onomura Pharma Corp.
The show for the farewell of Captain Celebrity at the Tokyo Sky Egg begins. One by one, various Pro Heroes come on stage, followed by performances, until finally it is the turn of Captain Celebrity, being received by a standing ovation.
Meanwhile, while this is happening, the Police Force, along with the heroes Eraser Head and Fat Gum, prepare to raid Onomura Pharma Corp.. Naomasa's research had made them discover that one area of the property barely interacts with the rest of the departments. Plus, multiple individuals with ties to the villains attacks and drug trade have been spotted coming and going. Therefore, theorizes that this must be the Villain Factory's base of operations. When all the police force is ready, Naomasa gives the order to start the raid.
Posing as a company employee, Monika gets the front door opened, and the police and heroes enter the place, arresting as many suspicious persons and seizing all possible evidence of illegal experiments and possession of unlawful substances.
They hardly have any problems at first, thanks to Eraser Head and Fat Gum, who defeat the main threats, but when they arrive at the secret laboratory, they meet one of the Bombers.
When the creature prepared to self-destruct, Eraser Head cancels his Quirk with his Erasure, and Fat Gum launches on him to neutralize it. However, they discover to their horror that behind the first Bomber there are several more, too many for Aizawa to cancel the Quirks of all of them. And behind the creatures, is Number 6, who presses a device generating a huge explosion in the laboratory.
Number 6 manages to escape the explosion by grabbing the leg of one of the five surviving Bombers. The Villain admits to himself that, although he expected the authorities to end up discovering the secret laboratory, he was not expected to do it so soon. Despite this setback, he decides to continue with his plan to attack Captain Celebrity, heading with the Bombers to the Tokyo Sky Egg.[14]
Kill Captain Celebrity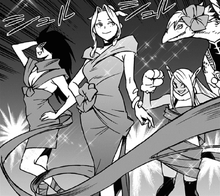 While all this was going on, the farewell party of the Captain Celebrity continues to be held at the Tokyo Sky Egg. At one point, Captain Celebrity decides to show the public a picture with his wife Pamela and their newborn child after the birth, and then he calls her. However, Pamela gets upset when Captain Celebrity tells her that she had shown that photo to thousands of people, and hangs up the call. Makoto decides to move on to the next act ahead of schedule, while Captain Celebrity tries to fix the situation with his wife.
One by one, the various heroes carry out their performances, and Makoto sends Koichi to look for Captain Celebrity, because soon he must back on stage. While looking for him, he sees an All Might hoodie exclusive to the Tokyo Sky Egg although he decides to check it out later and continues looking for Captain Celebrity, founding him in the Observation Deck, where he is still trying to apologize to Pamela.
Looking outside, Koichi sees a burning building, and five creatures flying straight towards them, discovering to his horror that they are exactly the same as the one that attacked Captain Celebrity at Christmas.
One of the Bombers sticks to the crystals of the observatory and explodes, and the difference of pressure sucks Koichi outside where he starts to fall, although thanks to his quirk he manages to hold on to the tower. Everyone inside the building notices the noise and the consequent shaking and wonders what is happening.
Captain Celebrity immediately goes outside to help him, but Koichi immediately warns him of another creature coming. Captain Celebrity flies towards the creature to face it, but the Bomber self-destructs in a huge explosion, which hardly affecting him, but everything turns out to be a ploy planned by Number 6, who watches the attack from the roof of a building not far from the Tokyo Sky Egg.
Due to the explosion, Captain Celebrity could not see that a an especially large Bomber clings to the tower of the Tokyo Sky Egg and explodes, seriously damaging the infrastructure, threatening to collapse with thousands of innocent people inside. To prevent the tower from falling, Captain Celebrity uses his enormous strength to hold the building, but this leaves him helpless.
Everything is turning out just as Number 6 had planned, and sends one of the two remaining Bombers to attack him. It is a creature that was specially designed to face Captain Celebrity, with six arms, the ability to throw explosive punches, and to regenerate any lost limb. The creature mercilessly attacks Captain Celebrity, but despite the punishment he received, he continues to hold the building, ensuring that he can withstand hundreds of those more attacks.
Koichi screams desperately for the safety of Captain Celebrity. At those moments, a special edition All Might Hoodie fell on him.[15]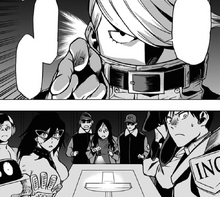 Inside the Tokyo Sky Egg dome, both the heroes and the audience are wondering about the many tremors rocking the dome. Some try to use their communication devices to contact the outside or other departments to know what is happening, but the other of the two remaining Bombers generates an EMP blast, causing a blackout in the building and cutting the cell signals. In the distance, Number 6 is satisfied with the result, because it prevents anyone from helping Captain Celebrity.
In one of the rooms of the Sky Egg, the heroes and show staff discuss the situation. Since all electronic devices have been rendered useless and they are completely isolated from the outside, Best Jeanist deduces that everything that is happening is the result of a meticulous plan drawn up by some villain or organization that seeks to seal them all in the building.
He decides that the best option is for the show staff and a group of heroes to look after the civilians without telling them the truth about what is happening to avoid panic. Meanwhile, another group of heroes will go to a small access hatch at the top of the dome where those heroes capable of flight will exit and make contact with the outside.
Meanwhile, Captain Celebrity continues to hold the damaged structure so that it does not fall, while resisting the Bomber's attacks. He is determined to endure as many of the creature's explosive punches as he can, figuring there is a limit to its regeneration. When the Bomber prepares to attack him again, a projectile causes one of the Bomber's fists to explode. At that moment, Koichi Haimawari appears upside down, using his Quirk to attach his feet to the roof of the dome, and wearing the TKE hoodie.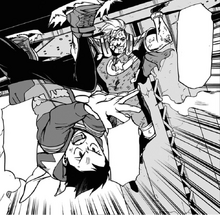 The American hero tells him to leave, but Koichi refuses, since his projectiles can destroy the Bomber's fists before they get close. Koichi decides to unleash a new Ultimate Move, The Crawler's Shooty-Go-Blam-Blam-Blam-Blam-Blam, firing a continuous burst of repulsion force blasts, hitting the Bomber and blowing up his fists.
Captain Celebrity realizes that those attacks can help them buy time, but they are not powerful enough to bring the Bomber down. Koichi is unconcerned, since he can keep the explosions away until a proper hero can reach them. Koichi realizes that it's always been his strategy to fight criminals and villains to do what he can and buy time until someone much more competent appears to solve the problem. Captain Celebrity says that strategy is uncool, but since it's the only option available, he asks Koichi to hang in there.[16]
Koichi continues protecting Captain Celebrity from the Bomber's attacks. Each time the creature approaches with his explosive punches, Koichi shoots him a blast before he has a chance to attack. Suddenly, the suction effect of Koichi's Quirk turn off and he started to fall, but fortunately Captain Celebrity manages to grab one of his legs before he falls to the ground. The Captain scolds him that if he gets careless, he will fall and there will be no one to protect him from the villain, and if the villain knocks him down, there will be no one to hold up the Sky Egg. Koichi replies that he already knows that and asks him not to put more pressure on him. At that moment Koichi realizes that Captain Celebrity is smiling.
Christopher remembers when he met Pamela. In high school, he had always been very popular with people, especially girls, but Pamela did not seem interested, looking at him with a grumpy face. Christopher had never met anyone who looked at him in that way, so he decided to ask Pamela the reason. She replied that she always looks like that.
To cheer her up, she decides to take her and fly, but the only thing he gets is to make her angry even more. Christopher apologizes and Pamela tells him that she is not especially fan of him and his goofy grin, calling him a balloon, because he may has good look outside but he has nothing inside. Christopher feels annoyed by those mean words and Pamela leaves.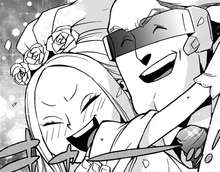 Despite her words, the next day Christopher decides to talk to her again, carrying a balloon in reference of what she called him. He apologizes for the other day, he just wanted to make her smile, and asks if she's still mad. Pamela says no, and confess she actually was thinking that must be nice being able to fly like him. Christopher offers her another ride, but Pamela refuses, saying she does not want another of his crazy flights. Then Christopher offers her a balloon ride.
Christopher and Pamela float just inches from the ground. She says they must look stupid, so he decides to go up a bit more. In his thoughts, Christopher says that he does that things because he just wanted everyone to like him. However, after seeing Pamela's face of happiness, he falls in love with her. Over time, he tries to win her affection, and although she is distant, in the end she decides to correspond to Christopher's feelings and marries him.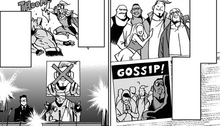 Despite the good start, the marriage soon begins to go through bad times. He always wound up making her mad, and his job as a hero wasn't going well either. People he considered to be good pals turned out to be using him. And some of the villains he took down, turned around and sued him, like he was in the wrong. This makes him think that whatever he does, he always ends up having problems.
Back to the present, Koichi asks Captain Celebrity why he smiles. Christopher replies that with the current situation. He's never met a crisis like the current one, where he faces a villain to save thousands of lives, which means that even an idiot like him can't get this wrong. Koichi begs him to stop remembering the really difficult situation they are in.
The Bomb Villain decides to attack again, this time concentrating more explosive power in his fists. Koichi manages to destroy one of the villain's punches with his blast, but the blowback is so strong that he does not realize until it's too late that the villain had another attack ready. Koichi can not destroy the explosive punch in time, and the creature gets to hit Captain Celebrity with it.
To his surprise, the punch did not explode, and he can see in the distance a helicopter approaching to their position. In the vehicle is Shota, who uses his Erasure to nullify the explosive Quirk of the Bomber, stopping it for now, but it could still blow. The Next-Level Villain tries to fly around the tower to get out of Eraser Head's line of sight, but numerous threads catch him in the air.
Best Jeanist makes an appearance, balancing on a single string while holding a flying Bomber in control, while Ryukyu and Airjet inform that they have alerted the authorities and personnel, and now they prepare to face the remaining Bomb villains.[17]
The Heroes Counterattack
The heroes Mirko, Ryukyu and Snipe face the Bomber responsible for cutting communications. Ryukyu grabs it Ryukyu grabs it with her draconian claws and Mirko ends up defeating it with a strong kick. Inside the dome, Gang Orca sees this positive because hopefully they can make contact with the outside, but Makoto clarifies to him that the cells and the landlines in the facility continue being in-operative.
At that moment, Ingenium notifies them that the Team Idaten Comm Link have just arrived, which allows communication with the Idaten's control room. Tensei orders his sidekicks to deploy and assist the heroes on all fronts. Tensei leaves Gang Orca and Makoto to coordinate from inside, while he goes out to provide assistance against the Bombers.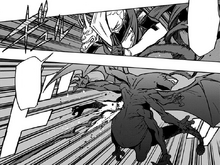 Once outside, Edgeshot briefs him on the situation before using his Quirk on the Bomber that was previously attacking Captain Celebrity. Edgeshot pierces the creature thanks to his Foldabody, and Best Jeanist uses his Fiber Master Quirk to catch it and leave it hanging.
After this, Best Jeanist asks Ingenium if what he requested had arrived, and then he is informed of the arrival of a truck transporting carbon fiber cables made for suspension bridges. Best Jeanist descends to the ground and uses his Quirk to manipulate the cables and secure the structure, preventing the Tokyo Sky Egg dome from falling.
In the police helicopter, Shota asks Naomasa to call All Might to come to the place to help because, although it seems that the heroes are winning and Best Jeanist's Quirk is holding up the tower, the threat has not yet over, as there is always the possibility that the enemy has another trick up their sleeve.
The detective is somewhat reluctant to summon the number one hero for a mere precaution, but Aizawa tells him that, although his request goes against regular police procedure, in that they are dealing with an unprecedented crisis, with thousand lives at stake, so it's not the time to get carried away by the regulation and normatives. Naomasa agrees to Aizawa's request and calls All Might, who at that time he is in a meeting at the Might Tower as Yagi Toshinori.
Seeing that the tower is secured, Koichi is encouraged because it seems that everything is solved. An exhausted Captain Celebrity asks Koichi for a favor: Get a message to his wife and son and tell them "your husband and daddy is a great hero". Edgeshot comes to them and asks them how they are. Koichi replies that they are fine, and asks the Captain why he does not deliver the message himself in person. When turning around, Koichi checks that Captain Celebrity is gone.
Totally exhausted, Christopher falls inexorably to the ground, several hundred meters below, while wondering if he has finally managed to perform an heroic act that his wife Pamela would be proud of. His thoughts disappear when he realizes that Koichi is also falling to the ground.
Apparently, Koichi had unconsciously jumped to save him. Realizing what he has just done, Koichi asks Captain Celebrity to uses his Flight, but he replies that he does not have enough strength left to fly. With this situation, Captain Celebrity grabs Koichi and makes a last effort to activate the protective barrier of his Quirk and covers Koichi with it to protect him from the fall, while praying for his salvation. Several Heroes try to save the two.
Meanwhile, upon hearing Naomasa's call, Yagi apologizes and goes to a secluded area to talk to him. Naomasa tells him that the Tokyo Sky Egg is in trouble, but before he can clarify him the situation, something unexpected happens.
In the distance, Number 6 has been watching the development of events. He gets angry after seeing the Pro Heroes managing to get out of the Sky Egg and defeat his creatures while securing the building. However, he refuses to give up, and decides to carry out his last move to kill the greatest number of people, in revenge for their interference.
The Bomber that was trapped by Best Jeanist creates small explosions to free itself from the fibers while the smoke generated blocks Shota's vision, preventing him from using his Erasure Quirk on the Next-Level Villain. The Bomber clings to the supporting tower and Number 6 uses his device to cause the creature to self-destruct.
The Bomber dies in a powerful explosion and the Tokyo Sky Egg begins to fall down. In the distance, Number 6 looks satisfied as the building begins to collapse, with thousands of people inside. At that moment, he says that only a god could save them.[18][19]
Number One Hero
After hearing the explosion through his mobile phone, Yagi does not stop asking Naomasa what is going on, but his questions are not answered by Naomasa, who watches impotently as the building collapses, with thousands of people inside, including his sister Makoto Tsukauchi. At that instant, he begins to remember moments of his childhood with her and how important she is to him. Then he desperately asks All Might to save his sister.
Upon hearing this request for help, the number one hero immediately transforms in his muscled form and leaves the Might Tower to save everyone.
All Might takes only a few seconds to reach the place and, in a flash, he smashes the remains of the tower out of the way, flatten the ground, bring animals to safety and landing the Tokyo Sky Egg dome safely. He even finds the time to take some selfies with people. The bystanders are stunned by this inhuman feat.
Meanwhile, Captain Celebrity and Koichi continue to fall. Koichi sees All Might and greets him. When All Might sees them, he immediately rescues both. All Might congratulates Captain Celebrity for what he has done and signs Koichi's hoodie. Everyone starts cheering for All Might.
Only one person is not happy about what has just happened. On top of a building, Number 6 feels increasingly furious to see how his act of revenge had been totally ruined by All Might's intervention.[20]
Several minutes later, the media reports the Bombers' attack on the Tokyo Sky Egg, while hosting a large-scale event with some of the most famous Heroes, and how All Might saved everyone from the disaster when the tower began to fall. Journalists and reporters ask All Might about his opinion. He simply thanks that there is no fatalities, and praise the efforts of the Pro Heroes, law enforcement and relief workers to care for the victims.
After his statement, he says goodbye and runs away, being pursued by the media. After elude them, All Might, now as Yagi Toshinori, returns to the place and meets secretly with Naomasa. He tells him that he's going to stick around for a while in case there's another attack.
The Marukane Performers are handing out for free official merchandising of the event (hoodies, food, drinks, etc.) among people to help them feel better. Although she knows that this will leave her in red for sure, Makoto is not discouraged and says that is not time to be thinking about money, in those moments, everyone of the Marukane Performers, from the said performers to the staff, should help others.
All Might is glad to know that Naomasa's sister is fine and helping everyone. Naomasa apologizes for getting bent out of shape, but Yagi tells him that it's fine and that it was his impassioned plea that got him there in time. Yagi explains to Naomasa that his Quirk has a strong psychological component to his strength. When he hears a plea for help, he feels it like a direct order to All Might. He tells him that when he accepted his power in order to save everyone and give them hope.
Naomasa feels confused about he "accepted" his power, and All Might realizes that he has unwittingly revealed an important fact regarding One For All and its secrets. Before their conversation continues, they are interrupted by Eraser Head, Fat Gum and Monika, and Naomasa introduces them to Yagi, who thinks that one of these days he will have to explain Naomasa everything about the secret behind All Might.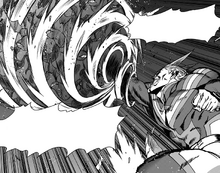 In the distance, at the top of a building, Number 6 watches the whole scene, still furious that All Might ruined his plans. However he does not give up. Using his device again, he makes the busted Bombers' remains regenerate, combine, grow and that bursts releasing a swarm of two hundred mini Bombers to attack everyone, in his last attempt to cause a tragedy. Number 6 is confident that even if All Might and the heroes trying to stop them, they will not be able to destroy all the creatures, so he is sure that this attack will cause some deaths.
Everyone is surprised at this sudden attack, but it generates the appropriate distraction for Yagi to transform back into All Might, destroying the entire swarm with his Nebraska Smash, that creates a small tornado that sucks in and triggers every last mini-bomber.
Faced that impressive demonstration of power, Number 6 can not help but laugh, because it is hard to him believe that someone like All Might can come into existence. Suddenly a voice from his earpiece starts talking. The mysterious voice tells him that what he has just saw is the truth, that All Might is at a level far above the rest of the heroes, and that he the pinnacle of what the organization hope to achieve.
After hearing the explanation of his employer, Number 6 decides that the best option to do at that moment is to withdraw. With all the Bombers wiped out and the laboratory destroyed, the only thing he can do is disappear for a while. Unbeknownst to him, he is being observed through the scope of a sniper rifle, and the observer turns out to be none other than Knuckleduster. He is willing to shoot him to prevent him from escape.[21]
Knuckleduster vs. Number 6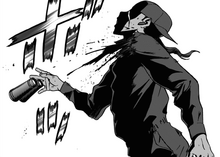 Knuckleduster continues aiming at the head of Number 6. With his investigations, he deduced that the next move of the Villain Factory would be attacked the Tokyo Sky Egg event, to use it as a testing ground. He looked for what would be the ideal rooftop to provide the best view of the Sky Egg in case he decided to observe the attack, and then search for the ideal spot to snipe him.
hen he is about to shoot him, a bird passes in front of his scope, causing him to miss the shot, piercing Number 6's left shoulder. Knuckleduster tries to shoot him again, but the villain quickly locates him, and despite his injury, he jumps from building to building thanks to his Quirk until he ends up on the rooftop where Knuckleduster is.
As soon as he arrives, Number 6 greets him, but Knuckleduster only comments that, in addition to his acceleration Quirk, he has noticed that his body has been tinkered. The villain confirms his observations although he clarifies that he is still a work in progress, and his quirk is called Overclock, the same Quirk Knuckleduster once held when he was the hero O'Clock.
The villain says that he always wanted to meet him, calling him master. The vigilante replies that he has been in his sights for a while, and knows that he is the guy who controls the Next-Level Villains and who got his stolen quirk, but otherwise, he has no idea who he is: No history, no identity, not even a name. The villain replies that he is a nobody, a thing still unformed, and he has no real name, he is just called Number 6. However, he hopes to become O'Clock, because there's no other name for him.
Although flattered, Knuckleduster tells him that most punks say they wanna be All Might. Number 6 admits that's because he is tremendously powerful, but for him All Might is limited. He is someone who only acts when the troubles have already arrived. Number 6 says that humanity is lucky that All Might is a hero, because if he used his enormous strength for selfish reasons, the world would be doomed.
From Number 6 point of view, being All Might only gives two options: save the world or destroy it; there is no third option. It's pointless being All Might if he can not use his power however he wants. And all he wants is living free. That's why he admires O'Clock, because his Quirk always lets him make the first move, no matter who he is up against and beat anyone however he chooses. That's why for him O'Clock is a real hero. Knuckleduster just replies that that's not a hero.
Number 6 continues with his monologue, confessing that he is his biggest fan, knowing everything about him, and when he watched his career as a hero ends, he considered that his turn had come, self-inflicting the scar on his face as a sign of respect to him. For that reason, Number 6 has a request to Knuckleduster: Acknowledging him as his successor.
Knuckleduster replies that it is not possible because he already has a disciple. Number 6 knows that he is referring to Koichi, but he tells Knuckleduster that he is someone who admires All Might, not O'Clock. Knuckleduster tells him that's why, O'Clock is not a hero, and he does not intend to allow a villain like him, who is in possession of his stolen Quirk, to continue to exist.
Number 6 resigns to the fact that his idol recognizes him as a villain. Then he asks Knuckleduster what he's going to do now, since he lost his chance to kill him. Knuckleduster tries to shoot him, but thanks to his Quirk, Number 6 deflects the rifle, causing Knuckleduster to miss the shot. The villain says he really admired him when he was the hero O'Clock, but now that he no longer has his Quirk, he is a nobody, so he confesses that he is going to kill him, and with his death, he will be the new O'Clock.
Number 6 activates his Overclock, but when he is gonna to attack the Vigilante, he gets distracted by a recording. Number 6 listens carefully to the recording, which is about Knuckleduster speaking about the characteristics of his old Quirk, putting special emphasis on a fatal drawback. When Overclock is activated, if the user is intensely focused on something, he experiences "brain drain", depriving his brain of oxygen. The faster he goes, the bigger the brain drain, meaning he will run out the clock even faster than normal. For instance, when he is trying really hard to listen to a recording played back at 300 times normal speed, as he is doing right now.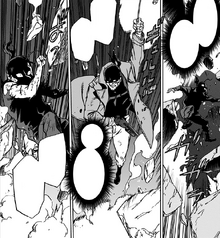 Number 6 realizes that he fell into the trap and tries to back off, but Knuckleduster does not want to give him the chance to recover, so he quickly activates a detonator he keeps in his trench coat, generating an explosion on the rooftop.[22] Number 6 falls to the bottom without having a place to lean on and, therefore, unable to maneuver in mid-air.
Hanging on his grappling hook, Knuckleduster informs him that he has not only destroyed the rooftop but also several floors below, putting him in a freefall and making his acceleration worthless. Then, Knuckleduster pulls a shotgun out under his trench coat and aims to Number 6. The villain quickly covers his head to protect it from the bullets, but Knuckleduster shoots his legs, so he can not land properly.
With the shots and the debris that fall on him, Number 6 is seriously injured, and at mercy of Knuckleduster, but the vigilante realizes that the villain has been modified to be able to resist pain. Realizing that the pain will not be enough to stop Number 6, he decides to shoot his limbs to leave him helpless.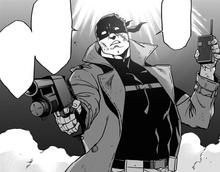 Gravely wounded, Number 6 comments that something is fishy with Knuckleduster's latest actions. A few minutes ago, Knuckleduster tried to headshot him, but now he isn't trying kill him. He asks why this change of plans. Knuckleduster answer that he has just changed the priorities. He admits that killing him was his best long-term option, but now that he had fallen into his trap, it is worth leaving him only badly wounded.
Knuckleduster also tells him that the building is damaged, and therefore another blast will gonna bring the whole building down, becoming Number 6 tomb. He can't escape even with his super speed.
Number 6 tells him he is naive, because his decision to no kill him gives him time to recover. At these words, Knuckleduster begins to brutally hit him in his head. Knuckleduster says that taking out a dangerous villain is high on his priority list, but in that situation, he wants to wring some intel from Number 6 about the ringleader of the Villain Factory. The blows to his head are to seal off overclock, being as effective as the oxygen deprivation to the brain as Number 6 suffered before.
Knuckleduster realizes the villain has healing powers, because the shotgun wounds already stopped bleeding. Knowing that this can be a problem, he decides to tie the villain. However, Number 6 taunts him saying he should have killed him when he had the chance. A minibomber comes out of his sleeve, and merges with his left arm. Number 6 confesses to Knuckleduster that he has bomber cells in his body, before self-detonating his arm, blowing Knuckleduster away.
Despite making him sacrifice his left arm. Number 6 praises Knuckleduster for his stubbornness, considering him as the best one, much better than the Pro Heroes and even All Might. However, he is here to be better than him, after all, there can only be one O'Clock. Knuckleduster gets up and tells Number 6 to keep dreaming. The explosion maybe injured him but its the same for the villain, even worse. He's gonna make sure that Number 6 will meet his end here, having made exactly nothing of himself.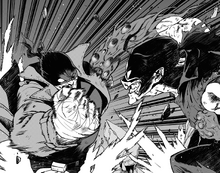 Number 6 recognizes that Knuckleduster may be right to consider him a mere copycat, and it is true that he knows a lot more about his old Quirk Overclock that him, However he does not know anything about him and what he is capable of. He can do things with Overclock that Knuckleduster never couldn't, like accelerating the growth of the Bomber's cells, and in this way, obtain an explosive arm where before his left arm was. Number 6 also has the bomber cells extending to the right arm, thus obtaining two explosive arms.
With this power at his disposal, Number 6 proclaims that the only thing he has to do is make his escape by blowing up the walls, and Knuckleduster along with them. Without giving him time to finish his speech, Knuckleduster attacks him and proclaims that he will defeat him before he has the chance to blow. Admiring Knuckleduster resolve, Number 6 recognizes that he is certainly the best, before attack him, initiating the final battle between both.
Not far from there, in the dome, Koichi tells Fat Gum that he thinks he heard an explosion. Eraser Head suggests that maybe some of the Mini Bombers might have escaped from All Might's attack, and Naomasa gives an order to check on that. At that moment, Monika Kaniyashiki appears, worried because the "skinny guy" who used to be with them does not appear anywhere, and Fat Gum wonders if he got blown away by All Might's megapunch. Koichi, Fat Gum and Kaniko search for "Yagi" among the debris, while the real Yagi secretly approaches Naomasa and asks him to got anything for him to wear.
Back to the place where Knuckleduster and Number 6 are, the building where they were fighting now is completely collapsed, with no trace of either of them.[23]
Heading Home
A week later after the Tokyo Sky Egg Bombing, Christopher Skyline is in the hospital, recovering from his injuries suffered in his fight against the Bombers. Because of his heroic actions during that day, there is a large crowd cheering him out of the hospital, as well as constantly receive congratulation calls. Even some heroes, like Best Jeanist, praise him on television for helping save thousands of lives during the terrorist attack. Several members of Marukane's band are there taking care of him, including Koichi, Kazuho and Makoto, among others.
Captain Celebrity apologizes to Koichi because he somehow stole his portion of the limelight, but Koichi doesn't care, because on the one hand he got his hoodie signed by All Might himself. And on the other, because he is a vigilante, he would have problems with the police if they found out his participation in the fight against the Bombers. Makoto tells him that the police are aware of it.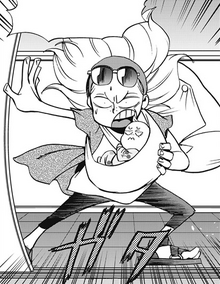 Makoto had a conversation with his brother, the detective Naomasa, about Koichi. Due his actions, he acknowledges that The Crawler deserves to be recognized for what he did, as his intervention helped to save thousands of lives, yet his acts of vigilantism remain illegal. Therefore, the police have put in a request to the heroes and other witnesses to keep quiet about him. But he clarifies to Makoto that his success during the Sky Egg Bombing only bought him a free pass from the police this time, and it would be nice to not go around lauding him as some kind of hero. Makoto explains to him that Koichi is not after commendations and public praise. Finally, Naomasa tells him that he is grateful for what he did.
Suddenly, they hear the shouts of a woman coming from the corridor, who rushing into the room. It turns out to be Pamela, Christopher's wife, along with their son. Christopher is very happy that she is there but Pamela, after leaving her son in Makoto's arms, throws herself on Christopher and starts beating him despite his injuries, to everyone's dismay. She calls him an idiot for how he behaved last week at the Tokyo Sky Egg but deep down she is happy that he is alive, and thanks Koichi for helping him.
Two weeks later, at the international airport, the Marukane members meet to say goodbye to Captain Celebrity and his family, who are preparing to return to the United States. Koichi notices Makoto is missing, and Kazuho says she will make it just in time. The press is also there to interview Captain Celebrity, asking him questions about his experience in Japan. Christopher says he is very grateful for everything, but especially to two people.
The first is his manager Makoto, whom he does not hesitate to praise, although Christopher does not use the right words, and journalists quickly misunderstand him, asking him if there is some kind of sentimental relationship between them. Christopher is unable to adequately explain the matter, but fortunately for him, at that moment Makoto arrives, and clarifies that her relationship with Captain Celebrity is purely professional.
Then, a journalist asks Christopher about the second person he is grateful to. He replies that he can't explain right now, causing the press to draw hasty conclusions about some kind of relationship again, and Makoto has to clear up the misunderstanding again. She says that the second individual is someone whom Captain Celebrity respects, but given Christopher's scandals in his past, they decided to exercise caution when revealing details of Captain Celebrity's personal friendships. Koichi thinks they're referring to All Might.
Christopher thanks Makoto for everything, and assures her that he will try his best, and when he needs help, he will look to those around him for strength. Makoto reveals that she will be among those people because, to everyone's surprise, she also goes to the United States, because she is going to study abroad at a college in New York, in addition to continuing to be her manager. After this, she says goodbye to everyone before board the plane.
Koichi returns along with Kazuho to his penthouse. Once there, they start talking about Makoto. He talks about Makoto's departure and how well she handled the press, but Kazuho thinks she could have given Koichi more credit. Koichi thinks that some credit would be fine, so tells Kazuho that if she wants she can praise him, but a flustered Kazuho replies that he can't ask for it like that.
Meanwhile, Naomasa goes to the ruins of the building where the fight between Knuckleduster and Number 6 took place. Here is his partner Eizo Tanuma, and informs him about the results of the blood samples recovered from the place. According to the laboratory, the blood corresponds to two people. One corresponds to the former hero O'Clock, whose name is Iwao Oguro, while the results of the second sample came back inconclusive as they found his blood type and DNA was mixed with a number of other chemicals.
Eizo, who lead the Trigger investigation and knows the truth about Knuckleduster, questions if "the thing they're chasing" is even human.[24]
Story Impact
Knuckleduster is revealed to have been the former Pro Hero O'Clock, until his Quirk was stolen.
The Scarred Man is revealed to be an artificial being called Number 6 and he received Knuckleduster's Quirk after it was stolen.
Captain Celebrity returns home to America, accompanied by Makoto, who will be studying abroad.
Characters Introduced
Quirks Introduced
Battles & Events
References
Site Navigation