We're Getting Mutants in the MCU - The Loop
Play Sound
The School Days Arc is the sixth story arc in My Hero Academia: Vigilantes.
After spotting Koichi helping a cat, Shota Aizawa starts to reminisce about his school days at U.A. High School, his second year with his friends Hizashi Yamada and Oboro Shirakumo, and what happened that fateful year that would shape him to what he is now.
Summary
Memories in the Rain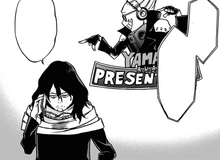 Several weeks have passed since the Sky Egg Bombing, and while patrolling the streets, Shota Aizawa receives a phone call from Midnight. He asks how she is doing as a teacher at U.A. and she replies that she is delighted. Midnight tells him that Hizashi Yamada will start teaching next semester and that only he is missing. Shota replies that he has not agreed to be a teacher, but Midnight replies that according to Hizashi, he only needs a good shove to take action.
Shota feels annoyed at Hizashi's comment about him and says he is someone who meddles too much for his own good. Although Midnight agrees with that, she tells Shota that he has been shying away from what really matters. Irritated at Midnight's words, Shota tells her that, like Hizashi, she also sticks her nose into his affairs and ends the conversation.
Right after ending the call, he sees Koichi carrying a box with a kitten inside and a little girl being chased by a wolf-like villain. Koichi gives the girl the cat to escape while he distracts the villain, but the girl stumbles and the kitten falls from her hands.
Shota intervenes, using his Binding Cloth to help the girl and the kitten while he easily defeats the villain, calling the police to take care of him. Koichi explains to Shota what happened: the girl spotted the cat near the station and he stopped to help her, but the wolf villain appeared out of nowhere simply to torment the animal, so they decided to flee. After the explanation, the girl asks them to take good care of the kitten and leaves.
Just then it starts to rain and both Koichi and Shota take shelter under an awning. Shota asks the young vigilante what he's going to do with the cat, and he replies that he will probably take it home. Upon hearing his answer, Shota lists a long string of cares that a cat requires, and he advises him that if he doesn't feel prepared to take care of it, he should put it back to the place where he found it.
Faced with this attitude, Koichi asks if he's got something against cats because he has avoiding looking at it. Shota simply replies that he doesn't like to be swayed by his emotions. If he's not prepared for the responsibility, he shouldn't get involved with something in the first place.
Shota begins to remember when he was sixteen, in the summer of his second-year at U.A. High School. Shota remembers that this was a time when his spirit was on the ground, thinking about how useless he felt to be a hero.[1]
Oboro Shirakumo
While walking towards U.A. on a rainy day, the young Shota finds a box with a soaked kitten inside. Feeling sorry for the cat, Shota decides to leave his umbrella to protect it from the rain, continuing his way to school, thinking about his inability to be a hero.
Shota arrives at his homeroom class completely soaked. His teacher tells him to get changed, but Shota replies he is fine. The teacher responds that he does what he wants, but tells him that taking care of his own health is also important for a student walking the path of the hero. When he hears this, he thinks he is having a hard time picturing his path as a hero and comments to himself that he is powerless.
His classmate, Hizashi Yamada, hears his words, and when checking his gloomy mood, tries to cheer Shota up by joking about him. At that moment, another voice is heard making jokes about both. Their classmate, Oboro Shirakumo, had just arrived to class by entering through the window, using a Cloud created with his Quirk.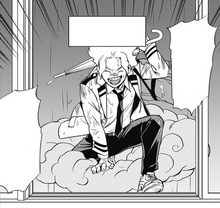 Oboro is admonished by the teacher, who tells him to use the door like everyone else. Soaked from the rain, Oboro interrupts roll call and asks if anyone has a towel with no success. He also gives Shota his umbrella back. Shota tries to ask him if there was anything underneath it, but is interrupted by Hizashi, who asks Oboro why he is taking off all his clothes. He responds that, since even his underwear is wet, he decides to change into his gym attire in front of everyone.
Paying no attention to his group and their bewildered responses, Oboro covers himself making a cloud around his lower territory, declaring that his Cloud Quirk was made for such occasions. Still, he takes advantage of his situation to make a joke with an innuendo, which causes a commotion among his classmates, only to pull out the cat he rescued earlier from the rain, which is met with adoration from his classmates. Shota realizes that it's the same kitten he left under his umbrella.
Moments later, the rain has stopped, and both Shota and Oboro have changed into their gym attire. Oboro allows the roll call to continue after getting dressed and places the cat on a cloud pillow.[2]
The homeroom teacher of Class 2-A begins by reminding the students that most second-years do work studies during summer vacations to get a taste of what the world of a Pro Hero is like. He puts special emphasis on Shota, Oboro, and Hizashi with this reminder, since none of them have been assigned to an agency as of yet.
After clarifying this, he orders his students to put on their hero costumes, as they will doing joint practical exercises with those from Class 2-B. The Joint Exercise consists of Battle Training, Rescue Training, and Entertainment Lessons, having a teacher in each practice to study and evaluate students.
Days later, the three teachers talk about those without study assignments: Shota, Oboro, and Hizashi. They believe that Hizashi shouldn't have a problem, since his Voice Quirk has applications in battle, rescue, and entertainment. His only flaw is that he might have trouble settling on a given role. Oboro's grades aren't anything to write home about, but they trust that with his positive and willing attitude, as well as combat skill, will be enough for him to manage things at his own pace.
However, with Shota they are not clear. Although they know that he is very hardworking and gets above-average grades in both practical exercises and academic subjects, he doesn't have a vision for his future, so it's difficult for an agency to accept him.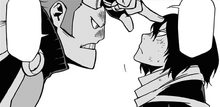 The Class 2-A teacher thinks that this is due to his Erasure Quirk, remembering an incident during the Battle Training in which Shota was easily defeated by another student named Sensoji. Sensoji complained that Shota made the battles against him a "snoozefest". He didn't hesitate to tell Shota that his Quirk is useless and that he should go home instead of wasting others' time. As soon as he realized what was happening, the teacher separated the two to avoid more problems. When he asked Shota if he was okay, the latter confirmed he was, although he did also say he agreed with Sensoji about the uselessness of his Quirk.
Meanwhile, Shota, Hisashi, and Oboro are on the rooftop of the U.A. building to eat, having taken the kitten that Oboro brought from the streets up there with them. Shota asks his friends about what he should do, since his Quirk is hardly useful and can only really trip people up a little with it. He says he certainly isn't someone who can put smiles on people's faces like all the other heroes. Oboro advises him to specialize the battler route, because he believes that Shota's Erasure can force villains to fight on even terms. Shota tries to answer that he is not much of a fighter himself, and he can't do much against big brawlers, but quickly changes the conversation when he sees Oboro giving people food to the kitten, telling him that's bad for the animal, and gives it cat milk instead. Then he reminds Oboro and Hizashi that bringing animals to school is against the rules.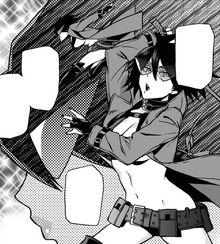 At that moment, Nemuri Kayama, a third year student, appears, and, after realizing that the three are on the roof despite being off-limits to students, she praises their rebellious youth. Oboro asks her why she is there, to which Nemuri replies that she is on her way home from her work study, having to do some paperwork at U.A., and she just stopped on the roof because it's one of her favorite spots.
Shota comments on her costume, which is too revealing because it only consists of a long trench coat, a belt, boots and large glasses. She tells him it's bold yet practical, to support both her Somnambulist Quirk and moves, and personally she doesn't feel ashamed to fight almost naked. Although she knows this costume will be scorned and questioned, she says she'll have all of Japan thinking differently in one year's time. Little does she know that soon afterwards, because of Nemuri's costume, the government will put forward the "Hero Costume Skin Exposure Limitation Act."
Nemuri asks the boys about the kitten, and Oboro tells her that he and Shota are taking care of him. Because the rules of U.A. do not permit animals on school grounds, Nemuri decides to adopt it, and gives it the name of "Sushi" after asking the boys what their favorite food are. She says that adoption is only temporary, because she plans to leave home after graduation, so she won't be in any place to care for it. She then leaves the roof, with Oboro sure that in the end she will keep the animal for good.
The next day, Shota and Oboro are back on the roof to eat. Hizashi isn't with them since he finally got assigned to a battle oriented agency. Nemuri appears again, and, after informing them that Sushi is doing well, she says she has important information to give them. Knowing that both Shota and Oboro are not yet assigned to an agency, she tells them that if they are looking to do work studies, her boss is willing to take on anyone.[3]
Shota's Hero Work-Studies
In Tasomiya Ward, in an investment office, a robbery with hostages is taking place. The Robber Villain curses that the police is already there, and angrily asks the hostages who is the one who called this in. While he is distracted, Midnight enters the offices through the window, followed closely by Loud Cloud. They call themselves the Team Purple Revolution and they are there to stop him. Not wanting to face the heroes, the Robber Villain uses his Quirk to generate a Smoke screen to distract them and escape with a bag of money and the safe.
Loud Cloud wants to chase the villain, but Midnight tells him not to do so, arguing that his smoke could be toxic, and they have to help the hostages evacuate. Loud Cloud acknowledges that she is right and yells at Eraser Head to stop the villain.
Eraser Head runs to stop the criminal, and catches his arm with his Capturing Weapon, but the Robber Villain uses his Quirk against Eraser Head, generating smoke to block his vision. Faced with this situation, Eraser Head recoils, realizing too late that the villain had taken advantage of the smoke to attack him by violently throwing him the safe.
When it appears that he is about to hit him, the hero His Purple Highness appears and protects Eraser Head, throwing the safe into the air with a strong kick. His Purple Highness is about to face the criminal, but he runs away taking the rest of the booty and generating more smoke to cover his escape.
His Purple Highness turns out to be the Pro Hero that Midnight works for and the one that welcomed Eraser Head and Loud Cloud for their Work-Studies. After the villain ran away, Midnight and Loud Cloud apologize for getting delayed, but His Purple Highness congratulates both of them: Midnight for prioritizing the lives of innocents over arresting the villain, and Loud Cloud for his quick judgment, being always ready to make the next move without hesitation.
However, His Purple Highness criticizes Eraser Head's work and asks him what he did wrong. Eraser Head thinks that he allowed the villain to take the initiative in the fight, which allowed him to run away, but His Purple Highness corrects him that what he does wrong is that he acts like a hero with a gloomy face. His Purple Highness advises him that if he wants to be a hero, he must inspire confidence, and for that, he must trust his own power and smile.
In the shower room of the Purple Revolution Agency, Shota talks to Oboro about his work today and His Purple Highness' words. Although he thinks his advice is good, Shota wonders how he could smile if the villain escapes. From the showers, Oboro tells him that even when he screws up, just keep smiling like usual. Shota replies that he never smiles "like usual", which Oboro can't deny.
Shota receives several messages from Nemuri to his cell phone. Oboro asks if it is a new mission but Shota tells him that they are only pictures of Sushi the cat. Shota wonders why Nemuri sends him so many pictures, although he seems delighted with them. At that moment, Oboro comes out of the shower and when he sees Shota, he tells him that he got the look: a nice, big smile. Shota denies it.
Continuing the conversation, Oboro asks him what he will do if he faced the villain again. Shota replies that he doesn't know because he can't use his Erasure on him due the bad Quirk matchup: If he stays away, the smoke blocks his line of sight, and if he gets closer, the smoke irritates his eyes. Then, Oboro comes up with the idea of lending Shota his glasses to protect his eyes.
Several days later, the Robber Villain commits another robbery and Eraser Head runs to face him again. Recognizing him as the boy who tried to stop him last time, the villain uses his Quirk on him. However, this time Eraser Head does not stop and crosses the smoke screen, now protecting his eyes with goggles.
Eraser Head uses his Erasure to stop the villain's Quirk. Not knowing what is happening, the Robber Villain uses the bag of stolen money to crush Shota, but he dodges the attack and calls Loud Cloud, who appears and knocks out the villain with his quarterstaff.
Moments later, His Purple Highness congratulates Eraser Head and Loud Cloud for arresting the criminal. His actions attract the attention of several passersby, and the Hero tells his trainees that it's in those moments when they should smile. Loud Cloud smiles without problems, but Eraser Head only shows an awkward smile. His Purple Highness yells that he still has to work his smiles, which causes the laughter of passersby.[4]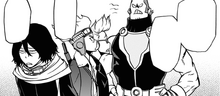 With the beginning of the new semester, the students return to U.A. after carrying out their respective Hero Work-Studies. Once there, Hizashi notes that Shota wears the same type of goggles as Oboro, who jokes that they are marketing themselves as a team. Shota denies it by saying that Oboro just gave the goggles to him so he could protect his eyes, for his Quirk's sake.
Their conversation is suddenly interrupted when Sensoji appears, accusing Shota of stealing his idea. Because his Blast Quirk blinds him, Sensoji wears shades to mitigate this negative effect, all because he realized how important eye protection is. Shota feels mortified to know that he has had the same ideas and thoughts as him. Hizashi clarifies that Sensoji just copied his sunglasses shtick when they wound up at the same agency for their Work-Studies. Despite this, Sensoji is still upset with Shota, who prefers to ignore him.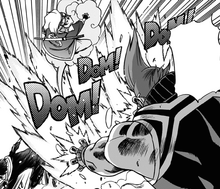 Later, the homeroom teacher of Class 2-A announces to the students that they will be doing a cross-class two-on-two battle training, and he prepares to pick the teams. Oboro asks him if he can partner up with Shota, since both are doing the Work-Studies together. This seems like an excellent idea to the teacher and suggests to the rest of students that if any of them are in the same boat, prioritize that partnership. Hizashi protests that he doesn't want to team up with Sensoji, but the teacher ignores his complaints.
The battle begins, and despite Hizashi's grumbles, the professor realizes that he makes a good combo with Sensoji, defeating their opponents without problems, since his Voice and Sensoji's Blast are good Quirks to shut down most villains by just using against them. Meanwhile, he notices that Shota and Oboro focus more on nuanced techniques to achieve their goals.
Finally, the Sensoji-Hizashi team faces the Shota-Oboro team. Sensoji challenges Shota to face him, and says that if he wins Shota he must lose his goggles, because they bother him. Shota doesn't care about his rival's mania, but Oboro accepts the challenge, proclaiming that they wager their goggles while Sensoji and Hizashi must ante up their shades. Hizashi asks why he is included in the bet.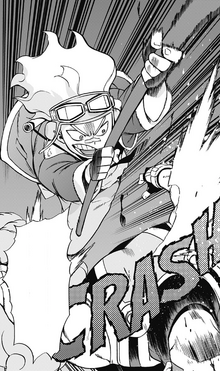 Sensoji orders Hizashi to stand back, because he plans to defeat them alone. Sensoji shoots their blast but Shota and Oboro manage to dodge the attack. Oboro gets close enough to Sensoji to create a cloud that blocks his vision, and when the cloud disperses, Sensoji sees that Oboro has created more clouds on the battlefield to hide.
Sensoji prepares to blast away every cloud, but he finds out that he can't use his Quirk. Shota had taken advantage of his distraction to get behind him and use his Erasure on him, while Oboro attacks him from the front and hits him on the head with his quarterstaff, knocking him down and causing his shades to fall off.
Despite the blow, Sensoji wants to continue the fight, but Shota stops him, arguing that a two-on-one is not a fair fight, so he cancels the wager and tries to return to him his shades. However, unable to bear that humiliation, Sensoji throws the shades on the floor and breaks it with a stomp, ensuring that he does not need it and insists he didn't lose while he leaves. The homeroom teacher admonishes him for not working as a team with Hizashi. He turns momentarily to congratulate Shota and Oboro for their team work, before going after Sensoji to continue lecture him.
Later, Shota, Oboro, and Hizashi meet on the roof of U.A. As he lost the bet, Hizashi also has to wear goggles too, although he doesn't mind, and even jokes with Oboro, who comments that they can sell themselves as a trio. Shota asks if Hizashi intends to join the Purple Agency, but Oboro replies that he's talking in the future, that when someday the three go independent, they should start their own agency.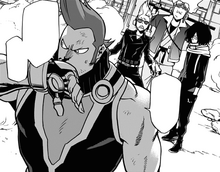 Oboro explains that it is because they get along very well. He and Hizashi will be able to get the action started, something for which Shota is not suitable, plus his Erasure Quirk is lacking in finishing power, but it is suitable to counteract the enemy, which will be finished by him or Hizashi. Shota asks Oboro if what he has said about him is just another way to say that he can't do anything on his own, but Oboro clarifies he is suited to teamwork. Shota says that he never agreed to a team-up with them two, which makes both Oboro and Hizashi tease him and his broody act.
Nemuri appears to also join the conversation and the fun. A blushing Oboro tells her they were talking about about the four of them starting an agency. Shota and Hizashi are surprised that Oboro upped it to four. Nemuri rejects the offer, since she already has her own plans once she goes independent, with young people waiting for her. Then, Oboro suggests that he would not mind being one of them, to which Hizashi asks what happened to their plan. Since the conversation drifts to a topic that is none of his business, Shota decides to let his friends enjoy the moment, while he contemplates the sky, feeling how things are changing.[5]
Eraser Head: Origins
Riding on four-rotor drones, Present Mic and Sensoji fly over the city along with the Buster Union, a team of Pro Heroes with whom they are doing their Hero Work-Studies, to engage a huge villain causing chaos in the city.
During the ride, Sensoji boasts of his new goggles, so Present Mic calls him a copycat and reminds him what he said to Eraser Head last time. Sensoji is bothered to hear about Eraser Head, since he considers him a weakling. Present Mic defends his colleague and tells Sensoji that, while Eraser Head overthinks things and had a slow start, he is a tough opponent when he digs deep and finds his guts. Sensoji replies that he should stop losing his guts, which Present Mic admits is a fair point before calling him simple minded.
The leader of the Buster Union tells them to stop the chitchat and prepare to face the villain. Once everyone is ready, the team is ordered to unleash the full power of their Quirks. Everyone unloads on the villain full-steam, but to their surprise, he absorbs all of their attacks, growing several lumps on his back as a result.
Not far from there, Eraser Head and Loud Cloud are patrolling the streets, meeting a bunch of nursery kids. The little kids happily recognize Loud Cloud, and everyone wants to climb on his cloud. Loud Cloud gives them permission, and soon gets crowded on his cloud by the group of toddlers, but he doesn't mind, with Eraser Head watching them all to make sure they don't fall and get hurt. Loud Cloud compliments his skill at dealing with kids, and tells him he would do well at a daycare or as a school teacher. Eraser Head doubts his aptitude, claiming he has no attributes for kids to like the way he does. Eraser Head is proven wrong after one of the kids stops to say goodbye.
Loud Cloud argues that his tendency to overthink everything causes him to doubt himself, and tells him he can do anything if he puts his mind to it. He considers Loud Cloud's words, then tells him he needs to think before he talks. At that moment, Eraser Head receives a call from Midnight, warning him to start evacuating the area immediately, as there is a villain wrecking the neighborhood.
Just then, the villain releases one of the bulges on his back, releasing a powerful wave of energy that sweeps an extensive area. Midnight uses the Hero Network to obtain information and reports to His Purple Highness that she has already identified the villain. He is known as Garvey, he has previously committed crimes, including murders; and his Quirk, Stock, allows him to absorb, store and release attacks from his enemies. However, the data does not indicate that it had such destruction capacity as the one he is demonstrating at the time, which has allowed him to easily defeat the Buster Union. His Purple Highness orders Midnight to call for backup and help evacuate the area while he faces the villain to buy time.
Eraser Head and Loud Cloud quickly return to the nursery kids to evacuate them, but Garvey arrives much sooner than they would have expected. His Purple Highness appears and attacks the villain while ordering them to put the children somewhere safe. Eraser Head is surprised to see that Garvey released one of his lumps which contained Present Mic's Voice and uses it against His Purple Highness, throwing him against a building, and then continuing to attack him, this time using the Sensoji's Blast.
The powerful attack causes serious damage to the building, which begins to crumble over the children. Loud Cloud quickly creates a cloud cushion to protect them from the falling building. Loud Cloud manages to save the children with his Quirk, but in doing so, one of the debris hits him directly in the head and knocks him down. Before Eraser Head can help him, Loud Cloud ends up completely buried under the rubble.
With Loud Cloud and His Purple Highness defeated, only Eraser Head remains to protect the children from the villain. However, Eraser Head doesn't know what to do to stop him. He had just witnessed Garvey's insane power, and how easily he defeated those who tried to stop him. As if that were not enough, his Quirk, besides being dangerous, is totally unpredictable. Eraser Head begins to get nervous, thinking uncontrollably about what he should do to save the children, but faced with Garvey no option seems good.
Suddenly, Loud Cloud's gourd-speaker falls close to Shota, and from the device comes the voice of his partner assuring him that he can do it. Thanks to these words, Shota regains his confidence and prepares to face the villain, remembering that his Erasure Quirk can force villains to fight on equal terms.[6]
It starts raining hard while Eraser Head rushes towards Garvey to face him. Garvey detaches one of the lumps from his back to attack him, but before he has the chance to release the power he has stored there, Eraser Head uses his Erasure to cancel his Quirk and kicks the lump away from him. However, by doing so without planning much, Eraser Head realizes that unintentionally, he endangers the lives of the school children, since once his Erasure ceases to have an effect, the lump releases the stored power, causing serious damage in the area. Eraser Head is aware that he needs to develop a better plan to deal with the villain, without endangering the lives of others
Eraser Head comes up with two strategies. The first one is to position himself overhead Garvey to lure him into attacking upward, at the sky. The second one is that every time Garvey tries to use his lumps, he must cancel the Quirk with his Erasure and kick the non-activate lumps straight up so they detonate at safe height. Although with these strategies he deals with Garvey's Quirk, the villain still has his enormous size, and Eraser Head has no plan to deal with it.
Eraser Head is smacked and knocked down. Given Garvey's enormous size, Eraser Head doesn't know what to do to stop him and begins to despair. Suddenly, coming from the Loud Cloud's gourd-speaker, he hears the words of encouragement from his partner, ensuring that he can defeat him. Reinforced by Loud Cloud's cheerings, Eraser Head gets up and attacks Garvey once more. Eraser Head manages to hit the villain's left eye hard. Painful, Garvey pushes the student away from him with a swipe, but Eraser Head, while still hearing Loud Cloud cheering for him, uses his Capture Weapon to ensnare a huge piece of rubble and throws it at Garvey, hitting him in the face.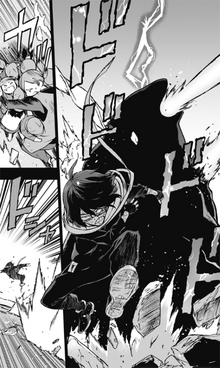 Completely out of his wits by Eraser Head's blows, Garvey decides to end him once and for all and releases all the lumps behind him to attack him. This is the moment Eraser Head was waiting for: with his Erasure he keep the lumps from exploding and with his Capture Weapon he catches and gathers them up. Then, he feeds them to Garvey and blinks to deactivate his Erasure. With his Quirk ceasing to take effect, lumps explode inside Garvey, causing him serious damage and leaving him unconscious. Exhausted by the fight, Eraser Head also falls to the ground, shouting at Loud Cloud with excitement that he has defeated the villain.
Later, the authorities and medical teams arrive at the place where the confrontation took place. The School children are returned to their families and Garvey is arrested and taken into police custody. The medics, meanwhile, heal the wounds and fractures of the heroes who faced the villain, although His Purple Highness has to be sent to the hospital due to the seriousness of his condition.
In the safe area, one of the members of the Buster Union comments that he is still surprised that Eraser Head, being only a trainee, managed to defeat Garvey alone, but Eraser Head corrects him by saying that it was actually a team work, because his partner, Loud Cloud, was encouraging him at all times. Not seeing him there with them, Shota asks Nemuri about how are Oboro's wounds are looking, but upon receiving no response, he thinks that her silence is due that Oboro's condition being worse than he imagined at first and asks to be sent to the hospital immediately.
He sees Hizashi is going to pick up the Oboro's speaker, and asks him to do it so they can return it to owner. Upon hearing Shota's words, Hizashi remains silent, with his face grieving and his hand shaking, and Nemuri starts to sob. In the end, it's Sensoji who's the one who picks up the speaker and says that the device is totally busted. Shota is surprised by this, and assures that he could hear Oboro encouraging him throughout the entire fight against Garvey, but Sensoji assures him that this is not possible, and most likely, being in a life or death situation, he gave himself an encouraging talk and the stress made him hallucinate it was Oboro who encouraged him, with his voice coming from the speaker.
Shota refuses to believe Sensoji's words, but when he looks at the place where Oboro had ended up under a pile of rubble, he sees his friend in a body bag, stained with blood, and finally realizes the terrible truth.
Oboro Shirakumo is dead.
Sensoji continues his speech, with Hizashi asking him to ease up, but Sensoji tells Shota that he must be proud, because he has defeated a villain completely alone, without anyone's help. Hizashi ends up telling Sensoji that he envies his simple mind for not realizing the point.
After his body is removed from the area, the rain intensifies, and Nemuri tells Shota and Hizashi that they shouldn't stay out in it and get sick. Hizashi thanks her for worrying about them, but replies that they are fine, he also tells her that the rain "kinda fits their vibe right now". Shota remembers all his memories with Oboro, and with Hizashi by his side, they mourn the loss of their friend.[7]
The End of Student Shota
A year after the passing of Oboro, Hizashi and Shota begin their third year at U.A. High School. The U.A. Sports Festival will be held soon, and since it will be their last chance to stand out, Class 3-A students decide to hold a meeting where they can come up with plan ahead of time. Hizashi wants to participate, but Shota is not interested and decides to take a nap. Hizashi apologizes on his behalf and says that is due to the fatigue caused by his constant solo trainings.
Time passes, in a training session against Class 3-B, Shota defeats Sensoji in close combat, and tells his opponent in what aspects he has to improve. Far from getting angry as he did before, Sensoji thanks him for the advice. Sensoji tells him he isn't much of a brawler but support with his Blast Quirk.
In the staff room, the teachers are a bit worried about Shota. Even though his grades are above average, the only thing he's actually putting effort into is battle training. Since the tragic incident from the past year, he has become too complacent for his own good. Then, Shota enters the staff room to ask permission to use the gym for another solo training session, which teachers allow. During the remainder of the course, Shota trains hard and for hours through the pain. Sometimes Hizashi is with him, in silence, with a gloomy face.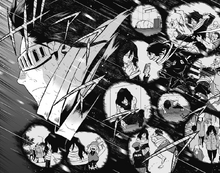 Another day, Shota has a conversation with his homeroom teacher about his future plans as a hero. Shota says he will start his own Hero Agency as soon as he graduates from U.A. High School, specializing in anti-villains combat. His teacher tells him that it is too soon for that, and that it is best to first gain some experience in a veteran agency, but Shota replies that the sort of hero he wants to be is an independent, and underground one.
At the end of the school year, Shota's generation graduates, acquiring their diplomas. Since it will start raining soon, the classmates want to take a group photo, but Shota leaves right away to start his career as an underground hero. Hizashi tries to stop him but Shota erases his Voice, and thus Shota begins his Pro Hero career that will lead him to obstacles, villains and allies along the way.[8]
The Beginning of Professor Shota
Back to the present, the rain ceases, and Shota leaves to go to the Hotta Brother's shop, telling Koichi to do the right thing with the cat. Without many options, Koichi decides to go with him in case there is luck that a customer of the store wants to keep the kitten.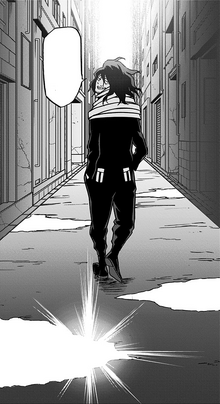 Once there, Koichi is surprised to meet Octoid, who introduces himself as Ikajiro Takobe and apologizes for all the problems he caused when he was a Next-Level Villain. Koichi asks what's going on and Jiro explains that Ikajiro got discharged and has been living with Kirihito in tents in the place where his warehouse used to be. Ichiro then reveals that they will use the villain damage insurance payment for the destruction of their warehouse and the welfare subsidy that Ikajiro and Kirihito get for oversized housing to start a cafe-shop, with Ikajiro as a cook.
Seeing the kitten that Koichi brings with him, Ikajiro decides to adopt him and suggests the idea of making their establishment a cat cafe, initiating a conversation among those present about how the cafe should be. Seeing the group talking about their dream of working together causes Shota to reminisce, remembering the day on the rooftop of U.A. where he was talking with Oboro, Hizashi, and Nemuri about opening their own dream Hero Agency and how it should be. When asked about what he wants for the agency, he replied that it should have a cat tower. The response and the reasons it gives cause laughter among everyone, including Shota himself.
Ichiro brings him back to the present, and tells him that he is in their plans for the cafe, where Shota will have his own assigned seat. Shota looks up at the sky, saying that the rain cleared up and he's feeling clear about things now. Then, Shota leaves the place, saying goodbye to everyone and telling them not to consider him in their plans since he will leave the town soon, although he likes the idea of the cat cafe and may visit them when he can. As Shota walks away, he gets a text from Nemuri with a picture of Sushi.[9]
Story Impact
Details about Shota's high school years are revealed.
Oboro, who was first mentioned in the Joint Training Arc of the main manga, is fully introduced.
Characters Introduced
Quirks Introduced
Battles & Events
References
Site Navigation