Jurassic World: Dominion Dominates Fandom Wikis - The Loop
Play Sound
But taking that last battle into account, the most hateful member of our opposition would be Midoriya, right?

Reiko Yanagi

to

Nirengeki Shoda

in

"Match 5 Start"
Reiko Yanagi (柳レイ子, Yanagi Reiko?), also known as Emily (エミリー, Emirī?), is a student in Class 1-B at U.A. High School, training to become a Pro Hero.
Appearance
Reiko has chin-length, pale gray hair, parted to the left, hanging down over her eye and obscuring the majority of the left side of her face. She has dark bags under her blue eyes, and a small mouth with full lips. Her hands are usually held up as high as her elbows, with her hands draped down, this gesture being somewhat connotative of a ghost.
Her hero costume consists of a pale purple, knee-length kimono with a white, furred collar, three dark straps around her waist, black knee-high socks, and a black mask that covers her face from the bridge of her nose down, somewhat like the one always worn by Mezo Shoji.
Personality
Reiko is a quiet and emotionless teenager who often shows an odd body posture, wherein she keeps her elbows to her side and lets her hands dangle, which somewhat resembles ancient depictions of zombies, ghosts, and other undead creatures, alluding to her Quirk.
Befitting her Quirk and appearance, Reiko is shown to be a fan of horror and enjoys reading scary stories online. Despite this though, she can come off as rather timid at times, as she seemed intimidated by Neito Monoma's ranting towards Class 1-A and referred to him as scary. Outside of this, she can also be rather helpful, as she served as Itsuka Kendo's attendant during the U.A. School Festival's Beauty Pageant, which suggests that she has a good fashion sense.
She can also be quite verbose with her wording, as she referred to Izuku Midoriya as "spooky", causing her classmates to simplify what she says to those not familiar with her.
Abilities
Overall Abilities: As a hero course student, Reiko has shown to be quite formidable and has good handling on her Quirk, Poltergeist, allowing her to move objects telekinetically and use them as projectiles to attack others. During the Joint Training Battle, she displayed great teamwork with her classmates Nirengeki Shoda and Yui Kodai; using Yui's Quirk to make her controlled objects bigger and more difficult to dodge, as well as use Nirengeki's Quirk so they will launch faster and deliver more damage upon impact. Reiko's Quirk allows this team to attack their opponents from a distance without revealing their location.
Reiko has also proven to be quite analytical of her opponents as before her team's match started, she identified Izuku Midoriya as their biggest threat with the substantial power of his Quirk, his speed and mobility, as well as having learned to perform long-ranged attacks.
Quirk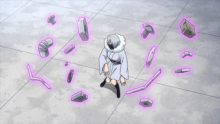 Poltergeist (ポルターガイスト, Porutāgaisuto?):[1] Reiko's Quirk allows her to telekinetically control nearby objects. The weight limit of her Quirk is roughly the weight of the average human.
For offense, Reiko can levitate multiple objects at once and send them flying at her target at high speed.
Stats
| | | |
| --- | --- | --- |
| Power |   | 2/6 D |
| Speed |   | 3/6 C |
| Technique |   | 5/6 A |
| Wits |   | 3/6 C |
| Resting Angle for Hands |   | 5/6 A |
Reiko's stats, according to the Ultra Analysis Book
Battles & Events
Chapter Appearances
Anime Appearances
Trivia
Reiko's surname contains the kanji for "willow" (

柳

yanagi

?

), and her first name contains the katakana symbols for the rōmaji word "rei" (

レイ

?

), which probably stands for "spirit, soul" (

霊

rei

?

), and the kanji for "child" (

子

ko

?

).
Reiko likes the internet (always searching for spooky stories).[2]
Reiko's hero name "Emily" may be a reference to the American horror/drama film The Exorcism of Emily Rose, which explores the mysterious and possibly paranormal circumstances surrounding the titular character's death.
With her birthday taking place on February 11, Reiko is the second youngest student in Class 1-B, only above Jurota Shishida whose birthday takes place in March.
Reiko's Japanese voice actor, Ayane Sakura, also voices Ochaco Uraraka.
Her hero costume is likely based on a Yuki-onna, a ghost yokai that resembles a beautiful woman.
References