Jurassic World: Dominion Dominates Fandom Wikis - The Loop
Play Sound
The Osaka Incident Arc is the fourth story arc in My Hero Academia: Vigilantes.
Koichi and Kazuho travel to Osaka for an idol competition. Meanwhile, Fat Gum is tasked with assisting Detective Tsukauchi at the same venue in an investigation involving the next Trigger dealer of the Villain Factory: "the Scarred Man".
Summary
Villain Factory's New Weapons: The Next-Level Villains
Some time after Knuckleduster's departure, Koichi Haimawari continues to work as a Vigilante in Naruhata. During one of his patrols, he meets a giant, mantis-like villain rampaging down the streets of the city. Koichi tries to fight the evil-doer, but he is overpower and he runs away, but unfortunately for him, the Mantis villain is speedy too, and chases him down the street. During his escape, Koichi meets Jube Namimaru and Ichimoku Samazu and ask them to help him, but they wish him good luck and don't interfere.
Pop☆Step appears and begins advertising a new show at the Marukane Department Store. This angers Koichi, who tells her to stop advertising and to call for a hero or the police to deal with the villain. Pop☆Step replies him that she already called Captain Celebrity.
The American Hero appears and choreographs his introduction to the public's joy and Koichi's annoyance, who dodges the villain's attacks. Koichi desperately asks Captain Celebrity to skip the intro and help him. Captain Celebrity swoops in and defeats the villain without breaking a sweat, being acclaimed by all the bystanders. After being saved, Koichi is told by Captain Celebrity that they should go back to the penthouse and talk about how justice should be handled going forward.
At the penthouse, Celebrity tells Koichi that he doesn't appreciate the extra workload he has to take whenever Koichi takes on a villain he can't handle and has to be saved. Koichi rebuttals by saying that the way Quirk-powered society should work is that the pros should save citizens who can't handle the situation themselves. Kazuho asks Captain Celebrity if he could show up at Narufest to attract more people, but he says he's too busy. Koichi asks him why he's slacking at the penthouse if he's so busy.
Celebrity tells him that Makoto Tsukauchi gives him a very busy schedule and when Koichi summons him, the penthouse is the only place he can escape to for relaxation. Makoto calls Koichi about Captain Celebrity's location. Celebrity gestures to Koichi not to say anything to help her figure out where he is, but Koichi does not understand the hint and says he is there, to Captain Celebrity's anger.
Makoto suddenly appears, and Captain Celebrity tries to escape, but sneaks into Kazuho's area when she was changing her clothes and she kicks him out of there. Makoto gets Captain Celebrity to leave since they have a busy schedule ahead of them.
After his departure, Koichi talks to Kazuho about the subject. Kazuho acknowledges that Captain Celebrity is right that they cause him a lot of trouble when confronting villains. Koichi is concerned that they are being really strong lately, and it does not appear that they are consuming Trigger as they do not transform back when they get knocked out.
Facing this situation, Koichi grabs Knuckleduster's brass knuckle as he mentions to her that maybe he should carry a weapon for self defense, but Kazuho advises against it, saying that defeating villains is not their duty, and they are more like dedicated to call real heroes when they spot troubles. Koichi admits she's right and leaves the brass knuckle in place.[1]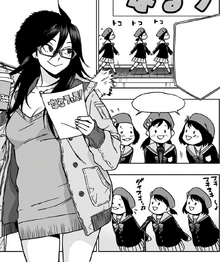 A day later, at the Narufest, Pop☆Step thanks everyone for attending the event, organized by the Marukane Department Store. The final performance of the night is set to begin, "The Little Sisters" a trio of singers from Saint Lila's Academy for Girls.
In the audience, Nemuri Kayama is surprised to meet Shota Aizawa present at such a bustling event. He responds that he is on duty and stopping by for lunch. Shota asks her why she would be attending on her day off and Nemuri responds that it is because she enjoys such events.
Shortly after, detective Naomasa shows up, and apologizes to Shota for being late, telling him that Teruo's examination ran a little long. Then he points out to Shota that Teruo is there, enjoying the festival together with Jube and Ichimoku. Teruo is still in his form of a huge eel-like creature, although smaller in size than when he faced Shota several days ago. Shota and Teruo exchange glances and greet each other. Naomasa also greets Nemuri, apologizing for not being able to recognize her as Midnight out of her costume.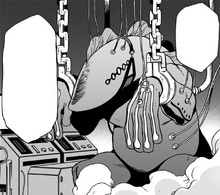 Naomasa informs the two about the latest information related to the trigger traffic and the Instant Villains. He says that a new type of villains that had begun appearing throughout the city. He tells them that Teruo Unagisawa had been arrested twice for being an "Instant Villain", however he had undergone a drastic change between his first and second arrests in that his physical form had completely changed and it seemed to be at least semi-permanent.
In addition, the police had found several other villains with similar alterations that had concentrations of Trigger present in them which was several grades higher than the lethal dose of the drug. This had led the Police Force to suspect that someone had purposefully altered their bodies to withstand higher doses of Trigger.
Backstage, Miu tells the Little Sisters that they should do their best and do Narufest proud, especially because a Pro Hero would be the special guest for the event. At that moment however, Kazuho comes up to her and quietly informs her that the Pro Hero would be unable to attend because of filming a commercial elsewhere, this shocks Miu who thinks quickly and says that the Hero's identity would be a surprise when the Little Girls asked which Hero would be attending. Miu asks Kazuho if she recognizes anyone as a Pro Hero in the audience, whether they're disguised or otherwise.
Suddenly, Koichi pops in and asks if he can have one of the bento boxes they were serving to the guests. Miu chooses him as the special guest and throws him on stage, having Kazuho announce him as "The Crawler". The audience is underwhelmed at his presence and many are confused as to who he is. Naomasa pulls out his notes and finds he is also known as "The Cruller", though Nemuri recognizes him as Kazuho's manager. Koichi starts singing and is halfway good at it as Miu notes, however the Little Girls say they think Koichi is funny but they want to meet the Pro-Hero they were promised.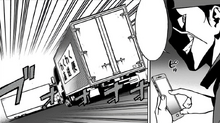 Elsewhere, Captain Celebrity and Tensei finish shooting their commercial but Captain notices himself looking less than stunning in one frame and asks for a reshoot. Tensei obliges and the Captain is glad, saying Ingenium has the attitude of a Pro-Hero.
Among the shooting crew, someone disguised as a worker takes out their phone and remotely opens the roof of a truck coming in at high speeds nearby, holding the Bat Villain inside, now transformed into a more powerful villain. As the reshoot is about to begin, the truck crashes in and releases the Bat Villain onto the scene.
He chases after Tensei who recognizes him. The Bat Villain glides over Tensei who tries to hold onto him and keep him grounded, however, the Bat Villain was anticipating this and slashes Tensei, causing him to fall to the ground.
The Bat Villain sets his sights on getting revenge on the Naruhata Vigilantes next and flies off in search of them. Tensei does not sustain any serious injuries from his fall and chases after the Bat alongside Captain Celebrity. The Captain is unable to outstrip the Bat but Tensei tells him to keep the Bat in sight and that they should ask for assistance from the city's Heroes who are capable of flight to set up a trap. The Bat Villain hears Koichi's singing at Narufest and makes his way towards his location.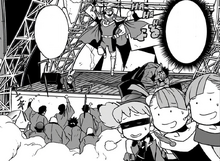 Back at the festival, Naomasa tells Shota and Midnight that he believes there is an organization behind the distribution of Trigger that is also administering to others and altering them to be able to withstand greater amounts of the drug, as had happened with Teruo. Shota says that the organization must have some greater goal in mind because by themselves their "Instant Villains" and "Next-Level Villains" could not do much and were more like disposable pawns. Naomasa agrees and says that is why he had come, to ask for Shota's help in the matter. Suddenly, the Bat villain swoops onto the stage and flies off with Koichi.
However, Captain Celebrity finally managed to catch up to him as he slowed down to pick Koichi off and knocks him out while also saving Koichi from falling to the ground. Calling him the perfect bait, the Captain says he has finally found a use for Koichi and lands on stage to greet everyone to thunderous applause and the Narufest organizers are relieved that he managed to show up after all.[2]
With the incident solved by Captain Celebrity and the Bat Villain arrested. Shota, Nemuri, and Naomasa continue their conversation. Detective Naomasa asks Shota for help with his investigation of the Villain Factory, the mysterious organization that is behind the kidnappings of people to transform them into Next-Level Villains, hoping he can gather intel down on the streets.
At first, Eraser Head is not very sure of participating, because act as a detective is not his thing, but Nemuri Kayama convinces him to help the police, saying that his connections to the underworld make him the right man for the job.[3]
The Mascot Idol Carnival
Several members of the FeatherHATS prepare to train. Miu asks Yu where Kazuho is, and the sister replies that she is hearing to Osaka, only to realize that she shouldn't have revealed that information, as Makoto had asked her not to tell her twin sister anything. Having screwed up, Yu spill tells Miu about Kazuho prepares to leave for Osaka to attend a regional idol collaboration show. Miu gets jealous, wishing that she could go on tour as well.
Yu also tells her that Koichi is accompanying Kazuho on her trip. Miu is skeptical, calling him useless and saying that he is the kind of person who would miss a train while buying bento boxes. Her sister thinks she is very judgmental towards Koichi. Meanwhile back at the station, the train for Osaka begins to depart with Koichi in hot pursuit, having gotten pre-occupied with buying bento boxes.
Since Koichi doesn't make it to the train on time, Kazuho phones to inform what happened and that she'll heads on to Osaka by herself and go to the venue alone, only to Koichi suddenly enters the car, much to her shock. Koichi explains that he manages to jump onto the side of the train and stick to it, finding out a new use of his Quirk by using the repelling forces from his hands to make like suction cups. Kazuho admits that she is impressed but says the way he figures it out was ridiculous.
Finally they arrive to Osaka, and as they go out into the city Koichi cannot help but to try out his new ability, which he has called Wall Cling. Kazuho tells him to knock it off.
Then, they see an armed man running away from Fat Gum. The man shoots at Fat Gum but is unable to damage him but he does manage to knock the hero's takoyaki out of his hands. Enraged, Fat Gum catches the thief and starts slapping him in retaliation for ruining his food, he slaps him six times and says he would hit him once for each takoyaki that he had lost.
Koichi gets Fat Gum's attention and shows him that he retrieved all the takoyaki before it fell. Fat Gum says that since none of the takoyaki was harmed then he would give the now beaten thief six pieces as apologies for the slaps he had given and then leaves along with Koichi and Kazuho.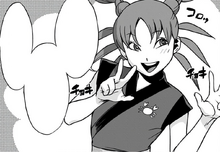 He asks them where they are headed and the two respond that they were going to the SS Mall in Super Minami. Fat Gum tells them that he is going there too, but since this is supposed to be a secret, he asks both of them to forget what he just said and gives them directions to it and bids them farewell.
Kazuho and Koichi find the green room for the Mascot Idol Carnival inside the mall where Kazuho is recognized as Pop☆Step by a girl snipping her fingers like a crab. The girl introduce herself as Monika Kaniyashiki, an idol whose stage name is the Heike Crab who works for the Kanidoge chain. She says that her routine will take the country by storm, wishes Kazuho the best of luck and goes off to talk to another idol.
Meanwhile, Fat Gum arrives at the Media Waiting Room and meets Naomasa Tsukauchi where they discuss plans to keep a close watch on the event to stop any Trigger from being discreetly distributed. Tsukauchi spots Kazuho among the participants and recognizes her from Naruhata, intending to keep an eye on her.[4]
Koichi and Kazuho wait in the green room until their turn comes. With her Pop☆Step costume, Kazuho performs the theme of Marukane Department Store in the Idol Show. When her turn ends, she and Koichi decide to see the exhibitors and the souvenir shops of the venue. As they walk, they find Monika riding a crab-shaped Mech.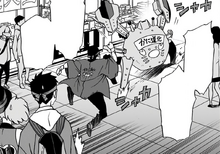 His manager explains to the surprised Koichi and Kazuho that they had remodelled the industrial lifting arms into walking advertisement. A person arrives and tells Monika to get ready, because soon it's her turn to go on stage. She goes to the place with the mecha, but suddenly she apologizes to her manager because she needs to go to the restroom. After her departure, the manager looks at his watch, and then at Koichi and Kazuho.
Back to Naruhata, Shota Aizawa chases two minor dealers known as the Hotta Brothers,. After Aizawa cuts off their route of retreat, Jiro and Ichiro decide to use Trigger, transforming themselves into humanoid insects, and attack Eraser Head. Shota comments that he is satisfied with the situation, because now he has no need to check the contents of their stomachs, which makes his work a lot easier.
Aizawa easily defeats the Hotta brothers and wraps them with his binding cloth. Once the brothers are defeated, Shota sits on one of them and thinks about how Nemuri managed to convince him to help the police with their investigations. The protests and curses of the Hotta Brothers bring him back to earth.
Shota tells them that he is not a policeman, and that he will overlook their fight and the fact that they used Trigger if they give him information. The Hotta brothers say that he will get nothing, but when Shota shows them a photo of the mantis villain that Captain Celebrity defeated several days agos, and his human person before being turned into a Next-Level Villain. The two brothers immediately recognize him as his friend Kirihito.
The Hotta Brothers take Shota to their shop to continue speaking. The Hotta are surprised about the latest events of his friend and his transformation into Next-Level Villain. They attribute what happened to Kirihito is because he was involved with the traffic of Bad Trigger, because has uppers mixed in and made people rampage. They told Kirihito to not get involved with it, but he ignored their warnings.
They assure Shota that they sell legal Trigger to help stop balding and erectile dysfunction. Shota tells them that he doubts they have any license to sell the stuff, although he decides to ignore their excuses whenever they give him all the information they know about the trafficking of the so called "Bad Trigger". Also, he asks them if they know anything about the crab route.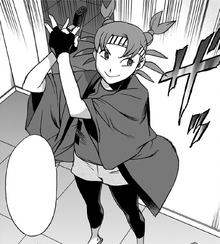 Back with Monika, it is discovered that she is not a Kanidoge's employee but a covert police who works with Naomasa and Fat Gum in the operation to dismantle the traffic of a batch of Trigger. While talking to Fat Gum in a friendly way with the ear piece, Naomasa informs her that Kanidoge's already started unloading its farm-to-table products at the mall's service entrance.
As soon as she can confirm that there are drugs disguised in food packaging, they'll move in for the takedown. Until then, she's on her own out there, so he asks her to don't take any unnecessary risks.[5]
Crabtastic Rampage
Due to Monika's lateness, her manager teaches Kazuho how to handle the company's mecha for the show. Koichi asks if it's okay to replace one official mascot Idol with another. The manager is surprised by this, because Monika is not the company's Idol. He recognizes that he did not know that the event was about, so he guess they did register Monika as the Kanidoge's idol, so to speak, but in reality she's just sells the stuff, being very good at her job but has a tendency to be absent.
Meanwhile, in the SS Mall loading dock, the police agent Monika sees three workers unloading the food packaging, two of them mounted on Kanidoge's Mechs, and reports that information to Naomasa. Recalling a meeting at the police station, the detective informed all his agents that the Villain Factory uses Kanidoge distribution routes to import and distribute Trigger.
Back to the present, Monika decides to continue with the operation and enters in loading dock, asking the workers to let her check the merchandise, using as an excuse that the books just weren't adding up, over in the market. Although a little surprised by such out of the blue decision, the workers agree, and give her a tablet.
Doing her job as a cover agent, Monika sees that there is a batch of products that does not correspond to the company's catalog. Thinking that this is where the Trigger is hidden, she opens one of the boxes. However, there seems to be nothing strange: the box just contains a crab and several icepacks in two different sizes, and there is no false bottom to hide the drug.
One of the workers comes to ask her if she figure out the issue. However, Monika points her gun at him, asking who he is. The suspect says he is only a part-time worker, but Monika tells her that she knows each and every one of part-timers who work there. She also realizes that the drug is hidden in the icepacks, and the tablet contains important information about the smuggling operations.
Having been discovered, the villain congratulates Monika for her deduction skills, and uses his Quirk to snatch the gun and the tablet in a blink of an eye. Surprised by this, she quickly takes cover and requests for reinforcements. Fat Gum and the Police Force enter the loading dock and order everyone to stop what they're doing and get their hands in the hair.
The workers obey, but the villain does not. Fat Gum taunts him to use the gun on him, but the villain just drops the gun and quickly enters a code on the tablet. This activates the Kanidoge's mechs to start rampage the place. The code also activates the mech that Kazuho is handled in the idol event.[6]
Fat Gum confronts the Kanidoge's Mechs. When he is about to attack them, Monika tells him not to do it, because the workers mounted on them are innocent people trapped by the evildoer's machinations. Fat Gum then decides to use his strength and his Fat Absorption Quirk to hold the machine. Then, Monika help him and uses her Scissors Quirk to cut the straps and free the hostages. Once the workers are rescued and secured, Fat Gum pulls out the clamps and leaves the mechs deteriorated.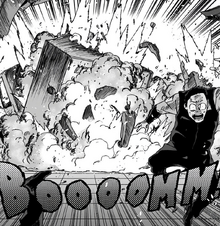 The villain congratulates the two for their actions. Detective Naomasa gives him a warning shot, assuring him that next time he won't miss. Monika warns Naomasa to be careful, as the villain has an acceleration quirk that gives him extreme speed. Taking into account this information, Naomasa orders the speedster villain to get on the ground slowly. The villain just smiles. Without noticing, the damaged mechs approach the batch that containing Trigger and explode, destroying all evidence. The villain takes advantage of the distraction to escape.
While Naomasa and the rest are recovering, they hear a ruckus over by the stage. To her horror, Monika remembers that there is still a Kanidoge's mech totally out of control and causing problems: the one she used. Monika fears that, like the other mechs, her mech could blows up in the middle of the crowd. Fat Gum decides to take Monika with him to handle the uncontrolled machine, while Naomasa, along with the rest of the police force, goes after the speedster villain.
In the convention, Kazuho is trapped in the rampage mech, unable to free herself or stop the machine. Koichi tries to help her but the mech hits several souvenir stands, falling on top of it. While recovering, Koichi comments that he would like to have an All Might Hoodie at that moment, when he notices one of the souvenirs that fell on him
Fat Gum and Kaniko arrive and see the disaster. They chase the mech to stop it before it explodes, but it is too fast for them. Suddenly, Koichi advances them using his Slide and Glide quirk, and jump on the mecha, staying attached to it by using his Wall Cling. Koichi is glad that she is unhurt, and to Kazuho's annoyance, he attributes this to his All Might Hoodie that he acquired earlier. Kazuho tells him to stop foolishness and help her, but Koichi does not know how to do it, so an angry Kazuho calls him an useless idiot.[7]
Outside the mall, the police chase the speedster villain. As he's not giving up even after verbal commands and warning shots, the Naomasa orders to open fire against him. The villain uses his speed Quirk and dodges all the shots, but the detective shoots once more, injuring him in the leg. He deduces that the villain's speed Quirk needs a few seconds of cool down time after using it.
The police rush on him, but the Villain uses his quirk again and the time seems to freeze. He gets away from the cops. His wound does not seem very serious since he was just got grazed by Naomasa's shot. The speedster villain checks that they use rubber bullets, and in a blink of an eye, he disarms the whole group of cops and shoot to their bulletproof vests with their own weapons. Although this does not kill them, it does leave all the policemen very badly wounded. The villain being able to finally escape with the evidences without any problem.
At the convention, Koichi seems to find the shut off switch that stops the mech but it does not work. Meanwhile, they are still being chased by Monika and Fat Gum. Upon realizing that they will not be able to reach them, Monika asks Fat Gum to throw her to the mecha, allowing her to use his Ultimate Move Rocket Crab Clip, with which she cuts the mecha's legs, preventing it from moving forward.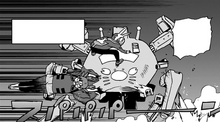 Monika asks Koichi why Kazuho is riding the machine, and he replies that it is because his manager asked her to, so Monika feels responsible for the situation. Feeling guilty, she quickly rescues Kazuho, just when the mecha starts its sequence of self-destruction. Monika, Koichi and Kazuho run as far as possible from the machine before it blows up, warning everyone present to leave. But Kazuho stumbles and Koichi launches to protect her, still too close to the mech.
At this moment, Fat Gum appears and jumps to block the explosion of the Mecha, absorbing all the kinetic energy with his Fat Absorption Quirk, saving Koichi and Kazuho's life. However, the explosion is powerful enough that he almost automatically has to release the energy again. He holds enough time for everyone to move away before releasing all the energy, at the cost of his protective fat. No one is left injured, although the whole place is wrecked.
Monika and Fat Gum, now in his low-fat form, leave the place to back up Naomasa. Monika's manager asks her what is happening but she tells him that he will explain it later, just hang on a bit. Koichi and Kazuho know that means them too, but if they wait they will lose the train, and besides, they will have problems with their parents if they find out everything that happened. Then, they look at the manager.
When Monika returns with Fat Gum and Naomasa, she is surprised that her manager has let Koichi and Kazuho go. He says he felt guilty about what happened to them, but Fat Gum tells him they were important witnesses. When the manager understood the mistake he had made, he gave Naomasa a Marukane Department Store business card, so he can contact them or someone related. Naomasa is surprised to find that his sister's name on the card as event coordinator.
For their part, both Koichi and Kazuho managed to arrive the train station on time, and they are sleeping on the train on the return trip.[8]
Story Impact
Fat Gum's previous dealings with Trigger are shown.
The Mysterious Man is revealed to have a Quirk that increases his speed.
Characters Introduced
Quirks Introduced
Battles & Events
References
Site Navigation