We're Getting Mutants in the MCU - The Loop
Play Sound
Oji Harima (張間歐児, Harima Ōji?), known as the Peerless Thief (希代の盗人, Kitai no Nusutto?), was an infamous villain,[1] and the great-great-grandfather of Atsuhiro Sako.[2]
Appearance
Oji had the appearance similar to that of a clown or jester. He had dark maroon hair, spiking on the side of his head. His face had make-up on it, with dark lipstick, eye shadow and painted eyebrows. He also had an orange bandana on his forehead.
He wore a white male kimono shirt with a black sign on its back. Oji sported a wide black belt, from under which a blue shirt with white stripes sticks out. He wore light-colored baggy pants with narrow dark stripes, which went into his maroon calf-high tight boots. He had two long bracelets on his forearms.
Personality
Nothing is known of his personality, aside from the fact that he stole from the wealthy heroes and gave it back to the civilians, showing his Robin Hood-like philosophy.[2]
History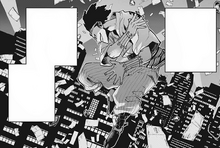 Oji was a criminal who lived during the years when the current hero system began settling into place. His main objective was to steal goods from the heroes who were profiting from the system, preaching reformation while returning what he pilfered back to the people on the streets.[2]
He came to be known as the Peerless Thief, and for his actions, Oji is considered one of the great villains of the past, alongside some of the world's most infamous villain figures, comparing him to the likes of All For One and Destro.[1]
After him, all the members of his lineage are instilled with the values of fighting corruption and exposing injustices.[2]
Abilities
Overall Abilities: Nothing is currently known about Oji's abilities, however, he has been compared to the likes of extremely powerful villains, such as All For One, the emperor of the criminal underworld who was strong enough to challenge All Might, and Destro, the leader of a terrorist military that was able to oppose multiple governments for several years.
Chapter Appearances
Anime Appearances
Trivia
References