The single step... feels like an impossible journey. And I believe... once someone takes that unlikely step and carves a path... the ultimate hero rise up. One who surpasses even Yagi. Yes, even All Might Himself.

Nezu

in

"That Single Step"
Nezu (根津, Nedzu?), also known as Mr. Principal is a Pro Hero and the principal of U.A. High School. He is an extremely rare case of an animal who manifested a Quirk.
Appearance
Nezu is a stout man who appears to be a possible combination of several different animals, including a dog, a mouse, and a bear, which would make him a chimera. He has the head of a mouse with circular black eyes, a large scar over the right one, relatively rectangular-shaped ears with pale pink insides slanting outwards from the top of his head, and an elongated muzzle with a small round nose. His fur is white and has large, dog-like paws with pink pads and a thin tail like that of a cat.
He sports a white dress shirt, a dark red tie around his neck, a black double-breasted waistcoat and matching dress pants. He wears orange lace-up sneakers with incredibly thick soles which seem to be quite large on him, very similar to the ones usually worn by Izuku Midoriya.
Personality
As befitting to his role as principal of an academy for heroes, Nezu is an eccentric, polite, and persistent educator. He is quite self-aware of his odd appearance and introduces himself by pointing it out.
He can be very long-winded at times when explaining or educating. Nezu composed an entire lecture on his educational theories concerning the balance between hero and instructor, which he happily spoke of over tea with All Might. His dedication to educating goes as far as assessing villains, especially young ones, and wondering if they could be put on the right path if they were taught, although he admits the naivety of the idea.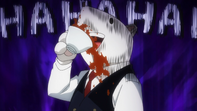 He is not above putting himself on the front lines or in danger, with his focus being the safety of his students. He understands strategies between hero conflicts enough to participate in the debriefing after the invasion.
As a result of abuse and mistreatment by humans in the past, Nezu's true character reveals itself whenever he is in combat. He enjoys "toying" with humans. He still holds a grudge over the many experiments he went through, coming off as slightly insane and unpredictable as a result.
Abilities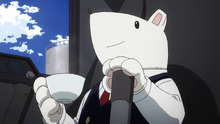 Enhanced Senses: As an animal, (be it a dog, mouse, or bear) Nezu has above average senses of hearing and smell.
Tea Brewing: Nezu enjoys a good cup of tea and knows how to make it.
Industrial Crane Driving: During the First Term Final Exam, Nezu used a giant wrecking ball to create chain reaction destruction to combat Mina Ashido and Denki Kaminari.
Strategy: Thanks to the great intelligence bestowed by his Quirk, Nezu is an exceptional strategist who is able to execute complicated plans in a short manner of time. This is best seen during his Final Exam fight against Mina and Denki, where he utilized a large crane to destroy their surroundings and send rubble down around them, forcing both students to flee in panic. Predicting their movements, Nezu destroyed the structures to create chain reactions that would in turn block off all their exits apart from only one. This method forced them to focus on evading the destruction rather than seeking the remaining escape gate, which resulted in them both failing the practical battle due to their time limit expiring.
Security Planning and Management: As the Principal of U.A. High School, Nezu is in charge of maintaining the school's advanced security system. Most notably the U.A. Barrier that will trigger large walls to rise up and seal off the entrance should anyone try to enter the school without a student ID or visitor pass. Following the Paranormal Liberation War, Nezu makes several advancements to U.A.'s security, such as converting the grounds into shelters that are able to move into an underground network and transport to different safe areas, essentially viewing the school's system as a game board. Additionally, between the surface and the underground shelters are three thousand layers of bulwark plates, that are able to seperate and delay attacks should the school's system detect anything out of the ordinary. Furthermore, as a precautionary measure against Himiko Toga's Quirk, people who seek refuge at U.A. are made to wait for a certain period of time before entering, to ensure that her transformation time limit would have ran out.
Quirk
High Spec (ハイスペック, Hai Supekku?): Nezu's Quirk grants him a high level of intelligence that surpasses that of humans. Nezu's Quirk enables him to live freely like a normal person, despite being an animal.
Stats
| | | |
| --- | --- | --- |
| Power |   | 2/5 D |
| Speed |   | 2/5 D |
| Technique |   | 5/5 A |
| Intelligence |   | 6/5 S |
| Cooperativeness |   | 3/5 C |
Nezu's stats, according to the Ultra Archive Book
| | | |
| --- | --- | --- |
| Power |   | 1/6 E |
| Speed |   | 2/6 D |
| Technique |   | 5/6 A |
| Wits |   | 6/6 S |
| Loveliness |   | 5/6 A |
Nezu's stats, according to the Ultra Analysis Book
Battles & Events
Chapter Appearances
Anime Appearances
Trivia
Nezu's name is a play on the Japanese word for "rat" (

ねずみ

nezumi

?

). Also, it's written with the kanji for "root, base, basis, foundation" (

根

ne

?

) and the kanji for "saliva, ferry, ford, moisten" (

津

dzu

?

).
Nezu likes brushing.[1]
Nezu is a smoker.[1]
Quotes
(To himself) "We're starting to feel the effects of 'losing our symbol' more and more as time passes...what we need now is a revival. At least for the students...we need to present them with prospects of a brighter future."[3]
(Introducing himself) "That's right. It's me, Nezu, the one who could be a dog or a mouse or a bear, but more importantly... I'm the principal!"
References