Jurassic World: Dominion Dominates Fandom Wikis - The Loop
Play Sound
Nejire Hado (波動ねじれ, Hadō Nejire?), also known as Nejire Chan (ネジレちゃん, Nejirechan?), is a student in Class 3-A[1] at U.A. High School and is part of The Big 3.
Appearance
Nejire is a fair-skinned girl of average height with wide, curious eyes. Her upper eyelashes are long and thick, and her irises are a royal blue. Her hair is periwinkle, and it reaches all the way down to her knees, twisting around itself at her waist and curving inwards around her legs. She has side-swept bangs, tucked behind her ears on the right and hanging just over her eyes on the left, and two short clumps of hair on either side of her face, curved towards her face on the right and behind it, under her ear, on the left. According to the boys at U.A. and Yuyu Haya, Nejire is more of the "cute kind" than the "sexy kind."
Nejire wears a waistcoat in place of the normal U.A. blazer with her school uniform like Kyoka Jiro occasionally does.
Nejire's hero costume consists of a royal blue skin-tight bodysuit with a high black collar, pale mint green markings covering her torso from over her shoulders to between her legs, framed with turquoise, a matching stripe of the same two colors around both of her upper arms. On her feet, she wears a pair of knee-high boots, a thinning flap buttoned on each thigh, with turquoise spirals around her ankles, matching the thicker ones above her yellow gauntlets and wrist-guards. She has a black strap around the top of each thigh, two small satchels attached, and two spiraling horns of hair protruding from behind her ears that are shaped as a reference to her Quirk.
After Dabi attacked her with his flames, Nejire's hair was burned down to shoulder length, and the right side of her body was burned, with her right cheek being scarred. Following the Paranormal Liberation War, Nejire's burns have fully healed and her hair is now cut much shorter, with it just reaching her chin.
Gallery
Personality
Nejire is naturally a very kind, talkative and endlessly curious girl who shows great interest in people's unique physical features and is easily distracted by them. Due to this, Nejire can be very blunt, often asking rather invasive or off-putting questions.
Nejire is an affectionate person and a "free spirit," someone who has a genuine passion for learning new and strange things and isn't afraid to speak her mind or show how she feels. She seems to like knowing more than others, but not in a proud way, as she just enjoys explaining things to people and sharing her knowledge. She is mentioned to act like a kindergartner due to her childish glee.
She is very enthusiastic, affable, and cheery, and is always seen moving. She shows compassionate side with Eri by doing her hair and playing with her on her free time. However, she has shown a more stoic nature during various situations; she was not very concerned for Tamaki Amajiki when she learns of his attack. Thanks to her inquisitive and chatty demeanor, she is a notably level-headed individual, though she comes off as an "airhead" most of the time.
Despite her happy-go-lucky personality, Nejire is fierce in battle. When the situation calls for it, Nejire can be very calm and focused. Her curiosity never seems to extend to the enemy and she always maintains her focus on taking them down. During her battle against Tomura and High-Ends, Nejire showed great judgement, aptitude and anger, a side of which she does not often display. Her strong heart is what has allowed her to climb the ranks into one of U.A.'s top three students.
Abilities
Overall Abilities: Nejire is one of U.A. High School's most powerful students alongside Mirio and Tamaki, who are all collectively known as The Big 3. Like the rest of the Big 3, Nejire's abilities can rival or even surpass that of most Pro Heroes.
She has shown on multiple occasions to have great mastery over her powerful and versatile Quirk, Wave Motion. Despite Wave Motion's lack of speed, Nejire utilizes the energy surges to boost her own mobility. By doing so, she can quickly close the gap between her and the target before unleashing blast waves at close range. The waves have proven to be very effective against large enemies who also lack speed.[2] Nejire can control how much energy she wants to output and can release it from her palms and her feet. By releasing small amounts under her feet, Nejire can levitate herself with fine control. She can defend herself and use the waves to attack from long range. A combination of the aforementioned applications is effective for Nejire controlling a battlefield and keeping her distance.[3]
Nejire's abilities not only garnered her the opportunity to be mentored by Ryukyu, the No. 10 (formerly No. 9) Pro Hero, but have also proven to be enough to allow Nejire take on villains that are much larger and physically stronger than she is. At the beginning the Shie Hassaikai Raid, the Ryukyu Squad acted as the first line of defense against Rikiya Katsukame of the Eight Bullets and were able to successfully subdue him. During the Paranormal Liberation War, Nejire's abilites were proven to surpass most pro heroes as she alongside Shoto Todoroki managed to overwhelm the enhanced Tomura Shigaraki (albeit he was severely weakened due to his earlier battles). She later held back multiple Near High End Nomu alongside Mirio Togata, Tenya Ida, and Katsuki Bakugo in spite of her being burned by Dabi just before the encounter.
Enhanced Stamina: Due to her Quirk's drawback, Nejire has built up an intense amount of stamina through training. Due to this feat, along with the nature of her Quirk, facing Nejire in a drawn-out battle would eventually become a battle of stamina. After her stamina was siphoned by a Trigger-enhanced Rikiya Katsukame, Nejire was still able to hold her own against the Yakuza member for 20 minutes until the Trigger drug wore off, allowing the Ryukyu Squad to defeat him once and for all.[2] When she was blasted by Dabi's flames, Nejire recovered, and helped ward off 4 Near-High Ends in spite of the burns she bore.
Enhanced Durability: Nejire has proven herself to be rather resilient, as she was able to survive being scorched by Dabi's flames, and emerge with only moderate burns. This is an exceptionally impressive feat of Nejire's resilience, given Dabi's firepower exceeds that of Endeavor, and can turn his targets to ash in an instant.
Quirk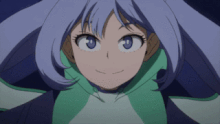 Wave Motion (波動, Hadō?): Nejire's Quirk grants her the ability to convert her own vitality into energy and release it in the form of exceptionally powerful spiral shockwaves. Since the energy travels in a spiral, it's not very fast. Since Nejire uses her life force, she had to train her stamina immensely in order to be able to overcome her Quirk's drawback. Thus, overusing this Quirk will cause Nejire to suffer from great exhaustion, due to it using her own stamina as a power source.
Nejire can release very powerful shockwaves from her hands as an offensive blast. She can also release the energy from her feet to increase her mobility and allow herself to fly. Nejire can attack with her Quirk in close range combat, adding more force and power to her kicks and punches.
Nejire also uses her Quirk for support and capturing purposes. During the destruction of Jaku City, she used her waves as propellers. She carried and pushed both vehicles and citizens inside her waves to safety. When she was saving civilians in Kansai, she restrained a giant sludge villain inside her Quirk, capturing him. This further illustrates Nejire's great control over her Quirk, as she was able to lower the vitality level to the point where it did not cause physical harm to objects or people.
Ultimate Moves
Nejire Wave (ねじれる波動

Guringu Weivu

?

): Nejire charges her Wave Motion output to 30. She then blasts her enemies with two powerful waves from each hand, creating dual two giant spiral waves. It is strong enough to simultaneously take down two villains with gigantification Quirks.[3]
Nejire Flood (ねじれる洪水

Guringu Furoddo

?

): Nejire charges her Wave Motion to its maximum output 100. She twists her hands in a spiral formation and releases a massive blast of energy concentrated in both hands towards her opponent.[4] The energy forms into a downward spiral waterfall, thus, the name "Nejire Flood".
Stats
| | | |
| --- | --- | --- |
| Power |   | 5/6 A |
| Speed |   | 4/6 B+ |
| Technique |   | 5/6 A |
| Wits |   | 4/6 B |
| Offbeat-itude |   | 6/6 S |
Nejire's stats, according to the Ultra Analysis Book
Battles & Events
Chapter Appearances
Anime Appearances
Trivia
Nejire's rankings in the Popularity Polls are as following:

Ranked 64th in the 4th Popularity Poll.
Ranked 38th in the 5th Popularity Poll.
Ranked 23rd in the 6th Popularity Poll.
Ranked 34th in the 7th Popularity Poll.

Nejire's surname contains the kanji for "wavelength" (

波

ha

?

) and "motion, change, confusion" (

動

dō

?

), and the hiragana that makes up her given name means "distortion, twist, warp" (

ねじれ

nejire

?

).
Nejire's favorite things are lilies and jasmine tea.
Horikoshi has stated that he has trouble drawing Nejire's long hair.
References