Heavy SPOILERS ahead, READ with caution! Please see our Rules & Policies here.
---
Welcome to My Hero Academia Wiki!

Kohei Horikoshi
. We encourage users to help make this wiki even better. Check out the above links to get an idea of how wiki editing works. We are striving to turn this place into a reliable source of information for the series. Help us by
creating or editing
any of our articles! We're currently editing over
2,454 articles
since June 26, 2014.
Story
Characters
MORE CHARACTERS
Getting Started
We have a lot of content on this wiki. With your help, we can make it even better.
Anonymous editing has been disabled for this wiki. To contribute, you must log in or sign up for a free account. After that, you can get started and help out by editing typos, work on article stubs or leave feedback on talk pages. You may also consider creating wanted pages.
If you need help, you can refer to the Help pages, FANDOM University or ask a Hero.
Before editing, please make sure that you review our Manual of Style and all of our policies. We have a large userbase of dedicated users and have established systems to keep this wiki organized. Please do not disrupt our systems by violating our policies. If you wish to learn more about our style of organization, please feel free to visit our #wiki-errands channel on Discord.
Are you an experienced editor? Check out these projects to see which areas of the wiki are in need of help:
Wiki Departments are projects that consist of a group of users dedicated to gathering and assisting articles circled around a single concept or topic. Consider joining one to get started!
Stubs are articles that are of unusually small size and need to be expanded more. Help make stubs into full-fledged articles by adding more information.
Upcoming Releases
Polls
Q1: What are you most excited about in the second cour of Season 4 of the Anime?
Q2: Who will be victorious in the Paranormal Liberation War?
Latest Blogs

No9ah10
•
Preface:
It's been a bit since I last wrote a theory out, but I had a few sudden thoughts that I really wanted to jot down into this theory, so here we go.
This theory contains spoilers up to Chapter 311 of the manga, proceed at your own discretion.
Part 1: An Unspeakably Gruesome Death
I'm sure everyone remembers when All Might first told Deku that he was going to die within the next year, and the ripples it sent through the community sparking theories for years to come.
https://imgur.com/a/bdT3Wlt
So far, it seems the community at large has come to accept the "Gruesome Death" Nighteye describes to be Tomura Shigaraki's Quirk, "Decay.".
This is a good hypothesis and I do think this is a very likely outcome, it would be very tragic for All Might …
Affiliates
Upcoming Anime Highlights
Heroes and Villains Chat!
Featured Media
Latest Episode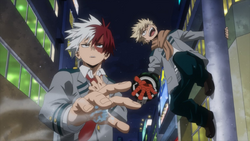 My Hero Academia Season 5 - Episode 12: The New Power and All For One
---
The Joint Training Battle has officially ended! Hitoshi is accepted into the Hero Course and Izuku reflects more deeply into the depths of One For All. Sometime later on, Shoto and Katsuki manage to acquire their Hero Licenses and decide to make their flashy debut by taking out some villains during winter! Now that the story is moving forward... what will happen next for our heroes?
Read more ▸
Latest Chapters
Spoilers!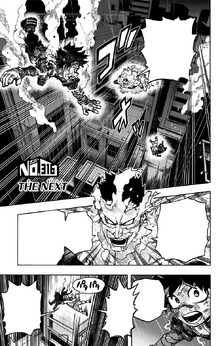 My Hero Academia - Chapter 316: Your Turn
---
Right after managing to save Lady Nagant from dying, Deku and a few Pro Heroes are informed by the former that she was meant to send Deku to the former headquarters of the CRC. With that being said, Deku and the group of Pros storm the mansion, only to find a hologram of All For One awaiting them. All For One reveals that that Deku is now his main priority instead of All Might before blowing up the entire mansion. Will Deku remain true to himself in this cruel world?
Read more ▸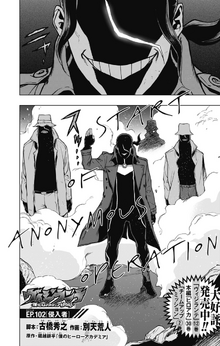 My Hero Academia: Vigilantes - Chapter 102: Intruder
---
Number 6 and the Anonymous destroy the entrance to the hospital, which alerts Midnight and the doctors in Kazuho's room. Number 6 enters the hospital alone, leaving the Anonymous to wander aimlessly outside. He's suddenly faced by Naomasa and the police. Will he be able to deal with them on his own, or will the arrival of one more do-gooder thwart his evil plans?
Read more ▸
Latest Volumes
Future Releases
August 6, 2021
News
June 1, 2021
April 6, 2021
April 2, 2021
See older news ▸
External Links
*Disclosure: Some of the links above are affiliate links, meaning, at no additional cost to you, Fandom will earn a commission if you click through and make a purchase. Community content is available under
CC-BY-SA
unless otherwise noted.