Jurassic World: Dominion Dominates Fandom Wikis - The Loop
Play Sound
There's no place for insane guys like me in society. As for the people

heroes

like to save... yeah, they're always the good, virtuous ones. Anyway, I finally accepted me for me and decided to make myself useful to the League of Villains... because I wanna be okay with me being me.

Jin Bubaigawara

in

"Unleashed"
Jin Bubaigawara (分倍河原仁, Bubaigawara Jin?),[2] also known as Twice (トゥワイス, Tuwaisu?),[3] was a major antagonist of the My Hero Academia manga and anime series.
He was a villain affiliated with the League of Villains, part of its Vanguard Action Squad, and later became one of the nine lieutenants of the Paranormal Liberation Front.[4] He served as an antagonist in the Forest Training Camp Arc and Shie Hassaikai Arc.
Appearance
Jin was a rather well-built man with blond hair and gray-blue eyes. He had a large scar splitting his forehead from an incident in his past. He had visible traces of facial hair over his mouth and at the bottom of his chin. His civilian attire consisted of a blue-collared shirt over a white tank top along with a normal pair of pants and boots.
His villain costume was a black and gray bodysuit that covered his body completely, along with gray boots. The upper half of his signature mask was gray with white eye sockets while the lower half-covering his mouth was black. Twice also sported red and green wristbands that he stored his measuring tapes in.
The majority of Twice's suit was black other than the section over his lower legs and the gray designs that appear to form a "T" and "W" over his chest. The "T" is formed by a horizontal line crossing his upper torso and a vertical line ascending from the abdomen. Another line snakes down to his lower torso and splits down to his thighs, which then ascends to his hips forming a "W".
Gallery
Personality
Twice had a very unique personality: explosive, lively, and originally having a very comedic demeanor. He enjoyed assuming dramatic poses and eccentric facial expressions. Twice constantly contradicted himself, making one statement in one voice and then immediately saying the opposite in another voice. For example, he insulted Dabi and then praised him in the same sentence.[3]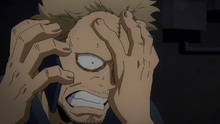 This was part of a mental instability Twice would embrace as a villain. He believed understanding your own identity is the most important aspect in life, an understanding he lost during the 9-day conflict of his clone left him unsure if he was the original or not.[5] Jin's identity crisis drove him to insanity, changing his overbearing and lazy previous persona into his manic villainous attitude. Without his mask, Jin suffered more heavily from something akin to otherwise specified dissociative disorder (OSDD): while masked, Twice contradicted himself and acted completely natural about it, but without it his split personalities argued with each other. He would go into a panic and threaten to "split" until he put his mask back on and become "whole".
During his confrontation with Skeptic's clones, Jin was revealed to have been a lonely individual who created clones to compensate for friendship. He joined the League of Villains because they accepted his craziness and made him feel comfortable in his own skin. His desperation to find friends lead him to trust others very quickly. As a side effect, this also left him vulnerable to betrayal and emotionally devastated when people like Overhaul or Hawks turned on him. When injured by the fake clones Skeptic created, he moved past his trauma after realizing that he was the original and didn't hesitate to protect Himiko Toga.[6][7]
However, his clones still displayed conflict over who was the original, although they were willing to work past it for their goals. It is shown that even after conquering his inner demons that Jin still occasionally experienced relapses, suggesting his multiple split personality issues.[8] Despite his still fragile mindset, Twice remained resolute in his loyalty to his friends. Rejecting any offer of support from the heroes who threaten them and ultimately giving his life protecting the League; in his final moments, he was content with his fate as he had protected his friends at the end.
Abilities
Overall Abilities: Twice was a fairly capable villain and a major asset to the League of Villains. His Quirk was very effective in a supporting role, as he could use his power to create reinforcement for both himself and his allies in battle. Tomura Shigaraki claims that Twice's Quirk is a key piece to the League's plans. Overhaul and, later, the Meta Liberation Army, wanted to recruit Twice in order to get a hold of his unique Quirk.[9][10] Other than his Quirk proficiency, Twice was also a skilled acrobat with impressive speed and reaction time, completely evading an ice wave from Shoto Todoroki, one of U.A. High School's most promising students.[11] Having used his abilities for widespread burglary and theft, Twice became one of the government's most wanted criminals.[12] Even Hawks, the number two Pro Hero, believed Twice to be the most dangerous of Tomura's lieutenants,[4] and was one of the main reasons he wanted to kill him during the war.[13]
Quirk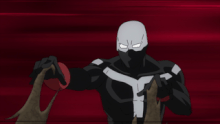 Double (二倍, Nibai?): Jin's Quirk granted him the ability to create an exact duplicate of anything, living or not. In order to duplicate something, he needed to know the exact measurements and characteristics. He was limited to only two duplications at a time. The duplicates were not as durable as the original; the second duplicate being even less durable than the first.
When Twice created duplicates of a person, he had no control over the clones because they had their own autonomy; their personalities and abilities being completely identical to the original. Creating doubles of himself allowed him to bypass his two duplicate limit, since a duplicate of a person would possess the same Quirk as the original. He was initially unwilling to duplicate himself due to traumatic experiences involving his own clones, though he eventually overcame this.
The clones didn't disappear, instead they disintegrated into a mud-like substance after taking a certain degree of damage.
According to Giran, this Quirk gave Twice the potential to take down entire countries.
Super Moves
Sad Man's Parade (無限増殖 哀れな行進

Mugen Zōshoku Saddo Manzu Parēdo

?

): Jin creates clones of himself, then the clones create clones of themselves, then those clones create clones of themselves. This cycle of exponential growth continues, resulting in thousands of clones of Jin.[14]
Stats
| | | |
| --- | --- | --- |
| Power |   | 3/6 C |
| Speed |   | 3/6 C |
| Technique |   | 3/6 C |
| Wits |   | 3/6 C |
| Lines of Dialogue |   | 5/6 A |
Jin's stats, according to the Ultra Analysis Book
Equipment
Costume: Twice's villain costume was worn by him mainly to help preserve his mental well-being, as wearing his costume and keeping his face covered kept his split personalities from clashing.
Measuring Tape: Twice kept measuring tape in both of his wristbands. He used them to collect measurements for his cloning and for combat. The tape is extremely sharp and can be used as a weapon, being enough to cut clean through solid ice.
Knife: Twice and his doubles sometimes utilized a knife in combat, the first instance being when he and his clones fought and killed each other using one, with one of them slicing his forehead. The last instance was when he sent a clone to save Himiko and Mr. Compress from being captured by Eel Boy by stabbing him from behind, at the same moment when he was fatally stabbed by Hawks.
Battles and Events
Chapter Appearances
Anime Appearances
Trivia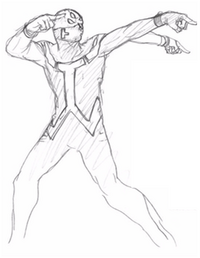 Twice's preliminary design didn't change much from his current one, having a slightly different costume with four eye openings instead of just two.
Twice's costume and lively mannerisms may be inspired by Deadpool from Marvel Comics. However, his apparent split personality and using his mask to maintain some level of sanity resembles Rorschach from Watchmen.
His costume, Quirk and insanity is also very similar to the Superman villain Riot, who wears a nearly identical costume, can duplicate himself and also became insane.
His family name "Bubaigawara", is pronounced and written the same as a train station in Tokyo that is jointly run by two separate railway companies, and it contains the kanji for "part" (

分

bu

?

) and "double, twice (as much)" (

倍

bai

?

). The kanji used for his given name "Jin", 仁, is similar to the kanji for the number two, 二. Additionally, his given name might be the allusion for "jinjin" (

じんじん

?

), the onomatopoeia for a painful tingle or throbbing, such as that of a headache.
Twice's rankings in the Popularity Polls are as following:

Ranked 47th place in the 4th Popularity Poll.

Twice is currently the only villain who had the quickest ranking up from a C-rank to an S-rank in just a few months and the only lieutenant of the PLF to be an S-rank villain.
Twice shared some similarities with Ectoplasm:

Both have disabilities, Twice with insanity issues, and Ectoplasm with prosthetic legs.
Both have Quirks that allow them to duplicate themselves.

Twice was a smoker.
According to his Volume 24 Profile:

Twice liked smoking cigarettes.
Twice's costume was specially ordered by Giran, designed to be tough yet easy on the skin. With Twice unable to hold together a normal life and income, as well as having lost all the money he stole, it was far more than anything he could afford by himself. Giran ended up putting it on his tab, but still demanded his intermediary fee as a broker.

Twice shared his birthday with Mawata Fuwa.
Ironically Jin's death revealed that his Doubles melt away without the original, destroying any information that could have resolved his inner struggle if there was any way he could have known.
Prior to using his Quirk in the past, Jin had mud-like rings float around his hands while making his Double clones.
Quotes
(To Dabi about Mr. Compress' message regarding the completion of their mission) "Hey, Dabi, you hear that message?! Pretty exciting. Mr. Compress sure got the job done quickly, huh? He took his sweet time, though!! I'm getting sleepy over here."[15]
(To himself, about the League of Villains while being attacked by Skeptic's clones) "Especially since I want to repay you guys for accepting me with open arms! I've always had that on my mind! This whole time!"[16]
(To Hawks) "Shaddup. Fresh start? That's a load of crap. C'mon!! As for what happens to me...I stopped giving a damn wayyy back!...I'd trade my soul...for the League's happiness!"[17]
(To Hawks) "You people...ain't heroes. Never are, never were. None of ya! You throw us to the wolves. All of us down-trodden folks! You don't know, or care but...little Toga, she...she wrapped me up in her hankie, all gentle-like. But, well...betcha didn't know this either...that this is the second time! The second time I managed to screw everyone over. Toga...she probably won't do me that kindness again...but that's okay...I still gotta protect their happiness!" [17]
(To himself, about the League of Villains while trying to escape from Hawks) "Protect them, Twice! They accepted me. And how'd I pay them back? By causing them more pain! I can't let it end this way!! Sure, my whole life, it seems like I've been a man falling lower and lower, getting duped. To you, my life looks pathetic, meaningless. I wandered around, searching for myself. And I found myself, blessed with friends better than I could ever be. Could a guy ask for a better life? Die, Hawks. But you don't get to tell me that I was "unlucky". Being here with them... I was happy!"[1]
References