She-Hulk Trailer Dropped - The Loop
Play Sound
Hood (フード, Fūdo?),[1] also known simply as High-End (ハイエンド, Hai Endo?),[2] was one of Doctor Kyudai Garaki's twelve intelligent High-End Nomu and the primary antagonist of the Pro Hero Arc.[2]
Appearance
Hood resembled other Nomu but with a large, muscular build and a comparatively long neck, which has several large vertebrae jutting out of it. His skin is dark purple/black and his head was shrouded in darkness by a hood of skin, with yellow eyes that resemble Kurogiri's as the only facial feature under it. The muscles on his neck and shoulders were left exposed.
Underneath his hood, his face consisted entirely of an exposed brain, distorted red eyes, and a mouth full of long, jagged teeth.
Prior to being transformed into a Nomu, he was a muscular man with notably long teeth, distorted eyes, black shaggy hair, and a visible tattoo on his left shoulder.
Gallery
Personality
Hood openly showed signs of obedience and loyalty to his master. He spoke with a stutter and broken grammar.[2] Hood was disturbingly eager to fight strong opponents, quickly growing bored with whichever hero he was fixated on after managing to defeat them. This could be seen after he seemingly defeated Endeavor, as he began to wonder if there was an even stronger hero.[3] This battle lust was a holdover from its base body's personality: a thug who worked as an underground fighter.[4]
He also displayed some wits during that battle, as he made distractions for lesser heroes by summoning weaker Nomu. He also protected his weak spot, his head, during battle.
Abilities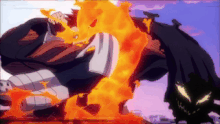 Overall Abilities: The first of the High-End breed of Nomu, Hood was an extraordinarily powerful being that bore the capacity to contend with, and outclass top Pro Heroes and cause mass destruction, singlehandedly. He confronted Endeavor and Hawks, the new respective No. 1 and No. 2 Pro Heroes, and was able to repeatedly evade or recover from Endeavor's fire attacks and outmatch him in power thanks to his multiple Quirks and augmented body.
With their battle becoming drawn-out, Hood was blasted by a weakened Endeavor's strongest technique, "Prominence Burn", yet Hood underwent self-decapitation to avoid total annihilation. Hood continued to dominate Endeavor to the point of nigh-victory, but was eventually defeated by the joint effort of Endeavor and Hawks, with the Flame Hero pushing himself past his limits.
Immense Strength: Hood was incredibly strong even by Nomu standards. He was able to cling to the side of a concrete building with gripping strength alone. Hood can combine his Power, Muscle Augmentation, and Transforming Arms Quirks to increase his strength even further, as shown when he swung his elongated arm through the entire width of a skyscraper nearly bringing down the top floors of the building. At the same time, Hood used his strength to push Endeavor through multiple solid walls.
Immense Speed: Complementing his high degree of physical strength, Hood boasts a great degree of movement and reaction speed as well. He was shown to outpace Endeavor through out their fight, avoiding all his attacks including a surprise Jet Burn from behind and even claimed Endeavor was slow. Hood's speed was said to be even with the Number 2 Hero, Hawks who is a hero known for his incredibly high speed.
Flight: Through a combination of his Transforming Arms and Shoulder-Mounted Jets, Hood was capable of manipulating his body structure to allow him to fly through the air at high speed, easily keeping pace with Hawks, one of the fastest fighters in the world.[5]
Tactical Intellect: Hood's exact level of intelligence was unknown, but as a High-End, he was capable of cohesive speech, unlike any previous Nomu.[2] He also possesses good intuition and planning, as shown when Hood spawned lower-level Nomu to keep Endeavor's reinforcements occupied, given that the High-End was searching for strong opponents and wasn't interested in weaker combatants. Afterwards, Hood, noticing the ceased flame assault, began to realize Endeavor was getting weaker from overusing his Hellflame Quirk. Most notably. Hood was able to cleverly save himself from being vaporized at the hands of Endeavor by decapitating himself, and launching his head to safety, twice.[3]
Quirks
Muscle Augmentation (筋肉増強, Kin'niku Zōkyō?): Hood's Quirk allowed him to augment the muscle fibers in his body, increasing the power and speed of his movements.[5]
Super Regeneration (再生, Saisei?): Hood's second Quirk gave him the ability to regenerate from any damage he takes. He could even regenerate cells that had been burned.[6] As long as his head remained intact, Hood could regenerate his entire body.[3]
Shoulder-Mounted Jets (肩部のジェット機構, Katabu no Jetto Kikō?): Hood's third Quirk gave him jets on the back of his shoulders. These jets allowed him to propel himself through the air and fly.[5]
Transforming Arms (変容する腕, Hen'yō Suru Ude?): Hood's fourth Quirk allowed him to shapeshift his arms. This gave him the ability to unleash powerful, elastic attacks. He could also turn them into wings to assist with his flight.[5]
Power (パワー, Pawā?): Hood's fifth Quirk allowed his body to contain and unleash enormous physical power. He used this to enhance the strength of his attacks.
Storage: Hood's sixth Quirk gave him the power to store other beings within his own body and release them at will. His limit appeared to be nine.
Stats
| | | |
| --- | --- | --- |
| Power |   | 6/6 S |
| Speed |   | 5/6 A |
| Technique |   | 3/6 C |
| Wits |   | 3/6 C |
| Danger Factor |   | 6/6 S |
Hood's stats, according to the Ultra Analysis Book
Battles & Events
Chapter Appearances
Anime Appearances
Vigilantes Chapter Appearances
Trivia
References