Jurassic World: Dominion Dominates Fandom Wikis - The Loop
Play Sound
For better or worse… the manifestation of our Quirks has enabled him to act on his primary motivation. He now seeks to save everyone… as a true superhero.

Hikage Shinomori

regarding Izuku Midoriya in

"Reckless"
Hikage Shinomori (四ノ森避影, Shinomori Hikage?)[1] was the fourth user of the One For All Quirk.
Appearance
Hikage was a lean man with short, white hair that parts away from the base of his forehead, and thin eyes that slant slightly downward. Due to his accelerated aging, he gained two scar-like cracks stretching from the left side of his forehead down to his chin.
Personality
Hikage was a valiant and noble man who was determined to defeat All For One. However, he was well aware of his limits and understood he couldn't defeat All For One by himself, so he spent his life training himself and strengthening One For All to be passed onto the next user. Hikage was described by Daigoro Banjo as a "weirdo" who preferred to spend his time in solitude. It is implied that this was due to his Quirk constantly putting him on high alert.
History
Hikage lived during the era when society was in chaos and All For One was at his prime. He was twenty-two when he inherited One For All from the third user, along with the mission to defeat All For One. However, Hikage was aware that given the huge difference in their combat abilities, he could never defeat All For One. Unlike other One For All users, Hikage chose to avoid fighting All For One, and instead cultivate One For All in seclusion. In the next eighteen years, Hikage strengthened One For All with rigorous training. When he turned forty, Hikage's body began to deteriorate and showed signs of old age. Confused by the rapid aging, Hikage entrusted One For All to Daigoro before passing away.
Synopsis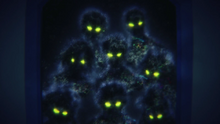 During the fight between Izuku Midoriya and Hitoshi Shinso in the tournament of the U.A. Sports Festival, Izuku is brainwashed by Hitoshi's Quirk, who orders him to walk out of bounds. Although Izuku tries to resist, he cannot disobey the order, but when he is about to cross the edge of the ring, Hikage and the rest of the previous users appear to Izuku as shadowed mental figures. They uncloud his mind and allow Izuku to use One For All in his fingers, allowing him to escape the trance and win the fight.[2]
In the aftermath of the Paranormal Liberation War, when Izuku is rendered comatose, he speaks to all the vestiges within One For All. Among them, Hikage approaches Izuku and introduces himself and his Quirk that Izuku happened to awaken during his battle. Daigoro explains that Hikage was a weirdo that shunned modern society to live the life of a hermit while playfully attempting to tag him with Blackwhip, but Hikage insists that he lived in a terrible era, and society had the weirdos. Hikage asks if Izuku knows how long he lived and when he died, and Izuku remembers that Hikage died at forty, but the cause of death was scribbled out by Toshinori Yagi. Hikage reveals that he died at forty of old age, shocking Izuku.
Hikage and Daigoro had no idea what caused his death, and it was only after All Might did research did they come to the realization that One For All couldn't be wielded by an ordinary person. Hikage continues, stating that he possessed One For All the second longest after All Might, and for eighteen years, he spent his time on the run to train his Quirk. However, during his final years, cracks appeared on his face, and his body began to break down. Hikage had initially assumed it was because of some unknown disease, but after All Might dug up his medical reports and autopsy, Hikage understood that his life force had been eaten away due to possessing multiple Quirks. Hikage stands in silence as Yoichi Shigaraki explains how All Might was able to live for so long and what made him special, which was being Quirkless, allowing his body to withstand its power.[1]
Abilities
Overall Abilities: While the full extent of his abilities are unknown, Hikage can be assumed to be quite strong, being a One For All vestige. However, he wasn't strong enough to take down All For One.
Trained Muscles: Due to One For All requiring a strong host to handle its recoil, Hikage has a well-built muscular frame. He spent most of his time training in isolation in preparation for passing on One For All to the next vestige, as he was aware that he wasn't strong enough to defeat All For One. His strength allowed him to easily crack large boulders in half.
Enhanced Reflexes: Due to his given Quirk, Danger Sense, he was capable of effortlessly dodging Daigoro's Blackwhip, a Quirk Daigoro is quite capable with.
Quirks
Danger Sense (危機感知, Kiki Kanchi?): Hikage's Quirk allowed him to sense incoming threats in the surrounding area, giving him ample opportunity to react to them. According to Izuku, once a threat is detected, a stabbing sensation is sent to the user's head.
One For All (ワン・フォー・オール, Wan Fō Ōru?): Transferred to him from the third user, Hikage's second Quirk allowed him to stockpile an enormous amount of raw power, allowing him to significantly enhance all of his physical abilities to a superhuman level. This resulted in unbelievable levels of strength, speed, agility, and durability.
Chapter Appearances
Anime Appearances
Trivia
Hikage's surname contains the kanji for "four" (

四ノ

shino

?

) and "forest" (

森

mori

?

) while his name means "to evade" (

避

hi

?

) and "shadow" (

影

kage

?

), referencing both his hermit nature and the fact he is the fourth wielder of One For All.
Hikage wielded One For All the second longest, for a total of eighteen years.
Hikage is the third previous One For All user whose Quirk was revealed.
References