Jurassic World: Dominion Dominates Fandom Wikis - The Loop
Play Sound
Higari Maijima (埋島干狩, Maijima Higari?),[1] also known as Excavation Hero: Power Loader (掘削ヒーロー パワーローダー, Kussaku Hīrō Pawārōdā?), is a Pro Hero and faculty member at U.A. High School who manages the Support Course Development Studio.
Appearance
Power Loader is a short, skinny man with a very youthful appearance for his advanced age. He has spiky ginger hair, reaching just past his shoulders, and dull blue eyes, as well as a notably large mouth. His hands appear to be the largest part of his body, disproportional to his rather small frame, and, due to his Quirk, he has an orange L-shaped piece at the end of each finger.
His hero costume consists of a large yellow helmet in the shape of a rectangular excavator claw, the top piece of which protruding outwards to cover his head and most of his face, and the bottom piece left to act as something of a long jaw-guard. He leaves himself shirtless and also wears a pair of large, fingerless gray gloves with metal guards that extend down his arms, as well as a pair of plain cyan pants. When in battle, his helmet is hooked up to a large steel appliance that he sits on and can use for combat as it includes a pair of sizeable metal arms.
Personality
Power Loader is a strict teacher who desires to see his students excel without constraint. He has a love/hate relationship with Mei Hatsume, being easily angered by her carelessness and frequently threatening her with bans from the Development Studio, but still acknowledges her inventiveness and productivity.
It is revealed that Higari is something of a loner who prefers time to himself and enjoys the company of his inventions rather than other people, although he still cares for his fellow colleagues and students.
Synopsis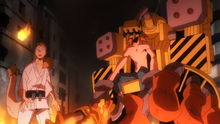 Tenya Ida of Class 1-A rushes to U.A. High School in order to gather Pro Heroes who can save his classmates who are under attack at the Unforeseen Simulation Joint. Power Loader is among the faculty members who accompany Tenya and Nezu to go to the U.S.J.[2] Once there, Power Loader rescues Mashirao Ojiro from the conflagration zone.[3]
Power Loader is present for the faculty meeting where the teachers agree to change the practical portion of the Final Exams. He is placed against Mashirao and Tenya. He and the other teachers explain the changes to the exam to the students of Class 1-A.[4]
In the third practical test matchup, Power Loader creates dozens of pitfalls in a dirt field that Tenya and Mashirao struggle to cross. Tenya uses his Recipro Burst technique to cross the field faster than the holes form, but Power Loader confronts him halfway across. Using his quick thinking and Recipro Extend move, Tenya sends Mashirao flying past Power Loader and through the escape gate. Afterward, Power Loader congratulates Tenya on his plan and passing the practical test.[5]
As Class 1-A prepares for the Provisional Hero License Exam, students go to the Development Studio to get improvements for their costumes. Mei joins him after school and nearly blows up the lab. She encounters Tenya, Izuku Midoriya and Ochaco Uraraka outside in the hallway. Power Loader warns Mei that she'll be banned from the studio if she keeps messing everything up.
Power Loader explains the development process to Izuku, Tenya, and Ochaco. Mei interrupts and has them all try out her gadgets. Power Loader explains despite her wackiness, Mei is the most promising student he's ever had.[6]
At some point, Power Loader becomes fed up with the increasing amount of Mei's inventions, so after discussing the matter with Principal Nezu, he decides to use his Quirk to create an underground storage unit to have somewhere to put them all. However, he ends up getting carried away during his excavation and creates a room for him to relax, a home theatre, and a racetrack for his prized car collection. Even better, he ends up finding a natural hot spring which he renovates by adding a changing room. Power Loader then came up with the idea to create a subterranean training ground for the hero course students, although he digs a bit too close to the surface, causing Tenya Ida, Mezo Shoji, Fumikage Tokoyami, Koji Koda and Eijiro Kirishima to fall into the labyrinth.
The boys were attacked by laser-firing monkey dolls created by Mei, outrun a large boulder, and nearly fall victim to an out-of-control Dark Shadow. After seeing them on the security cameras, Power Loader decides to place gym uniforms and towels in the hot springs for them so they can dry off and change after relaxing their stress and fatigue away. Nezu finds out about Power Loader's labyrinth and goes down to greet the boys, he then fabricates a lie that the underground dungeon was a closed off survival training area, which he had been surveying in a decision on whether to have it demolished or not. The principal ends up escorting the boys out, having them promise not to speak a word of the labyrinth to others, while also giving them permission to visit Recovery Girl so Tenya could have his wound healed.
Power Loader then meets with Nezu and apologizes for getting carried away. The principal suggests opening the labyrinth up as a resting area for U.A.'s staff, Power Loader has trouble interjecting, but Nezu reveals that he was only joking, as he knew that Power Loader wasn't the best with socializing and enjoys his privacy. In the end, the principal allows Power Loader to keep his underground resting area which could also serve as a place for him to devote himself to his work in solitude. Although Nezu does order that he improves its security so that an incident with the boys won't happen again, while also telling Power Loader that he would visit his hot spring on occasion.[7]
Abilities
Costume Development: Power Loader is the teacher responsible for U.A.'s Costume Development Studio. He is a licensed developer and thus has knowledge about creating, upgrading, and maintaining hero costumes.
Quirk
Iron Claws (鉄爪, Tessō?): Higari's Quirk is that his fingers are tipped with metallic claws that are good for digging/mining through the ground.[1]
Stats
| | | |
| --- | --- | --- |
| Power |   | 5/5 A |
| Speed |   | 3/5 C |
| Technique |   | 2/5 D |
| Intelligence |   | 4/5 B |
| Cooperativeness |   | 3/5 C |
Higari's stats, according to the Ultra Archive Book
| | | |
| --- | --- | --- |
| Power |   | 5/6 A |
| Speed |   | 4/6 B- |
| Technique |   | 2/6 D |
| Wits |   | 2/6 D |
| Height |   | 2/6 D |
Higari's stats, according to the Ultra Analysis Book
Equipment
High Density Weights (Final Exams Arc): Power Loader and the rest of the teachers use these bracelets to give themselves a handicap while they fight their students.
Battles & Events
Chapter Appearances
Anime Appearances
Trivia
Higari's name contains the kanji for "to bury" (

埋

mai

?

), "island" (

島

shima

?

), "dry" (

干

hi

?

), and "hunting" (

狩

kari

?

).
In beta design, his real name was Higari Maishima (

埋島 干狩

Maishima Higari

?

) and his hero name was "Sinker" (

シンカー

Shinkā

?

).
According to Higari's Volume 12 profile:[8]

Higari likes cars.[9]
Horikoshi finds drawing Higari's costume/armor quite difficult.
Horikoshi describes Higari as a prodigy who can create support items with self-assurance.
Higari has a complex over his short height.

Power Loader's costume design has several similarities to the Power Loader from the Alien franchise.
Quotes
(To Izuku Midoriya) "The best innovators out there... are unconstrained by convention."[10]
References