We're Getting Mutants in the MCU - The Loop
Play Sound
This article is on the event. If you are looking for the article on the specific rounds of the event, please see Hero Work-Studies: Round 1 or Hero Work-Studies: Round 2.
The Hero Work-Studies is a program that allows U.A. High School students to be employed by Hero Offices throughout the school year.
Description
The Hero-Work Studies are oriented off-campus activities. They are considered very important activities for the formation of future heroes, since they are necessary to obtain real experience, and it helps the participants to improve their combat skills and the use of their Quirks.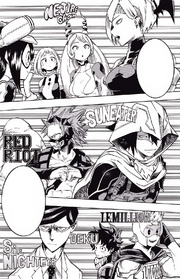 They are similar to the weeklong Hero Agency Internships, but with notable differences as the Work Studies are closer to a real hero experience: During the internships, students were treated as guests at the agencies and are present to simply observe and take notes. During the Work-Study, students are treated as Sidekicks, and in some cases, as Pro Heroes. Under the guidance of the Pros, the students are allowed to uses their Quirks in emergency situations, and they can be dispatched to disaster areas to aid the relief effort and join the fights against villains. The students must work in their respective agencies for at least a month, and they will be remunerated for their work.[1][2]
In this activity, any student of the hero's course can participate regardless of the year, provided they have obtained their Provisional Hero License. First year students have a harder time since they still have a lot of classes, so they will also rack up a lot of absences, needing supplementary classes to be able to continue on this path at the same level as their classmates.[2]
The students must use their networking connections from the Sport Festival to secure their work-studies. Due to it not being part of a class, but an activity that is done at the discretion of the student, those who weren't scouted at the sports festival would have a hard time lining one up to begin with. Originally, individual agencies recruited on their own, but there were many complications with trying to get U.A. students to join and opted for this method.[1]
Known Hero Work-Studies
The homeroom teacher of Class 2-A reminds his students that most second-years do Hero Work-Studies during summer vacations to get a taste of what the world of a Pro Hero is like, especially to those who have not yet joined an agency
 

| Students | Hero Agency Choice |
| --- | --- |
| | |
| | |
Due to the increase in villain activity, many U.A. faculty members are against allowing first years to participate in Work-Studies. However, some were of the opinion that overprotective direction in won't foster strong heroes. As a result, they allow that Hero Offices with proven track records of employing students in the past to be allowed to take on first-year students.
 

| Students | Hero Agency Choice |
| --- | --- |
| | |
| | |
| | |
| | |
| | Unknown Agency[3] |
| | Unknown Agency[3] |
| | Unknown Agency[3] |
The Hero Public Safety Commission demand all the students heroes for all academies to undergo practical field training. The Commission suspects that some kind of great crisis is about to occur, and that's why they want all heroes to be prepared for what can happen, although they try to be ambiguous with their requests. Nezu tells his staff that being prepared is the norm of every hero, and asks teachers to contact the most accomplished heroes.[4]
 

| Students | Hero Agency Choice |
| --- | --- |
| | |
| | |
| | |
| | |
| | |
| | |
| | |
| | |
| | |
| | |
| | |
| | Unknown Agency |
| | Unknown Agency |
| | Unknown Agency |
| | Unknown Agency |
| | Unknown Agency |
| | Unknown Agency |
| | Unknown Agency |
References