Jurassic World: Dominion Dominates Fandom Wikis - The Loop
Play Sound
If... if

Kai

somehow loses... then at least we've still got the finished product and serum... I don't have the luxury of babysitting

this guy

. This is for the gang! This is for Kai!

Hari Kurono

about to kill

Shota Aizawa

in

"It's Over!!"
This article is about the character. For this character's Quirk, see Chronostasis (Quirk)
Hari Kurono (玄野針, Kurono Hari?),[1] also known as Chronostasis (クロノスタシス, Kuronosutashisu?), is a member of the Yakuza and the assistant of Overhaul in Shie Hassaikai. He is the secondary antagonist of the Shie Hassaikai Arc.
Appearance
Hari has thin, dark eyes, pointed eyebrows, and pale chin-length hair that forms arrow-shaped "clock needles" as a result of his Quirk.
As with the other members of the Shie Hassaikai, Hari wears a plague mask, his being black with gold trim and also including circular glasses over his eyes. He can also be distinguished from them by the long white raincoat he wears, with the hood kept permanently up.
Personality
Hari is a composed and cold-hearted, individual, as shown when he was unfazed when Overhaul kills a fellow subordinate, and does not have objections to Eri's inhumane treatment. Being Overhaul's assistant, Hari is very loyal to his leader.
Abilities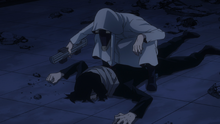 Overall Abilities: Being a member of the Shie Hassaikai, as well as the right-hand man to Kai Chisaki, Hari is a very capable individual. And while he doesn't employ direct combat abilities, he has displayed marksmanship proficiency and effective Quirk handling. Hari's Chronostasis Quirk enables him to extend his hair from a good distance to slow down the movements of his opponents to the point of immobilization for up to an hour, leaving them in a vulnerable, nigh-defeated position. Another prominent aspect of Hari's abilities is his expertise in espionage. During the altercation between Kai and the League of Villains, Hari, unlike the other Hassai Group members who crashed through the walls, he instead jumped from the ceiling, implying he had been in the room undetected for some time. This is proven by the fact that he fired two sniper shots, one of which temporarily de-powered Mr. Compress, whereas the other shot missed Tomura Shigaraki. However, none of the League's members were able to notice the presence of Hari until after he made his presence known.
In the midst of the Shie Hassaikai Raid, Hari and Kai attempted to make their escape with Eri from the Shie Hassaikai Compound, but the yakuza members were confronted by Mirio Togata, a U.A. High School student worthy of the No. 1 Hero spot, and were overpowered by the latter. Hari had enough mettle to engage Mirio with marksmanship alone, but was unable to land a single shot, and was rendered unconscious by the intangible hero. When the rest of the Nighteye Squad arrived on the battlefield, Hari regained consciousness, and used his Quirk to initiate a surprise attack on Izuku Midoriya and Eraser Head, but the latter was the only one to take the attack. Having paralyzed the Erasure Hero, Hari attempted to finish him off with a concealed knife, but was quickly apprehended by Tamaki Amajiki.
Tactical Intellect: Hari has shown to be a very tactical and analytical individual. When Mirio was about to engage him and Kai, Hari noticed that Mirio was weakened by the effects of Deidoro Sakaki's Sloshed Quirk and attempted to capitalize on the hero's disrupted equilibrium, but to no avail. While battling Mirio, Hari realized from the student's prowess and Quirk handling that Mirio was well-trained. And after using his Quirk to immobilize Eraser Head, Hari, having already been aware of the Erasure Hero's Quirk-cancelling ability, blindfolded him, allowing Kai to regain access to his own Quirk.
Quirk
Chronostasis (クロノスタシス, Kuronosutashisu?): Hari's Quirk allows him to slow down the movements of anything he hits with his clock hand-like hair.[2] The minute hands slows a targets movements for one minute and the hour hand slows a targets movements for one hour. Hari can extend his hair, but only if he is not moving.[1]
Stats
| | | |
| --- | --- | --- |
| Power |   | 2/6 D |
| Speed |   | 2/6 D |
| Technique |   | 5/6 A |
| Wits |   | 5/6 A |
| Arrows |   | 5/6 A |
Hari's stats, according to the Ultra Analysis Book
Equipment
Plague Mask: A mask that conceals his face.
Gun: Hari uses a handgun that fires his darts.
Knife: Hari carries a knife he keeps concealed in his pocket.
Special Darts: Chronostasis has access to bullet darts containing a temporary variation of the Quirk-Destroying Drug.
Relationships
Hari is Kai's direct assistant. He is loyal to Kai and follows his orders without question. As a leading member of the Eight Bullets, Hari is trusted by Kai.
From what is seen of him, Hari appears to be close with Kai. He is the first to act when the League of Villains attacks Kai and is wary of his boss almost being killed. Kai also refers to him as "Chrono".
Battles & Events
Chapter Appearances
Anime Appearances
Trivia
References