Jurassic World: Dominion Dominates Fandom Wikis - The Loop
Play Sound
The Final Performance Arc is the seventh story arc in My Hero Academia: Vigilantes.
It's been three years since Koichi became The Crawler, and he and his friends are looking toward the future for what's next. Taking advantage of Kazuho's distressed emotions, Number 6, disguised as the Pro Hero "Rock", turns her into the Queen Bee's next host. Now as the villainous Bee☆Pop, Koichi is pushed to his limits in order to rescue Kazuho at any cost in a climatic "Final Performance".
Summary
Graduation and Career Path
It's been three years since Koichi Haimawari started working as the vigilante The Crawler protecting the streets of Naruhata from villains and thugs. Because of this, he is now known to all and is considered to be a kind of local hero, and more and more people in the neighborhood correctly identify him as The Crawler.
One day, two thugs, one looking like a rhino and the other like a horse, are harassing a couple of girls. They say to the girls that neither the police nor the heroes often frequent that area, so no one will go to help them, but one of the girls assures them that in Naruhata if there is a person who could help them, a kind of hero, and both shout calling The Crawler.
Koichi appears immediately to help them, and the two villains attack him, but he evades all his strokes effortlessly, while commenting on how happy he is that people recognize him. Pop☆Step arrives and asks him to pay attention while fighting. Koichi gets serious and starts using his own fighting style; the Slap Style. Koichi shoots several repulsion force blast at the villains, and finishes them with a Double Shooty-Go-Blam.
Koichi starts to tie the thugs' hands, but they free themselves from their bonds and leap on Koichi to punish him. Before they have the chance to hit him, Kirihito Kamachi and Ikajiro Takobe appear and defeat the villains.
The rhino asks who they are, and Ikajiro introduces them as the workers of Hopper's Cafe, while Teruo Unagisawa distributes pamphlets. Kirihito starts criticizing the thugs and advises them that if they don't want to have problems with the police, they should get a job, and tells them salary and the conditions of being a dishwasher at Hopper's Café. After tying them, Kirihito happily announces that they already hired two more workers.
Kazuho warns Koichi that he will be late for his job interview. The girls ask him to take a picture with them, to which Koichi accepts. Kazuho tells him to hurry up, but then joins the photo shoot, in which Kirihito, Teruo, Ikajiro, Ichimoku Samazu and Jube Namimaru also participate.
In the interview to an on-site cleaning job, the interviewers warn Koichi that it will be hard and dirty work, but Koichi doesn't give it any importance. When one of the interviewers asks him about the most valuable thing he gained during his student years, he replies that the experience and the friends that came with it.
Later, in his penthouse, Koichi talks to Kazuho while fixing one of his hoodie. Koichi believes that the interview went well and he is sure that he will be hired. Kazuho asks if he doesn't have big dreams for the future by picking a job that way. Koichi replies that his dreams have already come true. For a little over three years, he has been able to be hero and help people, even if he were a vigilante, and now what he needs is a real job.
Koichi finishes fixing the hoodie and decides to put on a new limited edition one. He confesses that once he gets a job, he'll have no business playing hero anymore and stop being a vigilante. His words surprises Kazuho. Koichi decides to go on patrol to test out his new Hoodie and asks Kazuho to patrol next to him.[1]
Makoto's Return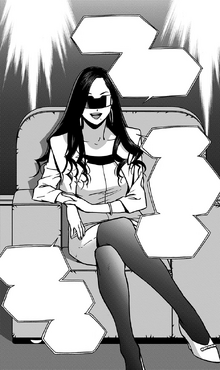 Makoto Tsukauchi is participating in an American talk show. Since she went to the U.S. to study in Marvelous Central University she has become a celebrity in the country. Now she is the general manager of C.C. Corporation and her thesis about on vigilantism is providing a real talking-point. Of course she is not without criticism, but she manages to defend herself and justify herself.
In Marukane Department Store, Kazuho, Miu, Yu and the Sisters of Saint Lila's Academy are watching the show from a laptop, commenting on how famous Makoto has become, then Kazuho starting the meeting. She reports that the Narufest is becoming less and less popular. Their last event didn't get much of an audience, and the Marukane's been slashing their budget and suggesting to cut back on their monthly schedule; so they are there to suggest ideas that can boost attendance.
The girls are suggesting some ideas, but unfortunately the team hardly have staff to carry them out. Most of the original members of the FeatherHATS now have jobs or are busy with their studies. Even they don't have much free time either.
Miu does not take the meeting too seriously, commenting that she is now interested in finding a boyfriend during high school. When mentioning this, she asks Kazuho how her relationship with Koichi is going, which makes her very nervous and tries to change the subject. Miu tells Kazuho to pull her finger out, because because if she does nothing, she risks that Koichi'll move on. Yu tries to stop his sister, although she acknowledges that many things have changed since then, and tells Kazuho that she should think about his relationship with Koichi.
At that moment the manager Nomura arrives with bad news: Marukane's executive have decided that next month's Narufest will be the last, which shock the girls. The manager apologizes for not having managed to convince them of the contrary, but Miu comments that decision was predictable, since he has only been a manager recently, and who really kept the team together was Makoto. Understanding that it is no longer worth continuing with the meeting, Miu leaves, and soon the rest of the members also decide to end the gathering.
Kazuho walks back to the penthouse, sad because the group is going to break-up soon. While walking, she reflects Miu's advices about her relationship with Koichi, and decides to buy ingredients to cook curry for dinner. She tries to convince herself that it means nothing and she is only being nice to him. Once he arrives at the penthouse, to her surprise, she meets Makoto there, making curry for all of them. After dinner, which turned out to be too spicy for Koichi, Makoto explains that she is in Japan momentarily to prepare her actual homecoming.
Kazuho is surprised at her decision, because from what she saw on television, Makoto did not give the idea that she intended to return to Japan. Makoto replies that was just for show and to sell more books. She explains that since everything with Captain Celebrity and his work is pretty stable, she will look for someone competent to take over her managerial duties, and then she can get to work on what she wanna do next.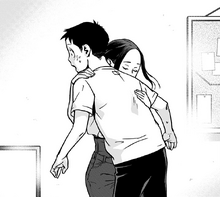 Makoto asks how things are going with Narufest. Kazuho tries to answer her but Koichi does it first, saying it is rollin 'along just fine. Kazuho decides to play along, and then she decides to leave with the excuse that she is busy, taking with her the ingredients she bought.
She barely steps away from the penthouse when she regrets not telling Makoto the truth, that the Narufest is going through a bad time and they need her help, but when she turns around, she sees Koichi and Makoto hugging each other through the window, leaving her very worried.[2] It turns out that Koichi had tripped and Makoto prevented him from falling. Koichi separates from her and apologizes, but Makoto replies that she would welcome him with open arms at any moment. Confused, Koichi asks the meaning of her words, but Makoto replies is just what she said and reminds Koichi if he didn't have to use the bathroom.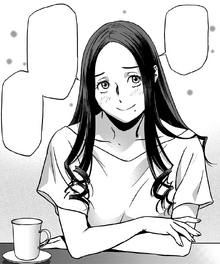 After a few minutes, Koichi returns to the conversation. Makoto keeps talking about how she wants her future to be. Koichi thinks that she talks about work but Makoto corrects him by telling him that he refers to love issues and the idea of ​​starting a family. Koichi tells him that he is too vanilla to talk about lovey-dovey stuff but Makoto tells him that there is nothing wrong with being ordinary. Makoto says that he had thought many times about what could be future, could succeed or fail, so she tried to imagine what her future might look like but regardless of what she imagined, Koichi was always there smiling, so she wants to be with him.
Koichi is caught off guard by Makoto's confession and doesn't know what to answer. Makoto tells him that it doesn't matter, that he can tell her his answer when she'll back home for good this fall. Koichi doesn't think he needs that much time to give her an answer, but Makoto thinks otherwise, because she also takes into account Kazuho's feelings. Makoto is sure that Kazuho is in love with Koichi. Instead of putting pressure on Koichi to choose between her and Kazuho, she gives Koichi time to figured out how he and Kazuho feel about it before he make his decision.
After committing to ask Kazuho indirectly about the matter, Koichi says goodbye to Makoto, jumping for joy at what just happened. Makoto is also happy for all that, but Kazuho, who had eavesdropped on the whole conversation, is confused and nervous.
The next morning, Kazuho returns to the penthouse, but every time Koichi tries to talk to her, Kazuho responds aggressively with evasiveness. At night, when he returns home, Kazuho understands her attitude will not solve anything, and needs to put her thought together and let him know that she is in love with him. But when she compares with Makoto, Kazuho understands that she doesn't have her beat in a single way.
During the last years, she devoted to Narufest as Pop☆Step, meeting many people, but all this was thanks to Makoto. Reflecting on it, she starts watching clips of her early days as Pop when she was just a girl. Although a little embarrassed by what she sees, the clip of her first performance gives her encouragement.
Kazuho knows that, despite everything she started, she still hasn't accomplished a thing, so it's time to cheering for herself and don't lose.[3]
Kazuho's Biggest Fan: Rokuro Nomura
At Marukane Department Store, the manager Nomura, Miu, Yu and the sisters of the Marukane Performers are at a meeting where they talk about how the grand finale in the last Narufest will be. After a while, Kazuho arrives and apologizes for being late. Miu and Yu deduce that her delay is because she is working hard at something, and ask if they can help her. Kazuho thanks them for their interest but tells them that it is something she's gotta do on her own for now.
After the meeting, Kazuho arrives at her home, where she prepares to go back to the streets and perform a solo performance. She sings a little before three thugs appear mock her for her efforts, demanding money to continue singing.
To Kazuho's surprise, Nomura appears from the crowd and introduces himself to the thugs to deal with him about any problem or legal process so Kazuho can sing on the street, apologizing for any inconvenience. Before they can continue, several police officers appear to find out what they are doing. Kazuho and Nomura decide to leave to avoid problems.
Kazuho and Nomura go to a cafe to talk about her solo project. Kazuho explains that she is trying to craft a future for herself beyond the Narufest, now that it's about to end. The manager is depressed because he considers himself guilty of it, but she tries to downplay the issue. Kazuho continues the conversation, and explains that she was trying to apply everything she had learned about singing, songwriting, etc. to give another shot herself.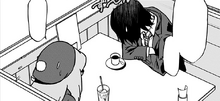 The manager considers that busking alone in the streets can be a bit risky, and thinks the company has ways to help her, and he offers himself to help her, but he becomes depressed again when he thinks how useless he is for it.
Nomura asks Kazuho to let him listen to her song, whose theme is about heartbreak. While Nomura listens to the song, Kazuho thinks that she has no skills for what she is doing but, to her surprise, Nomura gets so moved about her song that he starts crying, and tells Kazuho that her song is amazing.
The manager says he likes the lyrics and song composition: being obstinate in continuing forward despite the pain and difficulties. He gets depressed again because the song makes him spill his guts that he also wants to do other things but now he is at a standstill in his life and job that does not improve at all.
Nomura tells Kazuho that he wants to help her so everyone can listen to her song. It's not that Kazuho rejects the offer, but the help he offered reminds her of when Makoto was the manager, and how she benefited from Makoto's talents as a means to achieve her own success. Nomura becomes depressed for the fourth time after hearing about Makoto. He knows how successful and talented she was when she was the manager, and he feels dejected when a loser like him is compared to her. Despite this, he still wants to help Kazuho and offers himself to be her second producer.
On the way back, while talking about the project, Kazuho and Nomura meet again with the trio of thugs who made fun of Kazuho earlier. The leader is angry because he considers them responsible for the police hassleing him, and wants payback for that. Nomura mutters to Kazuho to run away when she has the chance. Angered, the leader attacks them. Nomura dodges the blow and Kazuho uses her Leap Quirk to jump to the top of a building to be able to call the police.
The main thug attacks again, but to everyone's surprise, this time Nomura manages to defeat him and retains him with a hold. Nomura advises him to quit picking fights, and that he is a hero, showing his hero license to prove it.[4]
Next morning, inspired by the fact that Nomura is a licensed hero as well as manager, Kazuho suggests to Koichi to get the Hero's license, in this way he will be able to perform heroic acts legally while doing his day job. Koichi finds her suggestion strange and Kazuho tells him about Nomura's case, explaining that he got his license to leap into action whenever there's troubles despite being the Manukane's manager is his main job.
Koichi asks Kazuho why she is so interested in what he do, although she denies she is. Then he wants to talk to her about another matter, but Kazuho apologizes because she has to get up to attend a meeting at Marukane Department Store, although she promises that he will hear him later
After the meeting at the Marukame, Nomura agrees with the attendees who will contact the FeatherHATS members for the last performance. As soon as the meeting is over, Kazuho and Nomura leave quickly the place. Miu suspects there is something's up with them. Nobody knows of their plans to carry out a street performance.
After changing her clothes, Nomura tells her that she has the permits so she can sing without problems. Kazuho to sing one of the songs she had composed, to which Nomura had given a few tweaks, and her performance has a great success among the attendees.
After this, Kazuho and Nomura celebrate the success of their performance at a bar. There, they meet the three thugs of the previous day but instead of causing them problems, they congratulate them before leaving, calling Rock to Nomura. When Kazuho asks about it, the manager tells him that it is a simple nickname and that his full name is Rokuro Nomura.
The conversation becomes more serious when Nomura talks about what will happen once Narufest is held and Marukane's event department is shutting down. he will be out of job, feeling like a loser, but Kazuho's songs managed to cheer him up. After finishing drinking, Kazuho and Nomura walk back through the streets.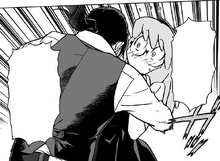 The manager is drunk and continues to ramble, but suddenly he hugs Kazuho and confesses that he wants to be her producer, since he is his biggest fan and wants to do everything possible for her. Kazuho feels flattered by his words, but she still searching for wath it is she can do, besides her songs were for herself and give herself courage. She leaves giving thanks to Nomura for everything.
The three thugs from before appear to encourage Nomura. He confesses that he wanted her to like him, so he puts on that whole act to pretend being someone he is not. The other three advise him to show her his true colors and go seriously for her, without hiding who he really is. Nomura says that they are right and that he no longer needs them, revealing that he is actually Number 6, and attacks them.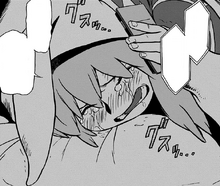 Kazuho returns to the penthouse, where Koichi is dressing and trying to tie a new tie for his next interview. Willing to confess her feelings towards him, Kazuho tells him that she wants to talk, but when Koichi shows her that Makoto had given him the tie, Kazuho leaves immediately, without saying anything to Koichi. Koichi goes after her to know what happens, but she had already left.
When she arrives at her house, Kazuho locks herself in her room and phones her manager. Crying, she apologizes for rushing off earlier and tells that she needs him to be there for her. Sitting on the beaten bodies of the thugs, "Nomura" replies not to worry, that he will help her, since he is her fan and will always be on her side.[5]
Kazuho is Missing
While posing as Rokuro Nomura, Number 6 meets with Kazuho in a cafe to chat. She tells him that she wanted to talk to someone she is close to, although she can't say a reason why she didn't do it, so she doesn't finish her sentence. Number 6 guesses that she is missing courage but Kazuho doubts that is the reason. Number 6 has an inner monologue where he realizes he did not say the proper answer, and quickly suggests to Kazuho that the real reason is because she didn't get the timing right. Kazuho agrees with that assumption and internally Number 6 is glad he got it right with his response.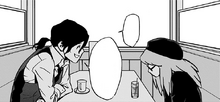 Number 6 envisions his "master" O'Clock providing him with information about how to use his Quirk Overclock to interpret person's subconscious reactions so he can match his replies to the person's replies and move the conversation in his way without the other even knowing. With this ability he can give her the correct answers and the words that Kazuho wants to hear. Number 6 thanks him for "his wise tips".
Back to the conversation, Kazuho says that she still has no confidence in herself. She says her family and friends only know a part of her and she is afraid of being rejected if they know how she really is. Number 6 tells her that will not happen because everyone loves her, and after suggesting a change of scenery, he tells her that what she needs is to calm down, take stock and examine her feelings and then have healthy communication with all of them. Kazuho agrees and leaves with him.
Kazuho recalls a conversation she had with Knuckleduster years ago. After returning to the penthouse after a mission, Knuckleduster found Kazuho cooking curry. He was surprised by this and she told him that she cooks occasionally, and she had decided to cook curry when she learned that Koichi likes it. Kazuho suddenly blushed and asked him if there is any problem.
Knuckleduster said that the way she hides her true motives and feelings is showing signs of cognitive dissonance. He's pretty much saying that Kazuho needs to start being herself more, because if she doesn't, she'll start working against herself, and then she she won't be able to make the right decisions. She angrily thanked him for the tip she hasn't asked for.
At that moment Koichi arrived, and knowing that he has curry to eat, he was happy in a silly and goofy way, which makes Kazuho asked Knuckleduster if he should wear a heart on his sleeve like him. Knuckleduster advised her to do better in moderation.
Back to the present, while walking down the street, Kazuho is lamenting not being able to be honest and upfront, when Number 6 playfully ribs her. Kazuho is glad to have "Rokuro" with her, since he is a kind and honest person, although "Rokuro" denies her saying that he actually has a passionate side and a complex inner life. Kazuho takes his words as another of his jokes, and "Rokuro" reinforces being gruff and mysterious by and decides to invite her to his hideout.
The two go to an abandoned building and "Rokuro" apologizes for the appearance of the place, but Kazuho doesn't care because she knows someone who lives in a similar dump. Rokuro takes Kazuho all the way to the basement and asks her to enter a room. Thinking that there is a studio there, Kazuho does it, but she hardly sees anything because it is completely dark, she only hears a strange buzz.
At that moment Number 6 decides to stop his persona as Rokuro Nomura and reveal himself as who he really is, and before the unsuspecting Kazuho can react, he pushes her into the room and locks her up. Kazuho falls from the unexpected shove and her glasses fall off. Due to the darkness of the room and her eyesight is blurry, she barely sees anything, but soon begins to glimpse corpses everywhere, and that the buzzing is intensifying more and more.[6]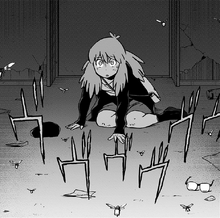 Several days later, at Marukane Department Store, Miu and Yu are worried that neither Kazuho nor the manager Rokuro answer to their calls. Koichi enters the office, pleased that the girls have invited him, but that attitude changes soon when he is informed of Kazuho is missing.
The girls know she was involved with something else besides but they ignore what it is and when they ask Koichi if he knows anything about it. He replies that Kazuho wanted to tell him something the other day but suddenly she stormed out for no reason. He did not give it importance because it is common in Kazuho's behaviour. Miu can't help calling him blockhead for it.
The group decides to organize to find Kazuho. Miu and Yu stay in Marukane to contact her home and school and check her website and social media, while Koichi and the Sisters will check her usual hangouts and look for any clue. While they search for Kazuho, they ask Teruo, Jube and Ichimoku for help to find her.
Koichi spends all day trying to find Kazuho's whereabouts without success. While he is looking for her, he spends his time thinking and reflecting on her and realizes that, although they have known each other for years, he actually knows very little about Kazuho: where she lives, her family, her likes, her dislikes, etc. and what is he to her and what she is to him.
While on a rooftop, he receives a call from Miu who tells him that he must return immediately to Marukane because the police is there asking them questions about the missing Kazuho. It turns out that she didn't return to her home last weekend and her family already filed a missing persons report, and due Kazuho never told her family anything about Narufest, they didn't known to contact them about her.
[[File:Bee☆Pop and Number 6.png|thumb|220px|"Kazuho" turned into a villain.] Koichi prepares to return quickly to Marukane, but without realizing it, several Bomb Bees suddenly appear in the place where he was before and explode, seriously damaging the rooftop and causing him to lose his balance. Using his Quirk, Koichi manages to stabilize in midair and reach a nearby rooftop unscathed, still surprised by those explosions out of nowhere and wondering what happened.
A Bomb Bee that did not explode moves away from the place and flies to another rooftop, where Number 6 stands, now wearing a trench coat similar to Knuckleduster's, along his partner Bee☆Pop, the result of Kazuho becoming the host of the new Queen Bee. Number 6 tells Bee☆Pop through a musical metaphor that the time has come for them to take action.[7]
Bee☆Pop is Born
On the streets, passers-by are shocked by the explosion that just happened. Seeing people begin to gather, Number 6 tells Bee☆Pop that it is time for her performance to begin.
Free to do what she wants, Bee☆Pop continues to cause explosions with her Bomb Bees, as she uses her Queen Bee Quirk to hack phones and televisions in order to many people as possible can see her live show. To all of them she says to pay attention for his imminent performance: The presentation of her remix of the Marukane Department Store – Inferno. To the beat of her own music, she continues using her explosive insects to cause a ton of destruction, rampaging the city block. Kazuho friends and acquaintances appear, looking up and wondering what's wrong with her.
Miu and Yu try to talk some sense into her to get her away from the explosions, but Kazuho replies that all that destruction is incredible and it make her feel really good, and uses his bees to knock down a large billboard on them. It's seems Miu can't get away in time but luckily Koichi appears and manages to save Miu's life.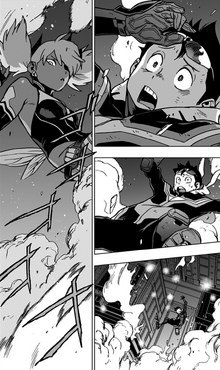 Koichi is completely taken aback by what is happening. He doesn't know what's going on with Kazuho but he can't let her continue causing damage so, after putting Miu safe, he immediately rushes off towards Kazuho, using his Slide and Glide Quirk to jump in the air and with his hand outstretched to stop her. Pops stares at him in the face and mocks that the desperate and clingy act that he's putting on is a little too late.
She then proceeds to throw several bomb bees in the direction of Koichi, exploding around him and making him lose his balance in mid-air, while Number 6, who was observing everything, proclaims it's over for Koichi, as she is no longer the Kazuho that he remembers but something greater.
While Koichi is in his free fall, he manages to locks eye with her as she sticks out her blacked tongue, indicating that she has Trigger on her body, and says to him "I hate you". Koichi is in shock and he begins to plummet to the ground. Pop considers that her "performance" is over and tells everyone present that the next one gonna be a surprise, as a gigantic explosion erupts and she vanishes.
Koichi is unconscious after landing on a pile of garbage in a dark alleyway. From the shadows, Soga Kugisaki emerges takes the unconscious Vigilante away.[8]
Master's Confession
The media is reporting the bombing carried out the other day. One of the reporters on scene is comparing the level of destruction caused with that of the Kaiju Attack three years ago. The news shows images of Bee☆Pop dancing amidst the blasts and laughing to herself, as if she controlled the explosions while reporting that wireless signals the were hijacked to broadcast an extreme loud music during the rampage. Then they broadcast first-hand accounts of various citizens who give their opinion of the attack: some surprised by what happened, others fearful of a new attack.
The newcaster Daikaku Miyagi reports that the police has identified Pop☆Step, a well-known idol from Naruhata, as the main person responsible for the bombings. Because of this, the authorities have register her as a villain through the villain designation registry. This sets a precedent because the designation and registry of a person is usually is reserved for repeat offenders charged with quirk-based crimes, and Kazuho's case is a rare exception due her age and the fact that this is her first offense.
In New York, Makoto has a heated argument with her brother Naomasa on the phone. Makoto complains Kazuho is being treated as a villain, and plastering her name all over the place is clear human rights violation. Naomasa quickly clips back that Kazuho is a wanted suspect for a large-scale quirk based attack, and the fact that she's labeled as a villain means she won't be treated as a minor. Makoto tries to find a hole in those statements when Naomasa says to her to quit arguing just for the sake of it.
Makoto breaks down in tears. Naomasa is aware of her sister's frustration and her desire to help Kazuho. He knows she feels responsible for the girl but warns her to stay where she is and do not try to return to Japan at that time to do something inappropriate, as she could be charged an accomplice. Naomasa tries to comfort his sister, her time to help Kazuho will come because the media is gonna spin this in whatever way that they want to. Makoto then asks him about Koichi's whereabouts, because if there is anyone who can help Kazuho at that time its Koichi.
All the friends and allies of Koichi and Makoto (Miu, Yu, the Hotta Brothers, etc...) are wondering where Koichi is. One of them, Soga, walks the streets while listening to the news through an earpiece. News reports Koichi is currently missing and investigators believe that, as a known associate of Pop☆Step, he may be linked to the incident.
Soga enters an automotive shop, where his friends Rapt Tokage and Moyuru Tochi are taking care of a bruised Koichi. Koichi had just woken up after been out for a very long time. He suddenly remembers everything that happened with Kazuho the other day, and when the boys turn on the TV for him, he becomes immediately fixated about the reports about the called Naruhata Bombings.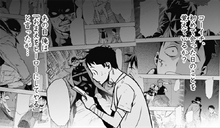 After watching the news, Koichi considers that he should go to the police to tell them about him, Kazuho and everything that's going on. Soga says that's one option, to leave the police and heroes to deal with the problem if he's cool with that. Koichi is confused by the words of Soga, who gives him a letter from Knuckleduster, which surprises Koichi. In the letter, Knuckleduster tells him that if he's reading this, it's probably because he is involved in trouble for which he is responsible, and Knuckleduster is sorry if his personal bussines came back to bite him.
Koichi continues reading the letter, where Knuckleduster tells him that the day they met, he had promised him that he'd make him a true-blue hero, but the thing is, that was a lie,[9] apologizing for deceiving him, although he has complete confidence that he will do great. Knuckleduster continues explaining what a hero is: an embodiment of harmony between Quirk and society.
To reflect this, Knuckleduster tells about the story of a hero he "knew" (it's about him when he was O'Clock). Said hero was an efficient one who had dismantled a large number of criminal organizations. However, at the end of the day, he was nothing more than a particularly efficient cog in the machine meant to uphold societal order, and lacked the means to fight back against true evil (Iwao faced All For One, who defeated him and took his Quirk, Overclock, from him).
Knuckleduster continues with the story, saying that most people give up their ideals and let themselves go when confronted with their own helplessness, falling into despair and harming others (after being defeated and losing his Quirk, Iwao fell into a severe depression and started drinking, becoming a violent vigilante to achieve his goals.)
However, there is a small percentage that even when faced with misfortune continues preserving their goodness. For Knuckleduster, these people are the true heroes, and Koichi is one of them. Though Koichi doesn't know it, Knuckleduster did not intend to make him a hero after he saved him, as he already is one in Iwao's eyes. His hero.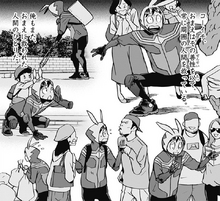 Knuckleduster knows right now he is facing a serious problem, but he is not worried at all. He says there is no shame in running from an overwhelming threat, but when someone is waiting to be saved by him, Knuckleduster knows he will take to action to save them without a second thought, no matter what happens.
Koichi finishes reading the letter, and asks Soga if he knows where Knuckleduster is. Soga states that he doesn't know, and that the last thing he asked him to do is to keep an eye on him and Kazuho. Moyuru says they haven't seen him in a long time and Rapt suggests that he might even be dead.
Soga tells Koichi to forget about Knuckleduster for now and focus on the immediate problem, Kazuho. Soga reveals that she is possessed by parasitic bees that control people. He could let the heroes do the job to stop Kazuho, but the second they try to arrest her, the bees could kill her from the inside and flee. The only other option is to extract the Queen from her head, though this would break many laws, with neither hero nor officer being capable of doing it. Faced with this dilemma, Soga asks Koichi if he will do it.
Koichi replies dubiously that he doesn't know, causing Moyuru and Rapt to complain about his lame answer. Koichi clarifies that he doesn't know what to do but undoubtedly he will rescue Kazuho, and paraphrasing one of the sentences in the letter, when there's only one way forward, it doesn't even qualify as a decision. Koichi's response makes Soga laugh, something his friends do not hesitate to point out, which makes Soga feel awkward.[10]
Koichi's Training
To help Koichi save Kazuho, Soga leads him to an inhabited warehouse that Knucklesduter used as a base of operations, and that he bequeathed to them to use everything there. Around the warehouse, Rapt spots some shotguns which Soga quickly tells him to not play with because they're loaded.
Koichi finds a map of the Naruhata Station, and spots x's on buildings and a highway that were destroyed during the Kaiju attack, and notices it hasn't been updated in three years. Koichi then spots circles with arrows showing his route where he would lure the villains or chase them so Knuckleduster could cut them off with his pincher attack. Kazuho's route was also listed giving her the highest viewpoints. Koichi admires that Knuckleduster wasn't wild in his idea and that they were calculated. Koichi is happy reminiscing about the past where Rapt and Moyuru take note of.
After, Koichi spots Kuin Hachisuka's route, but doesn't recognizance it personally. Their jump ability wasn't as good as Kazuho, and on ground didn't match Koichi. Interested why Knuckleduster was after them, Soga tells Koichi that case is closed but to reference the strategy used. Soga ask Koichi if he could possibly corner "Kazuho" the same way. Unsure, Koichi says she can easily kick of walls and leap over buildings and their best option is catching her in mid-air. That becomes the plan.
Soga expands the plan into three task that need to be done in the next interaction with "Kazuho". The first is to arrive before the Heroes and Police Force, second is for Koichi to grab her in mid-air and third is to Koichi to met back up with Soga, Moyuru and Rapt. Following this, Soga will be in charge in giving first aid and they'll all bring her to the hospital. Rapt is happy to help, but Moyuru is unsure if he wants to commit crime due to meddling on hero work.
Soga assures that he will take full responsibility and begins training Koichi, first off with stamina tests. Koichi accelerates with his Slide and Glide Quirk leaving Moyuru and Rapt surprised for his acceleration, although Koichi assures that he can pick up more speed on long straightaways.
Koichi proceeds to showcase his mid-air jump that only allows him to do two or else he won't have power to land on a wall safely. Koichi explains he could climb high with his wall cling but it depends on momentum and focus. Soga suggest timing his breathing could improve his two moves. Target practice follows after where Rapt throws empty soda bottles up in the air thus Koichi blast them with Shooty-Go-Blam. Moyuru and Rapt our impressed with his aim but Soga wants to see his true strength.
This makes Koichi recalling a conversation he had with Kazuho years ago, where he asked permission to use his Shooty-Go-Blam. Since is a powerful attack, She said to Koichi that it was off-limits, besides he needs a hero license to use it. Koichi tried to barter with her that he can only use it in emergencies and he can control how much power he needs at the moment, leaving Kazuho unsure.
Koichi decided to do a fast test, and practiced blast in the penthouse. Koichi shot his Shooty-Go-Blam with various intensities at cans to calculate the appropriate force so that the shots are not really dangerous. To kazuho's annoyance, he used her face reaction as a means to measure what is "acceptable" because that's how he will remember.
Back to the present, Koichi fires Shooty-Go-Blam right through multiple soda cans causing Moyuru and Rapt to be scared. Koichi explains when he puts all his focus onto the power core of the move it becomes more powerful and range increases. Rapt comments commits that it'd could kill someone, but Koichi thinks to himself he knows it off-limits but it his only choice now. [11]
After this demonstration, Soga wants to check Koichi's ability to snipe with his Slide and Glide Quirk, so he makes him shoot from twenty meters away against three targets, two round and the other human-shaped. Koichi uses his new Ultimate Move, Shooty-Go-Kablam, and shoots several concentrated air bullets.
Moyuru and Rapt are confused by Koichi's aim. He did hit the round targets with no problem, achieving even bull's-eyes. However, for some reason, he couldn't land a single shot on the human-shaped target. Koichi also does not understand the reason why he misses.
Soga concludes that he subconsciously makes himself miss people-shaped targets, making him rethink the strategy against Kazuho. Since Koichi is unable to use his full-power shots against people and the Shooty-Go-Blam has not enough range and speed, he must use his mobility and martial arts to back her into a corner.
Over the next few days, Moyuru and Rapt help Koichi to train, while Soga is planning the entire mission, studying maps of the area, planning what are the best options when it comes to taking action, watching videos of Bee☆Pop's attack to analyze every aspect of her Quirk, etc.
One day Moyuru returns from shopping and recon on the area of Pop's attack, informing Soga that the reconstruction is progressing slowly as another attack is feared, there are hardly any people in the streets and that most of the shops are closed, and that there are numerous heroes patrolling the area.
Soga continues watching videos, analyzing every single aesthetic of Queen's attack to discover every detail about her physical abilities, the destructive power of bees, her control over the swarm, etc, although he admits that it is not an easy task because the videos are taken by fans and not of very good quality. Moyuru advises him to take it easy. When he watches the videos, Moyuru thinks that Pop looks like somebody that's just playing an extreme prank, but Soga replies that, for him, Pop looks like she is suffering.
Koichi, who's listening on, resolves to have a talk with her, sure that Kazuho will listen to reason. Rapt and Moyuru doubt that his idea will work considering how their previous confrontation ended. Koichi reminisces that on the previous occasions when Kazuho had been mad and he didn't know why, he just spent some time with her and then everything ended up somehow fixed, reason why he thinks that it could works with the current situation. Moyuru and Rapt are still skeptical.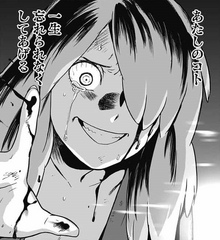 Soga orders the three of them to rest while he puts together a strategy by morning. Moyuru askes Soga to substitutes him, as he should get some rest too. While Moyuru searches for decent videos, he tells Soga that, considering the situation, helping people is kinda fun. Soga just tells him to take the work more seriously.
Meanwhile, in a high-rise apartment, a possessed Kazuho is bloodied and nearly broken. She crawls from her bed to the apartment window to look out towards the city, while her mind is filled with violent thoughts confusing strong feelings of love and hate. She cries over Koichi, saying he will never forget about her, as her left eye bleeds.
The next morning, the police organize several Pro Heroes in groups of two with the mission of patrolling and protecting the streets of Naruhata that were still being rebuilt by last week's attack. Among these heroes is the Villain Number 6, under the alias of the Pro Hero Rock. He's partnered up for a patrol with another Pro Hero, Compass Kid, who from the first moment shows a friendly attitude towards Rock.
While on patrol, Compass Kid tells Rock that his wife does not like the idea that he used his day off to participate in such mission in which he would not be well paid instead of spending time with the kids, but for Compass it is important to give peace in mind to the people of the town. Rock agrees with him, adding that they are not there just for general crime prevention but also as a precaution against Pop in case she decides to attack again, something Number 6 is sure is going to happen that day.[12]
The Final Performance
As the "hero" Rock assured, Bee☆Pop was already there, ready to start her "performance", but before starting, she has a memory of Kazuho when she was still a child.
After watching television, Kazuho asked her mother who were the people who appeared on television, to which her mother replied that they were celebrities, like Heroes or performers. Newly inspired to one day appear on TV herself, Kazuho wondered aloud which profession would be easier, and her mother replied that she didn't know but that Kazuho should go down the path she likes the best, either a Hero who saves people when they're in trouble or a performer who sings and dances to make people happy. Kazuho smiled and said that she wanted to sing and dance.
The memory ends, and Bee☆Pop prepares to attack the streets of Naruhata again, while singing and dancing.
Nearby, Compass Kid is patrolling the streets along with Rock, while having a friendly chat. Compass Kid talks about how his catchphrase is not too well received, and that he has found a job that provides more benefits than being a hero, but before he hangs up the cape for good, he would like his children to see him looking cool.
Their talk is interrupted by a sudden explosion, followed by many other explosions. Bee☆Pop uses her Queen Bee Quirk to hijack the radio spectrum and broadcast her rampage. Compass Kid tries to call the HQ, but his phone doesn't work, so he tells Rock that the only thing he can do for now is evacuate civilians while they wait for the arrival of backup. More and more heroes begin to get to where Bee☆Pop is, although this does not worry her. On the contrary, their presence stimulates her even more to continue with her "Showtime", playing her musical theme "Inferno" once again.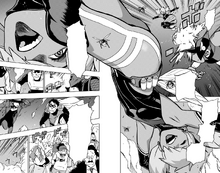 While the attacks are taking place, Koichi and Kazuho's friends and acquaintances take cover at Hopper's Cafe, watching the Kazuho rampage online, and expressing concern over the situation. Ichimoku asks the others if there is nothing they can do, but he is replied that there are already a lot of heroes on the scene, besides it's no place for civilians to be butting in. Kirihito specifies not ordinary civilians anyway.
At Knuckleduster's warehouse, Koichi had come out to cool off when he saw the city being attacked in the distance. He immediately communicates this to Soga and the others, and they prepare as soon as possible to head to the disaster area and put their plan into action to stop Bee☆Pop.
Meanwhile, she continues destroying the city using her Quirk. The heroes stationed there try to stop her, but Queen uses her Bomb Bees to make them fail in their attempts, causing even more destruction. On a rooftop not far from there, detective Naomasa observes Bee☆Pop easily outmaneuver the heroes on patrol, taking advantage of the lack of teamwork due to their hasty formation and having cut off communications with her bees.
Suddenly, someone behind him protests the sickening music he was hearing, and expresses his displeasure that the villain's got a lot of nerve to titled that unpleasant noise as "Inferno". The person protesting is none other than the Number Two Hero Endeavor, who is ready to take action and give Bee☆Pop a firsthand taste of a real inferno.[13]
Koichi and his allies head towards where Bee☆Pop is, but they cannot continue because they got stuck in a gridlock traffic due her rampage, so Koichi decides to go ahead, while Soga, Rapt and Moyuru try to reach the place by another way. Suddenly a siren starts, which confuses Soga and his friends.
Not far from there, while evacuating citizens, Compass Kid and "Rock" let out a sigh of relief when they hear the siren. They calm the citizens by telling them that the horn indicates that a hero team is about to deploy and ask them to take shelter in a nearby building. Compass Kid uses his Pointer Quirk to find people who haven't manage to flee and asks Rock to help him with the evacuations.
On a rooftop, Detective Naomasa discusses with Endeavor. He reminds the hero that the mission is to capture Pop☆Step. The problem is that Endeavor considers the villain too dangerous. He states that Pop Step has a Quirk powerful enough to blow up the town with ease, having the threat of a small, well-trained army. Therefore, Endeavor states that the best option is to annihilate her by wide-scale assault, leaving Naomasa in absolute shock.
Down below, Compass Kid reports that all citizens of the area have already been evacuated. The Flaming Sidekickers send up signal flames to Endeavor to let him know that everything is ready, and he uses his Hellflame Quirk without worry. Naomasa calls out for Endeavor to wait but the hero enters the fray and uses his Ultimate Move Hellfire Storm, releasing an intense hellfire tornado towards Pop.
Naomasa is impressed to see the giant whirlwind of flames. Although it may give the impression of being a crude attack, he realizes that Endeavor is actually controlling the tornado precisely to minimize damage to the city. Little by little, the bees begin to explode due to the intense heat of the flames, as the tornado gets closer and closer to Pop, who seems unable to react in time to the incoming, flaming death.
Suddenly, Burnin yells out for Endeavor, who with displeasure has to cancel his attack, to everyone's confusion. Angry, Endeavor shouts out to Naomasa that he though they ordered everyone to get out, so he asks him why there is a twig of a hero who got in his way. From the top of the building, Naomasa realizes that the "twig of a hero" is none other than Koichi, sliding down the streets going after Pop, and tells to Endeavor he is the Naruhata Vigilante, The Crawler.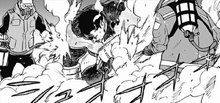 The enraged Endeavor claims that a vigilante is nothing more than a wannabe who pretends to be a hero without a license, and therefore, to him The Crawler is nothing more than another villain.[14]
Despite his oath, Endeavor starts to suffer from fatigue due to overusing his Quirk. A group of sidekicks come to his aid and extinguish his body with firehoses. Naomasa arrives to witness the Pro Hero slowing down in momentum, warning the others to pull back as Bee☆Pop is headed their way with her explosions.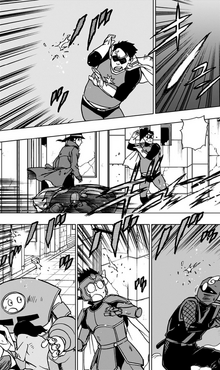 Endeavor refuses to simply back down and instead commands the detective to deploy the patrol squad, to which Naomasa admits the team is ready for anything. Endeavor angrily notes that he plans to burn everything down, including The Crawler, once he fires up again, no matter what it takes.
A signal is sent to indicate the other Heroes to go ahead and apprehend Bee☆Pop. Somewhere in Naruhata, "Rock" and Compass Kid notice the siren as well. Compass Kid wonders why Endeavor has stopped attacking, with Rock explaining it's due to the flaws of Endeavor's Quirk on his body. With that being said, Compass Kid suggests they go further to capture the villain and runs ahead, only to come face to face with a Bomb Bee.
Before the bee explodes, it is suddenly destroyed by a blast. Out of nowhere, Koichi slides right past the duo and begins aiding other Heroes by blasting the Bomb Bees to smithereens using his blasts. Koichi screams for Pop's name with fierce determination while continuously destroying the insects. Recalling Soga's advice to only shoot down the bees, Koichi continues his attack but ends up running right into a swarm of Bomb Bees.
Koichi avoids their assault and tosses a homemade smoke bomb filled with a pheromone that attracts bees to get rid of them. Koichi also encounters two Heroes that try to restrain him but instead allows them to follow his lead while preparing to initiate Soga's plan to save Pop.
At the same time, Number 6 realizes that Koichi is trying to ruin his plans and decides to take action as well. Using Overclock, he instantly jumps up onto a building and pulls out his gun, readying himself to make a clear path for Bee☆Pop. He manages to take out the Heroes that were pursuing Koichi, and one who was chasing Pop.
Compass Kid witnesses the situation and informs Number 6 that some Heroes have been shot dead. Number 6 attempts to mislead Compass Kid by saying that "The Crawler" was the one responsible for this mess. This plan backfires as Compass Kid points out that he noticed Koichi was aiding other Heroes, while the person who shot them was someone else, so he uses his Pointer Quirk to find the one responsible which, to his shock, turns out to be Rock
Compass Kid is immediately grabbed and dragged to an alley where his "ally" plans to kill him. Number 6 drops his facade and irritatedly tells the Hero that he is just an "opportunistic scum" that doesn't care about his family. When Compass Kid reveals that his family means the world to him, Number 6 is taken aback and is actually impressed by Compass Kid's resolve. Unfortunately, Compass Kid knows his true identity, so Number 6 activates the Bombers cells in his arm and blows him up. The only thing left of Compass Kid is his disembodied hand, still pointing at his own killer.
After brutally murdering his "partner", Number 6 puts back his disguise and leaves the scene. He notes that everything is falling into place. Now that Koichi is drawing closer, the villain reveals it's about time for Bee☆Pop to perform her final and greatest performance for everyone to see.[15]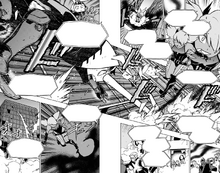 Seeing Koichi approach her, the controlled mind of Kazuho begins to imagine a life her and Koichi could have together if all this had not happened. She sees him and her continuing to fight crime, and then get married and growing up together to have kids. Bee☆Pop takes that envisioning future out of her mind, thinking it doesn't exist for her anymore. With a sadistic looking face, she declares that she's gonna be singing her newest single "Bloom".
While Koichi runs towards her to face her, Koichi recalls an earlier conversation with Soga, in which he told him that if the bees hear Pop singing, they're going to instantly enter attack mode. Soga explains that after having reviewed and studied the footage, it seems Pop doesn't have control on every bee normally, but when she starts singing, the bees all enter attack mode.
Bee☆Pop starts singing her song, making the bees attack. Koichi dodges her precise explosions and fights back. Meanwhile, not far from there, detective Naomasa points out that the explosions have changed patterns and that it kind of looks like a mid-air battle or a game of tag is taking place now. Endeavor tells him that it doesn't matter, and recites that when his cool down ends, he's gonna solve this entire problem.
At Hopper's Cafe, friends of Koichi and Kazuho are watching and listening to Bee☆Pop's song. Some of Kazuho's fellow idols notice the context of her lyrics. They detail her passion and desperation, as well as fleeting presence in Koichi's life, an incredible sizing up of her weaknesses and inabilities, put out there for all to see. Miu realizes what Pop's words truly mean and starts crying, as she considers it a pathetic, desperate song.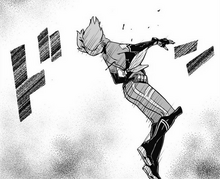 Bee☆Pop finishes her song, and moves to the sky, content that everyone understands her now. She thinks her final goodbye to Koichi, as she says she will shine brighter than ever, as the bees gather around her. The bees begin forming a circle around Bee☆Pop while continuing to attack Koichi and explode to keep him away. She monologues some pretty mean and downright heavy stuff towards Koichi, saying everytime Koichi will look at a sunset, he will be forced to remember her and his inability to save her. Observing the battle from afar, Naomasa deduces that Bee☆Pop is planning to blow herself up, ending her life.
As Koichi begins to fall from the explosion, he pulls out Knuckleduster's grappling hook that Soga gave him as insurance in case his Slide and Glide failed him. Hooking onto a nearby building, Koichi uses it to propel himself towards Pop one more time, using a double jump on top of that. Yelling out her name, he surprisingly makes his way to Pop.
When she notices him, Kazuho's real mind begins to break through the mind control that Queen Bee has over her. She seems to be going to reach out for Koichi's hand as she says his name, only to get shot in the chest. Standing in the streets, with the smoking gun in his hands and a smirk on his face, Number 6 states that Pop seemed to be forgetting her dream, but fortunately for her, he is here to make sure she doesn't, as he is her biggest fan.[16]
In horror, Koichi watches Kazuho start falling to the ground after being shot. He immediately dives to save her, grabbing her before she hits the ground and managing to land with little trouble in an alley. Once on the ground, Koichi checks that Kazuho is still breathing, so she must be treated immediately. Unnoticed by Koichi, Number 6 approaches him and greets him.
Koichi ask him if he is a hero, and if he can let them through here because his friend requires medical attention because someone shot her. Number 6 smiles at Koichi and says he was the shooter, calmly stating that he shot her a special syringe containing a drug that controls the bees, since desperate times require desperate measures. Koichi was wide-eyed at first but he calms down after hearing the hero's explanation
As Koichi tries to contact his allies, Number 6 begins to monologue, although Koichi doesn't pay much attention to him as he was trying to make a call. As he puts on a domino mask, Number 6 says he feels a little sorry about Pop's situation, since she doesn't look like an ordinary villain, rather there is a villain who has been manipulating Kazuho from the shadows. Koichi finally realizes that something is fishy about that hero, especially when he sees his hand transform. Number 6 declares that Koichi is the villain and he, as the hero O'Clock II, will beat Koichi into a pulp with his fist of justice.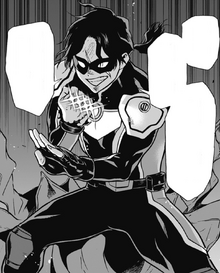 O'Clock II asks Koichi if he nailed his monologue properly and that there's two reason why he's droning on and on. The first reason is that every self-respecting hero needs a story behind them, and for this having an arch nemesis is essential. Increasingly suspicious, Koichi tells him that he does not have time for his monologue, to which Number 6 agrees, and clarifies that the second reason of his speech is that he is buying time for the drug to kick in.
Koichi watches in shock as Kazuho begins to convulse and the bees leave his body. Number 6 explains that he had shot Kazuho a drug that makes the Queen Bee and the hive eager to self-destruct, and clarifies that it is a tool designed to destroy all the clues about the experiment, including the host.
Suddenly, overwhelming amounts of explosions begin to trigger, as Koichi runs away with an unconscious Kazuho in his arms. Since he is holding Pop, Koichi cannot fight back, so his only option is to skedaddle and meet up with Soga and the gang for help.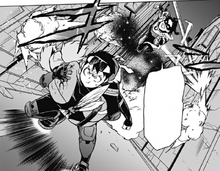 On top of a building, Number 6 watches Koichi manages to dodge the explosions. For the villain, Koichi's flashy getaway benefits his plans and states that when the time is right, he will swoop in and take down Koichi, while "tragically" the villain Bee Pop blows herself up, and after this "tragedy" he will swear on her wretched soul to never let such a thing happen again. In this way, he will create the "heartbreaking" debut of O'Clock II that will make people instant fans of him, because everyone will eat that mummery up with a spoon.
However, Number 6 realizes that his plan will have to wait because Koichi is managing to escape. Using his Overclock Quirk he approaches Koichi and prepares to attack him with an explosive punch. Koichi notices Number 6 encroaching on him, although the villain does not care much since one punch is all it's take to defeat Koichi. Then he realizes he can't keep up Koichi, and notices that the force field of Koichi's Slide and Glide Quirk under his feet are changing. Koichi then uses his super move Extra Oomph to dodge the explosion from Number 6.
The villain dust himself off, and while he regenerates his arm destroyed by the explosion, he states Koichi is a cheater for suddenly boosting his speed, making his plan not work as he had planned. For this, he proclaims Koichi must be punished. Number 6 continues chasing Koichi, while planning the best way to kill him, when he suddenly sees Endeavor appear in front of them, with his Hellflame ready and proclaiming that cooldown is over.[17]
Endeavor is staring at The Crawler as he is approaching him. He realizes that Pop☆Step is hurt, and as long as The Crawler is carrying her, he cannot hop around. Endeavor states that Koichi won't get away, calling him an All Might hoodie-wearing punk.
As he gets closer and closer to the number 2 hero, Koichi reflect that the heat Endeavor is emitting is increasing, but in his current situation, being chased by a swarm of exploding bees and another "hero" who wants to kill him, he cannot stop and neither can waste time to reach Soga and get Pop help.
Number 6 keeps chasing Koichi. He lost the opportunity to kill the young vigilante earlier, but since he has not been noticed by Endeavor, he believes he's gonna be able to do it, as soon as Koichi goes into some alley in order to avoid the flaming hero. To the villain's surprise, Koichi neither stops nor swerves, instead, he dives right into Endeavor, which makes him wonder if he is nuts. Seeing The Crawler is darting straight towards him, Endeavor starts shooting fireballs at him, which Koichi dodges as best he can.
To Number 6's dismay, the situation is not favorable to him at all. He wants to take credit for defeating The Crawler, so his plans to become a recognized hero will come into fruition, but if Endeavor defeats him first, everything he has worked for will go to hell. Therefore, he considers the possibility of announcing his presence to Endeavor and fight alongside him to take down Koichi, and in this way get some credit even though not this is not how he would like it to be.
Koichi continues sliding and gliding in between every single one of Endeavor's fire blasts until at one point Koichi's hood flies up due to one of the blasts. Seeing the hoodie's antennas, which reminds him of All Might, causes Endeavor to get even more enraged and uses his super move Hell Minefield.
The ground begins to explode from the attack, forcing both Koichi and Number 6 to jump to dodge the ground level attack. While in mid-air, the villain thinks he has managed to get to safety, but then Endeavor lets off a huge explosion, which takes out all the bees. Number 6 realizes too late as he deduces Endeavor's move is a two-folded attack and begins to get burnt in mid-air, claiming that one little mistake is ruining his whole plan.
While burning alive, Number 6 sees Kocihi floating above the flames thanks to his Quirk, and then he notices Koichi holding his breath as the energy at his feet begins to transform again, allowing the young vigilante to blast off and fly into the sky, leaving everyone dumbfounded. Before become engulfed by flames, an enraged Number 6 watches Koichi escaping his grasp.
Up in the skies, the energy at Koichi's feet runs out, and as he and Kazuho begin to fall, Kazuho manages to say his name. Koichi holds Kazuho in his arms and assures her that it's gonna be okay.[18]
A Hero's Dreams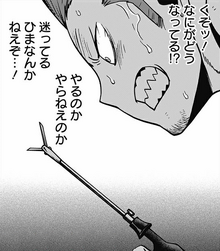 After rescuing Kazuho and fleeing through the air, Koichi uses his Slide and Glide Quirk to head towards the position where Soga and his allies are in order to extract the Queen Bee from Kazuho. What he does not know is that Midnight was nearby, and she saw him fleeing through the air, so she decided to follow him.
Koichi pronto arrives at his allies, and Soga prepares to perform the operation on Kazuho to remove the parasitic bee from her head, but Koichi stops him before he does, warning him that Kazuho has been shot with a drug. Frustrated before that unforeseen event, Soga no longer knows if he should carry out the operation: He cannot allow the bee to remain inside but he cannot extract it either for fear that it could end badly for Kazuho. To the boys' surprise, Midnight appears at that moment.
The heroine reassures Koichi and the rest by telling him that she is there to help Pop, just like them, but demands to know why they haven't taken Pop straight to a hospital to save her. Soga replies because the swarm will attack if they don't act pronto, but then he realizes that there are no more bees and asks why, and Koichi replies because Endeavor destroyed them all. This is good news, but Soga reminds that the Queen Bee is still inside Kazuho's skull, totally altered and stimulated by the drug, and if it is not removed as soon as possible, it's gonna mess with her body.
Understanding the situation, Midnight asks the boys to hold their breath for a few seconds as she uses her Somnambulist Quirk on Kazuho, ​​putting both her and the parasitic bee to sleep. Now all they have to do is take Kazuho to a hospital where she can receive the appropriate medical care.
Just at that moment, a furious Endeavor appears willing to stop Pop and The Crawler. Soga immediately goes on the defensive, but Midnight stops him and reasons with Endeavor that the villainous Bee☆Pop has been captured and that she urgently needs medical care. Endeavor then asks her about The Crawler and Midnight replies that he slipped away.
Endeavor ponders for a few seconds, unaware that Koichi was still hiding nearby, and decides to allow Midnight and the others to take Pop to the hospital. He is sure that there is something bigger in the whole thing, and that Kazuho may have answers, so he needs her alive to be able to interrogate her.
Endeavor is left alone in the alley for a while, trying to find some clue about The Crawler, but Koichi manages to sneak away without him being aware of his presence. Frustrated, Endeavor breaks a pipe to make the water extinguish the flames of his Quirk and cool him down.
Koichi reaches a rooftop without Endeavor notices him, but once there, he meets a person shrouded in shadows. Koichi identifies him as O'Clock II, the hero who attacked him earlier, but he corrects him by saying that O'Clock II's story has been shattered even before it started, and in those moments he is the nameless Number 6.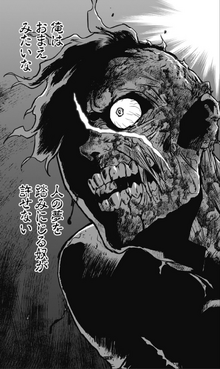 When seeing his interlocutor better, Koichi is horrified to see that he is completely burned and offers to help him. Number 6 thanks him for his concern but rejects it, telling him that his body will heal despite the severity of his injuries. In addition, Number 6 confesses that in those moments his main problem is not his burns but his entire existence. Koichi doesn't understand what he means and continues to insist on helping him, but Number 6 orders him to shut up and listen to what he has to say.
Number 6 confesses that he has never had an identity or origins that were his own, he was an empty shell without his own existence, and had planned for years all that operation to be reborn as the great hero O'Clock II, but Koichi's intervention had ruined his plans, and calls him a garbage who destroys others' dreams. However, despite everything, now the things are clearer than ever to him.
Until then, everything about him is fake, made up, but the anger and hatred he feels for Koichi is genuine and real, so once he's done with him, the tale of O'Clock II truly begins. Number 6 swears that he will kill him, but first he will kill Kazuho as he cannot allow her to reveal his secrets. Once they are both dead, he can finally be the real him.
After confessing his intentions to Koichi, Number 6 collapses. Koichi tries to approach him, but Number 6's charred body crawls away at full speed, leaving a trail of blood resembling skid marks.[19]
Inquiries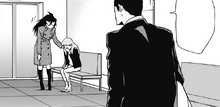 After the bombing, Naomasa Tsukauchi goes to the maximum security hospital where Kazuho is admitted. After being bioscanned and checked by an officer, he meets Midnight and Kazuho's mom inside. Impressed by the high security of the hospital, he discusses with Midnight if is really necessary for Kazuho to be there.
She replies that Soga and his friends were pretty insistent. Since Kazuho was admitted the Hospital receives inquiries from unidentified individuals and the alarms start going off. Midnight tells him that she would like to transfer her to an even more secure and isolated facility, but unfortunately she is in no condition to be moved.
Later, at he police station, Naomasa interrogates and questions individually Moyuru Tochi, Rapt Tokage, and Soga Kugisaki in the aftermath of Kazuho Haneyama's admission to the hospital. Moyuru and Rapt tell conflicting alibis to why they were near the spot where she and The Crawler fell, while Soga keeps his mouth shut and glares at the detective.
Naomasa tries to reason with him saying that they are not treating him and his friends like criminals and that he knows that Kazuho is not a typical villain, but that he needs information to work with. Soga simply replies that if he wants answers then he should talk to Pop, and asks if she is out of surgery. Naomasa confirms this, and that Midnight asked him to give them the updates.
Naomasa informs Soga that the Queen Bee has been successfully extracted, but that Kazuho has not yet regained consciousness and will probably suffer long-term consequences. He also tells him that Midnight let him know that it was him and his friends who saved Kazuho's life, so he chooses to believe that. In return, Naomasa wants to know were Koichi is.
Soga rolls his eyes and tells him that he wastes his time looking for Koichi, and that what he must do is protect Kazuho from the person who wants to kill her. His reply makes Naomasa run out of patience and belts out screaming at Soga, saying that this is not the time for vigilantism as several people have died because of the incident. Soga just replies that if the bodies are weighing on him, maybe he and the police should do their job properly.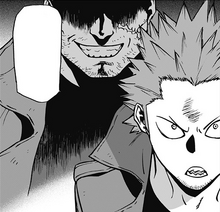 Naomasa remains silent for a moment, until Soga asks him to bring in detective Eizo Tanuma. Naomasa complies, and calls Eizo in, who tells Soga that he knows about his involvement with Trigger a few years back. Eizo notes that Soga has a different feel to him compared to back then, reminding him of a certain ally, grabbing Soga's attention.
Upon the mention of his former employer Knuckleduster, Soga brings up an analogy that he told him about. Soga explains that Knuckleduster saw that the way the world works is like a pair of cheap socks, saying that holes are bound to open up at some point. Swapping out for new pairs wouldn't work either, as they will get holes too, so the only thing they can do is put another pair of socks on top of the old ones. Eizo chuckles at the analogy, and later lets him and his friends go.
Naomasa is bewildered that Eizo let the thugs go, while the latter tells that it's better to pit troublesome people like them against actual villains. As the three former villains walk away, they see Naomasa and Eizo looking down at them, but they continue walking away. Naomasa tells that he will continue watching them, as well as The Crawler, while Eizo nonchalantly pokes fun at his uptightness.
Meanwhile, Koichi is watching the news on his cellphone, seeing that Endeavor is credited for taking down Pop☆Step, although public reception on his actions were met with some controversy due to the crudeness of his attacks. The news also informs that several heroes on the scene were wounded or killed, and are thought to be the actions of an accomplice of Pop☆Step's.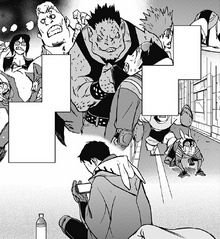 Koichi internally monologues about how he was always bad at reading the room, and that he was always great at accidentally annoying others, who would often beat him up or say violent things to him. He explains that that is usually just in the heat of the moment, and that once talking everything out, they would calm down. But Koichi notes that when he was confronted by that person on the roof, he felt serious, although Koichi admits he didn't get most of what he saying. Koichi wonders that if there is someone genuinely out to kill him and Kazuho, does he have a chance at stopping them?
Back at the warehouse, Soga explains that Kazuho's hospital is on total lockdown, and that the only way in and out is through the ground level entrance. Since they don't want the villain getting that far, he says that they will have their own security checkpoint outside. Moyuru nervously asks that if they encounter the actual villain, wouldn't they still be dead. Soga explains that there would be no need to fight, so they can just run away, and that the entrances will lock, the alarms will go off, and the police would be informed.
Soga, Rapt, and Moyuru decide to secure the hospital by setting up an outer perimeter checkpoint outside to catch anybody suspicious. They question a man, who is claiming to be there for an A.C. repair job. They ask him to open his toolbox but he protests so Soga gives a signal and blast shot the toolbox out of his hands, revealing a camera. Soga states he is with the media, and the fake repairman begins to panic and looks around about who just fire a blast at him.
Koichi is camped out on a nearby roof, being the one who shot the blast with great aim. Koichi takes a sigh of relief when Soga confirms him that the man is not a threat. Koichi resolves that since someone is seriously trying to kill Kazuho, he should get serious at stopping him too.[20]
Story Impact
Koichi has been a vigilante for 3 years.

Koichi is currently looking for a job. He plans on retiring from vigilante work once he does.
The Hotta Brothers have opened Hopper's Cafe, which employs several former Instant Villains (including Kirihito Kamachi, Ikajiro Takobe, and Teruo Unagisawa).
Makoto has become a celebrity in America ever since graduating from Marvelous Central University. Despite this, she plans on returning to Japan in hopes of starting a family with Koichi.
Most members of the FeatherHATS have left the group due to either jobs or studies. The only remaining members are Kazuho, Miu, Yu, and the Sisters of Saint Lila's Academy.
Due to the dwindling popularity of Narufest, the management of Marukane Department Store has decided to end the event with their next one.
Number 6, having survived his battle with Knuckleduster and cultivated Kuin's last surviving bee into a new Queen Bee called Bee☆Pop, has assumed the alias of "Rokuro Nomura", the new manager of the FeatherHATS as well as the Pro Hero O'Clock II.

Number 6 tricks Kazuho into becoming the Queen Bee's new host.
It's revealed that All For One is the one who stole Knuckleduster's former Quirk.
Kazuho manages to break free of the Queen Bee's possession.
Koichi and Number 6 meet for the first time.
Number 6 is defeated and resolves to kill Kazuho and Koichi.
Characters Introduced
Quirks Introduced
Pointer: Compass Kid's Quirk allows him to point in the direction of any place, person or thing he is looking for.[21]
Battles & Events
References
Site Navigation