Jurassic World: Dominion Dominates Fandom Wikis - The Loop
Play Sound
Explosion (爆破, Bakuha?) is the Quirk used by Katsuki Bakugo.
Description
Explosion allows the user to excrete nitroglycerin-like sweat from their palms and ignite it at will to create explosions of various sizes.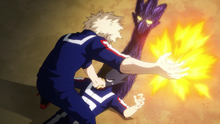 Through either one of his palms, Katsuki creates fiery shock waves that are highly powerful and destructive, often burning and/or shattering whatever they hit, with Katsuki himself being immune to them, save for some recoil. Because this Quirk generates light, it's a natural counter to Dark Shadow, which thrives in the dark.
The more Katsuki sweats, the more powerful the explosions become.[1] This essentially means that Katsuki's blast gradually grows in power the longer he combats since he will naturally sweat more through ongoing physical activity.
Weaknesses
During cold weather, the nitroglycerin-like sweat requires a slightly longer time to detonate, as opposed to warm weather, where conditions are optimal for ignition.
Repeated explosions, particularly large ones, eventually result in throbbing pain to Katsuki's arms and shoulders.[2][3] Additionally, creating explosions with both arms at the same time causes their overall strength to disperse between both limbs, leading to individually weaker blasts.
Due to him being limited to producing explosions from only his hands, which are also where his Quirk Factor is, Katsuki will be unable to utilize his Quirk if he loses the said limbs.
Usage
Katsuki is very proud of his Quirk. Throughout his life, people frequently commended Explosion, leading Katsuki to develop unrealistic expectations of himself, which he wasn't able to live up to. As a result, he acted arrogant and condescending to others to cope with his painful feelings of inferiority. Before getting into U.A. High School, Katsuki had the habit of using Explosion as a means of threatening and bullying Izuku Midoriya, and while he has dropped that practice for the most part in the present, he still likes to use his Quirk to intimidate foes during fights, usually by creating miniature explosions around both his palms.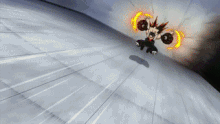 Katsuki is able to use Explosion to propel himself through mid-air, blind opponents, and release long-range blasts, among other applications. Explosion is a versatile Quirk, especially for battle situations as the recoil caused by the blasts can be exploited for mobility purposes. When coupled with his fighting talent and intelligence, Katsuki can come up with new moves with little difficulty, even having a few ready by the time he started U.A. High School's school year. Thanks to Katsuki's battle ingenuity and natural aggression, Explosion tends to be a very overwhelming Quirk for others to face off against.
In battle, Katsuki prefers all-out offense, using his Quirk's propulsive abilities to close the distance between him and his opponents, followed by a bombardment of close-range attacks that are often started with a powerful right hook. Despite having great mastery over his Quirk, Katsuki tends to recklessly cause unnecessary damage to his surroundings, which is a common issue with hero work, as it may jeopardize missions that require more careful approaches.
As mentioned by Katsuki himself, the Grenadier Bracers from his costume serve to reduce the risk of physical strain caused by overusing his Quirk.[3] These bracers store part of his explosive sweat, with Katsuki being capable of igniting all of it at once by triggering one of the bracers' firing pins, releasing a massive blast that, while devastating, tolls the shoulder of whoever uses it, although Katsuki seems to be completely unfazed by this due to his superior physical ability. Katsuki also carries around grenade-like containers that can be filled with his sweat, allowing him or someone else to use them as actual explosives.
Named Super Moves
References
External Links
Explosion - Wikipedia article about the phenomenon Katsuki can create with his Quirk.
Nitroglycerin - Wikipedia article about the substance Katsuki produces from his hands.