We're Getting Mutants in the MCU - The Loop
Play Sound
The Eraser Goggles are the goggles that Shota Aizawa, known as Eraser Head, carries with him. They have become a characteristic element of him, to the point he's almost completely unrecognizable to the public, even to hardcore hero fans, without them.[2]
Description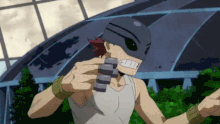 Eraser Goggles are completely yellow on the outside, both on their edge and on their band, while the inside of the lens area is black. As a precautionary measure, the frame totally lacks lenses, since Shota considers that it could damage the eyes if they break. Instead, the goggles have a kind of small bars that hide his eyes.
The goggles are essential for him because it compliments his Erasure. For his Quirk to take effect on a person, Shota needs to stare at them. Therefore, if somebody sees who he's looking at, they can anticipate the use of Erasure. This is the reason why Shota uses his one-way goggles to hide his line of sight, preventing enemies from figuring out who he's looking at to erase their Quirk.
Shota only puts on the goggles when he has to fight. When not, he usually wears them around his neck, hidden underneath by his Capturing Weapon.
History
Originally, the goggles weren't part of his hero costume, starting to wear them from their second year. During his Work-Studies, Shota tried to capture a villain, but he was able to escape because he possessed a Quirk that allowed him to generate smoke, annulling his Erasure: If Shota was too far away, the smoke blocked his line of sight, and if he got too close, the smoke irritated his eyes, preventing him from using his Quirk.
One of his closest friends and teammates at that time, Oboro Shirakumo, lent his goggles to Shota to protect his eyes, and thanks to this, the next time he faced the villain, Shota had no trouble using his Quirk on him and was able to capture him.[1]
Since then, Shota always wears goggles. They had to be modified acquiring the current look after a villain broke the lenses. Before starting his teaching career, Shota's goggles were of a silver-like color.
References
Navigation