Doctor Strange in The Multiverse o Madness - The Loop
Play Sound
Our Quirks are mostly standalone abilities… that will never rise to the level of ultimate moves. It's almost like you have too much respect for these Quirks. Approach the problem strategically and use your tools to put together a plan. Instead, think of them as simply tools in your arsenal!

En

on the Quirks of One For All in

"Full Power!!"
En (煙, En?)[2] was a former Pro Hero and the sixth user of the One For All Quirk.
Appearance
En was a fairly short man with short, dark hair parted twice away from his narrow eyes.
His hero costume consists of a large jacket with numerous straps and buttons, and a high collar that obscures his mouth and nose. Accompanying this are dark, fairly-baggy pants and large white hiking boots. His forearms are also wrapped in sports tape.
Personality
En is a reserved but friendly individual. He is well-aware of the limitations of his Quirk, guiding Izuku on how to best use it in conjunction with his other Quirks. Given that he resisted having One For All stolen by All For One, En presumably has an extremely strong willpower.
History
At some point in the past, En received One For All from his predecessor, the fifth user Daigoro Banjo, after he was injured and trapped under a pile of rubble. Daigoro extended his injured hand at him so En could acquire One For All after consuming Daigoro's blood.
Some time later, All For One attempted to steal One For All from En, but failed.[2] At some point, as the sixth user, he met Nana Shimura. After being fatally wounded in a battle with All For One, En gave Nana some of his hair so that she could become the seventh heir of the One For All Quirk.[3]
Synopsis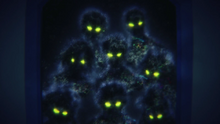 During the fight between Izuku and Hitoshi Shinso in the tournament of the U.A. Sports Festival, Izuku is brainwashed by Hitoshi's Quirk, who orders him to walk out of bounds. Although Izuku tries to resist, he cannot disobey the order, when he is about to cross the edge of the ring, En and the rest of the previous users appear to Izuku as shadowed mental figures. They uncloud his mind and allow Izuku to use One For All in his fingers, allowing him to escape the trance and win the fight.[4]
For several months, none of the users reappear to Izuku again, until the night before the Joint Training Battle, where En and several of the previous users, including All For One's younger brother and Nana, appear in a dream but with his real appearance, and not as a shadowed figure. The dream shows Izuku memories of the first user.
En says nothing, but the first user speaks for everyone and assures Izuku that he is not alone. Izuku's dream concludes with all of his predecessors looking at him with kind expressions, seemingly aware that he is the ninth wielder of One For All and welcoming him.[5]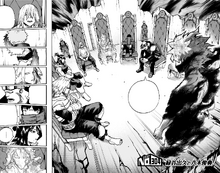 In the aftermath of the Paranormal Liberation War, when Izuku is rendered comatose, he speaks to all the vestiges within One For All.[6] While conversing, Daigoro mentions that he and En attempted to have One For All stolen twice by All For One, but succeeded both times in keeping One For All from the villain's hands.
After being certain of Izuku's determination to use the OFA to help even the likes of Tomura Shigaraki,[7] Yoichi asks the second and third users to lend their power to Izuku. As the three of them chat, Daigoro suggests that En and Hikage explain to Izuku about the workings of their respective Quirks, which En considers a good idea.[8]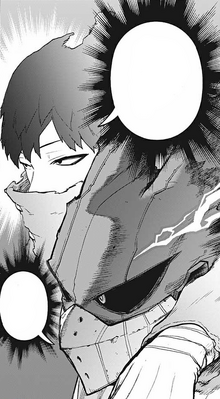 A month after this, after recovering from his injuries, Izuku decides to leave U.A and track down All For One and Tomura Shigaraki. His personal mission makes him face several villains, but thanks to the advice of En and Hikage, it is easier for him to be able to use Smokescreen and Danger Sense.
During Izuku's fight with Muscular, the young hero used En's Quirk for the first time, though he inadvertently overused it. En spoke to him, agreeing and scolding him for spreading his control too thin. En explains the increased power of One For All and the Quirks stored within them while remarking on the limited applications of most of their Quirks, exclaiming that none of them can be raised to the ultimate move level. He notes that Izuku has far too much respect for these Quirks and encourages him to think of them all as tools in his arsenal to use to form a strategic plan.[9]
Days later, he confronted Lady Nagant. He uses his Smokescreen Super Move Full Blast to cloud her field of vision. En chides Izuku for being reckless, warning him that Lady Nagant will catch him. However, Izuku replies that he wasn't planning on escaping as En realizes he plans to use the Third User's Quirk Fa Jin, causing him to advise against it. The third user agrees with En and they try to dissuade Izuku by saying that he hadn't even used that Quirk before. Izuku replies that it is too late and uses Fa Jin, to catch Lady Nagant.[10]
Abilities
Overall Abilities: The full extent of En's abilities are unknown, but as a One For All vestige he can be assumed to be quite strong. However, he wasn't strong enough to defeat All For One.
Trained Muscles: Usage of One For All requires the user to have strong muscles, as One For All is a lot to handle and could cause the user's body to be blown apart if they don't possess the necessary strength of the body.
Indomitable Will: En has resisted All For One trying to steal One For All from him, twice. Showing that he has a strong will.
Quirks
Smokescreen (煙幕, Enmaku?): En's Quirk allowed him to generate clouds of smoke, which could obscure vision.
One For All (ワン・フォー・オール, Wan Fō Ōru?): Transferred to him from Daigoro, En's second Quirk allowed him to stockpile an enormous amount of raw power, allowing him to significantly enhance all of his physical abilities to a superhuman level. This resulted in unbelievable levels of strength, speed, agility, and durability.
Chapter Appearances
Anime Appearances
Trivia
The kanji in his name means "smoke" (

煙

en

?

), a reference to his Quirk.

En is so far the only user whose name does not possess a kanji in conjunction to what number user they are.

He is the fourth previous One For All user whose Quirk was revealed.
References