Cobra Kai Season 4 - The Loop
Play Sound
A costume (コスチューム, Kosuchūmu?) is a distinguishing outfit worn by a hero or villain.
Overview
Heroes
Pro Heroes and Hero Course students alike often don specific battle wear to fight and strengthen their Quirks. Hero costumes are often equipped gear to help Pro Heroes do their jobs most effectively, reducing risk to themselves while increasing their efficiency.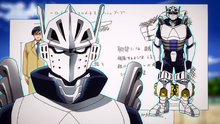 Costumes are generally tailored specifically to the hero in order to amplify their abilities and weaken their drawbacks. They also help the public recognize them and distinguish themselves from other heroes. Women often wear bodysuits. Support companies and genius scientists are the masterminds behind creating costumes for heroes.
For student heroes at U.A. High School, the costumes are developed at the school's expense. Costumes receive alterations throughout a student's career as they learn more about themselves and their Quirks.[1] Minor alterations and support items are added by Power Loader in U.A.'s Development Studio, whereas bigger modifications require formal applications and are outsourced to a support company.[2]
Mirio Togata's costume was designed to help him use his Quirk without losing his clothes. His costume is lined with fibers created from his hair. This is just one specific way costumes help student heroes deal with their weaknesses.[3]
Villains
While heroes are welcome to proudly don their costumes, villains do not have access to support items via legal channels. Villains generally use costumes as a way to hide their identity rather than distinguish themselves like Pro Heroes.
Support items and villain costumes are sold through the black market using brokers like Giran. He provided the Vanguard Action Squad with the proper gear to help support their Quirks. Himiko Toga received the most dramatic change in costume; her equipment functions to help her gather blood for her Transform Quirk. Other costumes, like Dabi's, seem to be completely cosmetic.
Known Costume Developers
Trivia
Following the debut of the R-Rated Hero: Midnight, the government passed a law limiting the amount of skin that could be exposed on a hero costume, due to Midnight wearing an inappropriate costume.
Many in Class 1-A share costume designers:
References