Jurassic World: Dominion Dominates Fandom Wikis - The Loop
Play Sound
The Story of How We All Became Heroes, Part Minus 1 (皆がヒーローになるまでの物語−①, Min'na ga Hīrō ni naru made no Monogatari Mainasu ①?) is the three hundred and forty-first chapter of Kohei Horikoshi's My Hero Academia.
Summary
Himiko Toga visits her old, abandoned family home, all covered in graffiti demonizing her and her family. She remembers the moments when her family and others would call out how creepy she was, how she can never be accepted the way she is, and to just restrain herself for once. She enters her old bedroom where she recalls how she used to dream wishing she was a bird, or her friend Kei, all the while biting her arm. She mentions how she would always have a dream where a red sparrow danced on her stomach, before it rips it open, dancing inside of her staining her in blood, how cute she thought it was, and how happy it made her.
After commenting on how they threw away all their stuff, she leaves the house to see Dabi quip that even someone like her had a heart, with her rebutting she just wanted to see what happened to her house. Dabi asks if she has what it takes to put an end to this world, which she says is a little late to ask now. He continues the world doesn't care whether they're crying or smiling, so they should just smile, completely burning down Himiko's family home.
She says making a commotion will get them caught, while also saying it was kind of him, but he laughs that they don't have the reserves to take them down now anyway, and that it's less kindness and more about making Endeavor suffer more. He then reminds her that thanks to her Transform Quirk, she can use the Quirk of whoever she holds dear, as she takes out a vial of a sample he managed to grab back during the War, of Twice's blood. He tells her to carry on his "Sad Man's Parade" and they will be the ones with the last laugh.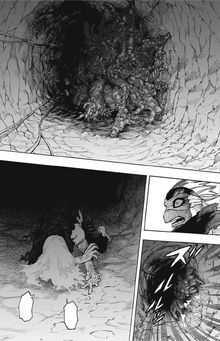 Back at the Villains' hideout, Spinner hears screaming down a dark hallway and goes to check on Tomura, only to see a monstrous mutated body emerging from the shadows, which then transforms into "Tomura" himself. All For One tells Spinner not to worry as his recovery is progressing smoothly, gradually overcoming the Quirk Singularity. Spinner asks if he's "still Tomura", which he claims he is. Skeptic then speaks to Spinner, reminding him of the high percentage of villain criminals that are mutants, and that most heteromorphs bare a hatred to Heroes because of the racial inequality they feel. He continues that when the League of Villains first started, the world was exposed to him, which led to wannabes copying his costume and now he's become a guiding light for heteromorphs everywhere.
Spinner tries to say they have it all wrong and that he's not trying to serve some great cause, but Skeptic says the die has already been cast, and the common rioters in the street are awaiting his lead: he will pull the trigger in Re-Destro's stead. Handing him a communication device, Spinner thinks about how it doesn't matter what he thinks anymore, that they're past the point of no return, and he's only here for Tomura's sake. "Tomura" tells him to bring it all down, as All For One confidently states that "everyone can be somebody's hero", with the rest of the villains beginning to assemble.
Chapter Notes
Himiko visits her old family home, reminiscing about her past, before Dabi burns it down.
It is revealed Dabi acquired a sample of Twice's blood during the War, and gave it to Himiko, allowing her to Transform into him and utilize his Double Quirk.
"Tomura" continues through his process of recovery.

It seems that the lost fingers on his left hand are starting to grow back.

Spinner reluctantly agrees to take the lead as the face of the Paranormal Liberation Front, to steer the heteromorph villains toward their cause.
Characters In Order of Appearance
Trivia
Himiko's bloodstained costume in the cover visually resembles Twice's costume.
All For One's statement that "everyone can be somebody's hero" references the one-shot chapter "Everyone Is Someone's Hero".