Jurassic World: Dominion Dominates Fandom Wikis - The Loop
Play Sound
Your Turn (THE NEXT, Za Nekusuto?) is the three hundred and sixteenth chapter of Kohei Horikoshi's My Hero Academia.
Summary
Endeavor finally arrives on the scene, telling Deku that All Might gave him a call and apologizes for being late because he gets slowed down in the rain. He asks for a status update but Hawks interrupts them calling for help, as he still can't fly easily yet. Deku is able to catch him with Blackwhip but can't pull them up because he is out of strength. He is able to tell Hawks that Lady Nagant had received a Quirk from All For One, and it must have come with a trap which is why she exploded.
Hawks tells Lady Nagant that he is her successor and he can't believe she would let All For One manipulate her like this. He tells her that he knows she is better than that and he also knows that she can't give up, especially after fighting Deku. He begs her to tell him what she knows and she can't die after being manipulated, calling her a Hero. Lady Nagant starts regaining consciousness and sees Hawks, and while she figures he must've done bad things too for the Commission, she doesn't understand how he can still have fire in his eyes in the midst of an uncertain future just like Deku.
She screams that her orders were to deliver Deku to a mansion in Haibori Woods within the next two months as both her and Hawks touch the ground. She weakly tells Hawks that there are others All For One called upon and then tells him that her heart couldn't bear the dark side, asking how Hawks can still be hopeful. Hawks responds saying that he had someone to support him, and he calls himself optimistic to a fault.
Endeavor arrives carrying Kai Chisaki, asking if he is the only other one. Kai decries that this isn't what Lady Nagant promised him and he demands he be taken to the Boss, calling him all he has left and that he wants to apologize to him. Deku asks Kai if he remembers what he did to Eri, and he says he does, while also saying he wishes she were here too. Deku understands that Kai wants to apologize, and states if he is willing to direct those feelings towards Eri too, he will honor his deal in Lady Nagant's place.
All Might finally arrives asking Deku if he is okay and Endeavor reports that both Lady Nagant and Kai Chisaki have been secured and for him to contact the police so he can get them medical aid. Hawks also tells them to get Deku patched up too, as he festers with rage towards All For One.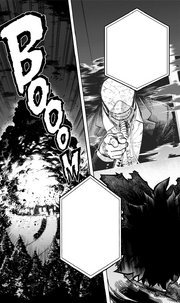 The Heroes locate the former Creature Rejection Clan's hideout and, accompanied by The Lurkers, make their way in. Deku goes in first, despite Endeavor telling him not to be reckless, but finds it empty, only finding a hologram from All For One sarcastically asking him if he enjoyed his Q&A with Lady Nagant. He says he loves to anticipate, especially since someone like him can't abandon someone like her. He also adds that he didn't force her to join him, she chose to help him, and that those who fall are the ones that get labeled as "villains", saying that even if one takes pride in their Quirk, if you can't fit into the controlled society, then you will be excluded, citing it as human nature no matter how society is dictated.
All For One tells Deku that he took a thorny path of heroism because the more he fights the more his soul will wear down, and reveals that while in prison, he never stopped thinking about him, no longer having any interest in All Might. He gleefully tells him that it is "his turn" as the mansion explodes.
Chapter Notes
Lady Nagant and Kai Chisaki are apprehended by the Heroes.

Lady Nagant survives and informs them of All For One's supposed location, and warning that he has hired other villains to target Deku.
Deku agrees to fulfill Lady Nagant's promise to Kai to apologize to his Boss if he apologizes to Eri as well.

Deku and several Heroes storm the former Creature Rejection Clan's mansion, which is revealed to be a trap set by All For One.

A pre-recorded message from All For One also reveals that he no longer cares about All Might and Izuku is his only focus now.
Characters In Order of Appearance