Jurassic World: Dominion Dominates Fandom Wikis - The Loop
Play Sound
Class 1-A's Battle Trial is a combat training exercise that took place during All Might's first Foundational Hero Studies class.
Overview
All Might had Class 1-A participate in the Battle Trial during their first Foundational Hero Studies class. Class 1-A is permitted to use their Hero Costumes for the first time to participate in this event. 
All Might moved them two steps ahead of the urban battles they participated in during the Entrance Exams by pairing them up for indoor battles. According to All Might, statistically speaking, most run-ins with the worse villains occur indoors. The Battle Trial's purpose was to prepare the students for this.
The students were paired up by drawing lots and split into teams of heroes and villains that fight two on two fights. Teams are chosen by chance to replicate situations where real heroes are paired up on the spot to fight villains.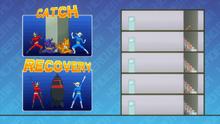 The Battle Trial replicates a situation where the villains are hiding a payload inside the building and the heroes must secure it or defeat the villains within a time limit. The villains are granted victory if they successfully protect the payload or capture the heroes.
The mock battles took place on Ground Beta inside the replica buildings while the rest of the class watched from a monitoring room.[1] Every individual battle is critiqued by All Might and the students following its completion.[2]
Battle Buildings
Participants
| Team | Members | Allegiance | Outcome |
| --- | --- | --- | --- |
| | | Hero | Victorious |
| | | Hero | Victorious |
| | | Villain | Unknown |
| | | Villain | Defeated |
| | | Hero | Unknown |
| | | Villain | Unknown |
| | | Hero | Unknown |
| | | Hero | Unknown |
| | | Villain | Defeated |
| | | Villain | Unknown |
Battles & Events
References